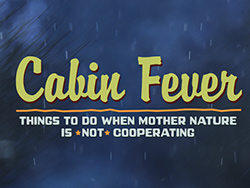 Things to do when Mother Nature is not cooperating.
Here are some outdoor related ideas to keep entertained when the weather is wetter, snowier, colder, or hotter than you enjoy.
This is also a great time to plan your next adventure – why waste time planning when the weather is nice?
Plan upcoming hikes.
Take advantage of a little indoors downtime to plot out a few hikes ahead.

NJ Hiking's YouTube Channel – We've created over 100 videos of hiking parks and trails around New Jersey. Check out what a hike is like before you head out.
We also have lots of hike ideas on njHiking.com such as…
Need even more Jersey hiking inspiration? Check out some of our favorite Jersey hiking blogs:
Dan & Laura's Web Photo Album – As likely the oldest NJ hiking blog, Dan and Laura have a photo guide to their hikes since 2004. Especially good for: Hikes in the 3-6 mile range, exact routes from area hiking books, photography.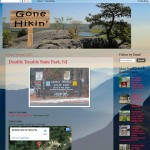 Gone Hikin' – Daniela and her trusty four-legged pal Shawnee have hiked extensively through NJ, NY, and PA, plus a little CT, MA and VA thrown in for good measure. Now well in her senior years, Shawnee hikes with the assistance of a wheelie cart. Especially good for: 8-10+ mile routes, obscure trails and parks, dog-friendly hikes, and hikes suitable for a dog wheelchair/cart.
NJ Urban Forest – Focuses on parks and trails in New Jersey's urban areas with descriptive virtual tours. Especially good for: An emphasis on flora & fauna.
South Jersey Trails – Follow a family with two young children ("The Pres" and "Tree Rider") as they hike both popular and obscure parks in over-looked southern NJ – with a nice dose of humor. Especially good for: Short and/or kid-friendly hikes; also a little dash of backpacking and canoeing.

Watch hiking TV shows or movies.
Plop on the couch with a blanket and stream something outdoorsy.
Outside with Greg Aeillo – Adventure travel show exploring national parks, urban escapes, and international trips. Launched 2017. Episodes so far include Yosemite, Big Sur, trekking in Nepal and Patagonia. The show airs on PBS on the west coast but the full episodes be streamed via the PBS site, PBS app on AppleTV, or via PBS phone/tablet app. Outside on ValleyPBS | Stream Outside on PBS.org | Outside on Facebook
Motion – Greg Aiello's original show that covered hiking, biking, kayaking, and general adventure. While focused mainly on America's National Parks, Motion covered international spots as well. The show ran for 100 episodes on the LiveWell Network. Look for episodes re-running on Outside TV. Highly, highly recommended checking this out. Motion on Outside TV | Motion on Facebook

Rock The Park
– Follow Jack and Colton as they explore various national parks. Nice mix of popular areas (Shenandoah's Old Rag, Zion's Narrows) with a little more offbeat destinations (Katmai, Voyageurs). Hiking, biking, rafting, kayaking, caving. Airs on ABC.
Rock The Park
|
Rock The Park on Facebook
Wild: From Lost to Found on the Pacific Crest Trail – The story of Cheryl Strayed's hike of the Pacific Crest Trail. The book it is based on is listed below. AMAZON / DVD only is on NETFLIX)
The Way – Movie about hiking the famous Camino de Santiago in Spain. Martin Sheen plays Tom, who decides to complete the 500-mile trek after his son dies in a storm while hiking it. AMAZON / NETFLIX

Into the Wild – Based on Jon Krakauer's book about the travels of Christopher McCandless and his time spent in the Alaskan wilderness in the early 90's (The book is listed below). AMAZON / NETFLIX
127 Hours – The story of Aron Ralston (played by James Franco) whose arm was pinned under a falling boulder while climbing in a Utah canyon. AMAZON / NETFLIX

Mile… Mile & a Half – Documentary from a group of artists who hike California's John Muir Trail from Yosemite to Mount Whitney. Worth it for the gorgeous scenery alone. NETFLIX / AMAZON
The National Parks: America's Best Idea – Excellent documentary on the history of the national park system from film maker Ken Burns. AMAZON / DVD only is on NETFLIX
A Walk in the Woods – Based on the popular book by Bill Bryson (listed below). The book is better and the movie has it's flaws, but it's still a light, enjoyable, fun watch. AMAZON / DVD only on NETFLIX
---
Join Amazon Third Party Video Subscriptions Free Trial

Curl up with a book.
When you can't get outside for an adventure, the next best thing is reading about one.
A Walk in the Woods: Rediscovering America on the Appalachian Trail. A funny, quick read about Bill Bryson's ill-prepared attempt at hiking the AT. The movie was released in 2015 but is not available for streaming yet.
Grandma Gatewood's Walk – About the first solo female thru-hiker who competed the Appalachian Trail in 1955….at age 67.
The Barefoot Sisters Southbound – For another take on what it's like to hike the Appalachian Trail – barefoot.

Into the Wild
– by Jon Krakauer, about the travels of Christopher McCandless and his time spent in the Alaskan wilderness in the early 90's. (The movie is listed above).
Wild: From Lost to Found on the Pacific Crest Trail – The story of Cheryl Strayed's hike of the Pacific Crest Trail. The PCT is a lesser known long distance trail that runs from Mexico to Canada through California, Oregon, and Washington. The trail has since surged in popularity when the book was made into a movie with Reese Witherspoon (Listed above).
Desert Solitaire – The fantastic Edward Abbey classic is a must-read before a trip to Arches National Park – but is also a great book anytime.
The Wilderness World of John Muir – Nice selection from the collected works of one of America's original naturalists… and the original avid hiker.
My Side of the Mountain – Classic, young-adult book about a boy who runs away to live in the woods on his own.
Play a game.
When it's pouring out or you've been out in the snow for hours, it's time to make some cocoa and bust out a board game.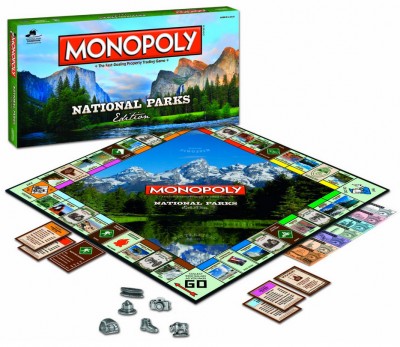 National Park Monopoly – Timeless board-game with an outdoors twist. Features over 60 national parks throughout the game. Fight over who gets to use the ranger hat token!
YAHTZEE National Parks – Classic game with a National Park focus and facts. Dice feature deer, a tent, a canoe, a hiker, pine trees, and binoculars. Travel sized.
Memory Challenge – Match over 100 colorful picture cards featuring beautiful photography of the national parks and the animals that live there.
"Let's Go Hiking" Game – Learn about hiking, tracking, the woods, and wildlife while working together in this non-competitive game. Ages 8 through adult.
National Park Puzzle – Keep everyone busy on with a 1000 piece jigsaw puzzle featuring a collage of cool National Park Badges from across the U.S.