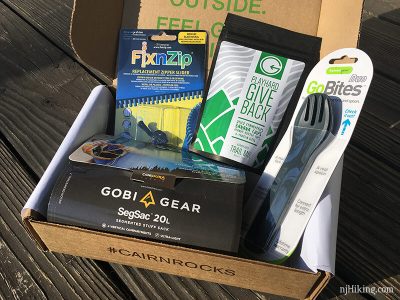 What's inside the Cairn outdoor subscription box for December 2016.
Considering getting a Cairn subscription or giving one as a gift? Here's a rundown of what this month's box offers.
Disclaimer: Cairn provided a complimentary box for review, but did not provide compensation or exercise control over the content of this post.

In this month's box
Human Gear GoBites Duo – Ultra-strong and compact fork and spoon set that nests and clicks in place. Snap them together in order to reach into larger containers. Handy for hiking, backpacking/camping, but would be great to keep in the glove box for on-the-go lunches too.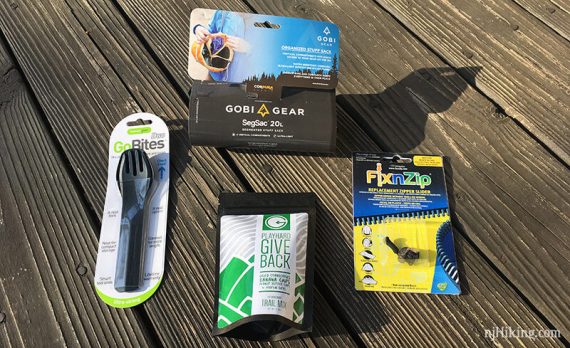 Fix-n-Zip Zipper Repair – This is supposed to be an easy replacement zipper pull for jackets, sleeping bags, backpacks, tents, etc. Just remove the old pull, slide this on, then tighten the screw. I've had an ancient-yet-beloved fleece with a busted zipper for ages and intend to try this little gem out on that. Update: In 5 minutes I had the zipper on this fleece usable again, putting this gizmo solidly in the "duh, should have looked for this before" department.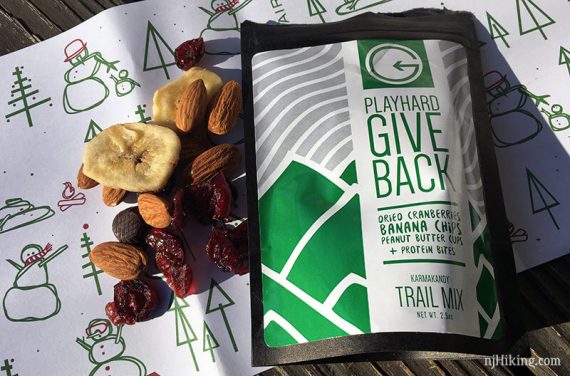 PlayHard GiveBack Trail Mix – I could pretend that I taste-tested this after a robust round of snowshoeing – the sun glinting off the fresh snow around me, wind whipping though my hair – but the reality is that I am shoveling this in my mouth as I sit in my office writing this.
I decided to open the package for the photo and, well, one of the ingredients is "peanut butter cups" so it was all over at that point. We make our trail mix from the bulk aisle at Shoprite and wouldn't usually buy "Artisan Trail Mix", but it is of decidedly better quality than what we normally eat. Now, if I can just manage to save some for Tom to try…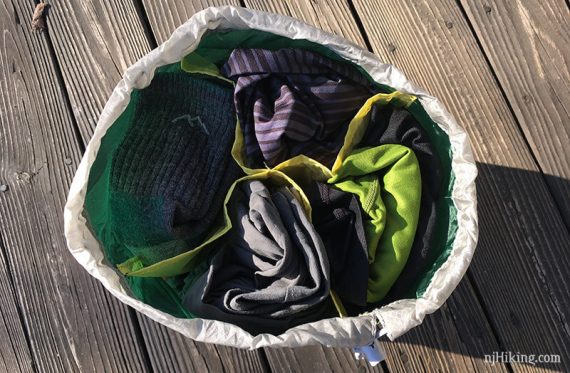 Gobi Gear Segmented Stuff Sack, 20L – This sack is divided into four compartments, making it WAY more useful than a regular sack. Stuff sacks are more geared for backpacking, which we aren't into, but this will come in handy for travel organization.
It's super lightweight and feels strong. I did a quick test and was able to stuff in a pretty impressive amount (and all kept nicely separated): 2 pairs of hiking pants, 3 long sleeve wicking tees, 1 long sleeve lightweight fleece layer, 2 short sleeve wicking tees, and 8 pairs of hiking socks: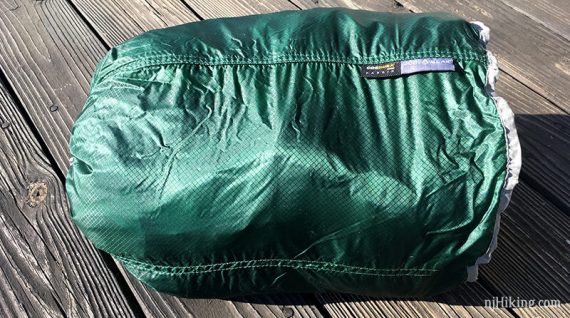 Value
The individual items total about $46.50, much more than the cost of the box:

Stuff Sack, 20L – $24
Zipper Repair – $10
Fork and Spoon – ~$7.50
Trail Mix – $5
A card inside has codes offers discounts if you are interested in getting more of the products.
Get a FREE box with a new 6 or 12-month subscription with promo code GOFORIT. Until 3/31/17.
Plus monthly run downs:
–Cairn - March 2017
–Cairn - January 2017
–Cairn - December 2016
–Cairn - November 2016