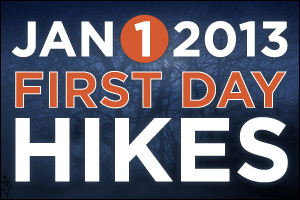 A hike is a great way to kick off the New Year. There is nothing like fresh air and an invigorating hike on the first day of the year.
It's also not a bad way to shake off some holiday over-indulgence… although, in our opinion, leftover holiday cookies count as "trail mix".
For New Year's Day hike ideas, try our Best Hikes in NJ page or perhaps check out one of the "First Hikes" being held throughout the state.
The New Jersey State Park Service is holding First Day Hikes across the state on January 1, 2013, in conjunction with America's State Parks First Day Hikes which are held in all 50 states.
For details on each hike below visit New Jersey First Day Hikes
Belleplain State Forest – East Creek Trail Hike
Kittatinny Valley State Park – 28th Annual New Year's Day Hike
Monmouth Battlefield State Park – Walk the Main Battle Line
Princeton Battlefield S.P. – The Battle of Princeton Interpretive Tour
Ringwood State Park  – Mount Defiance
Round Valley Recreation Area  – Resolutions
Spruce Run Recreation Area/Voorhees State Park – The Highlands Trail
Washington Crossing State Park – Steele Run Ravine
Batsto Natural Area First Day Hike – Wharton State Forest
Wharton State Forest – Atsion – with the Outdoor Club of South Jersey
(Pre) First Day Hike at Cheesequake – Sunday, December 30, 2012
Other First Day Hikes in the New Jersey area:
Deckertown Turnpike/Sunrise Mountain – Union County Hiking Club
"Meet: 10AM at AT parking lot on Deckertown Turnpike. First of a series of AT hikes I will lead this year. A moderate 7.2 mile hike with beautiful lunch views at Sunrise Mt. We return on the same route with a brief rest at Mashipacong Shelter for a look at a typical AT thru-Hiker shelter." Click the link above for more info.
Hartshorne Woods (Monmouth Co) – New Jersey Sierra Club
"(Special interest: Recent History): 9am. Moderate 6-mile hike has elevation gains and a lot of scenery. Please bring drinks and snacks. Hiking shoes are suggested. Meet at the Rock Point parking area. Take GSP to exit 117. Take Rte 36 toward Sandy Hook to Portland Road. (It is the last street on the right before the Sandy hook bridge.) Take Portland Rd to the top of the hill. Rock Pt. Parking is on the left. Bad Weather (including snow cover) cancels. Confirmation/questions please call or text Leader Mike Verange, 908-902-0718 or mjverange@aol.com.
Delaware Canal: Frenchtown to Upper Black Eddy –  Appalachian Mountain Club
"Come out to enjoy our annual New Year's Day Hike along the Delaware Canal from Frenchtown, NJ, to Upper Black Eddy, PA. Meet at 10am, Frenchtown, NJ, Canal parking lot near the Frenchtown/Uhlerstown Bridge. If the General Store is open, we'll enjoy some ice cream or a warm drink halfway through the hike. Bring water and comfortable walking shoes. No Dogs." Click the link above for more info.
Harriman Park, New York –  Appalachian Mountain Club
"Celebrate the New Year by resolving to hike more and begin with this hike! Route and length dependent on ground conditions; moderate pace. Participants must have traction aids. Beginning winter hikers must call leader. If we are fortunate enough to have deep snow this will be a snowshoe hike." Click the link above for more info.
Wissahickon Creek Gorge, Philadelphia – Batona Hiking Club
"Meet at Valley Green Inn at 2:00 PM for our annual New Year's Day hike through this spectacular gorge. This is a combined hike with Valley Forge Audubon. An optional "Dutch Treat Dinner" at the Yu Hsiang Gardens Two." Click the link above for more info.
Princeton Battlefield S.P. – The Battle of Princeton Interpretive Tour
On January 1, 2013, the Princeton Battlefield Society will be sponsoring a real-time tour of the Battle of Princeton, which occured on January 3, 1777. Join William P. Tatum III, Society trustee and noted British Army historian, to trace the steps of American and British units at the same time of day as the original battle. Attendees will come away with a better understanding of the rigors of eighteenth-century combat and a deeper appreciation of the engagement at Princeton. There is no charge for this tour, though donations to the park are much appreciated (suggested donation of $5 per person). Attendees should wear warm clothes and stout shoes or boots. The tour will be walking intensive over variable ground. Please contact Will Tatum at princetonbattlefieldtours@gmail.com with any questions and to rsvp for the tour. The tour begins at 7 AM and will conclude around 9:30 AM at Princeton Battlefield State Park, 500 Mercer Road, Princeton, NJ.