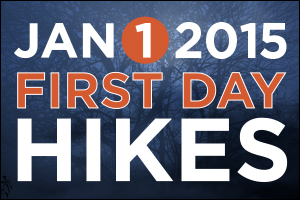 A hike is a great way to kick off the New Year. There is nothing like fresh air and an invigorating hike on the first day of the year.
It's also not a bad way to shake off some holiday over-indulgence… although, in our opinion, leftover holiday cookies count as "trail mix".
For New Year's Day hike ideas, try our Best Hikes in NJ page or check out one of the First Day Hikes that the New Jersey State Park Service is holding across the state on January 1.
And for links to First Day Hikes for each of the 50 states, visit the American Hiking Society.
Some New Jersey hikes include:
Bass River State Forest – Easy,  2.5 miles.
Belleplain State Forest – East Creek Trail Hike – Moderate, 3.5 miles
Cheesequake State Park – Moderate, 1.5 miles.
D&R Canal State Park/Mapleton Preserve – Easy, 1.5 miles.
Franklin Parker Preserve – New Year's Grand Slam Ramble. Easy to moderate, 2.5 miles.
Kittatinny Valley State Park – Annual New Year's Day Hike – Moderate, 3 miles.
Monmouth Battlefield State Park – First-Foot First Day Hike – Moderate; 3 miles.
Monmouth Battlefield State Park – First Day Amble – Easy; Accessible, 1 mile.
Rancocas State Park – Hike 1 – Easy to moderate, 3 miles.
Rancocas State Park – Hike 2 – Easy, 3 miles.
Ringwood State Park – Easy to moderate, 1.5 miles.
Round Valley Recreation Area – Easy to moderate, 2.5 miles.
Warren Highlands Trail and More – Moderate to difficult, 15 miles
Wharton State Forest – Moderate pace, 7-8 miles
No fees. Pre-registration required on some hikes. 
For more hikes, plus time and location info, visit New Jersey First Day Hikes.
---
Others in New Jersey and the surrounding area…
Bowman's Hill – Delaware Canal State Park – Upper Black Eddy, PA
The First Day Hike at Delaware Canal State Park will take place near New Hope. The walk will be on level towpath terrain. This hike will be 2 – 4 miles long, starting in the lower parking lot of Bowman's Hill Wildflower Preserve, River Rd. (PA-32), and heading 1 – 2 miles north on the Delaware Canal towpath toward New Hope and back. All ages and abilities are welcome.

Dery Bennett Memorial New Year's Day Beach Walk
– Fort Hancock, Sandy Hook
At 11am the American Littoral Society will hold its 39th annual Dery Bennett Memorial New Year's Day beach walk, in memory of former Society Executive Director Dery Bennett, who founded and led the walk for many years. Participants should meet at 11am at 18 Hartshorne Drive, Fort Hancock, Sandy Hook, 07732. Participants on the walk should dress warmly, wear comfortable walking shoes and bring binoculars.   For questions or additional information, please call the Society at 732-291-0055 or visit
www.littoralsociety.org.
Ed Lenik's 33rd Annual New Year's Day Hike – Harriman State Park, Sebago Lake
Moderately level trails and woods roads with historical narration, up Conklin Mountain, and lunch at an abandoned farmstead. Details here or questions call Ed Lenik at 973-835-0770.
French Creek State Park – Elverson, PA
Meet DCNR Volunteer Clyde Godschall at the West Launch of Hopewell Lake for a 3-mile hike around Hopewell Lake and into the Hopewell Furnace. Dress for the weather and wear sturdy hiking shoes. Your leashed, vaccinated pet is welcome on this hike. This event may be cancelled in the event of severe weather.
New Year's Hill & Dale Hike –  New Jersey Conservation Foundation (Jan 4)
Come see the latest addition to our scenic Hill & Dale Preserve in Tewksbury Township. Join Project Coordinator Marie Newell for some hot chocolate and a hilly 1.5 mile hike to celebrate the New Year! This hike will not be held in the rain/snow. Please note the location of the parking lot in your confirmation email.
Wissahickon Creek Gorge/Valley Green Inn – Batona Hiking Club. Philadelphia.
5 – 6 miles. Meet at Valley Green Inn at 1:00 PM for our annual New Year's Day hike through this spectacular gorge. There are parking lots at the bottom of Wises Mill Road and along Valley Green Road. From here walk down hill to Valley Green Inn. This is a combined hike with Valley Forge Audubon. An optional "Dutch Treat Dinner" at the Yu Hsiang Gardens Two, 7630 Germantown Avenue, will follow the hike. Leader: Michael Alper, 215-233-0916, C: 480-809-5763, aniamike@aol.com.