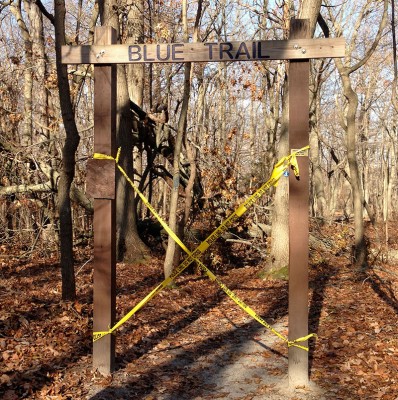 Condition reports and resources for hiking trails in New Jersey and the surrounding area. Hiking trails can change due to damage from storms or flooding. We've gathered some resources that list conditions as well as closures for major trails and parks.
This page is for reference only. Trail situations should be reported to the individual park office directly, or the NY-NJ Trail Conference.
We've attempted to have the most current info here, but the best course is to check the park's site before heading out.
Trail Conditions – Resources
NY-NJ Trail Conference
New Jersey State Parks
NJ State Park Advisories – The NJ Parks and Forestry page lists individual park advisories. Check this for the latest updates.
As of 12/2016 – ongoing areas of note:
Double Trouble State Park – Carriage Road is closed south of White Bridge due to storm damage.
Long Pond Ironworks State Park –

BRIDGE REPLACED


Due to a bridge washout, the Hasenclever, Sterling Ridge, and Highlands Trails are partially closed at the Wanaque River.
[Hike affected: Long Pond Ironworks State Park]
Ringwood State Park – Due to the closure of the bridge across Ringwood Brook, the segment of the Ringwood/Ramapo (red) and Crossover (white) Trails between Parking Lot B in the Ringwood Manor section and Sloatsburg Road is currently closed. Access to these trails and adjoining trails is available from the Shepherd Lake section of the park.
Delaware Water Gap National Recreation Area
Appalachian Trail
Morristown National Park
Palisades Interstate Park – New Jersey Section
Trails are open daylight hours. Check the Palisades Interstate Park site for updates. The right side of the site has each area's status.
Delaware and Raritan Canal State Park
As of 12/2016– areas of note: Effective MAY 1st the SMALL D&R CANAL STATE PARK PARKING LOT ON ROUTE 518 (in Rocky Hill) near the light with Canal Road WILL BE CLOSED for the intended Route 518 NJDOT Canal Bridge Replacement. Visitors are asked to park in the Kingston or Griggstown lots. Use of this lot is expected to resume on November 1st. The towpath will not be effected and will remain open. Thank you for your patience.
2016 TBD – Dredging project may cause closures – check site for info.
Burlington County Parks
Middlesex County Parks
Monmouth County Parks
Check the pages below for the latest open/closed info:
As of 12/2016 – areas of note:
Henry Hudson: Atlantic Highlands section: Trail conditions are primitive and users should expect wet and muddy patches, with no alternate route around. Additionally, some trail neighbors have been granted permission to use the trail for construction vehicle access as they continue to make repairs to their storm damaged properties. Users should exercise caution and watch for construction vehicles in some locations.
Morris County Parks
Check the Morris Parks site for current info.
Ocean County Parks
Somerset County Parks
Union County Parks
Harriman and Bear Mountain, NY
For info/updates: