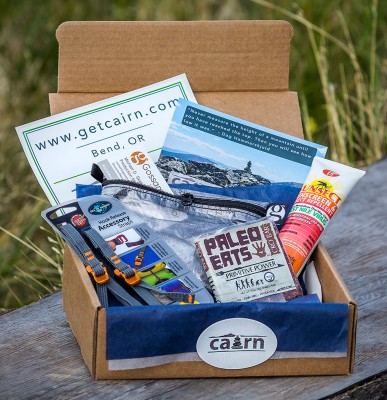 Cairn is a monthly subscription box for hikers and outdoor enthusiasts. New gear arrives each month – but you won't know what you're getting until you open the box!
Disclaimer: Cairn provided a complimentary box, but did not provide compensation or exercise control over the content of this post.
Subscription boxes have become a popular way to try new products in a category you are interested in such as snacks, coffee, pets, or books. Each month a box of items in arrives in the mail. They also make terrific gifts for hikers.
Friends of ours have a subscription to a dog-themed one (BarkBox) and enjoy getting new toys and treats each month (though I am not sure who gets more giddy at it's arrival… the dogs or the humans…)
Cairn is basically a box of toys and treats for hikers, so we were happy when Rob Little, founder of Cairn, contacted us to check out the service.
How does Cairn work?
For $29.95 a month (free shipping; save with a 6 or 12-month subscription) a box arrives with a "carefully curated" selection of outdoor related items, usually from these categories:
GEAR: Thermoses, Headlamps, First Aid Kits
APPAREL: Hiking socks, Gloves, Beanies
FOOD/NUTRITION: Energy Bars, Snacks for the trail, Drink mixes
SKIN CARE: Sun products, Insect repellents, Lip balms
EMERGENCY: First-aid kits, fire starters
Cairn asks about your recreational interests when you sign up (hiking, camping, climbing…). In some months the boxes are customized (hikers might get a different item than bikers, for example) while in other months everyone gets the same items. The profile asks for details like apparel and accessory sizes, if you like to drink coffee or alcohol, or have a pup, and can even be for two people – allowing you to specify gender and sizes for each.
Subscriptions auto-renew and can be canceled at anytime. Each month, random recipients get an Adventure Upgrade pass and score more gear. For a bigger subscription, check out Obsidian – 5 to 10 items delivered quarterly with several individual items over $50 and a total box value of over $300. Any subscription can be given as a gift, too.
In addition, occasionally there are Limited Edition Gift Collections available across a range of price points. For these, the gear is listed so you know what you're getting and it's a one-time box. Both the Obsidian and Limited Editions tend to sell out.
Their various offerings are detailed out on their subscription and gift pages.

Inside the Box
We received the August box for review. Opening the brown box sealed with a Cairn logo sticker revealed nicely packaged colored tissue paper enveloping the items, affixed with a Cairn sticker.
In addition to a nice note to us from Rob and a postcard with descriptions of the items, the box contained:
Gossamer Gear Ultralight Q-Ditty Bag [value: $16]
Sea to Summit Accessory Straps [value: $9]
Paleo Eats Cro Bar [value: $3.50]
Sunsect Insect Repellant and Sun Screen [value: $10]
I wasn't familiar with any of the products but could see each being useful, and we always enjoying finding new energy bars to try. While we own some gear from Sea to Summit, the other 3 companies were new to me. Information on all the products can be found on Cairn's site.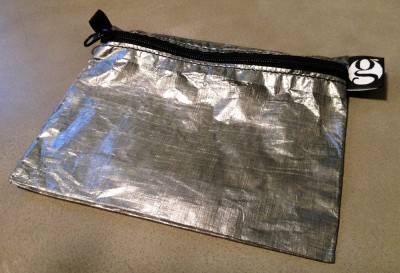 Gossamer Gear Ultralight Q-Ditty Bag
This is a feather-light (.2 oz) but supposedly strong bag, about 5″ x 6″. I mean, it is light. The weight must all be from the zipper and looks like it should tear in three seconds. So I couldn't help myself – I gave it several good tugs and pulls and it seemed solid. I might transfer our first-aid items to this to save a little weight. Update: We've been using this bag to hold our first aid items and really like it.

Sea to Summit Accessory Straps
The package contained two 40″, strong, buckled straps with a quick release hook that could be used to secure a jacket to a pack, or to strap down gear etc.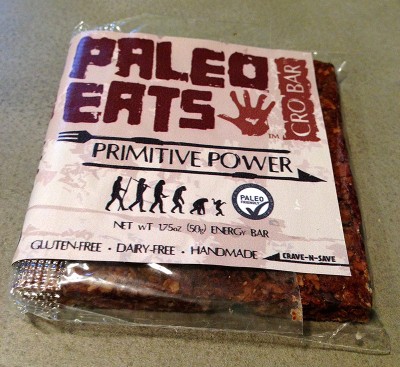 Paleo Eats Cro Bar
This looks tasty but we won't know for sure until our next hike. Until then, the CroBar sits here taunting me like a sliver of brownie.
Taste update: Good flavor, if slightly dry. The first ingredient is coconut and it's texture is obvious in the bar, so if you aren't a fan then stay clear. The bar is small, and we split it between us to taste test it but it felt satisfying without being heavy. Of note, the bar follows a Paleo diet and is way higher in fat than what we'd normally eat in a hiking bar: 24g of fat, 14 of those saturated, 320 cals, 6g protein. (That's nearly 5X the fat in a Clif Bar.)
Sunsect Insect Repellant and Sun Screen
Normally repellent and sun screen lose effectiveness when used together, but Sunsect supposedly has that sorted out. We always use insect repellent but are not so vigilant in our sunscreen use for that very reason, so we're interested in giving this a go.
Value
The total purchase price of the items adds up to $38.50, making this a decent value as long as you find most everything that comes in a box useful. Plus, a box of goodies arriving at your doorstep every month is kinda fun.
Overall
This is a fun service for a hiker or outdoorsy person that is into trying gear or who enjoys receiving a little surprise in the mail every month. It also could be a nice gift for the hiker in your life (especially for the impossible-to-get-for ones).
Check out GetCairn.com for more info.
Plus monthly run downs:
–Cairn - June 2017
–Cairn - May 2017
–Cairn - April 2017
–Cairn - March 2017
–Cairn - February 2017
–Cairn - January 2017
–Cairn - December 2016
–Cairn - November 2016

—
Updated: November 2016. Original review: August 2014.