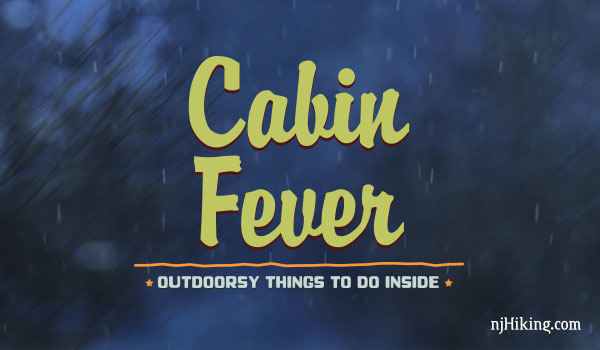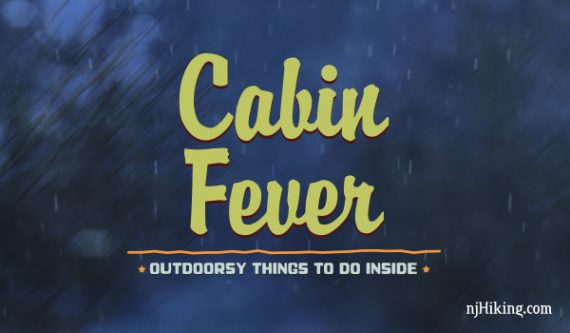 Outdoor related ideas to keep entertained when you are stuck inside.
Sometimes the weather is wetter, colder, or snowier than you enjoy – or maybe you're hunkering down for the zombie apocalypse!
We've got you covered with some hiking and outdoor themed ideas to keep everyone busy while indoors.
1) Plan upcoming hikes.
Take advantage of a little indoors downtime to plot out a few hikes ahead.
This is a great time to plan your next adventure – why waste time planning when the weather is nice? Check your favorite hiking sites and books for ideas.
We like to use Evernote to organize hike and trip possibilities and pin locations on a custom Google Map – but pen and paper work too.
For those in the New Jersey area, we have lots of hike idea resources here on njHiking.com:
2) Watch hiking and outdoor shows or movies.
Plop on the couch with a blanket and stream something outdoorsy.
Follow Jack and Colton as they explore various national parks and other outdoor areas.
Nice mix of popular areas (Shenandoah's Old Rag, Zion's Narrows) with a little more offbeat destinations (Katmai, Voyageurs). Hiking, biking, rafting, kayaking, caving.
"Outside with Greg Aiello" was an adventure travel show exploring national parks, urban escapes, and international destinations. Launched in 2017, with season 2 in 2018. Episodes included Yosemite, Big Sur, trekking in Nepal and Patagonia.
"Motion" was Greg's original show that covered hiking, biking, kayaking, and general adventure. While focused mainly on America's National Parks, Motion covered international spots as well.
The show ran for 100 episodes on the LiveWell Network then re-ran on Outside TV. Highly, highly recommended finding both shows.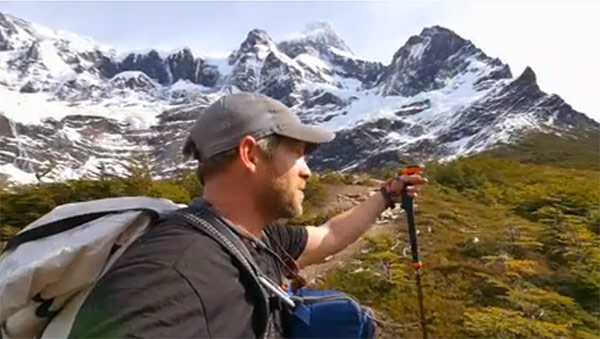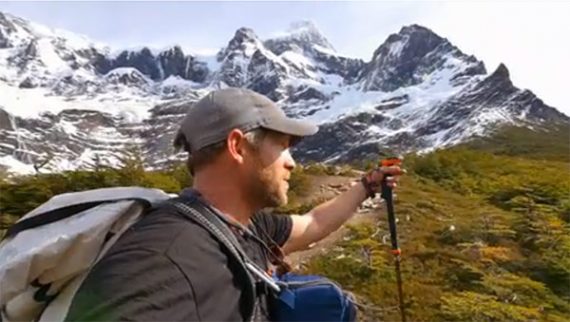 We've linked to Amazon streaming if available but removed Netflix links as shows come and go on that:
The story of Cheryl Strayed's hike of the Pacific Crest Trail. The book it is based on is listed below.
Movie about hiking the famous Camino de Santiago in Spain. Martin Sheen plays Tom, who decides to complete the 500-mile trek after his son dies in a storm while hiking it.
Based on Jon Krakauer's book about the travels of Christopher McCandless and his time spent in the Alaskan wilderness in the early 90's (The book is listed below).
The story of Aron Ralston (played by James Franco) whose arm was pinned under a falling boulder while climbing in a Utah canyon.
Documentary from a group of artists who hike California's John Muir Trail from Yosemite to Mount Whitney. Worth it for the gorgeous scenery alone.
Excellent documentary on the history of the national park system from film maker Ken Burns.
Based on the popular book by Bill Bryson (listed below). The book is better and the movie has it's flaws, but it's still a light, enjoyable, fun watch.
Comedian Kevin Nealon hikes in California while having casual chats with comedians such as Howie Mandel, Conan O'Brien, and Martin Short.
Like Jerry Seinfeld's "Comedians in Cars Getting Coffee" but with hiking instead of driving. While they aren't talking about the outdoors per se, the conversations can be quite entertaining.
See the U.S. from above for a fascinating perspective on our country's mountains, lakes, forests, parks, and cities.
Watch climber Alex Honnold scale Yosemite's "El Capitan" without any safety ropes. Fascinating insight into an incredible climb. Makes your hands sweat just watching from the couch.
Conrad Anker, Jimmy Chin and Renan Ozturk attempt the impossible big-wall climb: the Shark's Fin on Mount Meru, a 21,000 foot peak in India.
So this one is not a show or movie, but an online interactive tour of five national parks presented by rangers: Hawaii Volcanoes, Kenai Fjords, Bryce Canyon, Carlsbad Caverns, and Dry Tortugas.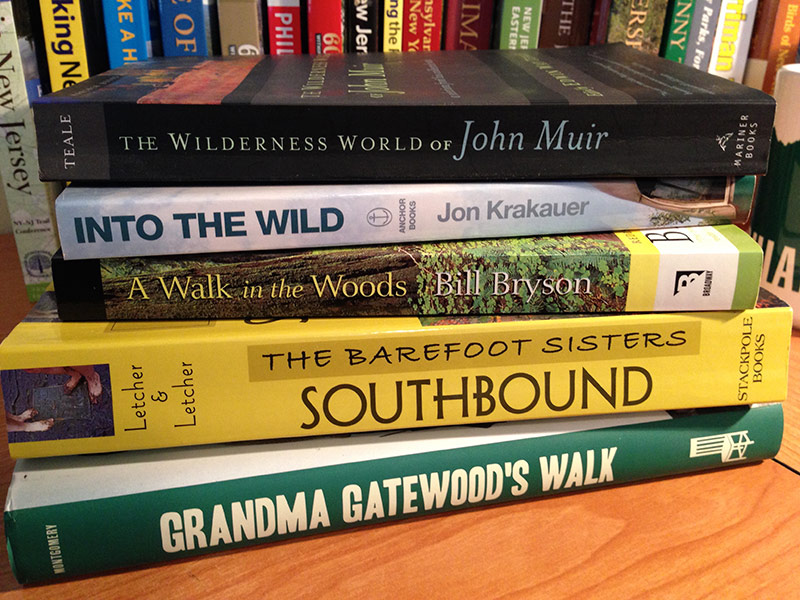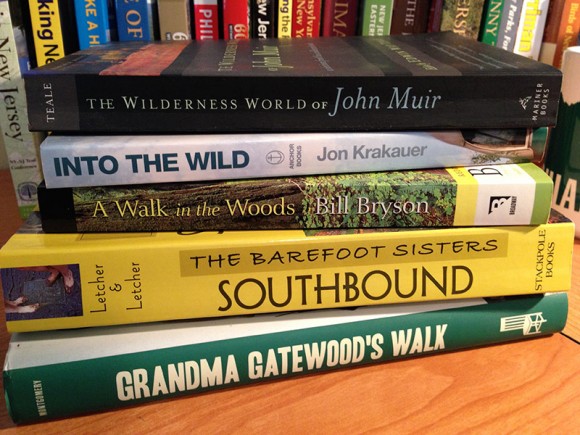 3) Curl up with a book.
When you can't get outside for an adventure, the next best thing is reading about one.
"Rediscovering America on the Appalachian Trail". A funny, quick read about Bill Bryson's ill-prepared attempt at hiking the AT. (The movie is listed above).
About the first solo female thru-hiker who competed the Appalachian Trail in 1955….at age 67.
For another take on what it's like to hike the Appalachian Trail – barefoot.
About the travels of Christopher McCandless and his time spent in the Alaskan wilderness in the early 90's. By Jon Krakauer (the movie is listed above).
"From Lost to Found on the Pacific Crest Trail". The story of Cheryl Strayed's hike of the Pacific Crest Trail.
The PCT is a lesser known long distance trail that runs from Mexico to Canada through California, Oregon, and Washington.
The trail has since surged in popularity when the book was made into a movie with Reese Witherspoon (The movie is listed above).
The fantastic Edward Abbey classic is a must-read before a trip to Arches National Park – but is also a great book anytime.
Nice selection from the collected works of one of America's original naturalists… and the original avid hiker.
Classic, young-adult book about a boy who runs away to live in the woods on his own.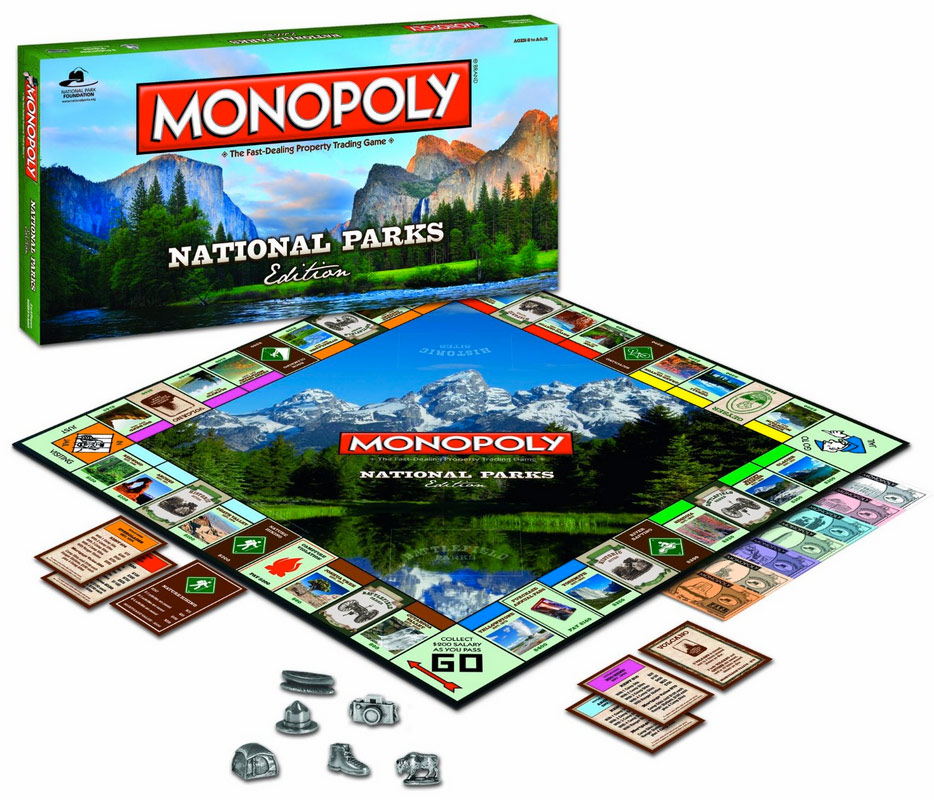 4) Play a game.
When it's pouring out or you've been out in the snow for hours, it's time to make some cocoa and bust out a board game.
Over 600 questions especially designed so anyone can play.
Parents who had traveled to every single National Park worked together with their board game designer son and created a game to inspire others and help families share their love of the National Parks in a fun way
Challenge friends and family to a clever game of 'guesstimation', with both text and image questions. A game that helps share the amazing memories of your visits. Created by national park enthusiasts.
Learn about hiking, tracking, the woods, and wildlife while working together in this non-competitive game. Ages 8 through adult.
Classic game with a National Park focus and facts. Dice feature deer, a tent, a canoe, a hiker, pine trees, and binoculars. Travel sized.
Timeless board-game with an outdoors twist. Features over 60 national parks throughout the game. Fight over who gets to use the ranger hat token!
Match over 100 colorful picture cards featuring beautiful photography of the national parks and the animals that live there.
Keep everyone busy on with a 1000 piece jigsaw puzzle featuring a collage of cool National Park Badges from across the U.S.