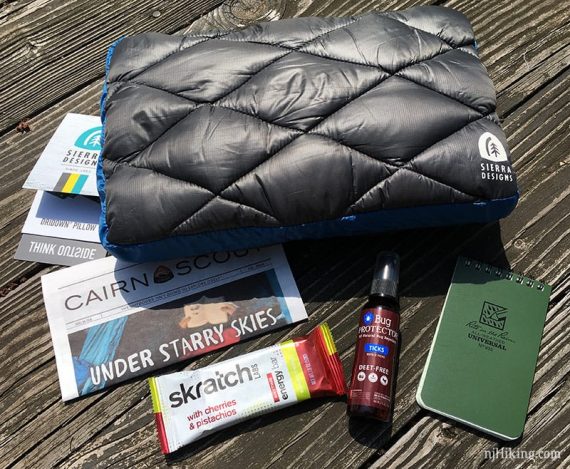 What's inside the Cairn outdoor subscription box for April 2018. Considering getting a Cairn subscription or giving one as a gift? Here's a rundown of what this month's box offers.
Disclaimer: Cairn provided a complimentary box for review, but did not provide compensation or exercise control over the content of this post.

In this month's box

Total Value: $46

A mini-newspaper inside has codes for discounts if you are interested in getting more of the products.
We've been getting Cairn Box for a long time and this is the first time a bag arrived instead of a box. I knew it must be clothing or something squishy.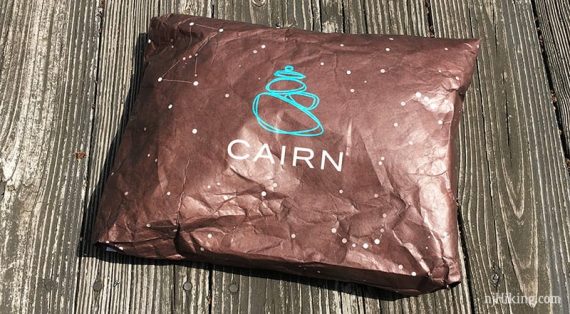 This month's theme is "Under the Starry Skies" and the main item is a camp/travel pillow from Sierra Designs. The compact pillow has a quilted, padded cover and a removable pillow insert. Use together or leave the insert behind and fill the cover with spare clothing to save space. Roll up the cover and store in the attached stuff sack.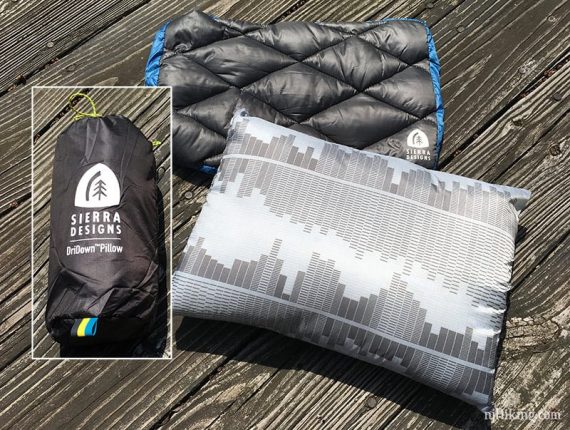 It's got decent support for such a small pillow (13″x9″) and the next time we fly we'll probably try bringing the cover and filling it with some of the clothes we always pack in our carry-on.
We haven't got a chance to test the Bug Protector yet but it's the best smelling repellent I've encountered so far so I'm hoping it works. It's natural, Deet free, and the scent is downright pleasant – cedarwood and vanilla – as opposed to chemicals or the overpowering Lemon Pledge smell from many natural ones.
Rite in the Rain notebooks are water, mud, grease, and sweat proof. And if you use a pencil, crayon, or all weather pen you can actually write while it's wet. Use a ball paint pen or permanent marker when the paper is dry. Either way, what you write won't wash off or smear.
I'd never heard of Skratch Labs until just recently getting a sample of their hydration mix. We really liked that so hopefully their bars are just as good …it's hard to go wrong with cherries and pistachios though. Update: We liked this enough to order a box of them. Good texture that was moist and just chewy enough, with a lightly sweet taste.
The latest specials from Cairn:
---
Pack it up and get going with the Cairn Spring Obsidian Box! Over $320 in gear...
featuring a just released Gregory pack, and products from Smartwool, Hydro Flask, Adventure Medical Kits, more.
---

More run downs:
– Cairn - April 2018
– Cairn - February 2018
– Cairn - January 2018
– A Year of Cairn
– Cairn - November 2017
– Cairn - October 2017
– All reviews...