What's inside the Cairn outdoor subscription box for April 2019.
Considering getting a Cairn subscription or giving one as a gift? Here's a rundown of what this month's box offers.
Disclaimer: Cairn provided a complimentary box for review, but did not provide compensation or exercise control over the content of this post.

In this month's box

Total Value: $47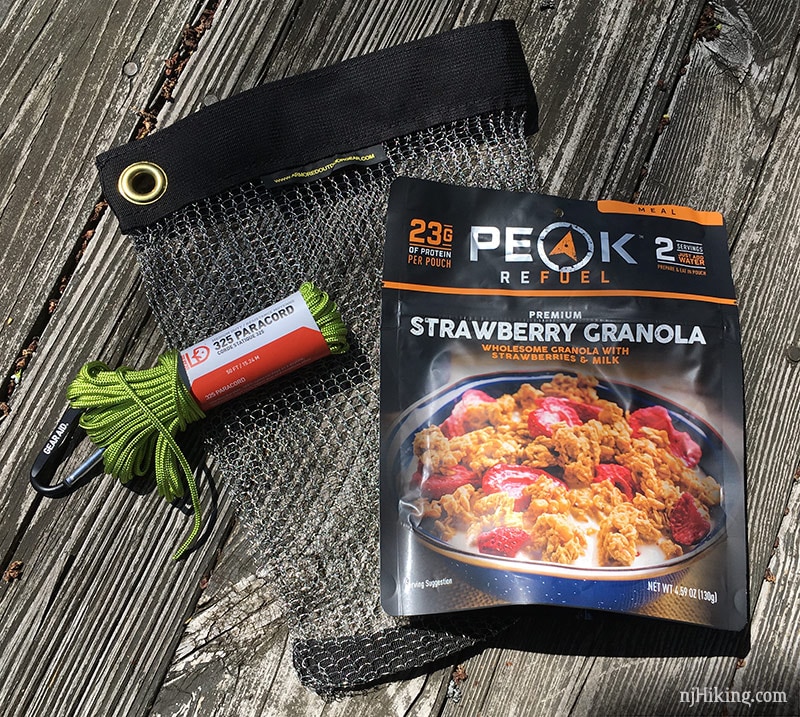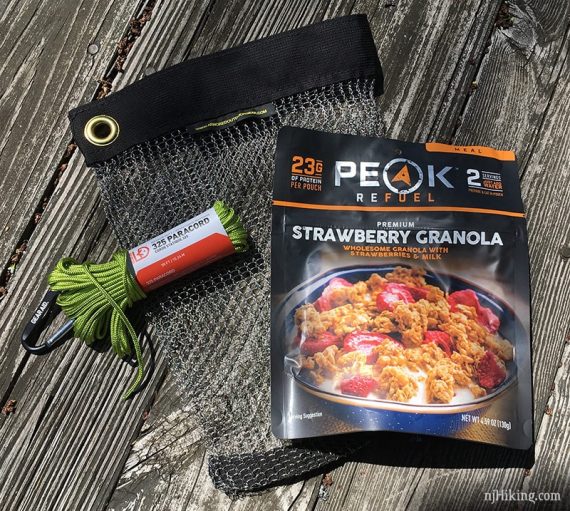 This month Cairn is "hungry for adventure" with an instant meal and paracord and a wire mesh bag to keep backpacking food away from clever critters .
This stainless steel wire mesh bag has a super strong velcro closure and a grommet to secure the bag. Put food and/or toiletries in the bad to thwart gnawing critters.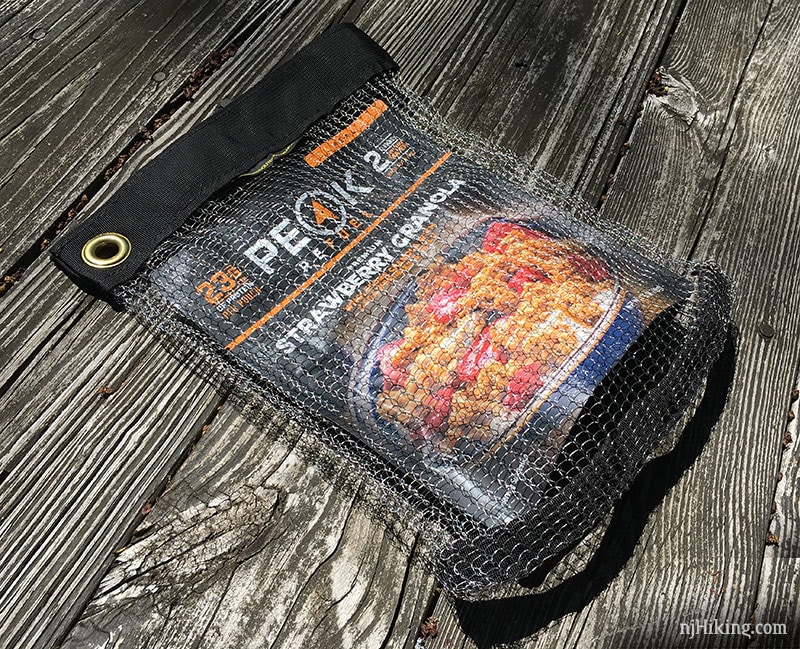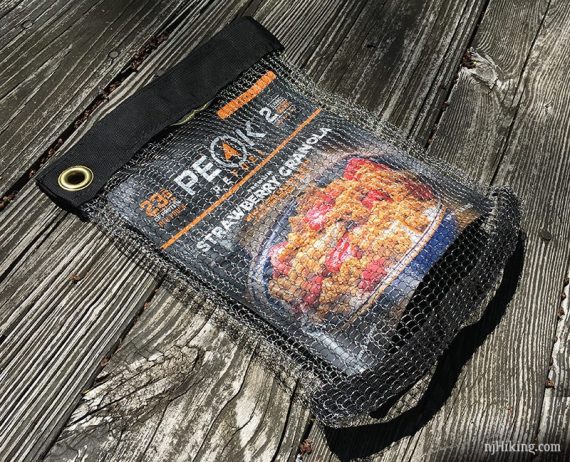 Also can be used as a "drag bag" to keep beverages cold in bodies or water, and as a underwater or beach collection bag.
Open the bag, take out the 'do not eat packet', pour in a cup of cold water, stir, and let sit 5 minutes for a tasty instant breakfast.
I was skeptical about freeze-dried strawberries – expecting tiny gnarly bit of chewy of fruit – but, nope, these are large slices of fruit.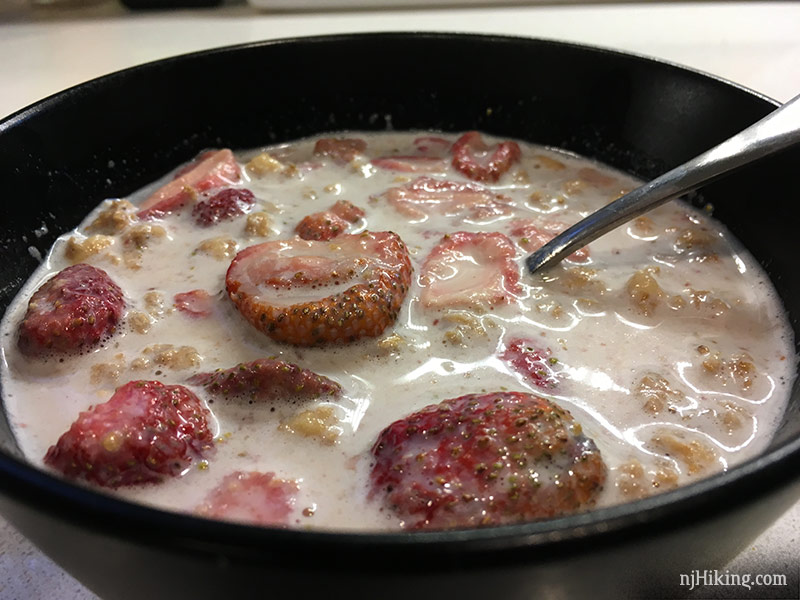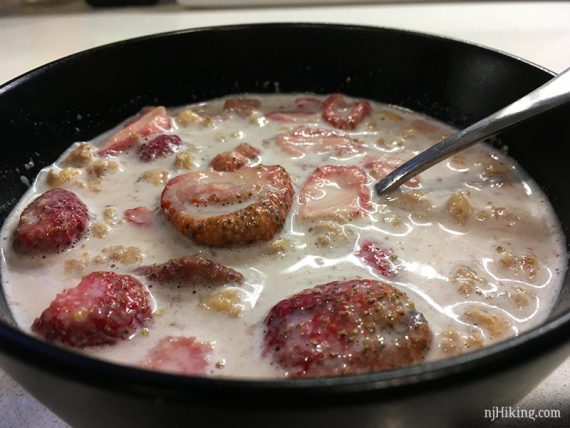 The taste was decent but a little too sweet for me. The consistency was pretty much like a bowl of milk with large granola chunks and strawberries. I ate it in a bowl but it was easy to eat out of the bag too.
50 feet of 100% nylon strong thin cord has tons of uses – tent guyline, clotheslines, laces, zipper pull, stringing up food bags. Includes a carabiner. Not for climbing.
The latest specials from Cairn:
---
Get 20% off your first box!
Valid for both Obsidian or Monthly Subscriptions.
Use code GET20.
---
BONUS Gregory Nano Waistpack Mini!
Large zippered main compartment, internal divider pockets; front zippered with secure key leash. With a 6- or 12-month subscription.
Hurry to secure your favorite color!
---
The Spring 2021 Obsidian Collection - "Take It All In"
features waterproof binoculars and flexible tripod from Carson, Ledlenser lantern, two Stanley camp mugs and their camp crock that keeps foods hot for 12 hours.
Limited quantities available!
---
KITTED by Cairn - Try Before You Buy!
Curated outdoor gear collections. Choose up to 5 items, try them at home for a week, and only pay for what you decide to keep.
---
Get one, Gift One!
Subscribe to Monthly Cairn and receive a FREE GIFT MONTH to send to someone you care about!
$29.95 value.
---
BONUS Growler - $60 value!
Get a FREE DrinkTanks 64oz Insulated Growler with a new 6- or 12-month Cairn subscription! Keeps drinks COLD 45+ hours / HOT 20 + hours.
Limited quantities available!
Great to keep in the car for before/after your outdoor activities (or fill at a local brewery on the way home!)
---
First Cairn for a DOLLAR
– Get your first month for $1 when you subscribe for 6 or 12 months!
---
BONUS Water Bottle - $45 value
– Get a free MiiR 42 oz. Wide Mouth Bottle with a 6- or 12-month subscription. Cold drinks stay cold for 24+ hours, hot drinks stay hot for 12 hours. Hurry to secure your favorite color. Quantities are limited.
---

More run downs:
– Cairn - April 2021
– Cairn - November 2020
– Cairn - August 2020
– Cairn - June 2020
– Cairn - May 2020
– Cairn - March 2020
– Cairn - February 2020
– Cairn - January 2020
– Cairn - November 2019
– Cairn - October 2019
– Cairn - September 2019
– A Year of Cairn
– All reviews...