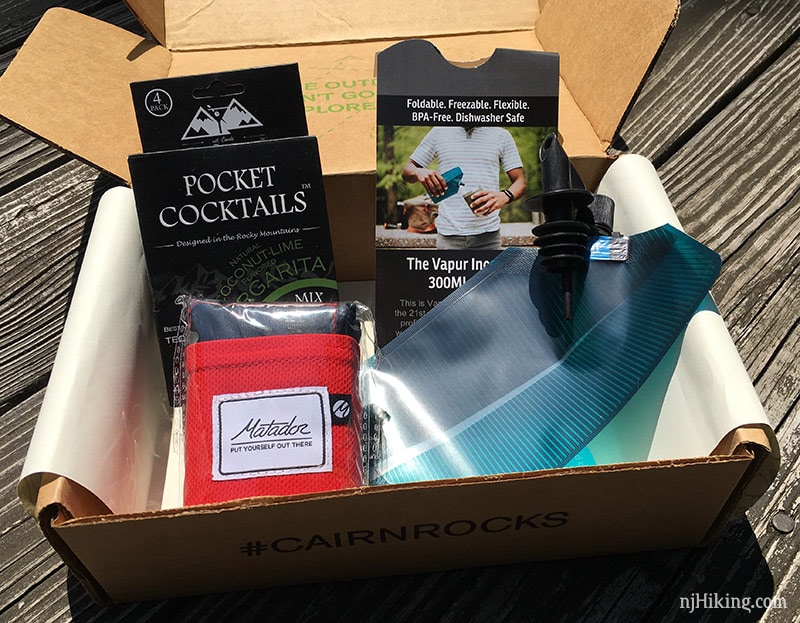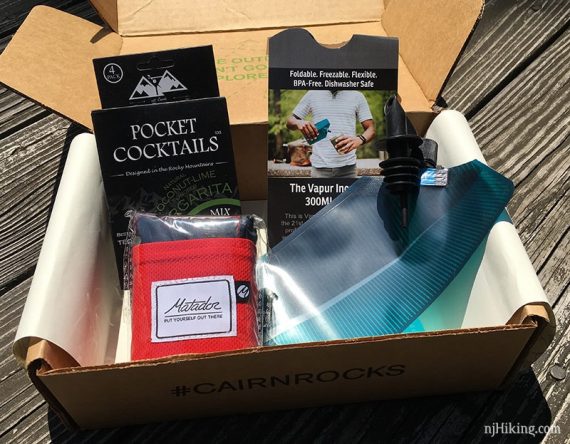 What's inside the Cairn outdoor subscription box for August 2018. Considering getting a Cairn subscription or giving one as a gift? Here's a rundown of what this month's box offers.
Disclaimer: Cairn provided a complimentary box for review, but did not provide compensation or exercise control over the content of this post.

In this month's box
| | | Value |
| --- | --- | --- |
| Matador Blanket | Lightweight, compact, water and tear resistant blanket with built in stakes and weighted corners. | $30 |
| Pocket Cocktails | Individual serving packets, 4-count. Coconut Lime Margarita. | $10 |
| Vapur Incognito Flask | Flexible flask is a foldable and freezeable way to transport beverages on the sly. 300 ml. Includes pourer. | $8 |

Total Value: $48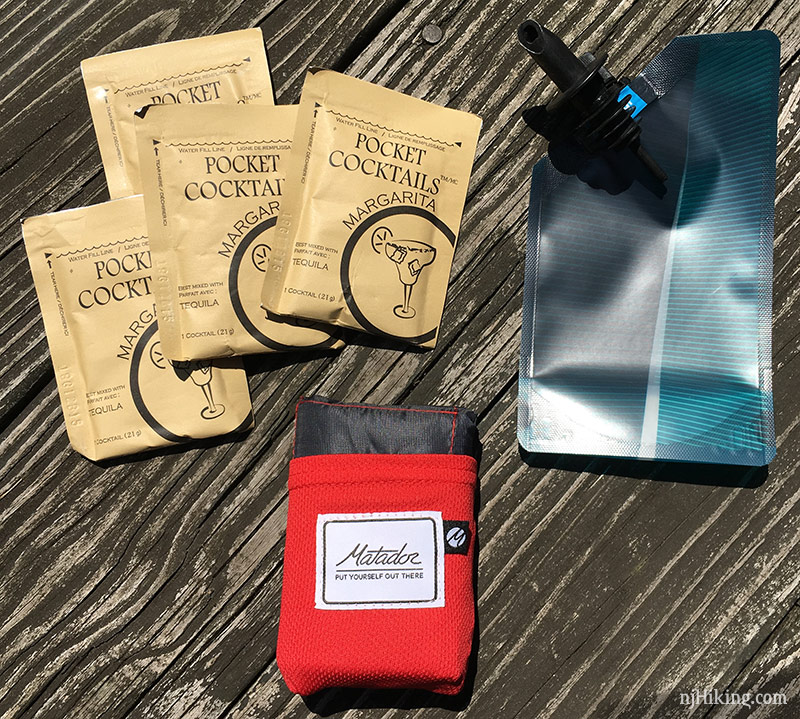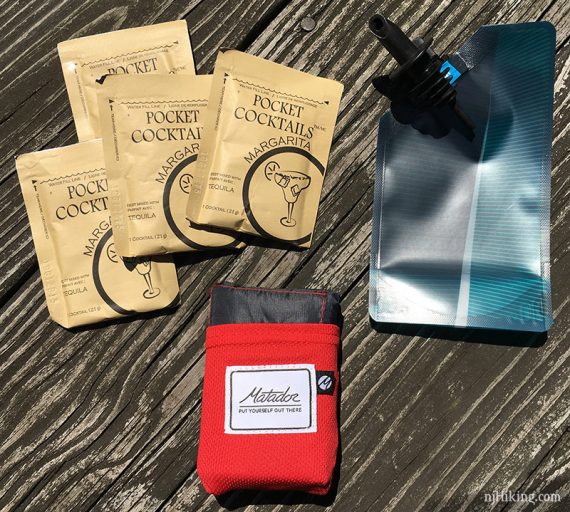 This month's Cairn box is all about portable relaxation and an outdoor happy hour… for around camp, outdoor concert, or even the lake or beach.
To make a Pocket Margarita, empty a packet of crystals in a bottle, fill the packet with water four times and add along with 1.5 oz of tequila (or to taste), shake and enjoy. Bar Country makes a few other flavors too, if you want to get a full bar going.
The Vapur Incognito flask is a lightweight reusable beverage container meant to transport alcohol without worrying about broken glass. When empty it's flat and weighs almost nothing, and includes a pourer to fill from your favorite bottle of spirits.
The Matador Pocket Blanket has been a big hit on our Hiking Gift Ideas for several years, enough that it made the cut to be included on our Popular Gift Ideas page.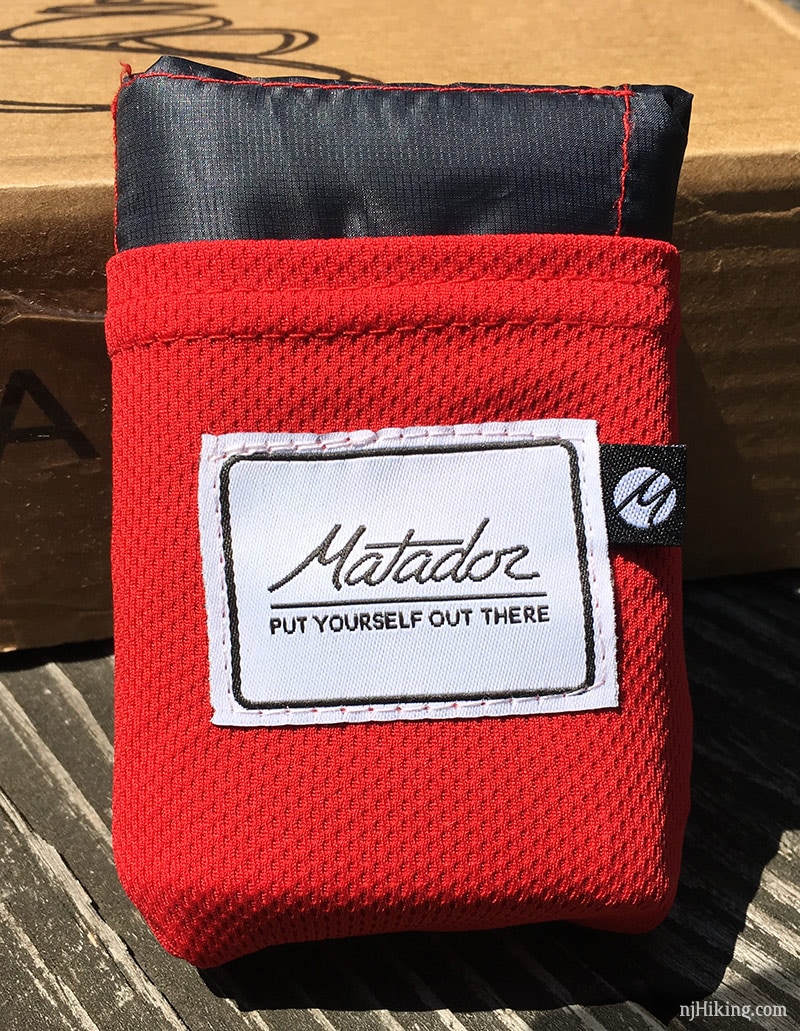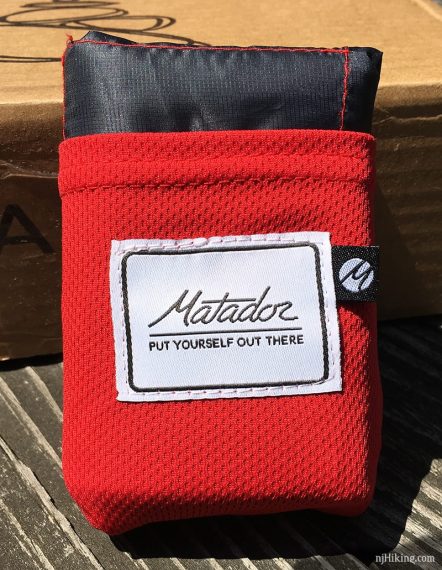 The Matador literally fits in your palm but unfolds to seat 2-4 people and is water and puncture resistant. The corners contain built-in stakes and is weighted to keep the ends from flapping around.
Folding it back into the attached stuff sack is genius… just keep folding in half using the red stitching as a guide to get it smaller and smaller. The colored stitching is only on the side you need to fold so it really is a no-brainer to pack up.
Which is probably a good thing after you've had a few Pocket Cocktails…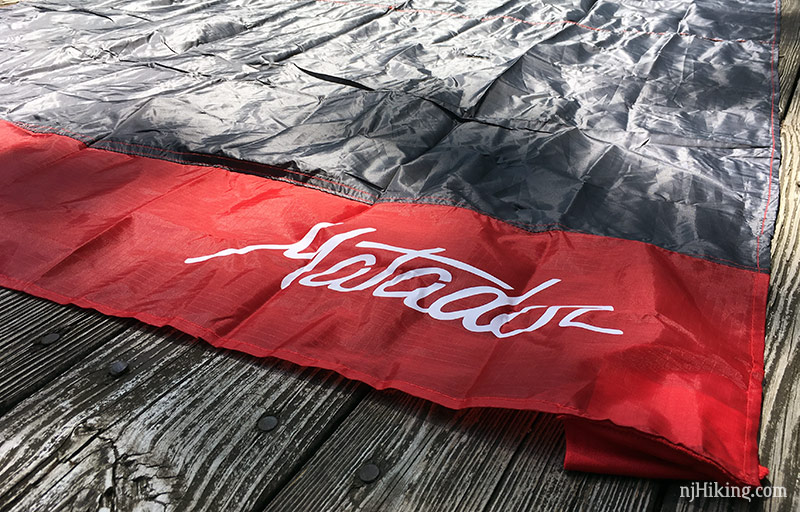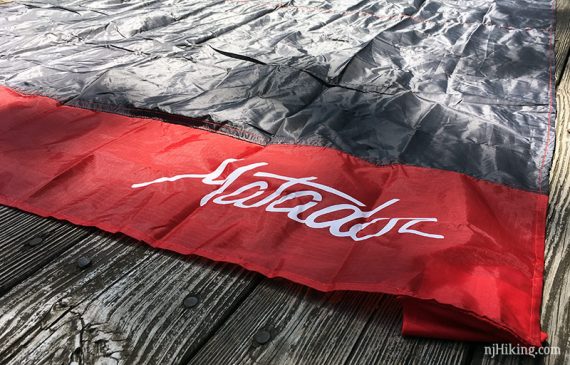 Cairn sometimes does box variations so everyone might not get the same box every month. It also depends on profile preferences as well as what's been received in the past.
The latest specials from Cairn:
---
Get 20% off your first box!
Valid for both Obsidian or Monthly Subscriptions.
Use code GET20.
---
BONUS Gregory Nano Waistpack Mini!
Large zippered main compartment, internal divider pockets; front zippered with secure key leash. With a 6- or 12-month subscription.
Hurry to secure your favorite color!
---
The Spring 2021 Obsidian Collection - "Take It All In"
features waterproof binoculars and flexible tripod from Carson, Ledlenser lantern, two Stanley camp mugs and their camp crock that keeps foods hot for 12 hours.
Limited quantities available!
---
KITTED by Cairn - Try Before You Buy!
Curated outdoor gear collections. Choose up to 5 items, try them at home for a week, and only pay for what you decide to keep.
---
Get one, Gift One!
Subscribe to Monthly Cairn and receive a FREE GIFT MONTH to send to someone you care about!
$29.95 value.
---
BONUS Growler - $60 value!
Get a FREE DrinkTanks 64oz Insulated Growler with a new 6- or 12-month Cairn subscription! Keeps drinks COLD 45+ hours / HOT 20 + hours.
Limited quantities available!
Great to keep in the car for before/after your outdoor activities (or fill at a local brewery on the way home!)
---
First Cairn for a DOLLAR
– Get your first month for $1 when you subscribe for 6 or 12 months!
---
BONUS Water Bottle - $45 value
– Get a free MiiR 42 oz. Wide Mouth Bottle with a 6- or 12-month subscription. Cold drinks stay cold for 24+ hours, hot drinks stay hot for 12 hours. Hurry to secure your favorite color. Quantities are limited.
---

More run downs:
– Cairn - April 2021
– Cairn - November 2020
– Cairn - August 2020
– Cairn - June 2020
– Cairn - May 2020
– Cairn - March 2020
– Cairn - February 2020
– Cairn - January 2020
– Cairn - November 2019
– Cairn - October 2019
– Cairn - September 2019
– A Year of Cairn
– All reviews...