What's inside the Cairn outdoor subscription box for February 2019.
Considering getting a Cairn subscription or giving one as a gift? Here's a rundown of what this month's box offers.
Disclaimer: Cairn provided a complimentary box for review, but did not provide compensation or exercise control over the content of this post.

In this month's box
| | | Value |
| --- | --- | --- |
| Coast HX5R Flashlight | Compact USB-chargeable flashlight; switch between flood and spotlight with one hand, clip for hat or pack strap. Also uses a CR123 alkaline battery. | $40 |
| UCO Gear Sweetfire Fire Starter | Strikeable fire starters made from a sugarcane byproduct. | $5 |
| Jonesbar Mango | Energy bar made from dried mango, almonds, dates, and chia seeds. | $3 |

Total Value: $48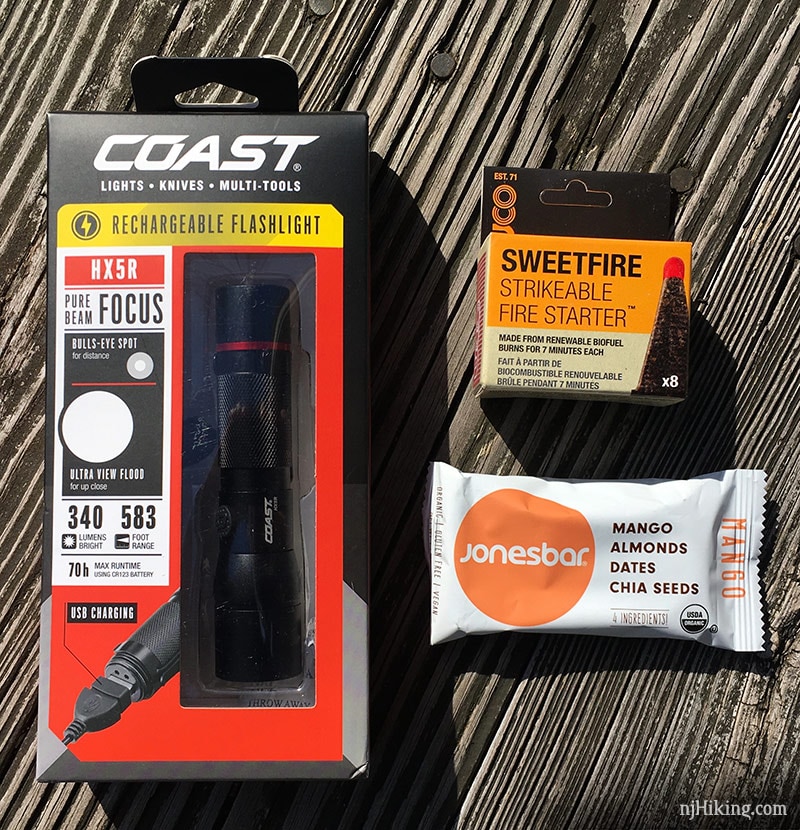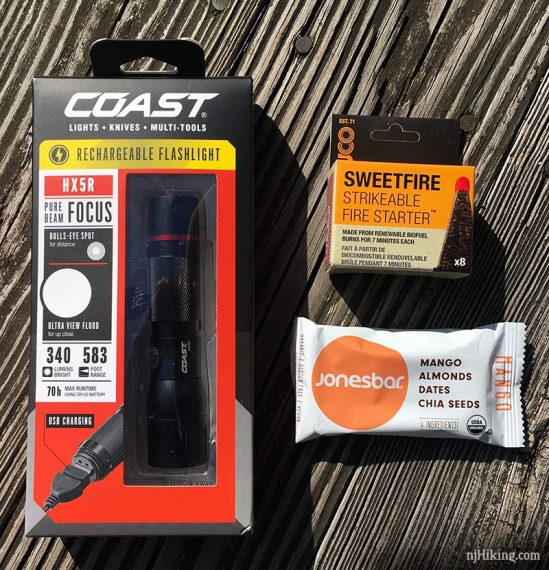 Cairn's theme this month is "Lighten Up" – compact products that are very useful.
The main item is the small HX5R flashlight from Coast. At about 5″ long it fits nicely in your palm and the beam width can be controlled by push/pulling the end with one hand.
It's a USB-rechargeable flashlight so it works at home, a battery backup, or with a solar-recharger such as an Outxe Power Bank or a Goal Zero.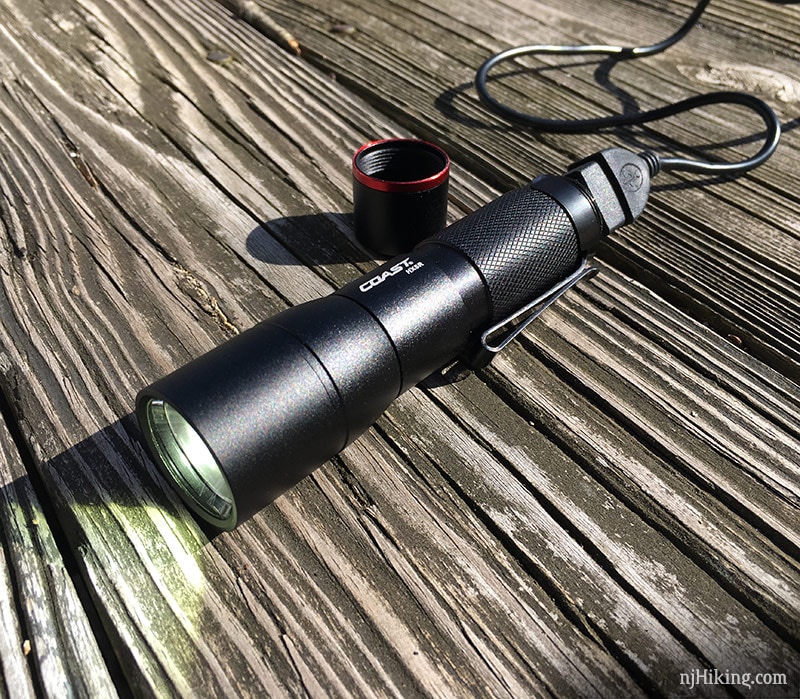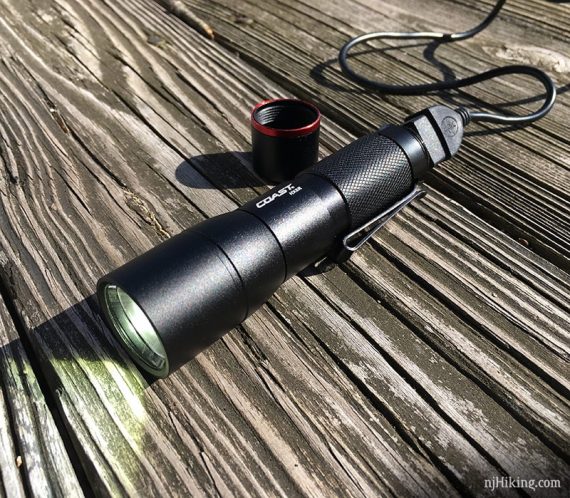 A nice touch is that an regular alkaline battery can be used. Minor ding: it takes a CR-123 which pretty much no one has lying around.
It also features a two-way clip to attach to a hat brim or pack strap. While we prefer packing a headlamp in case we're caught out in the dark, this is a pretty practical flashlight.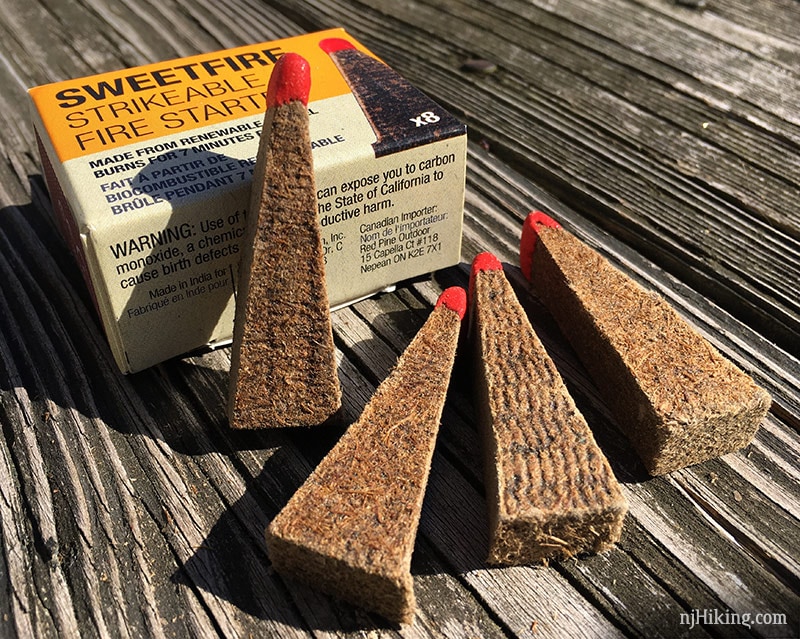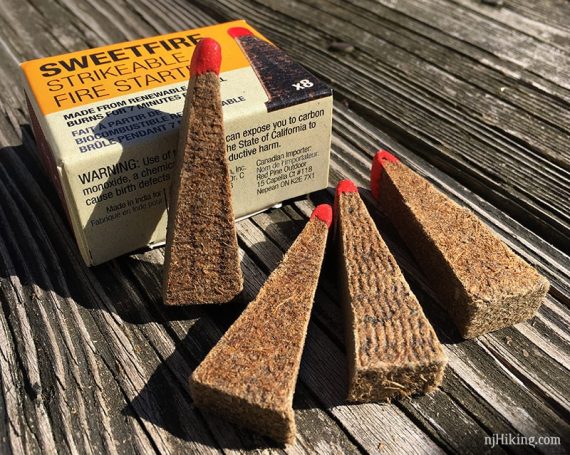 Next up is something I'd never seen before, UCO Gear's Sweetfire Fire Starter.
The box contains eight strikeable match points made out of a sugarcane byproduct infused with vegetable wax. Each has up to 7 minutes of burn time to easily get a fire started.
It's a great idea for camping but also takes up little space to stash in a pack as a emergency item.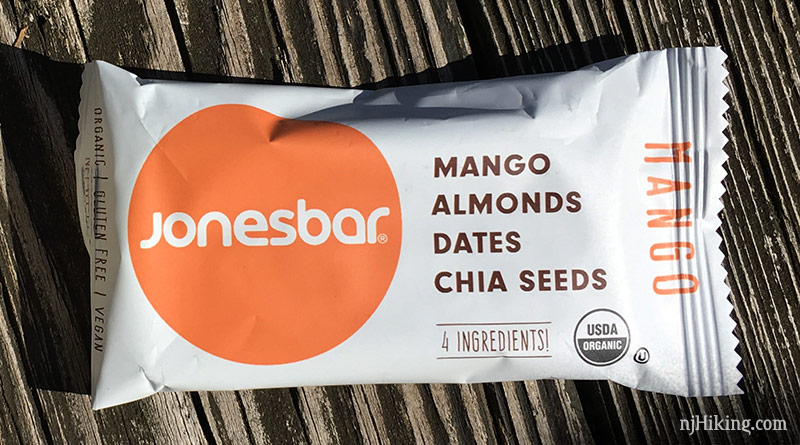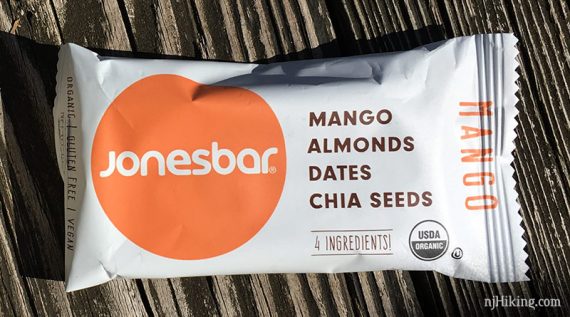 And finally, the Jonesbar Mango, is from right here in Jersey! Specifically, Manasquan, NJ.
I tossed it in a pack to taste test on our next hike which ended up being at Turkey Swamp. We split it on our break… by the Manasquan River.
This was entirely unintentional. I swear.
We had a chuckle when we realized it and joked we could have also hiked the Manasquan Reservoir.
The bar is very mango forward with big chunks of dried mango, plus almonds, dates, and chia seeds. I looooove mango so this was perfect for me. Tom though it was "just-ok" but he's not a fan of date- or fig-based bars.
I'd get this again. Bonus that it's from Jersey.
The latest specials from Cairn:
---
Get 20% off your first box!
Valid for both Obsidian or Monthly Subscriptions.
Use code GET20.
---
BONUS Gregory Nano Waistpack Mini!
Large zippered main compartment, internal divider pockets; front zippered with secure key leash. With a 6- or 12-month subscription.
Hurry to secure your favorite color!
---
The Spring 2021 Obsidian Collection - "Take It All In"
features waterproof binoculars and flexible tripod from Carson, Ledlenser lantern, two Stanley camp mugs and their camp crock that keeps foods hot for 12 hours.
Limited quantities available!
---
KITTED by Cairn - Try Before You Buy!
Curated outdoor gear collections. Choose up to 5 items, try them at home for a week, and only pay for what you decide to keep.
---
Get one, Gift One!
Subscribe to Monthly Cairn and receive a FREE GIFT MONTH to send to someone you care about!
$29.95 value.
---
BONUS Growler - $60 value!
Get a FREE DrinkTanks 64oz Insulated Growler with a new 6- or 12-month Cairn subscription! Keeps drinks COLD 45+ hours / HOT 20 + hours.
Limited quantities available!
Great to keep in the car for before/after your outdoor activities (or fill at a local brewery on the way home!)
---
First Cairn for a DOLLAR
– Get your first month for $1 when you subscribe for 6 or 12 months!
---
BONUS Water Bottle - $45 value
– Get a free MiiR 42 oz. Wide Mouth Bottle with a 6- or 12-month subscription. Cold drinks stay cold for 24+ hours, hot drinks stay hot for 12 hours. Hurry to secure your favorite color. Quantities are limited.
---

More run downs:
– Cairn - April 2021
– Cairn - November 2020
– Cairn - August 2020
– Cairn - June 2020
– Cairn - May 2020
– Cairn - March 2020
– Cairn - February 2020
– Cairn - January 2020
– Cairn - November 2019
– Cairn - October 2019
– Cairn - September 2019
– A Year of Cairn
– All reviews...