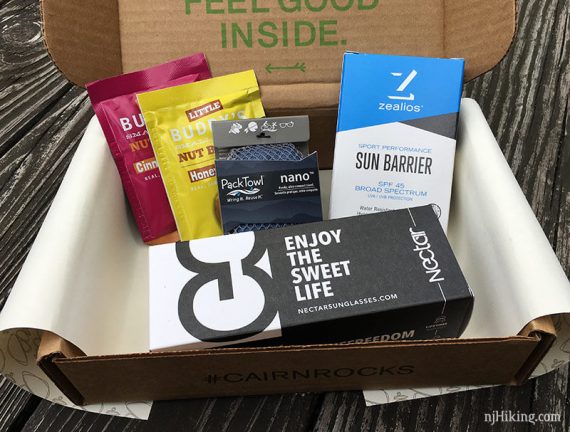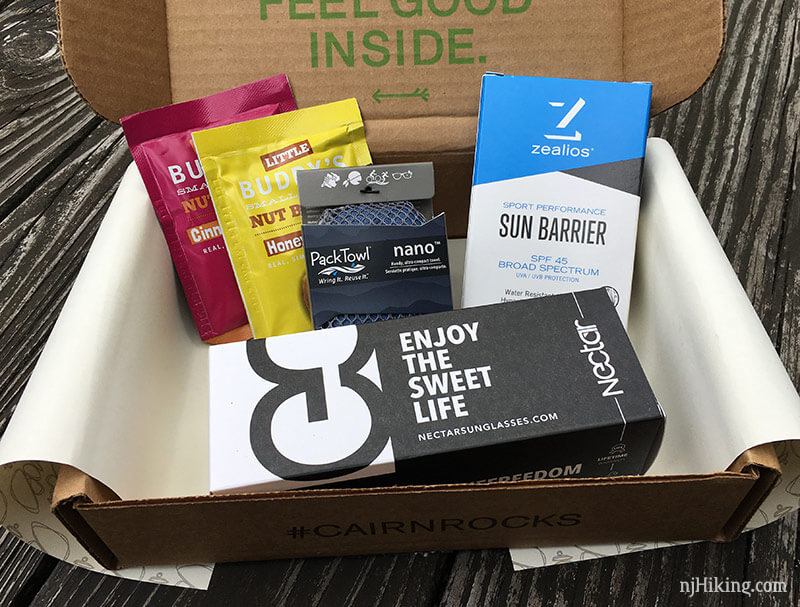 What's inside the Cairn outdoor subscription box for July 2017. Considering getting a Cairn subscription or giving one as a gift? Here's a rundown of what this month's box offers.
Disclaimer: Cairn provided a complimentary box for review, but did not provide compensation or exercise control over the content of this post.

In this month's box
| | | Value |
| --- | --- | --- |
| Nectar Sunglasses | Lightweight and polarized. Every purchase helps repopulate honeybee hives. Warranty allows $15 replacements for life. | $35 |
| PackTowl Nano | Compact quick-dry towel fits into a mesh pouch that can be clipped to a pack. Also can be used as a headband. | $10 |
| Zealios Sunscreen | 45 SPF zinc-based sunscreen that dries clear. Pack of 4 single-use of containers. | $10 |
| Buddy's Nut Butter | Squeezable package of honey peanut and cinnamon raisin. Just peanuts, oil, raw honey, sea salt, and raisins/cinnamon. | $3 |

Total Value: $58
A mini-newspaper inside has codes for discounts if you are interested in getting more of the products.
Fun in the sun is the theme of this month's box. I wasn't familiar with any of these brands but just recently thought maybe we should try a nut butter as a trail snack… and *poof* here it is. Very convenient that Cairn is now reading my mind.
We never haul around a bottle of sunscreen on a hike, but we'll be keeping one of the Zealios in our pack for sunshine emergencies (like last weekend when we hadn't planned ahead for spending so much time up on a ridge line in the blaring summer sun – duh). The sunglasses are nice and have an interesting replacement warranty, so they might be a good choice for those who tend to lose their sunglasses.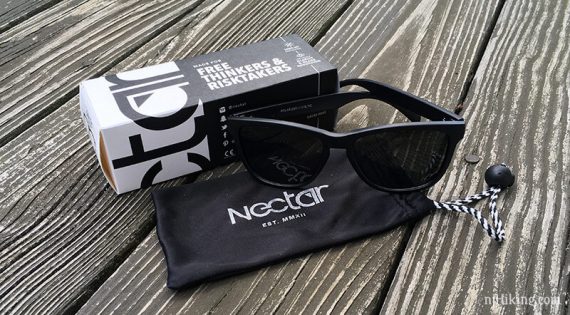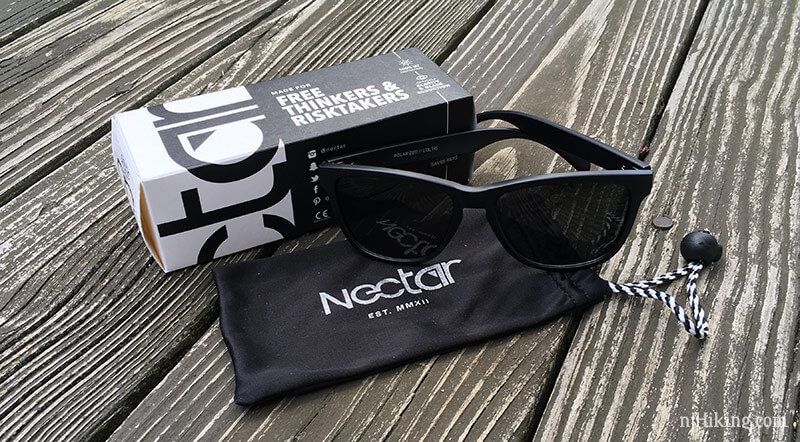 Plus monthly run downs:
–Cairn - July 2017
–Cairn - June 2017
–Cairn - May 2017
–Cairn - April 2017
–Cairn - March 2017
–Cairn - February 2017
–Cairn - January 2017
–Cairn - December 2016
–Cairn - November 2016