What's inside the Cairn outdoor subscription box for March 2020.
Considering getting a Cairn subscription or giving one as a gift? Here's a rundown of what this month's box offers.
Disclaimer: Cairn provided a complimentary box for review, but did not provide compensation or exercise control over the content of this post.

In this month's box
| | | Value |
| --- | --- | --- |
| Ecovessel Transit Mug | Triple-insulated mug for hot and cold beverages. | $25 |
| Basecamp Playing Cards | Card deck that also features conservation starting questions. | $14 |
| Honey Stinger GF Waffles | Tasty snack with a layer of honey sandwiched between two thin waffles. Four gluten free flavors. | $6 |

Total Value: $46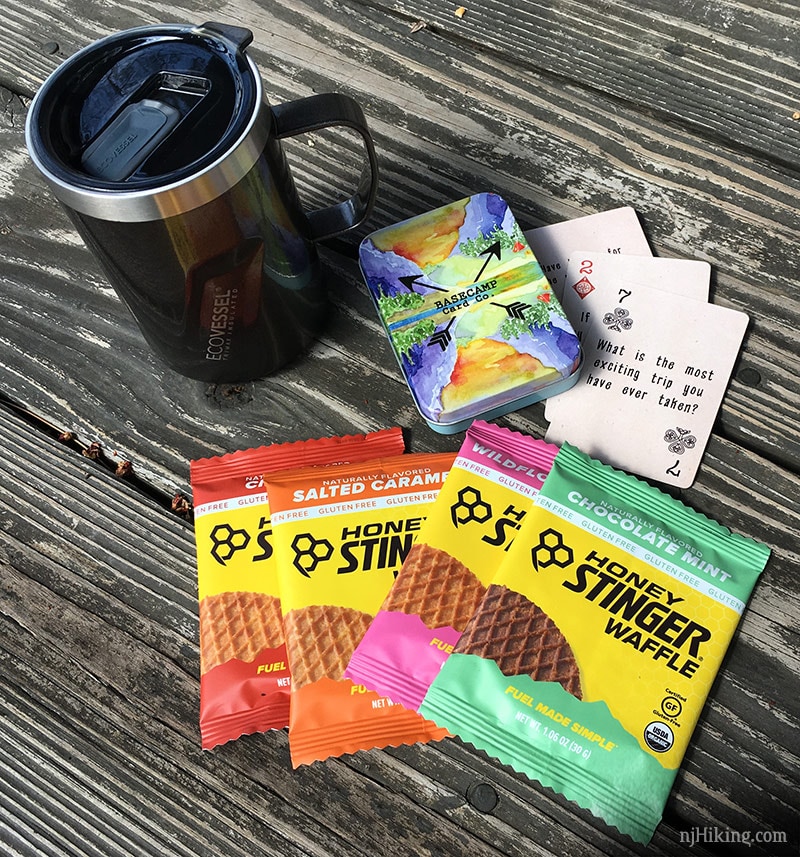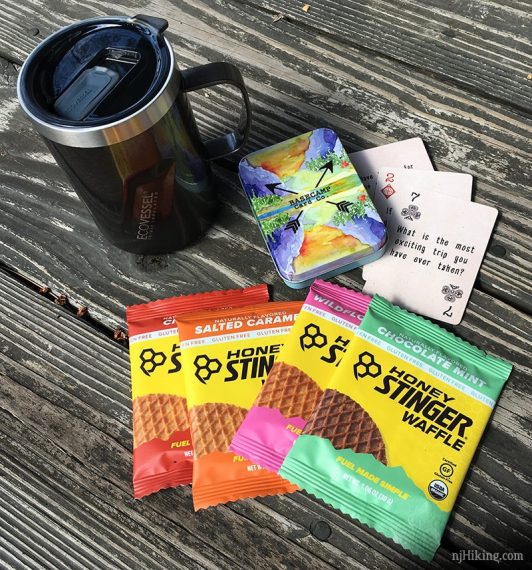 This theme for this month's Cairn is "happy camp".
Ecovessel Transit Mug
Their triple-insulated classic mug has been updated with modern lines and a sleeker design. Cairn subscribers are the first to get this new design – I couldn't even find it on Ecovessel's site when writing this.
Features a non-skid silicone base, lid with a sliding closure, and works for either hot or cold beverages.
I steamed up my afternoon latte and it fit perfectly in this. It kept it piping hot – almost too hot. Next time I'll try leaving the lid off.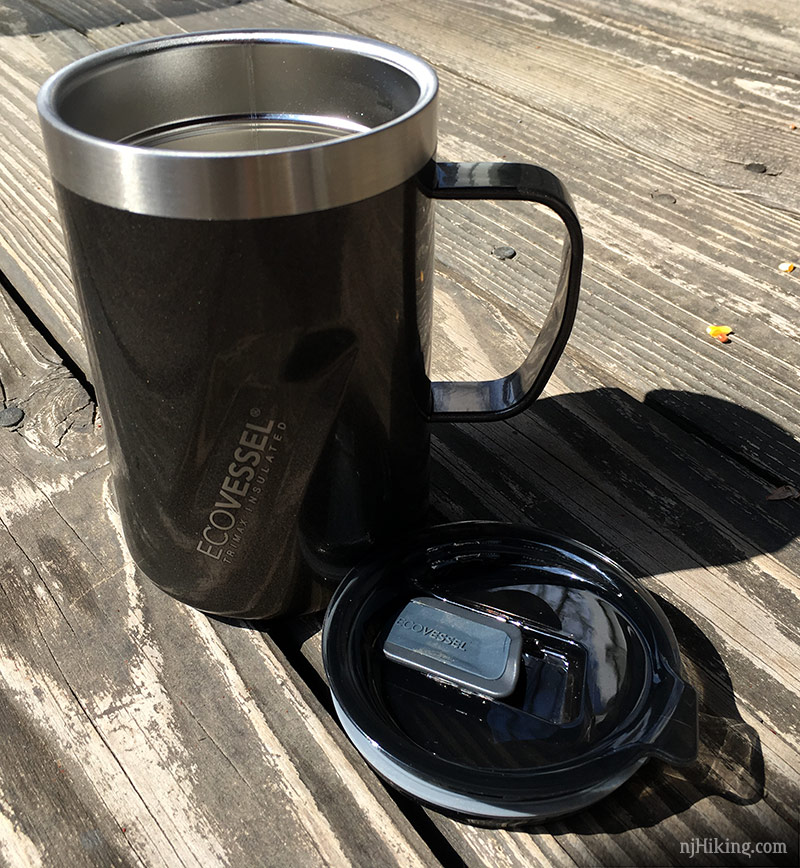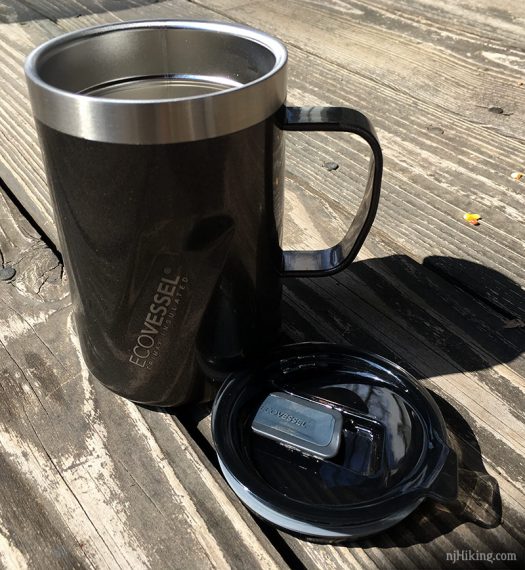 Basecamp Card Deck
Card deck with icebreaking conversation starting questions that range from thought-provoking to goofy. Entertainment around the campfire or anytime.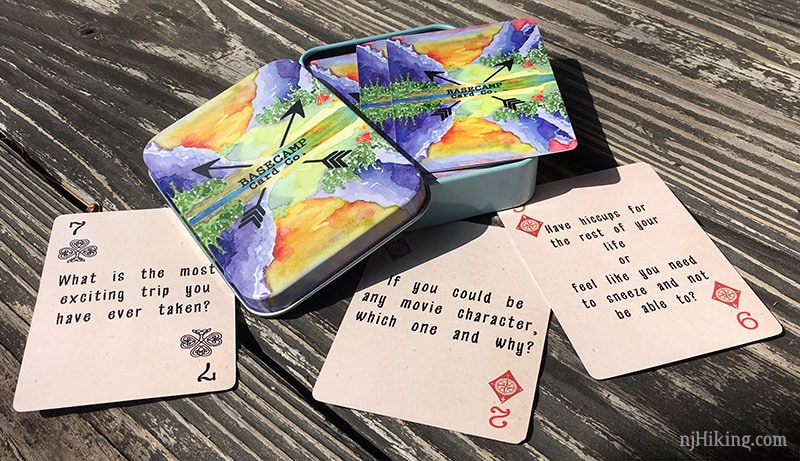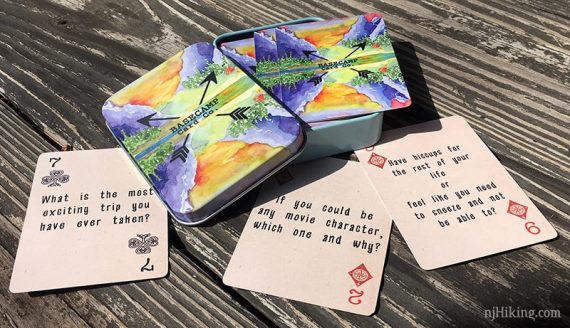 We love Honey Stinger Waffles. LOVE LOVE LOVE. Since when one came in our August 2017 Cairn box.
While we find them too fragile and crumbly to put in a pack they are excellent as a post-hike snack with coffee. (Or anytime with coffee, let's be honest here).
These are four of the gluten free flavors they offer: salted caramel, chocolate mint, cinnamon, wildflower honey.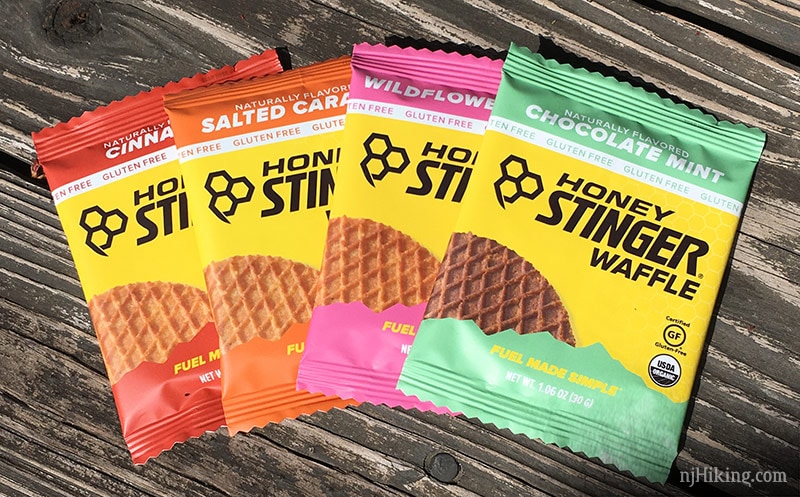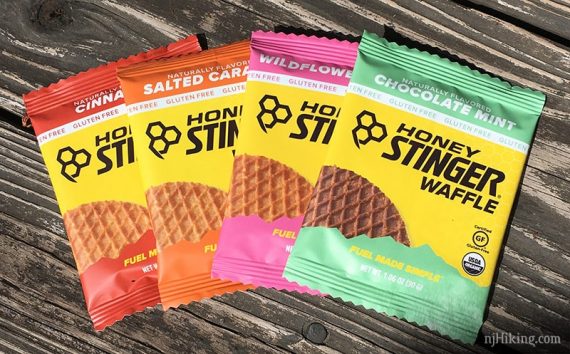 The latest specials from Cairn:
---
The Summer 2021 Obsidian Collection
– Two variations: Camping or Mountain Biking (based on profile) features items like a UST sleeping pad, camp saw, SOL bowl set, Biolite grill tools, Patagonia Provisions meals. Bike version includes an Osprey lumbar pack, Backcountry shorts and liner, Truck gloves, Cycle Medic.
Limited quantities available!
---
BONUS BioLite Headlamp 750!
$99.95 value! Pro-level rechargeable headlamp, forever pass-thru charging, and 8 lighting modes, 750 lumens, 150 hours on low, 7 hours on high.
---
Get 20% off your first box!
Valid for both Obsidian or Monthly Subscriptions.
Use code GET20.
---
BONUS Gregory Nano Waistpack Mini!
Large zippered main compartment, internal divider pockets; front zippered with secure key leash. With a 6- or 12-month subscription.
Hurry to secure your favorite color!
---
KITTED by Cairn - Try Before You Buy!
Curated outdoor gear collections. Choose up to 5 items, try them at home for a week, and only pay for what you decide to keep.
---
Get one, Gift One!
Subscribe to Monthly Cairn and receive a FREE GIFT MONTH to send to someone you care about!
$29.95 value.
---
BONUS Growler - $60 value!
Get a FREE DrinkTanks 64oz Insulated Growler with a new 6- or 12-month Cairn subscription! Keeps drinks COLD 45+ hours / HOT 20 + hours.
Limited quantities available!
Great to keep in the car for before/after your outdoor activities (or fill at a local brewery on the way home!)
---
First Cairn for a DOLLAR
– Get your first month for $1 when you subscribe for 6 or 12 months!
---
BONUS Water Bottle - $45 value
– Get a free MiiR 42 oz. Wide Mouth Bottle with a 6- or 12-month subscription. Cold drinks stay cold for 24+ hours, hot drinks stay hot for 12 hours. Hurry to secure your favorite color. Quantities are limited.
---

More run downs:
– Cairn - April 2021
– Cairn - November 2020
– Cairn - August 2020
– Cairn - June 2020
– Cairn - May 2020
– Cairn - March 2020
– Cairn - February 2020
– Cairn - January 2020
– Cairn - November 2019
– Cairn - October 2019
– Cairn - September 2019
– A Year of Cairn
– All reviews...