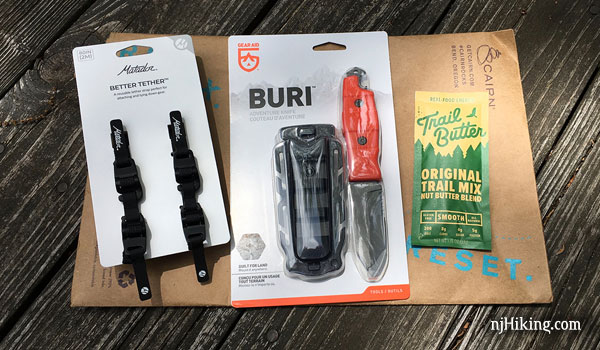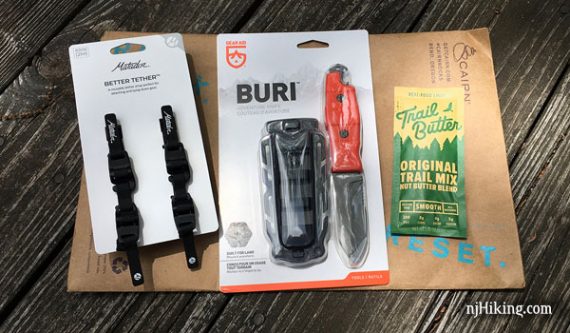 What's inside the Cairn outdoor subscription box for May 2020.
Considering getting a Cairn subscription or giving one as a gift? Here's a rundown of what this month's box offers.
Disclaimer: Cairn provided a complimentary box for review, but did not provide compensation or exercise control over the content of this post.
In this month's box
| | | Value |
| --- | --- | --- |
| Gear Aid Buri Utility Knife | 3″ blade, full tag, thumb-release from case; glass breaker, bottle opener. | $30 |
| Matador Tether Straps | 2 pack of 6′ nylon tethers with easy to undo hardware on each end. | $17 |
| Trail Butter | Single serve packet of nut butter, Trail Mix blend. | $2 |

Total Value: $49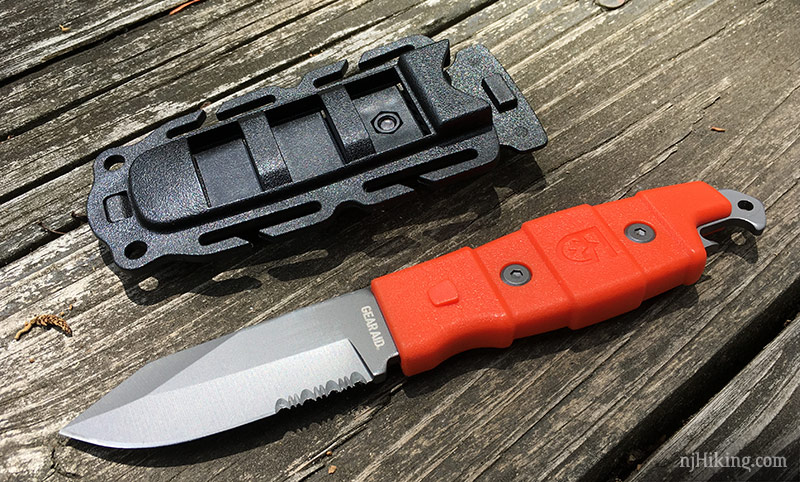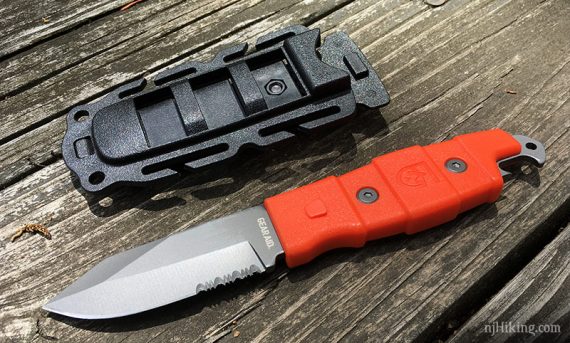 This theme for this month's Cairn is "prepped and ready".
Burly all-around knife for cutting line or food etc. Full tang blade (one piece of metal extends into the handle) with bottle opener and glass breaker. Case has multiple lash points.
Thumb release hold the knife firmly in the case so it can be mounted upside down on a pack strap or belt.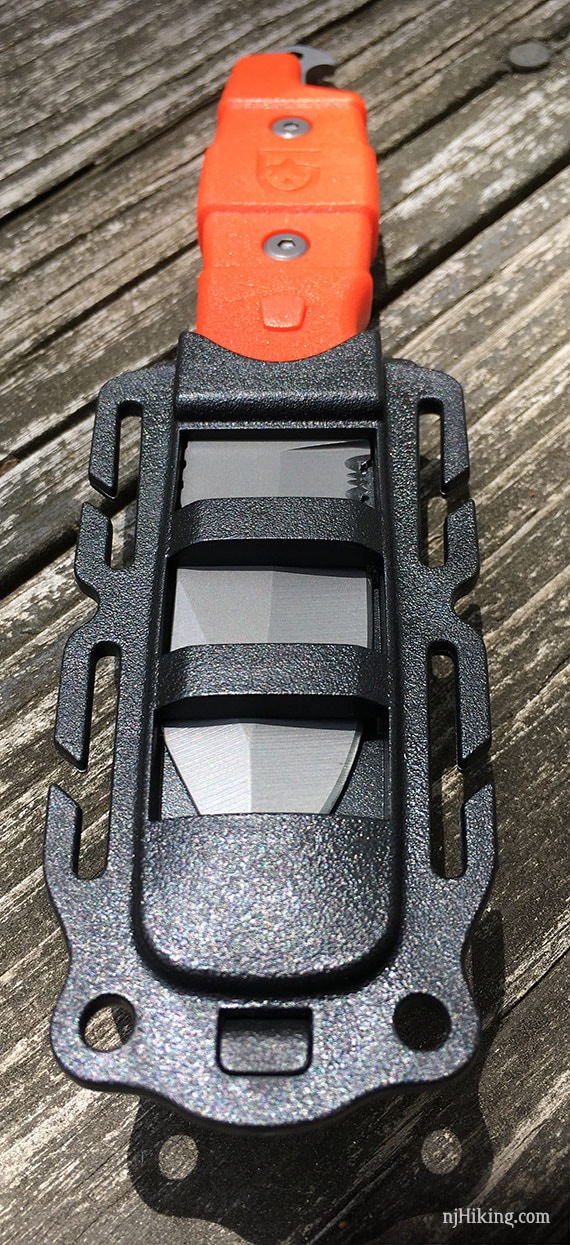 Matador Better Tether
Two 6′ nylon straps to cinch down and attach gear almost anywhere. Each end features easy to fasten dual-sided clips with thumb tabs to quickly remove or adjust them. Rated for up to 200 lbs.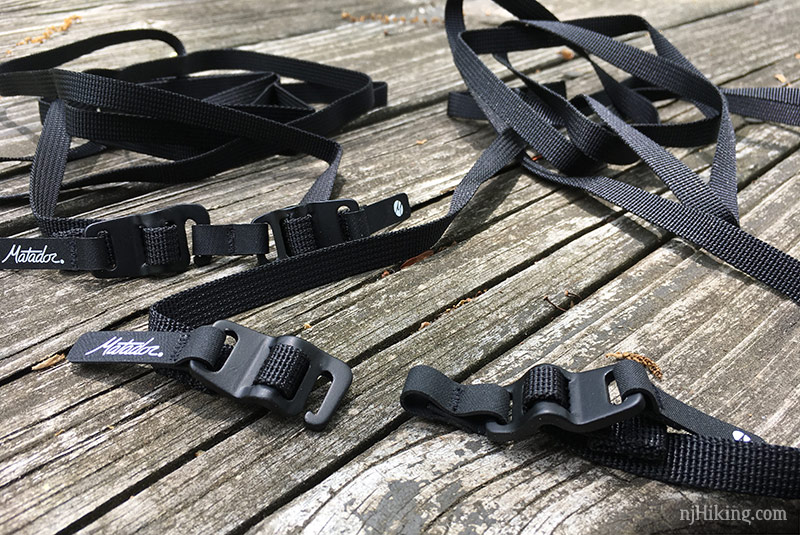 All natural gluten free flavored nut butter in a single use packet.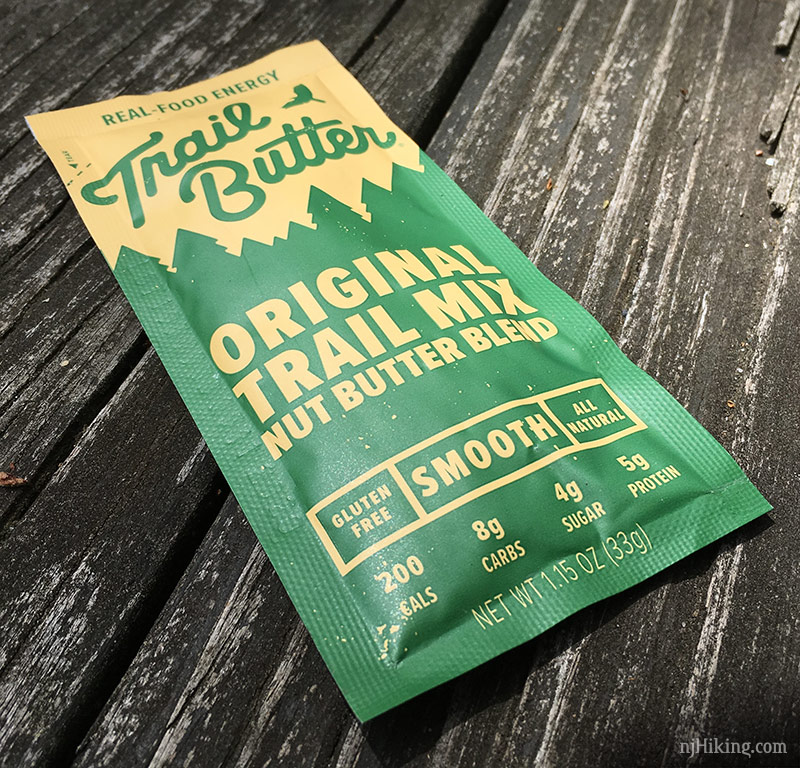 The latest specials from Cairn:
---
The Summer 2021 Obsidian Collection
– Two variations: Camping or Mountain Biking (based on profile) features items like a UST sleeping pad, camp saw, SOL bowl set, Biolite grill tools, Patagonia Provisions meals. Bike version includes an Osprey lumbar pack, Backcountry shorts and liner, Truck gloves, Cycle Medic.
Limited quantities available!
---
BONUS BioLite Headlamp 750!
$99.95 value! Pro-level rechargeable headlamp, forever pass-thru charging, and 8 lighting modes, 750 lumens, 150 hours on low, 7 hours on high.
---
Get 20% off your first box!
Valid for both Obsidian or Monthly Subscriptions.
Use code GET20.
---
BONUS Gregory Nano Waistpack Mini!
Large zippered main compartment, internal divider pockets; front zippered with secure key leash. With a 6- or 12-month subscription.
Hurry to secure your favorite color!
---
KITTED by Cairn - Try Before You Buy!
Curated outdoor gear collections. Choose up to 5 items, try them at home for a week, and only pay for what you decide to keep.
---
Get one, Gift One!
Subscribe to Monthly Cairn and receive a FREE GIFT MONTH to send to someone you care about!
$29.95 value.
---
BONUS Growler - $60 value!
Get a FREE DrinkTanks 64oz Insulated Growler with a new 6- or 12-month Cairn subscription! Keeps drinks COLD 45+ hours / HOT 20 + hours.
Limited quantities available!
Great to keep in the car for before/after your outdoor activities (or fill at a local brewery on the way home!)
---
First Cairn for a DOLLAR
– Get your first month for $1 when you subscribe for 6 or 12 months!
---
BONUS Water Bottle - $45 value
– Get a free MiiR 42 oz. Wide Mouth Bottle with a 6- or 12-month subscription. Cold drinks stay cold for 24+ hours, hot drinks stay hot for 12 hours. Hurry to secure your favorite color. Quantities are limited.
---
More run downs:
– Cairn - April 2021
– Cairn - November 2020
– Cairn - August 2020
– Cairn - June 2020
– Cairn - May 2020
– Cairn - March 2020
– Cairn - February 2020
– Cairn - January 2020
– Cairn - November 2019
– Cairn - October 2019
– Cairn - September 2019
– A Year of Cairn
– All reviews...