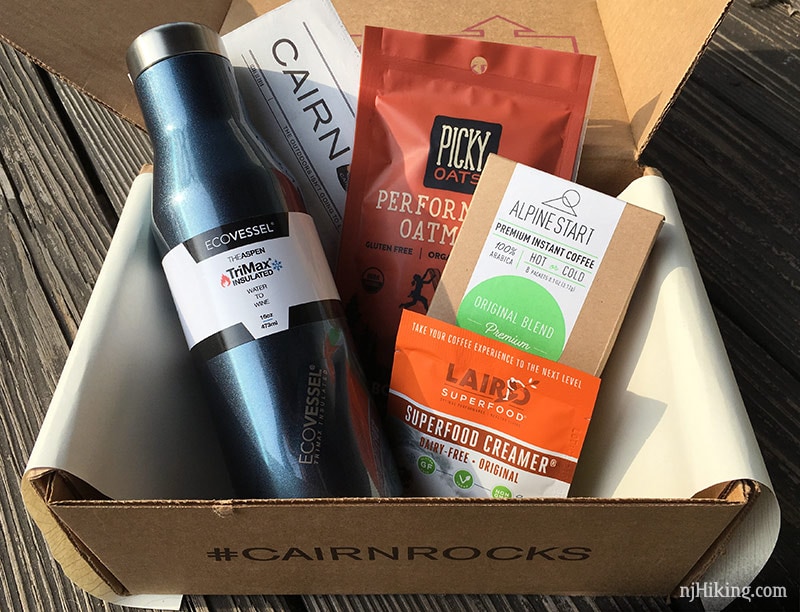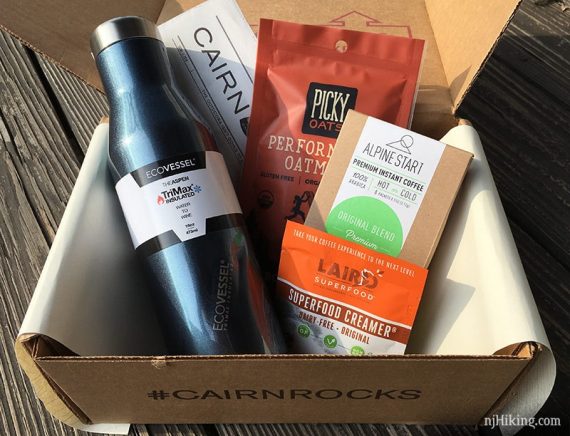 What's inside the Cairn outdoor subscription box for November 2018. Considering getting a Cairn subscription or giving one as a gift? Here's a rundown of what this month's box offers.
Disclaimer: Cairn provided a complimentary box for review, but did not provide compensation or exercise control over the content of this post.

In this month's box

Total Value: $40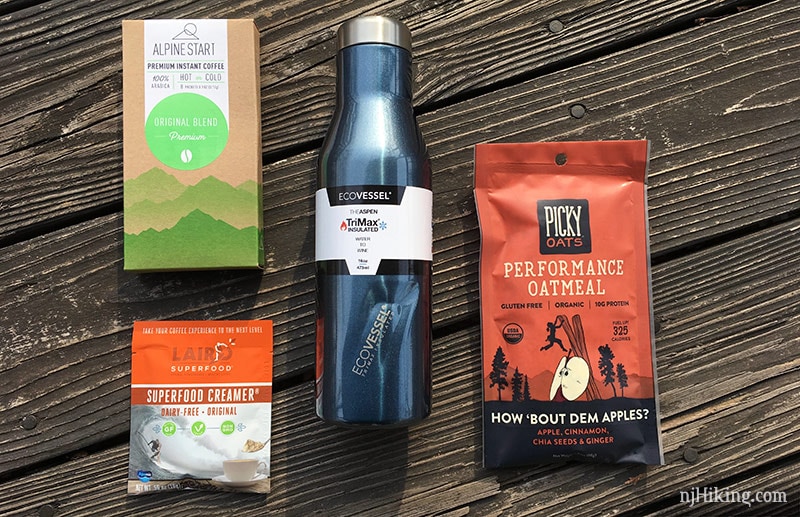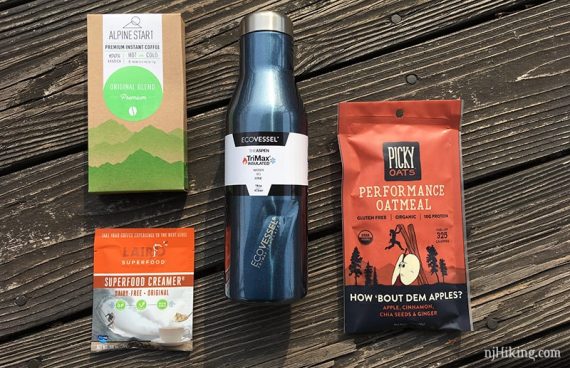 Cairn's theme this month is "Mind Your Mornings" and arrived with an insulated hot/cold bottle, performance oatmeal, instant coffee and a coconut-based creamer.
For review purposes, I've already polished off fully tested each food item and am already using the water bottle.
The Ecovessel Aspen TriMax Insulated "Water to Wine" bottle I received is an attractive blue dubbed "Blue Moon". This is the 16oz version, there is a 25oz one as well.
It's got a slim easy-to-grip design geared to fit in cup holders with a soft, no-slip silicone base. The screw top opening is wide enough to fit ice cubes.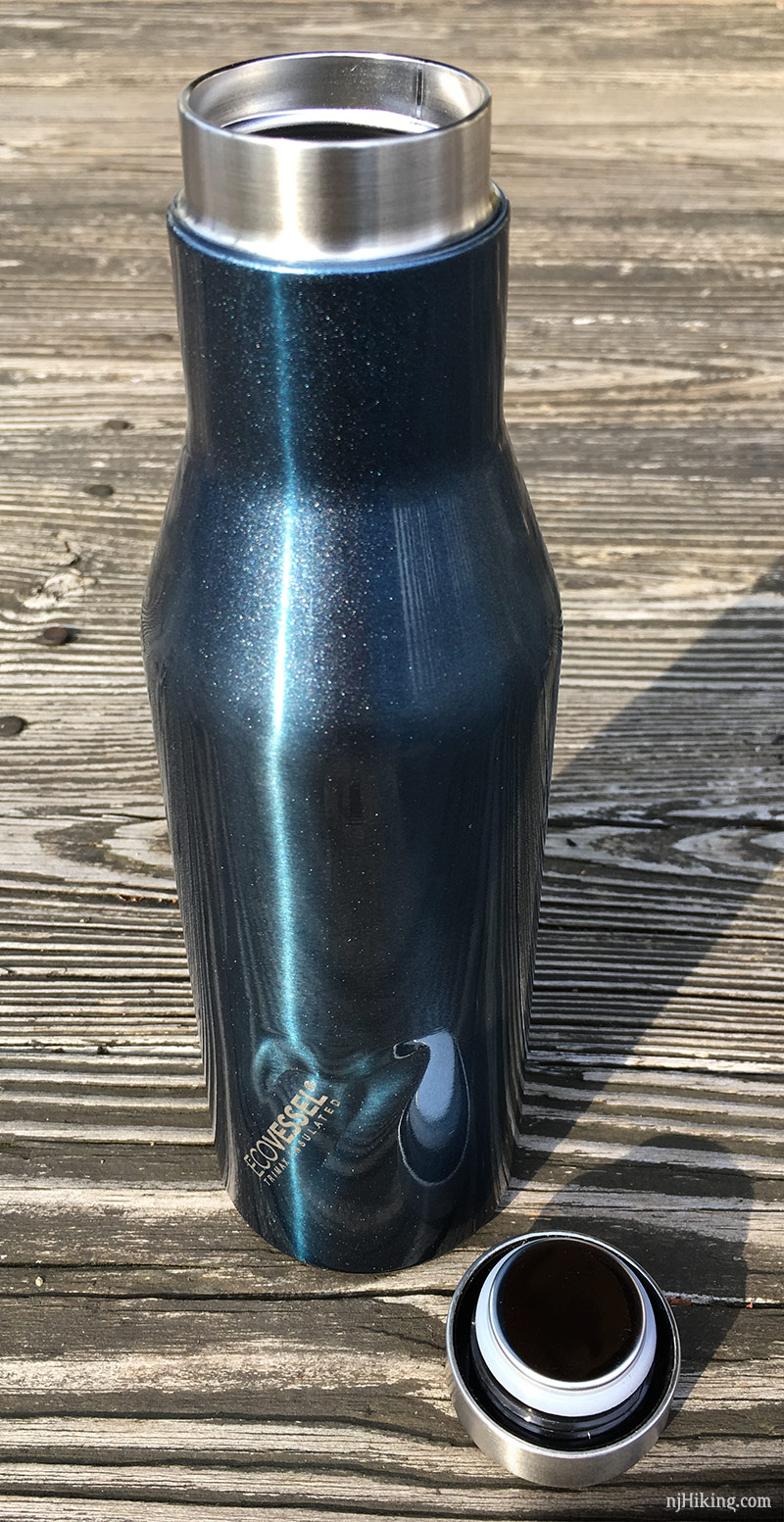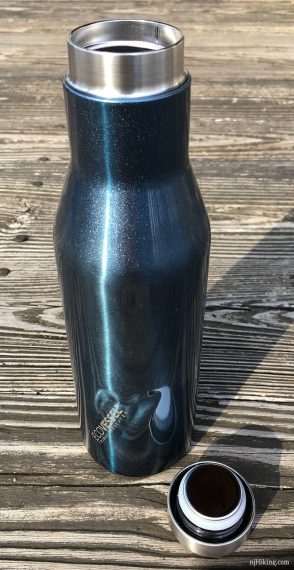 It's supposed to keep drinks hot for up to 20 hours and cold up to 100.
I tested it with one of the instant coffee packets and it actually kept it too hot to drink from the bottle so I used it to pour piping hot coffee into my mug every so often.
I will probably make this my water bottle, as I've been using my Drinktanks Tumbler for coffee (hot or iced) that I got back in the June 2017 Cairn Box.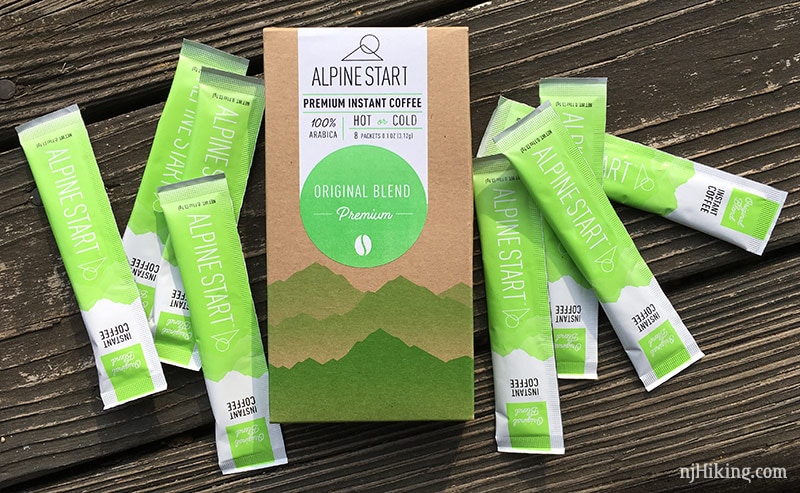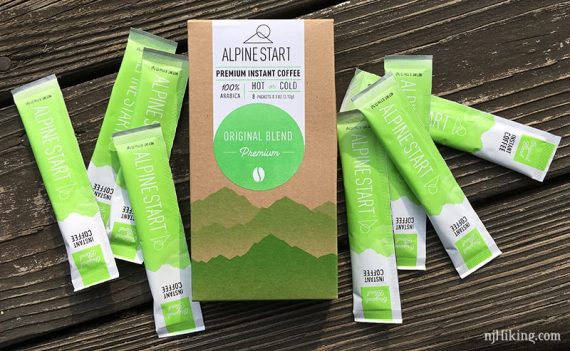 I first encountered little sleeves of instant coffee on a trip to Greece in 2007. Néscafe packets were everywhere – that was what they loved for coffee –and if you asked for a coffee the server would go "Néscafe?".
The instant packets were good, but it always struck me as odd to be so into an instant coffee. Of course now Starbucks has it's Via among others, so it's easy to have good coffee anywhere.
At any rate, Alpine Start Instant Coffee is tasty, full of flavor, smooth and not harsh, and a step above most.
It could easily be consumed black but I added the creamer packet because, you know, for the review.
The Laird Superfood Creamer is coconut based and every time I raised the cup to sip, all I could think of was a Mounds bar. Yum.
It can also be added to tea or smoothies (think it would work really well here) and is non-dairy, gluten free, and vegan.
There is a decent amount of calories and fat in it, so it's probably better as performance food … and not sitting at a computer working on a review. Ooops.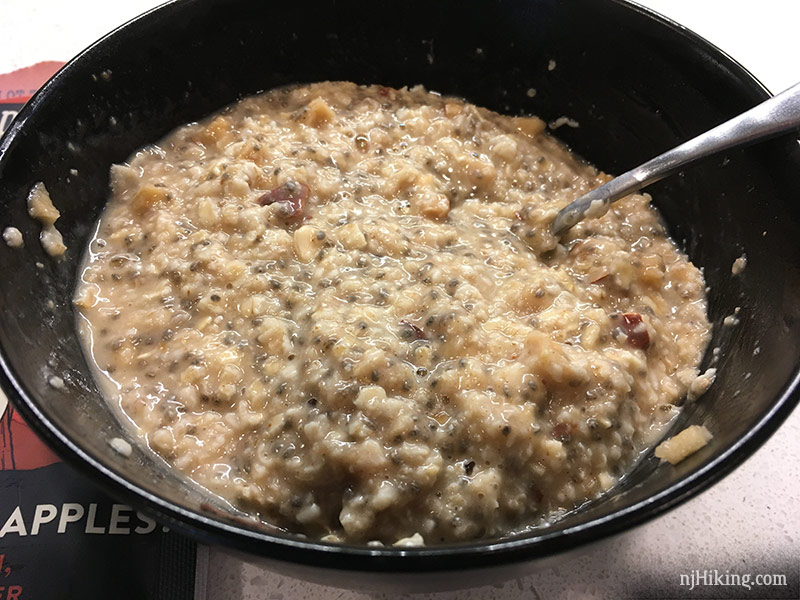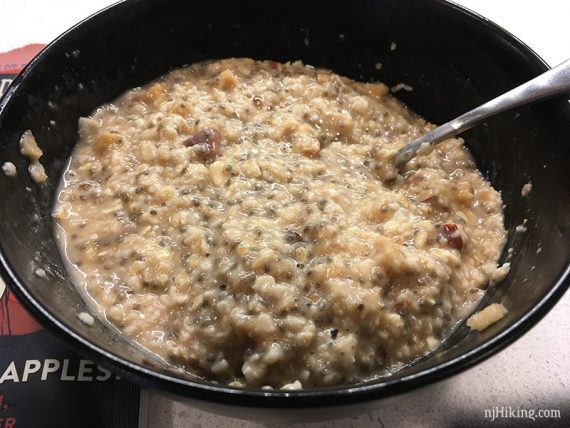 The Picky Bars Performance Oatmeal is also really good. "How 'Bout Dem Apples" is apples and cinnamon flavor but also includes chia seeds, almonds, and date bits.
It's those additions that make it more of a hearty meal and give it way more depth than my usual Quaker low sugar Apples and Cinnamon.
Certainly would make a great backpacking/camping meal or a filling breakfast before heading out for a day hike.
The latest specials from Cairn:
---
Get 20% off your first box!
Valid for both Obsidian or Monthly Subscriptions.
Use code GET20.
---
BONUS Gregory Nano Waistpack Mini!
Large zippered main compartment, internal divider pockets; front zippered with secure key leash. With a 6- or 12-month subscription.
Hurry to secure your favorite color!
---
The Spring 2021 Obsidian Collection - "Take It All In"
features waterproof binoculars and flexible tripod from Carson, Ledlenser lantern, two Stanley camp mugs and their camp crock that keeps foods hot for 12 hours.
Limited quantities available!
---
KITTED by Cairn - Try Before You Buy!
Curated outdoor gear collections. Choose up to 5 items, try them at home for a week, and only pay for what you decide to keep.
---
Get one, Gift One!
Subscribe to Monthly Cairn and receive a FREE GIFT MONTH to send to someone you care about!
$29.95 value.
---
BONUS Growler - $60 value!
Get a FREE DrinkTanks 64oz Insulated Growler with a new 6- or 12-month Cairn subscription! Keeps drinks COLD 45+ hours / HOT 20 + hours.
Limited quantities available!
Great to keep in the car for before/after your outdoor activities (or fill at a local brewery on the way home!)
---
First Cairn for a DOLLAR
– Get your first month for $1 when you subscribe for 6 or 12 months!
---
BONUS Water Bottle - $45 value
– Get a free MiiR 42 oz. Wide Mouth Bottle with a 6- or 12-month subscription. Cold drinks stay cold for 24+ hours, hot drinks stay hot for 12 hours. Hurry to secure your favorite color. Quantities are limited.
---

More run downs:
– Cairn - April 2021
– Cairn - November 2020
– Cairn - August 2020
– Cairn - June 2020
– Cairn - May 2020
– Cairn - March 2020
– Cairn - February 2020
– Cairn - January 2020
– Cairn - November 2019
– Cairn - October 2019
– Cairn - September 2019
– A Year of Cairn
– All reviews...