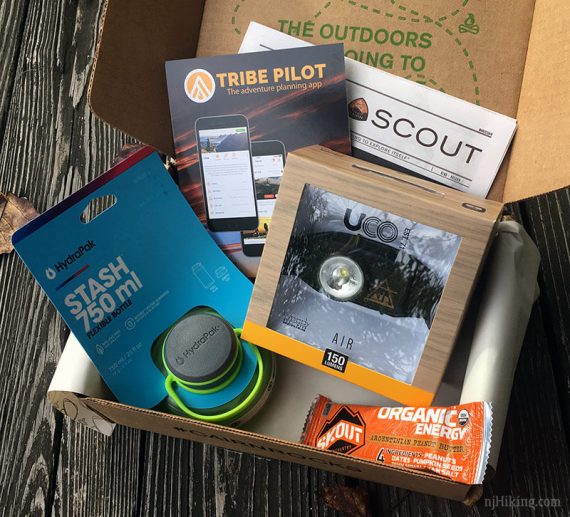 What's inside the Cairn outdoor subscription box for October 2017. Considering getting a Cairn subscription or giving one as a gift? Here's a rundown of what this month's box offers.
Disclaimer: Cairn provided a complimentary box for review, but did not provide compensation or exercise control over the content of this post.

In this month's box
| | | Value |
| --- | --- | --- |
| UCO Air Headlamp | Lightweight, comfortable, "headache free", 150 lumens headlamp has a bright white or red night vision mode. | $35 |
| HydraPak Stash | Compact 750ML water bottle that collapses when empty. Lighter than a regular water bottle; use the loop to clip to belt or pack. | $18 |
| Tribe Pilot | The "adventure planning app" to plan camping trips with friends and family. Get 4 GB of free storage. | $10 |
| Skout Organic Energy Bar | Organic bar with just 4 ingredients: peanuts, dates, pumpkin seeds, pink sea salt. | $2.50 |

Total Value: $65.50
A mini-newspaper inside has codes for discounts if you are interested in getting more of the products.
This month's box had perfect timing, arriving a few days before we left on a trip to some national parks out West. I'd looked at collapsible bottles like the HydraPak for trips before, but had never decided on getting one. I should have because we ended up using it every day of the trip for the many short hikes in the parks.
On really long hikes, we used it as extra water in addition to our hydration bladders. It weighs very little and then compresses down to store away. We got home and did a quick local hike with it as well. One ding… I could not for the life of me open this at first… I handed it to Tom in frustration and he popped it right open. It's tricky to get the right squeeze on it, but after opening it a few times it's not an issue.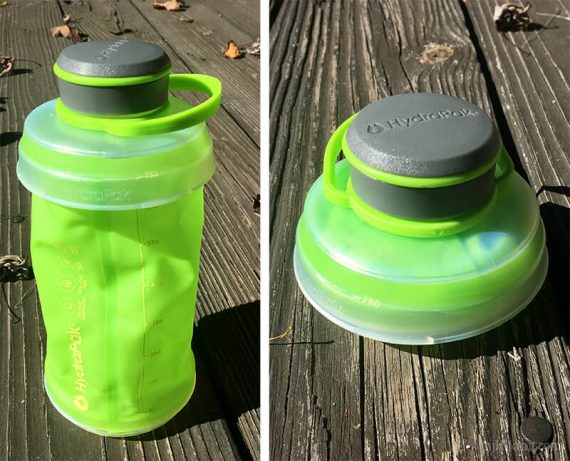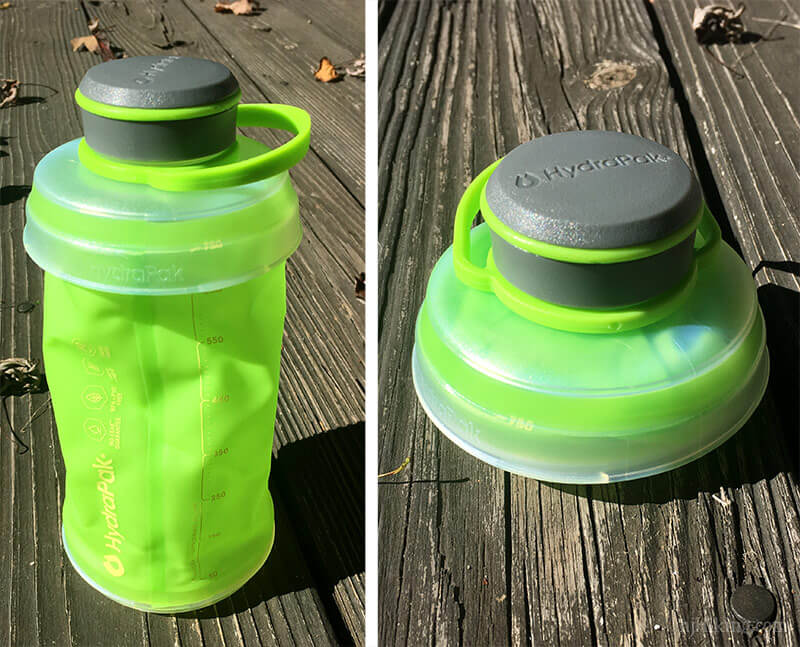 The UCO Air Headlamp ended up being very useful even though I dismissed it at first. We use two lightweight Petzels, and have another older headlamp, and even bigger one… so I was like "eh yeah another headlamp" when I opened the box.
But I initially flicked it on the opposite direction by mistake and discovered it had a red night vision mode. Ahhhh-ha. We were bringing our small red flashlight for nightly stargazing (red light allows you to see what is around while letting your eyes adjust to the dark to see the stars).
We brough the UCO Air in place of one of our usual headlamps and used it along with the red flashlight to bumble around at night gawking at the milky way etc. It performed really well, is very comfortable, and having both lights a twist away was really handy. One issue… it's charged by USB but I didn't look that closely to notice it uses a different plug size to the USB cords we packed. It ended up lasting the whole trip, however.
I don't see us trying the trip planning app as we don't do group outings, but that was sort of like an extra bonus on top of the usual value of the box. Haven't tried the bar yet but it sounds tasty.
Plus monthly run downs:
–Cairn - November 2017
–Cairn - October 2017
–Cairn - September 2017
–Cairn - August 2017
–Cairn - July 2017
–Cairn - June 2017
–Cairn - May 2017
–Cairn - April 2017
–Cairn - March 2017
–Cairn - February 2017
–Cairn - January 2017
–Cairn - December 2016
–Cairn - November 2016