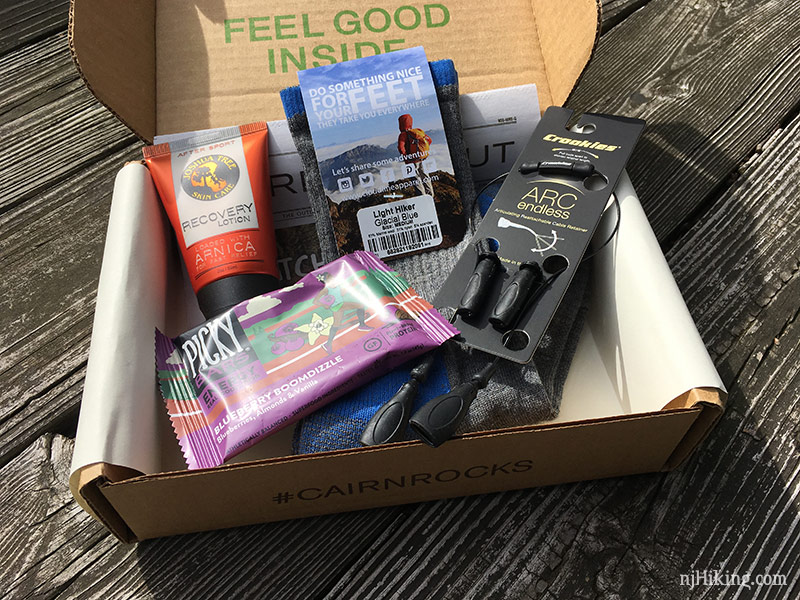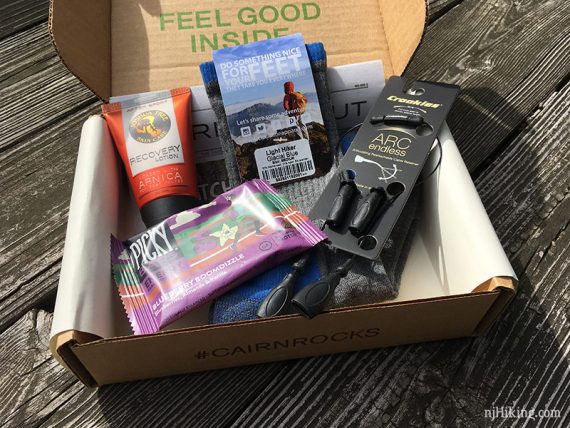 What's inside the Cairn outdoor subscription box for October 2018. Considering getting a Cairn subscription or giving one as a gift? Here's a rundown of what this month's box offers.
Disclaimer: Cairn provided a complimentary box for review, but did not provide compensation or exercise control over the content of this post.

In this month's box
| | | Value |
| --- | --- | --- |
| Cloudline Light Cushion Socks | Lightweight Merino wool hiking sock featuring medium cushioning under foot and light cushioning on the calf. | $19 |
| Croakies Arc Endless | Sunglasses keeper using an adjustable steel cable with two different-sized ends to fit most eyewear. | $14 |
| Joshua Tree Recovery Lotion | Arnica, eucalyptus, and tea tree oil based lotion soothes post-hike aches, pains, and bruises. | $14 |
| Picky Bars | "Blueberry Boomdizzle" – Almond butter, blueberries, vanilla in a smooth and sweet vegan bar. | $3 |

Total Value: $50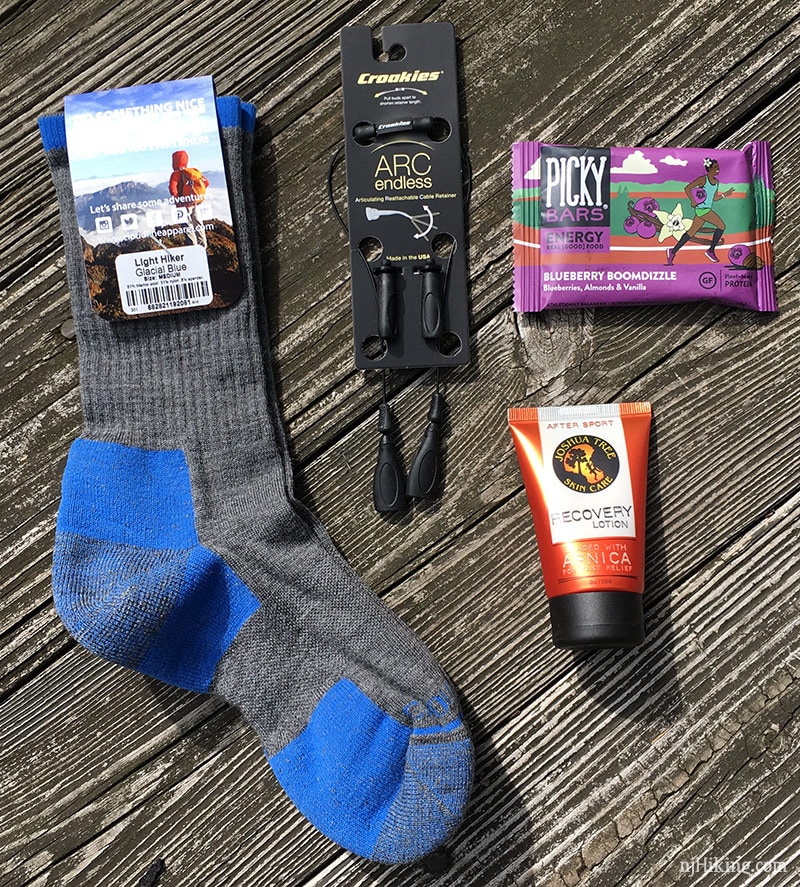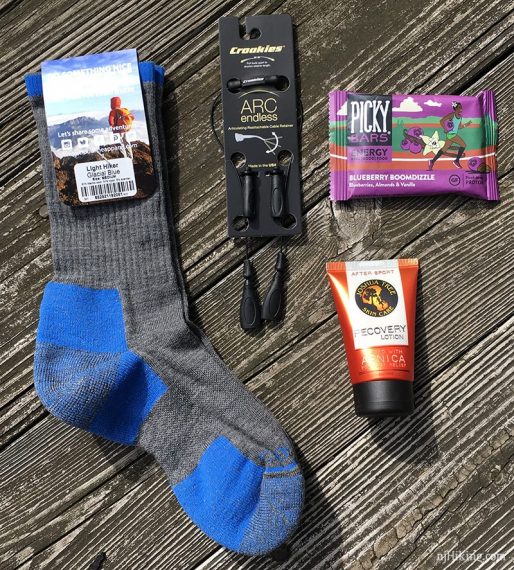 Cairn did something new this month: they asked you to choose one of four different sunglasses to receive as the main item, or be surprised with something as usual.
I have a pair of sunglasses I like, plus multiple back-ups that I've received for review over the years (I know, I know… woe is me), and generally most sunglasses tend to look dumb on me… so I opted for what was behind door number two.
This turned out to be a nice pair of hiking socks, the Cloudline Light Cushion. Since they've just arrived, I haven't taken them on a hike but I'm wearing them right now and like them. I've been very partial to Darn Tough for awhile, so I'll see how these go.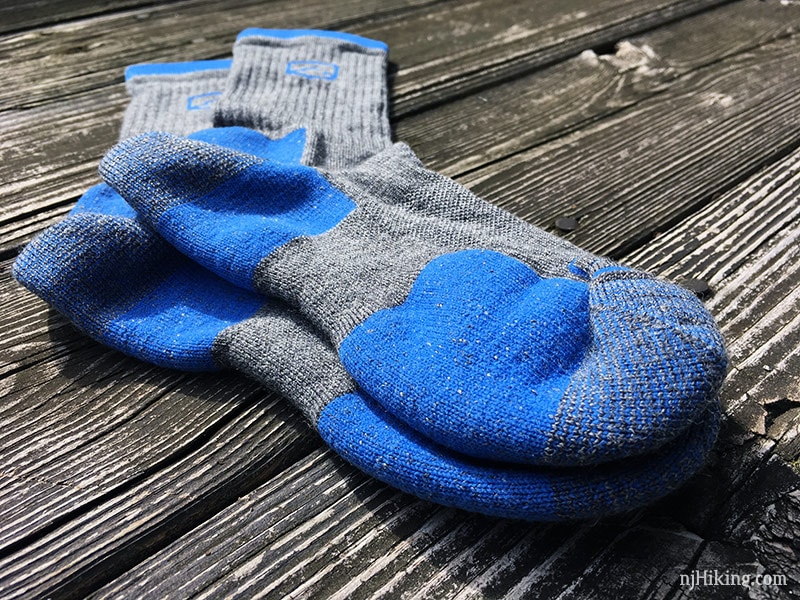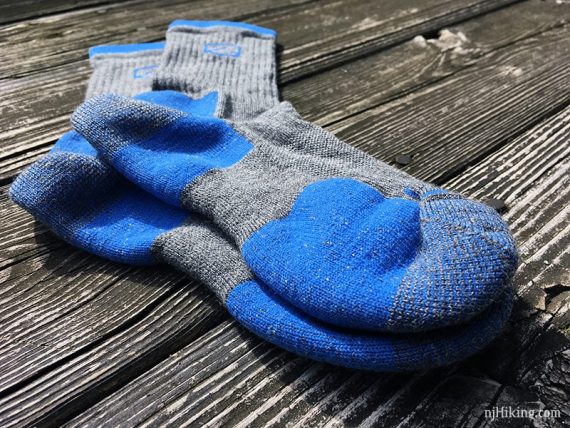 The next item up the Croakies Arc Endless sunglass keeper cord which uses a lightweight adjustable cable system. The package comes with two sizes of ends so it can fit just about any eyewear, and the ends tilt at different angles to hold the cord where you like it.
I've been using a cloth Croakies for ages (it's so old that the black fabric looks brown no matter how much I wash it) and I was going to switch to these but since Tom recently lost a pair of sunglasses when hiking Manaticut Point, he wants to give these a whirl.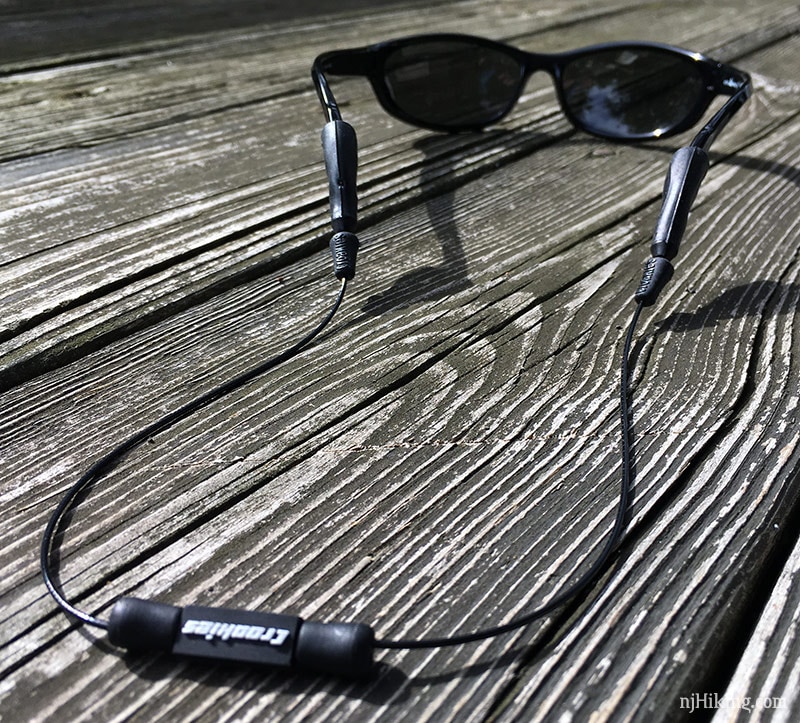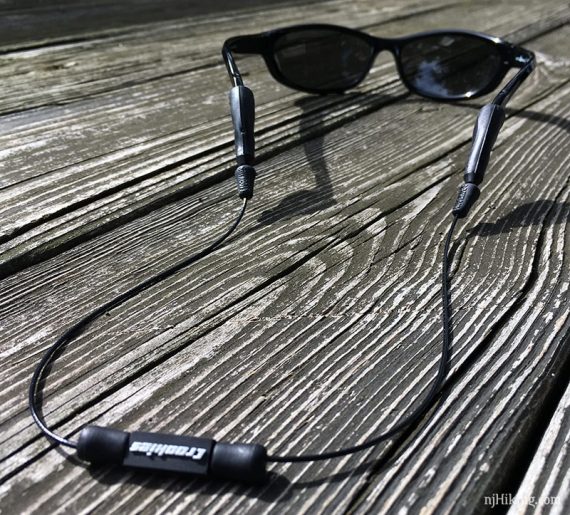 The Joshua Tree Recovery Lotion is arnica-based, but also has eucalyptus and tea tree oil.
I use another arnica balm and find it works pretty well, especially in making bruises disappear quicker, and am curious how this one compares as a muscle balm. Minor downside: I am not thrilled with the smell of it, I think it's the tea tree oil I don't care for.
We'll be taste testing the almond butter, blueberries, and vanilla Picky Bars on an upcoming hike, but with a description of "…like a bakery treat without the guilt" it may be accompanying my afternoon coffee instead…
Update: Yup, the Picky Bar was very tasty. The taste reminded us of a Fig Newton but with sweet blueberry overtones and no cake cookie covering. The texture was soft, dense, slightly chewy, and not that sticky and somehow unlike other bars we've had. Would buy more.
The latest specials from Cairn:
---
The Fall 2019 Obsidian Collection - "Comfort, Reclaimed"
features technical and comfortable gear... puffy blanket from Rumpl, a puffy slipper shoe from Holden, shirts from Toad&Co, and blister prevention wool from Wuru!. Limited quantities available!
---
The Hammock Collection
- This curated welcome box includes: Serac Classic Hammock, Serac Straps, Peak Sherpa Energy Bites, Natrapel Wipes. While supplies last!
---

More run downs:
– Cairn - September 2019
– Cairn - July 2019
– Cairn - June 2019
– Cairn - May 2019
– Cairn - April 2019
– Cairn - March 2019
– Cairn - February 2019
– Cairn - January 2019
– Cairn - December 2018
– Cairn - November 2018
– Cairn - October 2018
– A Year of Cairn
– All reviews...