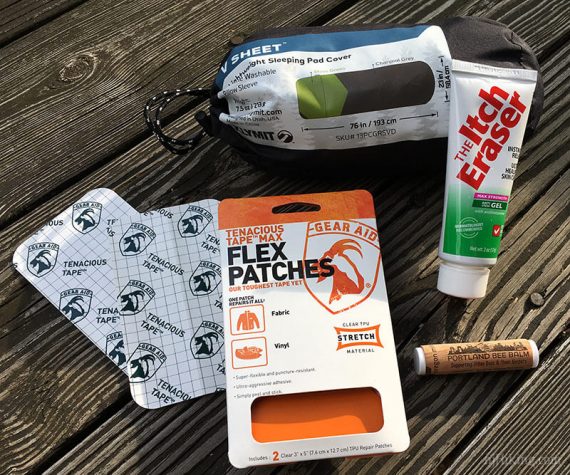 What's inside the Cairn outdoor subscription box for September 2017. Considering getting a Cairn subscription or giving one as a gift? Here's a rundown of what this month's box offers.
Disclaimer: Cairn provided a complimentary box for review, but did not provide compensation or exercise control over the content of this post.

In this month's box
| | | Value |
| --- | --- | --- |
| Klymit V Sheet | Klymit worked with Cairn to add features so this cover fits almost every inflatable sleeping pad; strap to hold in place and a built-in pillow pocket; adds 10 degrees of warmth. | $30 |
| Itch Eraser | Relief for bug bites, poison ivy/oak/sumac, minor cuts, sunburn. | $6 |
| Gear Aid Tenacious Tape | Repair patch with rubber-like elasticity; provides instant repairs to rips, tears or holes in fabric and vinyl. | $7 |
| Portland Bee Balm | Handmade in small batches, beeswax-based lip balm. Mint. | $8 |

Total Value: $51
A mini-newspaper inside has codes for discounts if you are interested in getting more of the products.
This month is about comfort with a sleeping pad cover, itch and skin irritation relief, soothing mmmmmminty beeswax lip balm, and flexible repair patches for clothing and gear.
Admittedly, as day hikers we're not going to get much – if any – use out of a sleeping pad cover. But if we ever decide to take up camping this is a super soft and nice way to keep one clean and add a little warmth.

---
$50 OFF your 1st Obsidian Box
use code WINTER50.
---
Get A Free Bonus Gift In Your First Get Cairn Box.
Use Code: BONUSTIME.
---
Check out Cairn's Holiday 2017 Collections, such as Off to Sea the World
- Featuring Eagle Creek Cargo Duffel & Eagle Creek PackLite & Marmot Featherless Hoodie & Klymit Luxe Pillow.
---
Grab the Obsidian Winter Collection before it sells out!
- Over $300 worth of gear... "There's no such thing as bad weather..."
---
More run downs:
– Cairn - February 2018
– Cairn - January 2018
– A Year of Cairn
– Cairn - November 2017
– Cairn - October 2017
– All reviews...