OUTXE's rugged waterproof backup power bank keeps devices charged during any outdoor adventure.
A waterproof and dust-proof power backup from OUTXE that's perfect for hiking, backpacking, camping, biking, kayaking, travel, or to keep in a storm/emergency bag. Features dual outputs for two devices at once with enough capacity for multiple charges. Includes a flashlight and a solar panel to provide emergency power.
Disclaimer: OUTXE provided a complimentary power bank charger for review, but did not provide compensation or exercise control over the content of this post.
The Specs
Rugged: Waterproof, dust-proof and shock-resistant, non-slip, can withstand some drops and bumps
Capacity: 20000mAh – enough for multiple charges
Quick charge – charge some devices to 80% in just 35 minutes
Input: Dual ports – accepts Type C and Micro USB
Output: Dual ports; charge two devices at once
Loop strap at either end
Solar panel for emergency power (not for the main charge)
Comes with:
Type C and Micro USB charging cords
Two tethers
Two carabiners

Appearance
We were interested in trying this on-the-go power supply mainly for photography purposes. In addition to using our iPhones to take pictures, we use them to run apps to control various cameras (GoPro etc) so battery life is always a concern.
OUTXE's Power Bank feels sturdy and that it would take some abuse. The corners have rubber bumpers. Not only does it come with an attachment loop on either end, there are tethers and carabiners so it can be clipped to just about anything.
One side of the power bank is a solar panel. This is to top up the power while on the go and for emergency charging – the full charge should be done by plugging it in. The charging inputs (below) and the output ports have flip-open covers.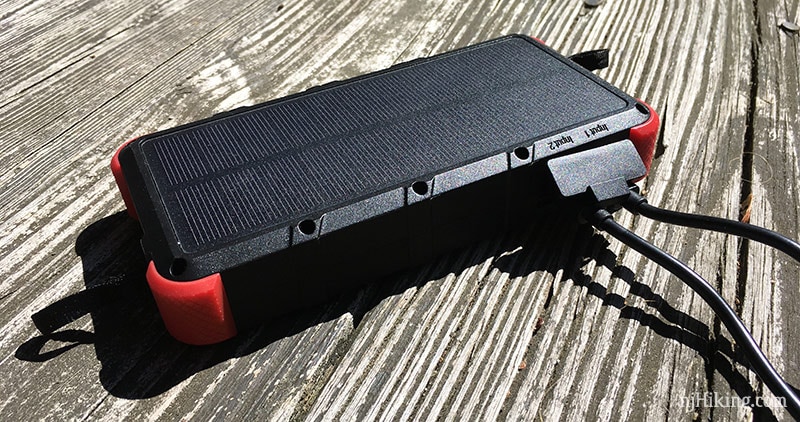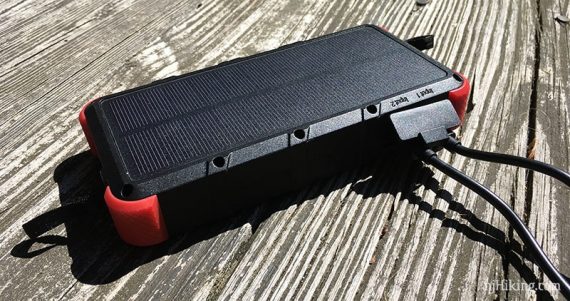 The flashlight feature is a nice extra, it has a high and low setting plus a flashing emergency beacon.
The only minor con might be the weight – 18.5 oz (just over 1 lb) but don't think that a device with comparable functions could weigh much less, however.
Performance
Per the companies specs, the power bank should charge an iPhone 8 about 7 times. So a hiker using a phone for photos and navigation could be good for roughly a week just by toting this around. Not bad.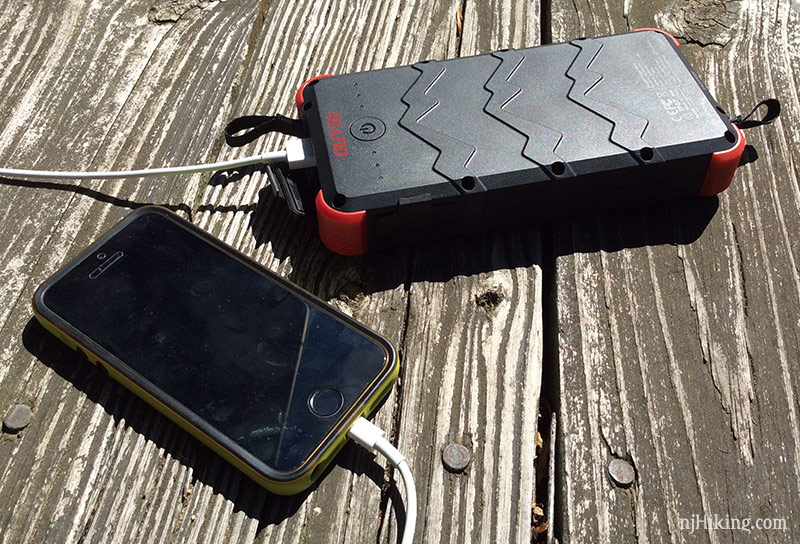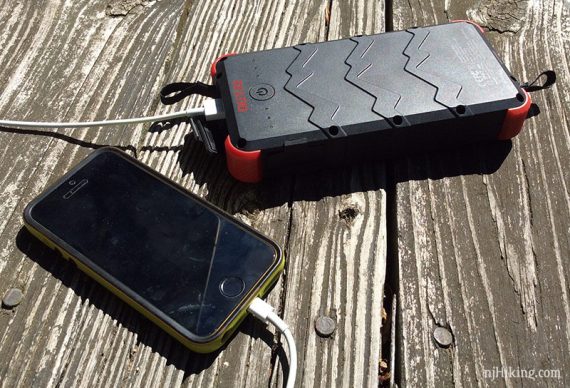 For testing, I charged my iPhone SE from 10% to 100% in 2.5 hours and the power bank still showed a full 6 dots. I also charged the phone and an iPad mini a few times without issue but didn't track the timings.
I noticed as soon as the solar panel is anywhere near a light, it starts charging (there is an indicator). Having this strapped to a pack in the sun all day would probably supply a nice trickle charge.
Overall
This is a pretty neat device and would be useful to anyone who spends time outdoors and needs to keep their gadgets powered. Add in the emergency aspects from the solar panel and the flashlight and you've got a great device.
Get an OUTXE Power Bank…