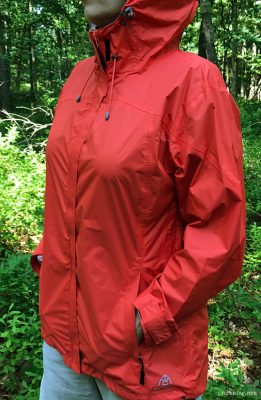 The Storm UL is an ultralight, breathable, waterproof jacket featuring armpit vents and stowable hood.
My Trail Company was started in 2016 by founders of GoLite, a gear company focused on lightweight hiking gear, and offers similar lightweight hiking clothing. The Storm UL is their rain shell and also comes in a men's version.
Disclaimer: MyTrailCo provided a complimentary jacket for review, but did not provide compensation or exercise control over the content of this post.
The Specs
9 oz
Breathable nylon
Waterproof, with waterproof taped seams
Watertight zippers, storm flap over zipper
Large armpit vents with two zippers for positioning
Adjustable hood; and rolls up to stow in collar
Two interior pockets

Appearance & Fit
The jacket is nice looking, without frills, and feels durable but is very light. I chose "petal red" for visibility. It's pretty much orange but in certain light I feel it leans a little peachy.
The specs seemed like this might be larger than my normal jacket size, but I went with that anyway since I'd likely be layering. It is a tad big on me but a size down would be tight with a fleece. It's very comfortable.

This jacket has several nice features:
Armpit vents – Large, with a double zipper to control where you want heat to escape – full open or just top or bottom.
Hood – A velcro flap adjusts the size, and there are easy-to-grab cinches in front. A velcro flap inside the jacket secures to a tab on the outside of a rolled up hood to stow it away.
Interior Pockets – There are two large inside pockets, something that jackets often are missing (especially in women's jackets).
The only minor quibble is that it doesn't come with a stuff sack. We seldom start out hiking in rain but if there is a chance we might carry a basic shell and it's nice to have it compacted in a container. Not a deal breaker.
Overall
The Storm UL is a comfortable lightweight jacket that includes nice features like a stowable hood, pit vents, and interior pockets at a good price point.