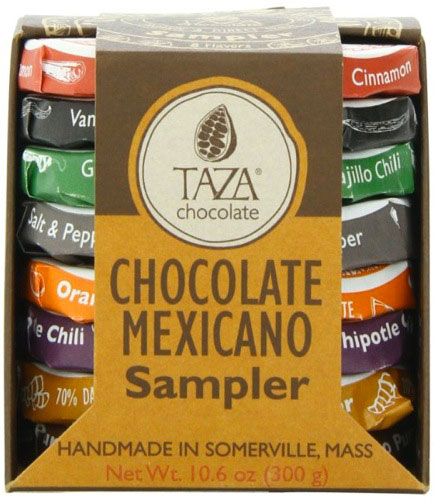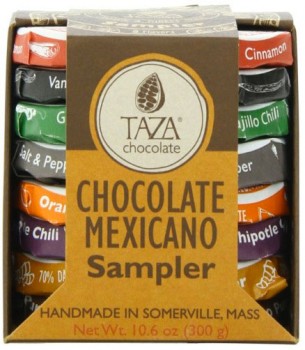 While this is not specifically a hiking item, chocolate and hiking do go well together. (Well, let's face it… chocolate makes everything better.)
Since Taza chocolate comes in small, sturdy disks, we find them good to chuck into a backpack (just not in the summer!).
Each paper-wrapped disk is divided into breakable sections to share it with friends (or keep all for your greedy little self – we won't tell!). It also makes a fun gift or stocking stuffer.
The stone-ground process gives the chocolate an interesting texture – dry, not quite crumbly, not exactly "gritty" – with a strong, pure taste of chocolate that is not too overbearingly sweet.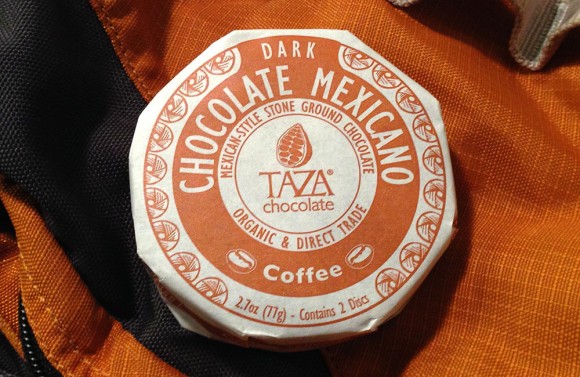 When I stumbled upon Taza's chocolate awhile back, I was intrigued with some of their more unusual flavors like chipotle chili.
While that one is tasty, it does have a kick to it. I lean more toward the cacao puro, coffee, salted almond, and orange flavors.
The Chocolate Mexicano Sampler (cacao puro, chipotle chili, cinnamon, ginger, Guajillo chili, orange, salt & pepper, vanilla bean) and the Classic Collection (Guajillo chili, cinnamon, vanilla bean, salt and pepper, coffee, and salted almond) are a good way to try a bunch of flavors and makes for a fun gift (and the package design is nice which is always a big plus).
However, it is hard to keep the chocolate around long enough to actually make it into our packs on the weekend.