Hiking the Appalachian Trail from Sunrise Mountain to Culvers Gap in a solid wall of fog.
Mother Nature might have been messing with us on this hike, but it's an example of how even less than ideal conditions can make for a beautiful day out on the trail.
For detailed hike directions, maps, GPX, and photos, see our "Appalachian Trail – Sunrise Mountain to Culvers Gap" page.
I was looking to do a different route than our normal Sunrise Mountain loop and decided to just do an out-and-back on the Appalachian Trail from Sunrise Mountain Overlook past the fire tower and on to Culvers Gap.
Basically, this route should serve up several big panoramas sandwiched between some level hiking through a pleasant forest.
The forecast start calling for morning fog, but after checking the hourly and radar of various sites and apps it seemed like it would lift around 10am. Fog makes for interesting photos anyway. And as an out-and-back route we'd be hitting the same viewpoints on the way back once they'd cleared.
Or so we thought.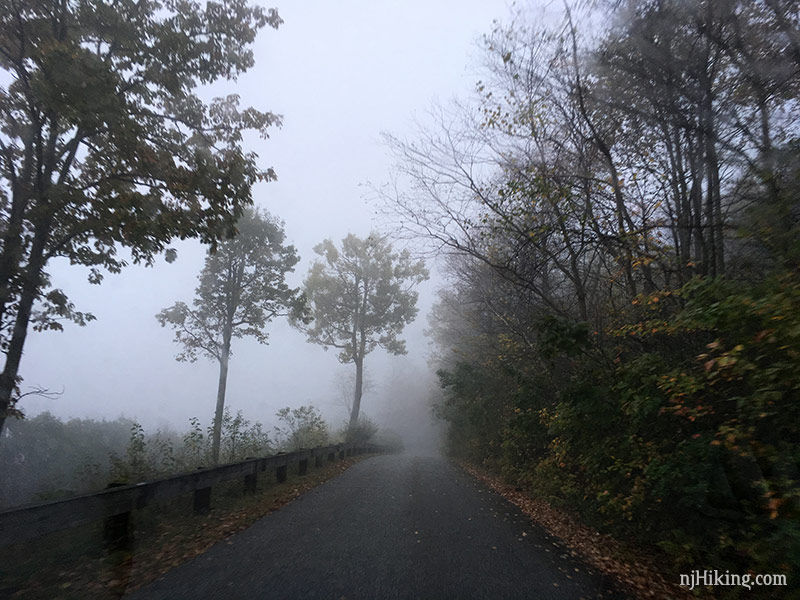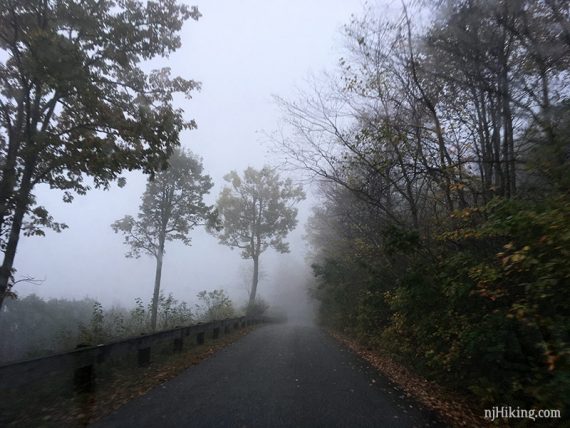 It was foggy on the drive up Sunrise Mountain Road but no matter, it's still pretty! We rolled up at the parking just after 8am and were at the Pavilion shortly for a nice foggy shot: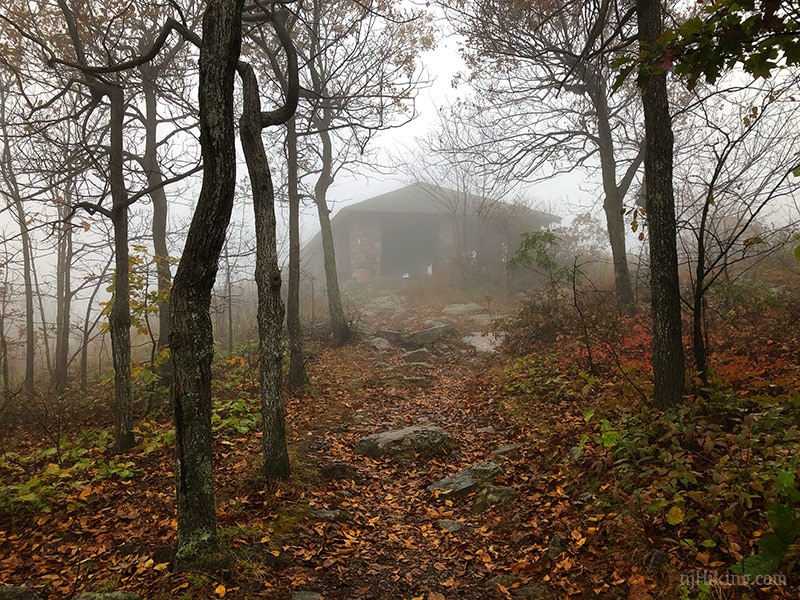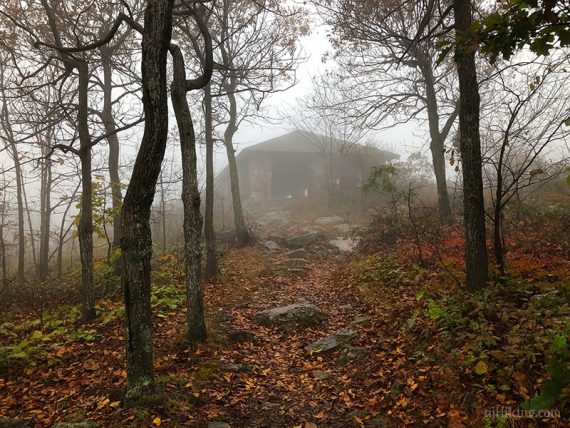 There are nice big views from either side of the ridge at the pavilion… none of which were visible at all. No worries, took some foggy shots and we'll get the views later on.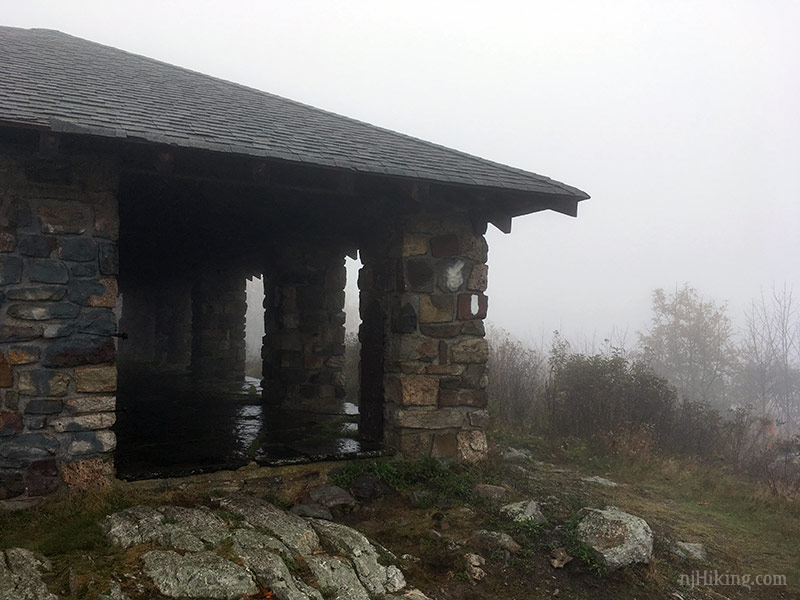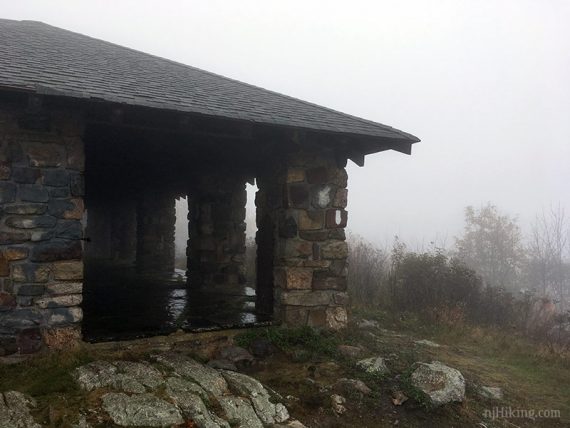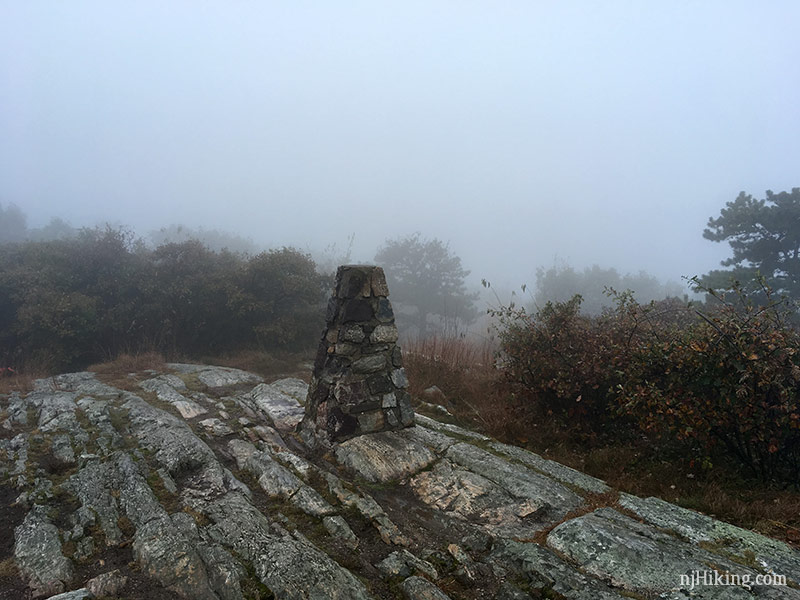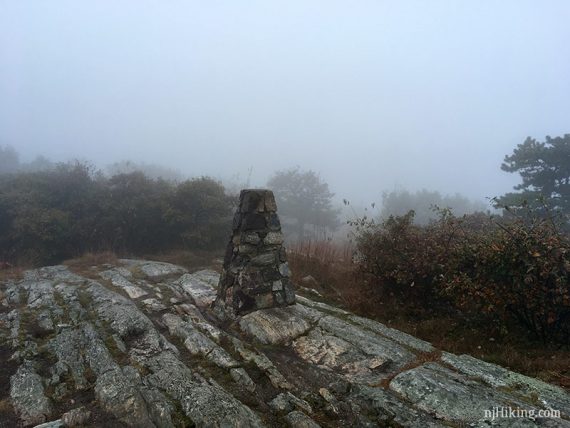 We kept truckin' on through the next section which is all in forest.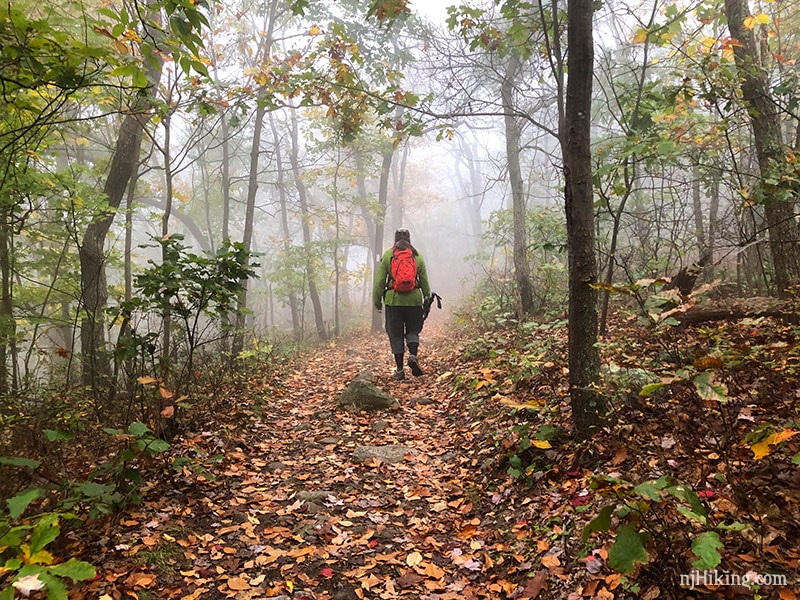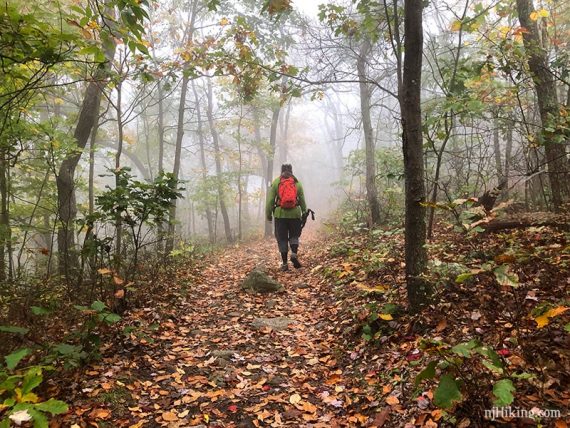 The fog gave everything a moody, Halloweeny feel.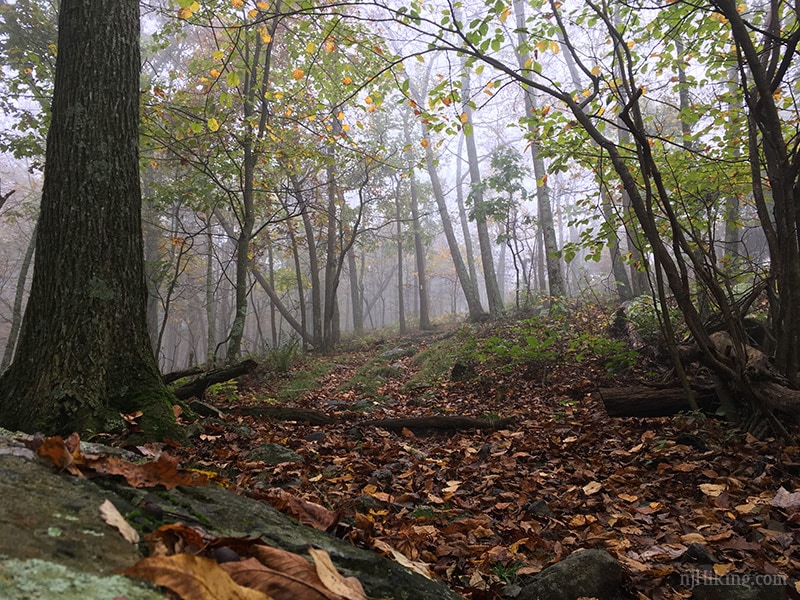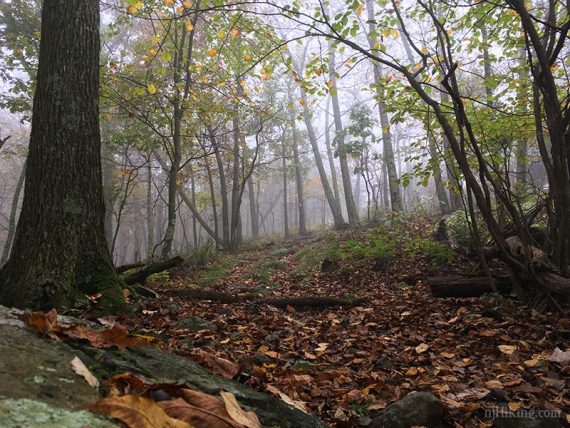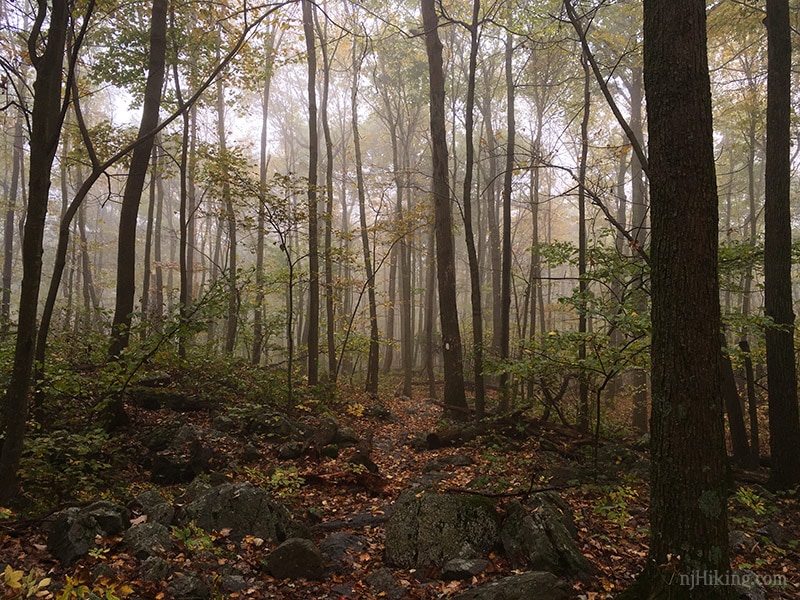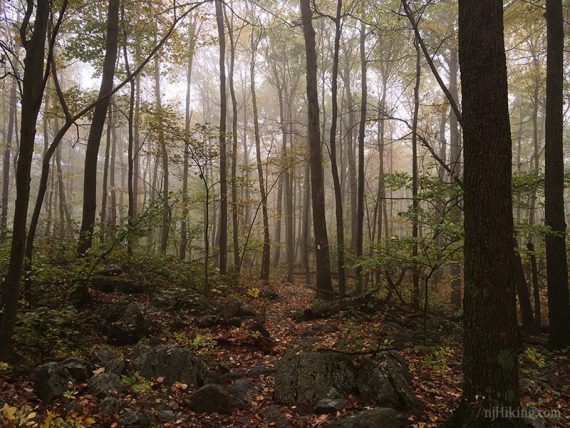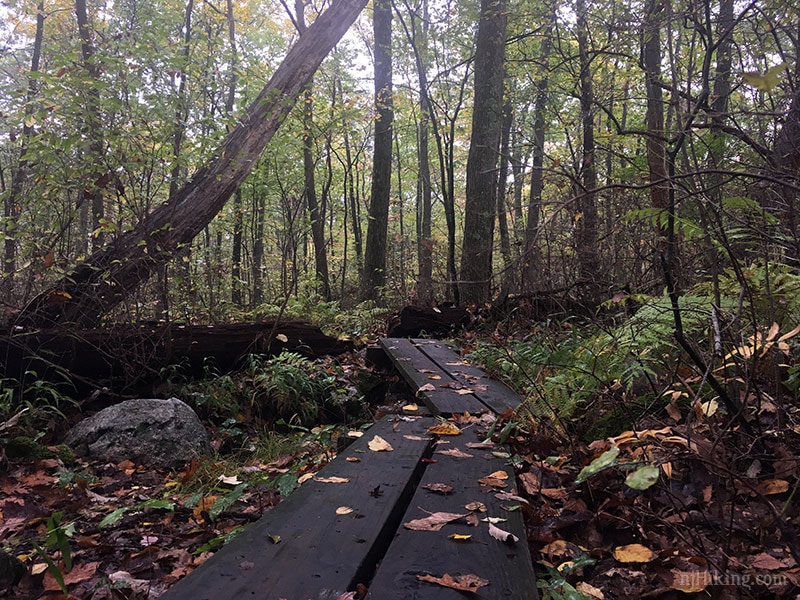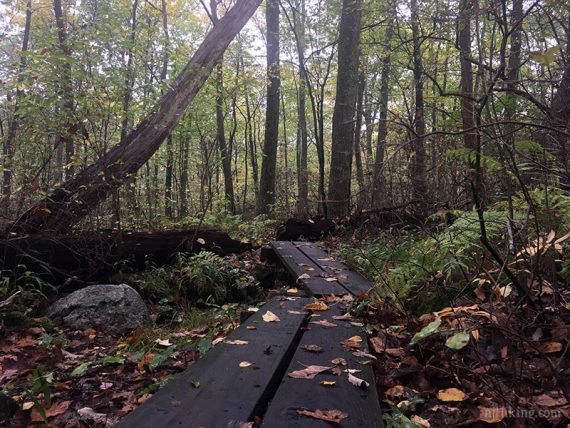 Arrived at Culver fire tower and everything is still totally socked in. Hmmm.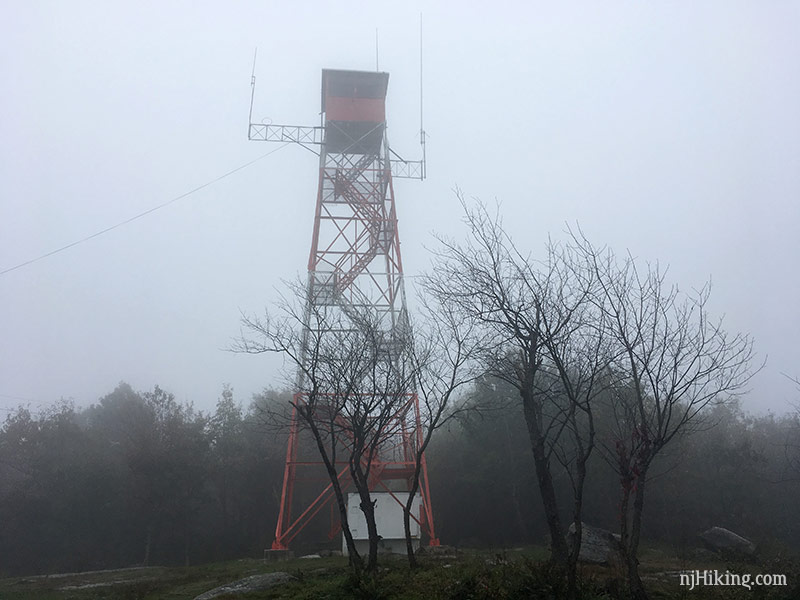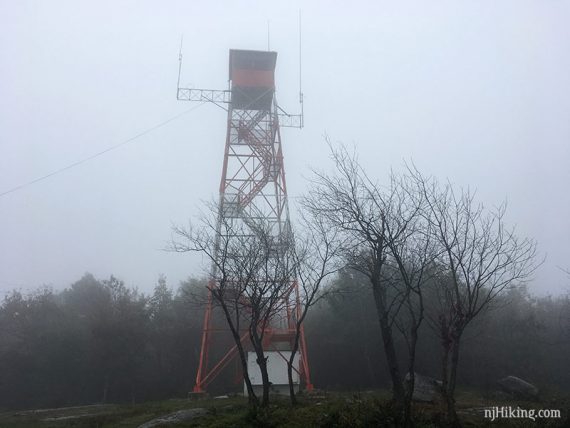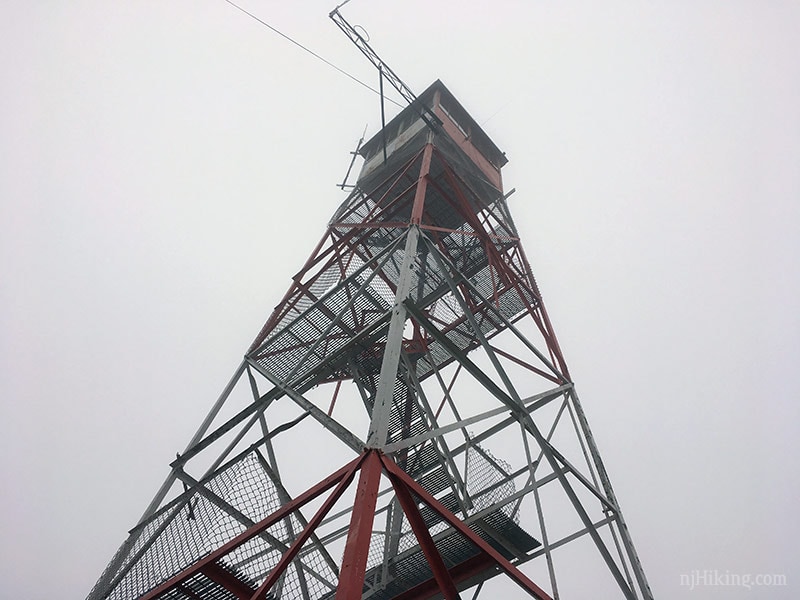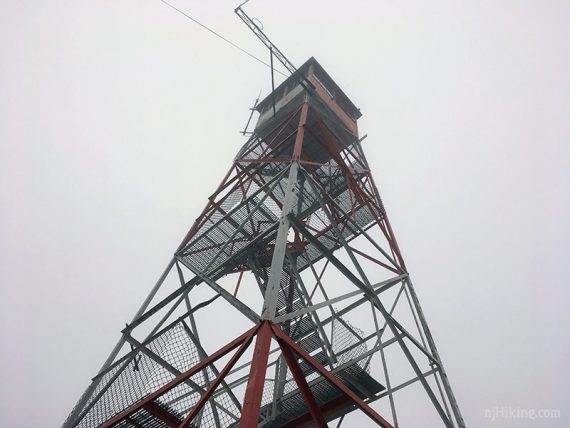 So we pressed on to Culvers Gap overlook… overlooking mostly fog. We took a snack break and waited but alas, little improvement. This was the turnaround point so we started back.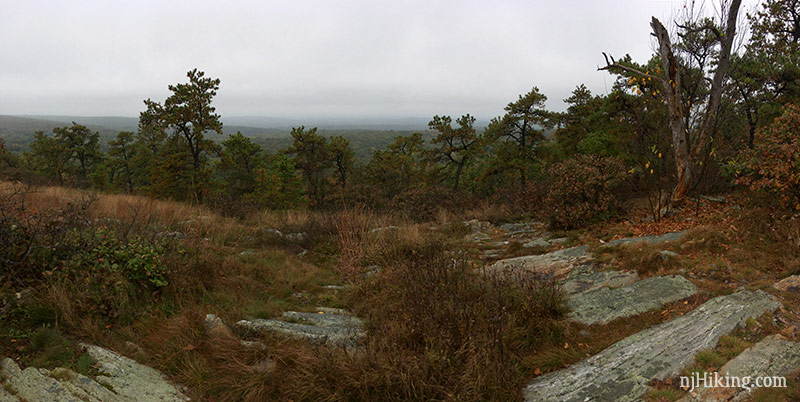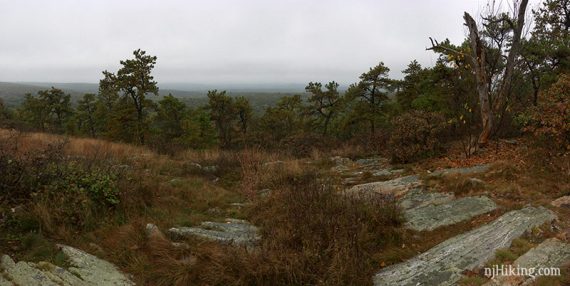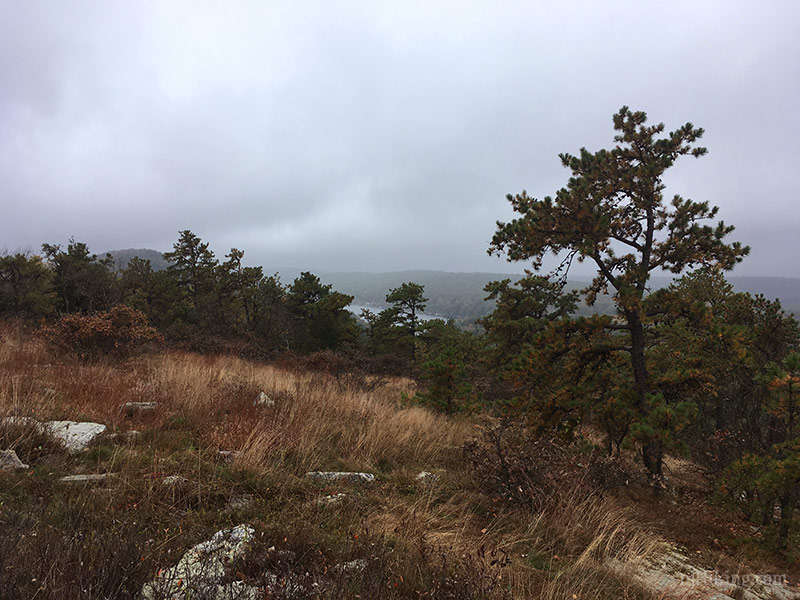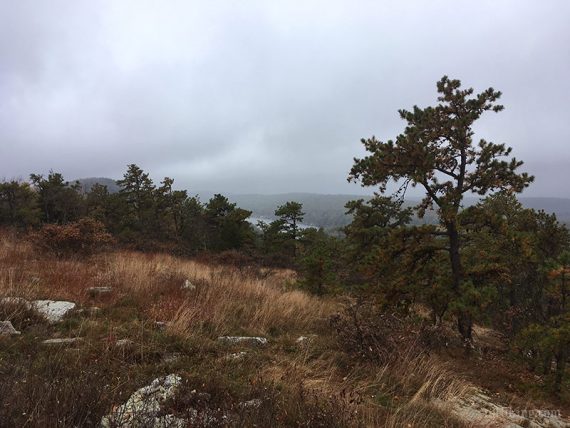 It was no better back at the fire tower. So we amused ourselves with non-viewpoint photos on the way back.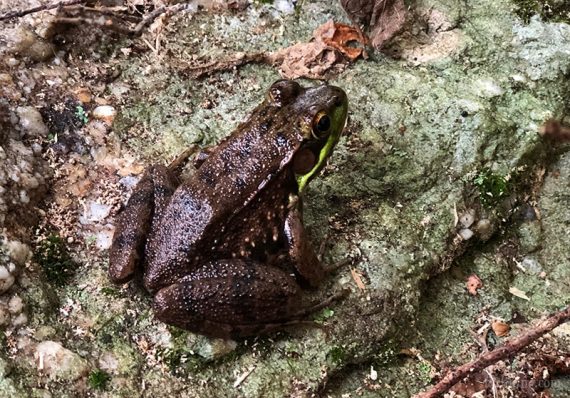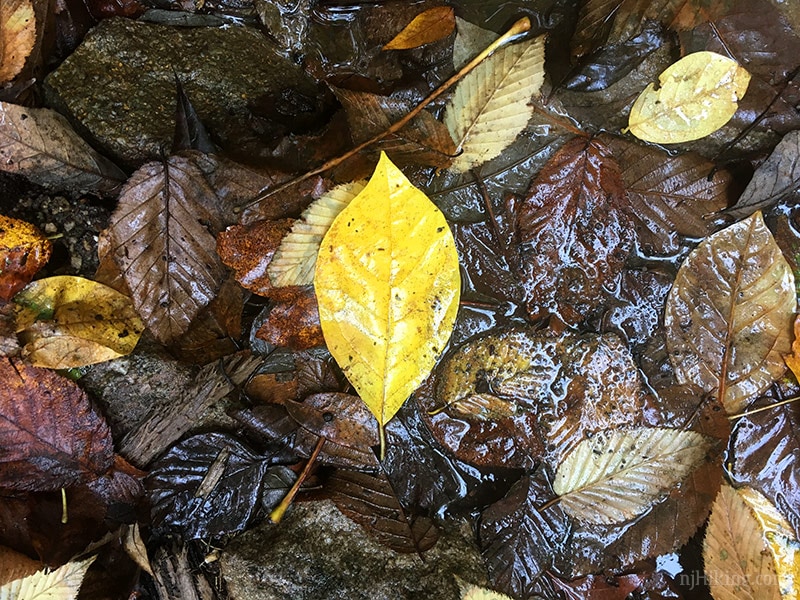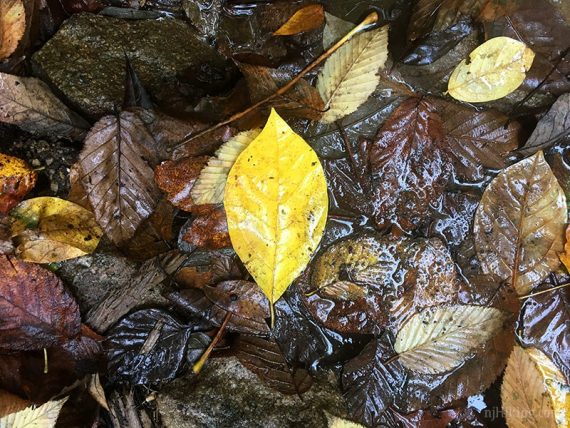 We tried the unmarked trail not far from the pavilion. No view but still beautiful.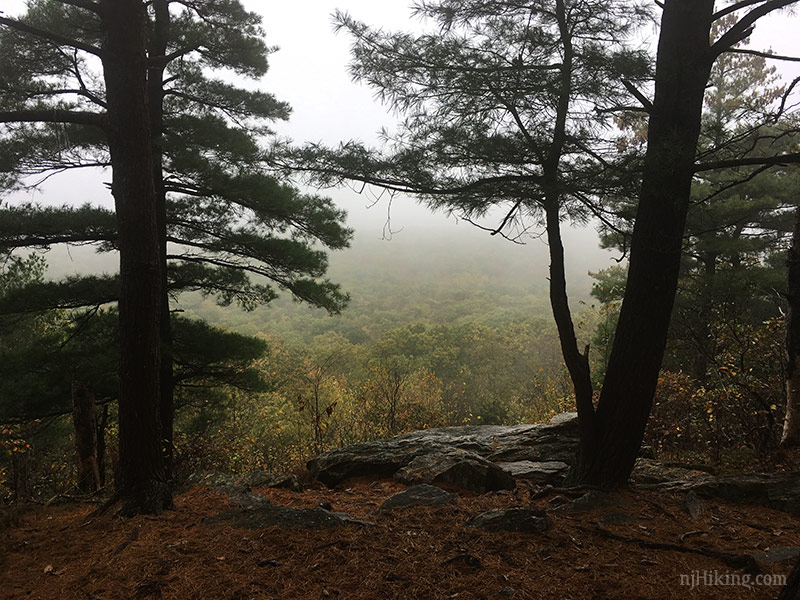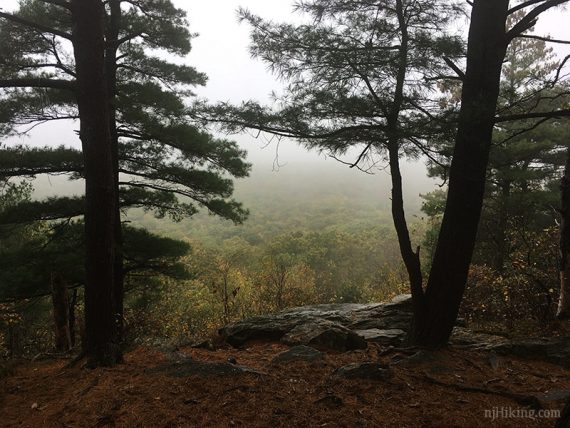 At this point everything was pretty soggy from the fog, which had been coating us in a fine mist all day. The temperature was perfect though, so it was still comfortable.
In this shot Tom looks to be forlornly wandering around a glistening wet Pavilion searching for a clear view… but in reality he's just waiting for me to finish some photos so we can head out and look for coffee.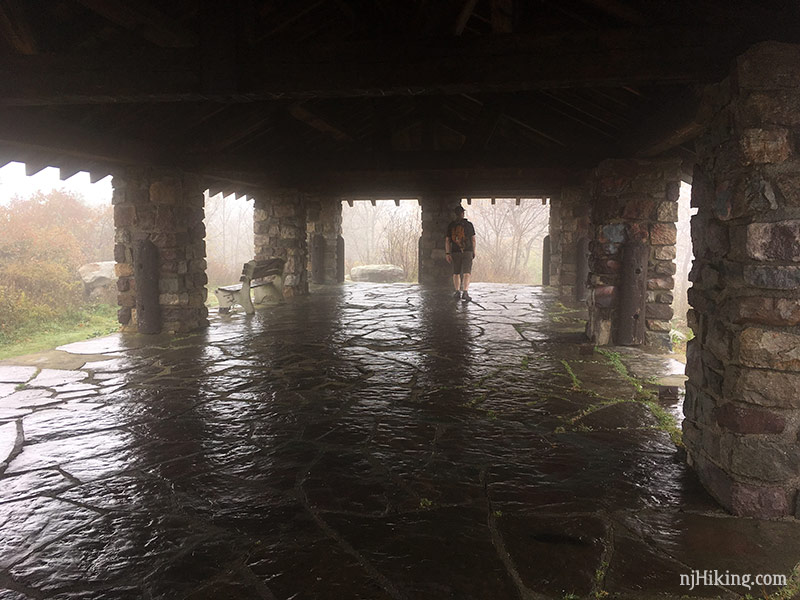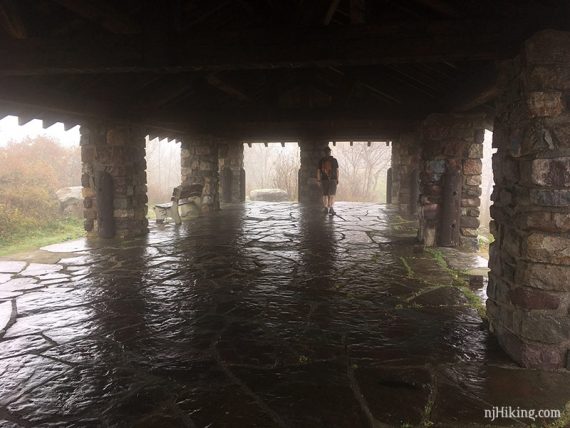 One last shot: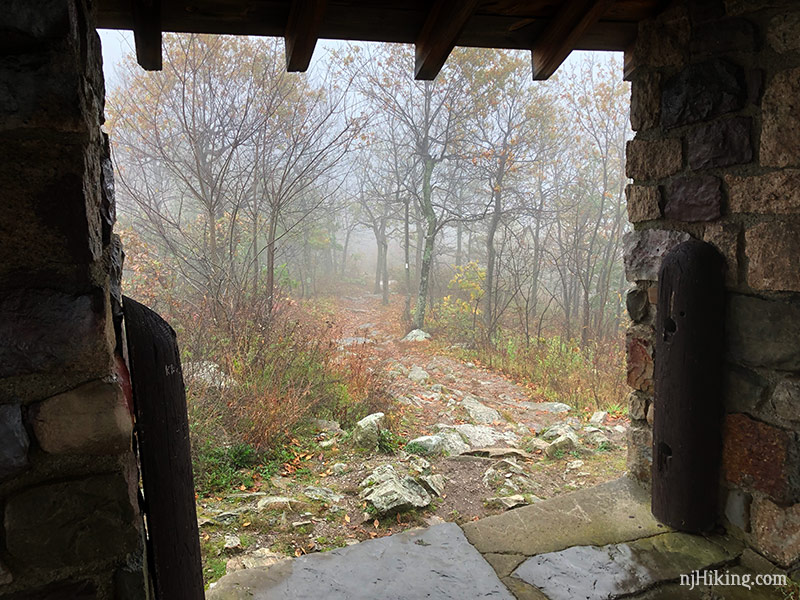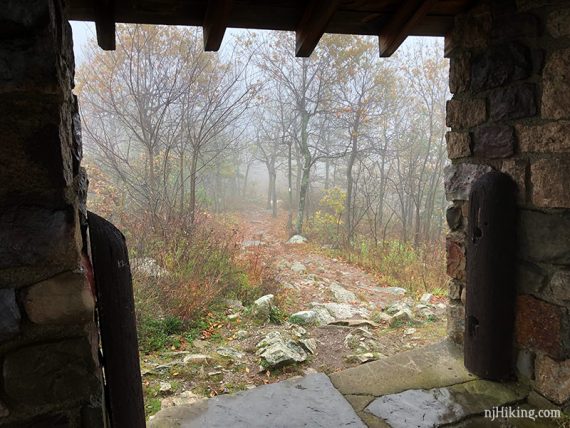 We re-hiked this route the following summer, see "Sunrise Mountain, Culver Fire Tower, Culvers Gap in Summer".
For detailed hike directions, maps, GPX, and photos, see our "Appalachian Trail – Sunrise Mountain to Culvers Gap" page.
Miles: 9.2
Route: Appalachian Trail, out-and-back.