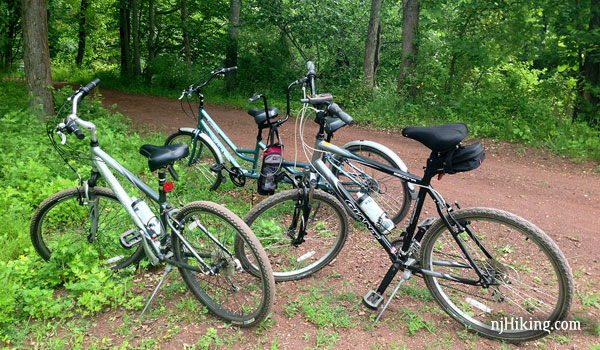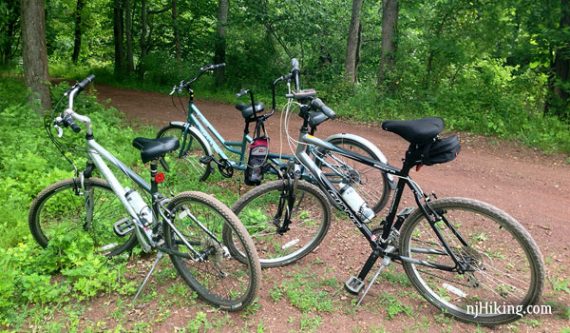 Rail-trails in and near New Jersey that are great for easy hiking and biking for the whole family.
Rail-trails are multi-use paths created from converting former railroad lines or from canal "towpaths" where mules once dragged barges down the canals.
We usually bike rail-trails, but all of these paths are also good for easy hiking (or, for long distance hiking/running, plus snowshoe/ski in winter).
Route info, trail maps, photos, and videos for:
Be sure to check out the bike icons on our trailhead locator for locations!
---
About rail-trails
Rail-trails are often tree-lined and shaded, with a mostly level surface of packed dirt or gravel – though the Henry Hudson is paved. We use hybrid bikes, but some might be ok with a road bike (such as Henry Hudson).
The trails and towpaths are closed to cars but are shared with hikers, joggers, bikers, and sometimes horses. There are occasional street crossings and sometimes a little road biking to connect missing sections.
Many of these trails pass through towns so it's easy to combine a nice meal (and some ice cream!) with a day of hiking or biking. Lambertville, Frenchtown, and New Hope are just some of the popular spots to stop for a bite to eat.
---
Tips
Pass on the left. A bike bell is handy to politely let hikers or other bikers know you are approaching them from behind and are going to pass them. No bell? Call out, "on your left!".
Both hikers and bikers should yield to horses. We generally pull over and wait for them to pass, so as to not spook the horses.
---
Don't own a bike? Rent one!
Many bike shops offer rentals, often very near to the rail-trails so you can just ride over.
---
Recommended Books:
Rail-Trails New Jersey & New York (2019) contains many more New Jersey rail-trails than the original version that covered NJ, NY, and PA (2011).
There's also a book dedicated to Pennsylvania rail-trails.
---
More Resources
For more info on rail-trails in NJ and around the country visit the Rails-To-Trails Conservancy site and use TrailLink.com to locate a trail.