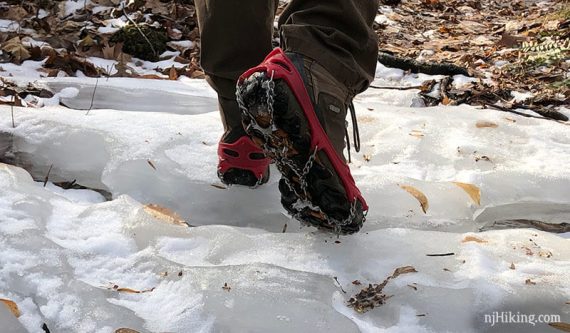 Hiking traction devices allow you to enjoy snow and ice covered trails more safely.
There are three major ways to traverse trails with snow and ice: snowshoes, crampons, and traction devices.
Snowshoes can be used for deeper snowy conditions while crampons may be better in very icy conditions.
Traction devices that can be easily put on over regular hiking boots hit the sweet spot in between.
These are also referred to as "hiking spikes" or "ice cleats".
Note: These are our own purchases and were not supplied by any company for review.
---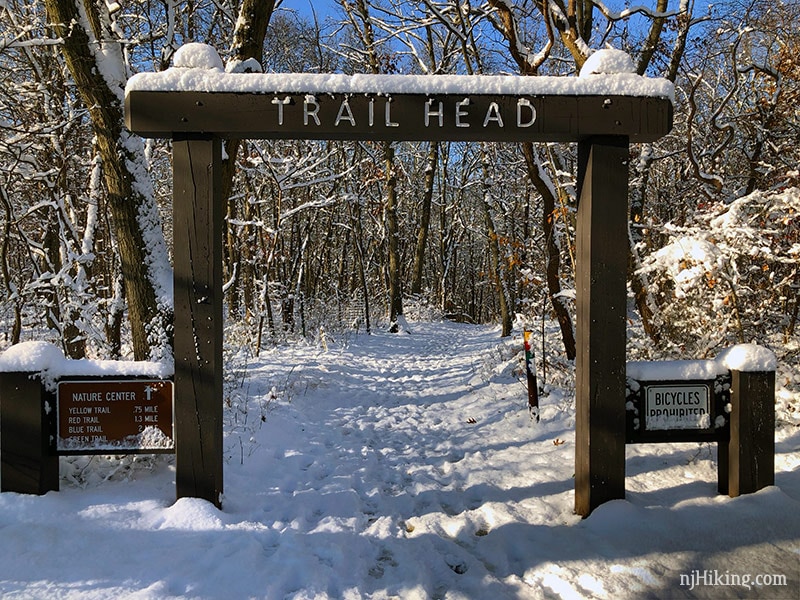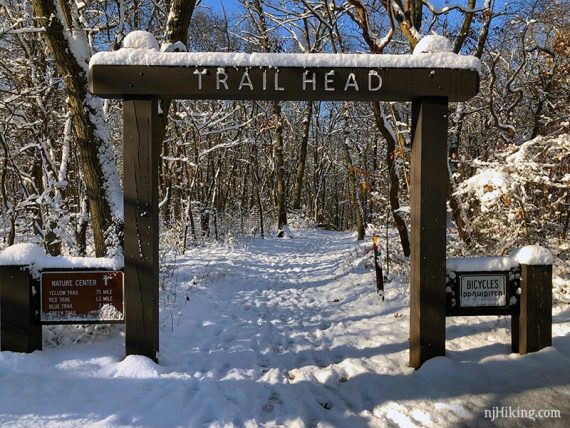 Two traction devices we've used and liked for years are YakTrax and Kahtoola's MICROspikes.
Both of these are stretched over hiking boots or shoes, and can be removed relatively easily.
---
Related: Snowshoe Guide and MSR Lightnings review and what Hiking Footwear we use.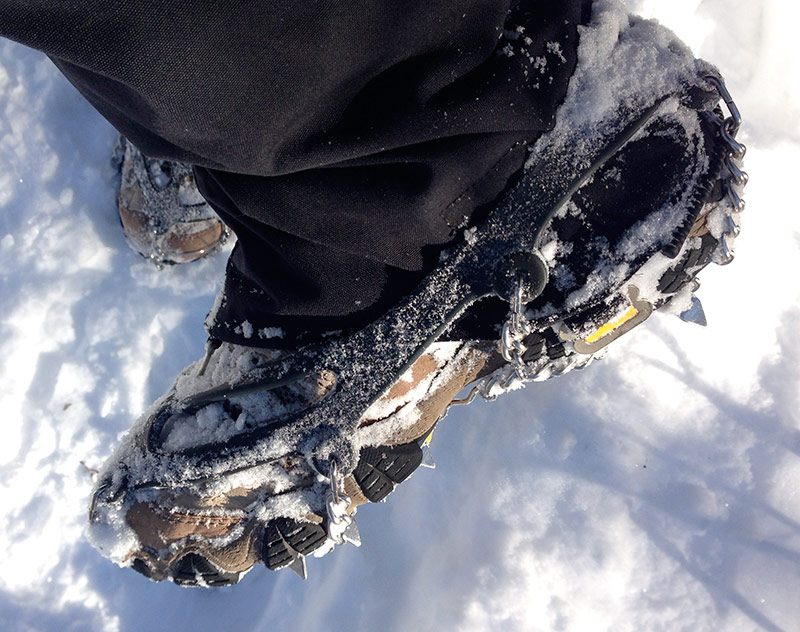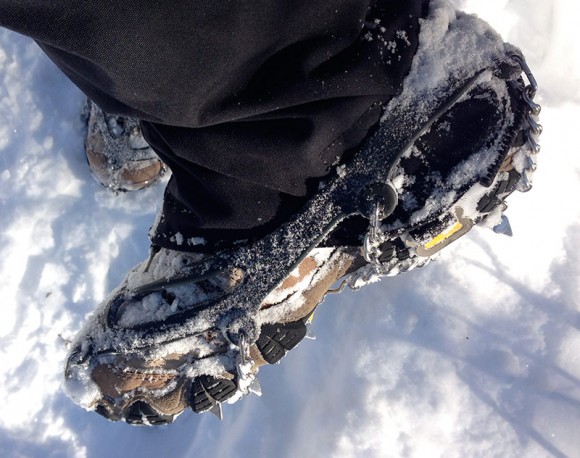 MICROspikes, with gaiter over low-cut Oboz hiking shoe (gals)
A rubber frame holds a chain with metal spikes attached to it. These spikes grip icy and packed snow really well without being as sharp or as long as a crampon spike.
Prior to getting MICROspikes, we used Yaktrax (see below) for years.
The MICROspikes took it to the next level and have really made hiking in winter conditions much more enjoyable for us.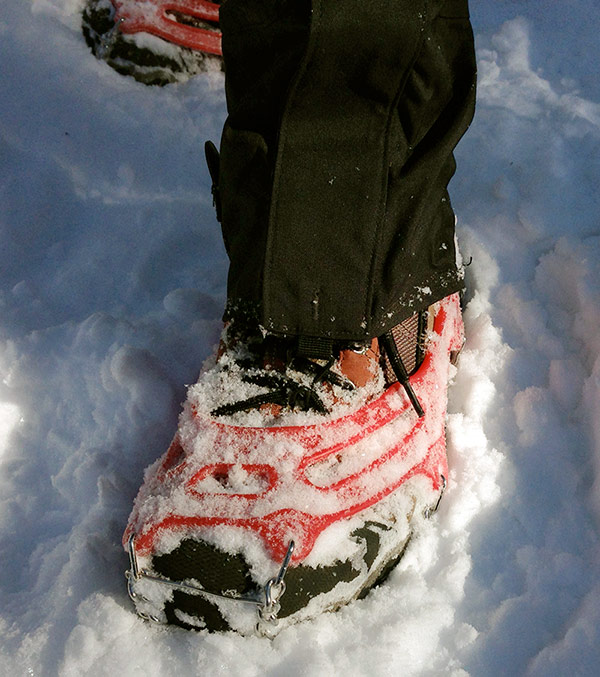 Front of MICROspikes on mid-cut Oboz hiking boot (guys), with gaiter
Having a more secure footing means hiking with a normal stride instead of being overly hesitant on icy sections of the trail or being able to go downhill with confidence.
We find we are more likely to head out on a snowy trail than we were before.
---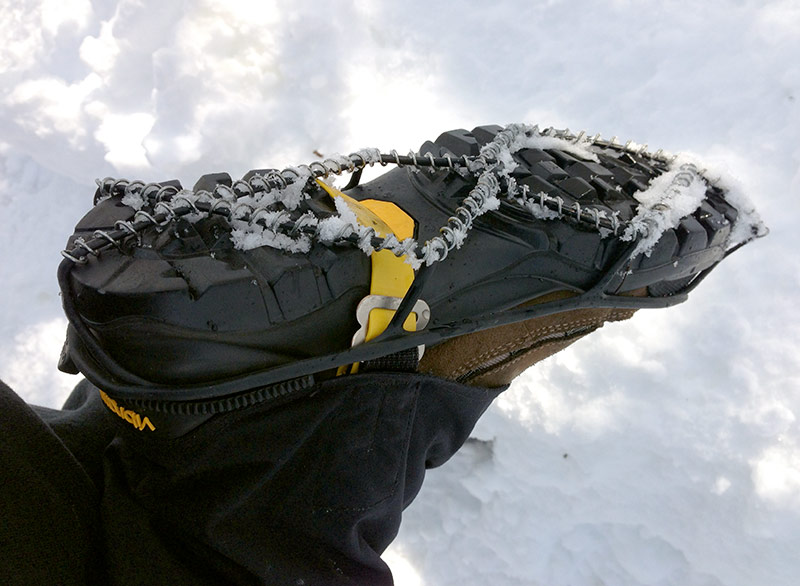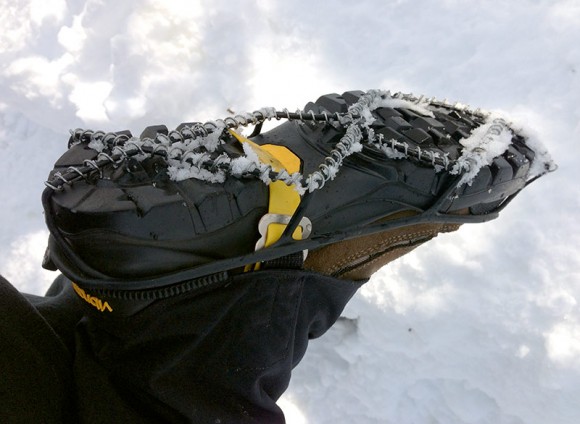 YakTrax (yellow strap is from a leg gaiter)
A rubber frame holds metal coils for traction and comes in several varieties: Walkers, Pro (features a strap over the shoe to secure), and Run (geared for trail running).
They also now offer "Ascent" and "Traverse" that use metal spikes similar to MICROspikes, and "Diamond Grip" with metal studs and intended for transitional terrain.
We bought the original YakTrax somewhere in the early 2000's when we started hiking more in the winter.
In addition to hikes, we used them for walking on snowy/icy sidewalks and shoveling the driveway.
The biggest downside was that they kept coming off, often without me realizing it, so I lost one… twice. They now offer a Pro version that has a strap to secure it.
Be sure to buy that version otherwise you might end up buying multiple pairs like I did. They can also have a tendency to get stretched out and be too loose or break.
(Update Winter 2016: My YakTrax finally bit it and I replaced them with the Pro version. Because I got new ones this insured we hardly received any snow to shovel.)
---
Related: Winter Hiking Tips
---
MICROspikes vs YakTrax
Both devices offer good traction in snow and ice, but there are distinct differences between the two.
MICROspikes
YakTrax
Average Price
$65
$30
Grip on snow or ice
Aggressive grip on snow and ice; can handle hills on slippery surfaces
Good traction on snow, OK on ice
Sturdiness
Heavy rubber frame, metal chains, and spikes. Spikes can become dull over time.
Thin rubber frame can get stretched out and/or break
Shoveling the driveway or walking the dog down the street/sidewalk
Not ideal, once the driveway/sidewalk is clear the spikes will wear on a hard surface
Good
Frequent switching from snow/ice to hard surfaces (i.e. a trail that is partially clear, has clear rocky areas, or having to cross pavement)
Not ideal; hard surfaces could potentially dull the spikes, slightly awkward walking spikes on pavement
Not an issue
Carrying when not in use
Metal tips are pointy but not razor sharp, heavier and bulkier than YakTrax; tote sack is now included
Light and compact, won't put holes in gear or clothing, doesn't need a bag/case
MICROspikes
YakTrax

Other options in this category (that we have not tested but are popular on our site):
---
How much snow is on the ground? Snow Forecast and Snow Depth Maps
---
Our two cents
After extensively using both, we prefer the MICROspikes and probably wouldn't go back to YakTrax for hiking.
But we do use YakTrax for clearing our ice-prone driveway and sidewalk.
For the winter hiking conditions we receive in New Jersey, MICROspikes would cover the needs of most avid hikers.
However, YakTrax are a solid, less expensive option with the bonus of being better for shoveling the driveway or taking Fido out for a walk. For the more casual hiker, this might be the better value.
Overall, if a traction device prevents a fall (and potential injury) just once then it was a purchase well made.
Related: Snowshoeing in New Jersey