2019-2020 New Jersey Hunting Season schedules, rules, and resources.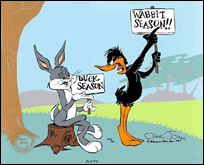 New Jersey hunting regulations can be confusing.
Each park or area can have it's own rules and dates, so you need to check into each park to make sure.
Most do allow hunting at least some time during the season – but it may just be for certain dates or areas of the park.
Summary:
We've provided dates and links to resources below to help sort it out but…
The easiest, most general answer for the average casual hiker who doesn't want to hike in hunting areas and doesn't want to sort through dates:
From September to February, hike only on Sundays in areas closed to bow hunting.
These tend to be State Parks/Forests and County Parks, or on any day at the non-hunting parks listed below.

But you can still hike.
However, there is no need to stop hiking during hunting season, just be aware if there is hunting allowed where you are going.
The safest bet is to simply be visible by wearing blaze orange during the entire season.
Tips:
Stay on designated hiking trails. Make noise as you hike. Avoid wearing brown/tan or white (deer colors) and have blaze orange visible from all directions.
---
2019 – 2020 Season – Key Dates
Sept. 14 – Early Fall Bow starts (Zones in Regulation Sets 4-8 only)
Sept. 21 – (Saturday / 1 Day) – Youth Bow.
Sept. 28 – Fall Bow starts, Statewide.
Oct. 14-19 (M – Sa) – Bear (Segment A – Archery/Muzzleloader)
Oct. 26 – Permit Bow starts.
Nov. 23 (Saturday / 1 Day) – Youth Firearm.
Nov 25 – Muzzleloader/Shotgun starts (Except Thanksgiving).
Dec. 9-14 (M – Sa) – Six-day Firearm Deer / Bear (Segment B).
Dec. 18-21 (W – Sa) – If Extended, Firearm Bear (Segment B).
Jan. 1, 2020 – Winter Bow starts.
Small Game – Hunted throughout the year, for info, check here.
Most hikers go all over the state and aren't thinking about hunting zones so we've created a simplified range for bow and firearm deer seasons across the state.
There are gaps within these ranges, look up regulation sets for zone by zone detailed dates. Use the NJ Deer Hunting Interactive zone map to zoom into the area you'd to hike.
Overall Bow Range:
Sept. 14, 2019 – Feb. 15, 2020
(M – Sa, Sunday hunting at WMAs only. No hunting Christmas Day or Thanksgiving)
Overall Firearm Range:
Oct. 14-19, 2019 (Bear Segment A – Muzzleloader)
Nov. 23, 2018 – Feb 8, 2020
(M – Sa, no Sundays. No hunting Christmas Day or Thanksgiving)
Bear Season:
See New Jersey's Black Bear Hunting Season. There are two segments: Archery/Muzzleloader in October and Firearm in December (same dates as Firearm Deer).
2019, 2018: No bear hunting on state forests, parks, recreation areas and natural areas, and wildlife management areas.
2016: A second bear season was added in October, first 3 days archery, second 3 days archery/muzzleloader. In addition, the bear hunt can be extended if objectives are not met after Segment B in December.
---
Sunday Hunting
There is no hunting on SUNDAY in New Jersey EXCEPT for certain Wildlife Management Areas and private lands.
Prior to 2009, the best option was to limit your hiking to Sundays but now if where you hike is a WMA you need to check the NJ Fish and Wildlife list to make sure your park is OK: Lands Open or Closed to Sunday Bow Hunting.
Be Visible
Wear bright colors or blaze/hunter orange when hiking during hunting season.
A hat, vest, jacket, bright backpack etc… and if you hike with a canine companion, you can get a blaze orange dog vest for them.
See the bottom of this page for blaze orange gear.
Some non-hunting park options:
(Rules can change at any time, contact the specific park if you have questions.)
Some parks that are no-hunting most of the time, but do close some days for hunts:
Park that used to be no-hunting anytime but is no longer:
Park allows hunting and is also closed to hikers days during Firearm season:
Pennsylvania / New York / Other
PA Game Commission – Pennsylvania hunting season info. Scroll down for pocket guide PDF. See also GoHuntPA.
Pennsylvania hunting season tips – Good overview of PA rules, seasons, and how to safely enjoy hiking during hunting season in PA.
Pennsylvania State Game Lands – Blaze orange regulation: "All hunters and non-hunters are required to wear at least 250 square inches of fluorescent orange material on the head, chest and back combined, or a fluorescent orange hat, from Nov. 15 to Dec. 15 (except on Sundays). The orange material must be visible from all angles (360 degrees)."
NY Hunting Seasons – Zone maps with date ranges for New York.
Tips for hikers during hunting season – Tips; also info regarding hunting on the Appalachian Trail.
---
Blaze Orange Hiking Gear
We've made it easy on you and collected a selection of clothing/gear to help keep you (and your dog!) visible while hiking during hunting season.