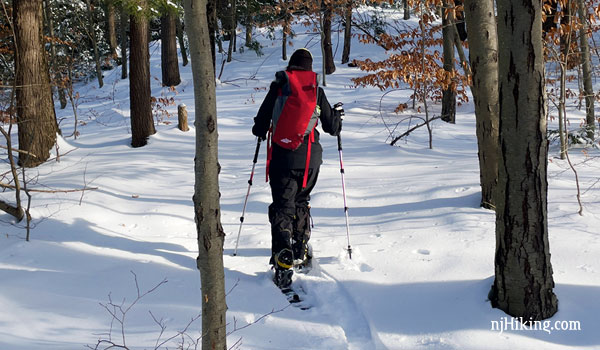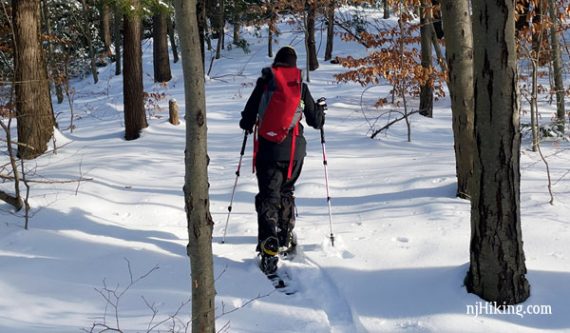 New Jersey snowshoeing locations and rentals.
Snowshoeing is a fun way to enjoy the outdoors in winter. We've put together some info to get started plus suggestions for locations and snowshoe rentals in NJ.
What's the point of using snowshoes? Snowshoes simply keep a hiker from sinking down too far in snow, almost allowing them to "walk" on top of snow.
How much snow do you need to snowshoe? It depends on how fluffy or wet the snow is, but the minimum would be about 6″ with 8-10″+ being better.
Is snowshoeing harder than hiking? Snowshoeing takes more effort and energy than hiking. Plan on a shorter distance than what you'd hike.
As an example, as avid hikers we normally hike 8 to 12+ miles but when snowshoeing we aim for around 4 miles and go further if we feel like it.
---
Related: Winter Hiking Tips | Snow Depth Maps
---
Where can I snowshoe in NJ?
While technically any trail can be snowshoed, flatter trails are better suited for snowshoeing.
Avoid the more rugged trails with elevation in New Jersey unless you're experienced and looking for a challenge (i.e. classic destinations like Mt. Tammany or Wyanokie High Point will be much harder on snowshoes than hiking).
Note that some parks will also have "groomed" cross county ski trails. This means they are maintaining a smooth trail surface for skiers (who are likely paying a use fee) so avoid snowshoeing on these.
Even if it's not groomed but there are a lot of ski tracks, try to stay off them or stay to the trail edges. Snowshoers can travel anywhere so try to not disturb ski tracks.
Below are some suggestions listed roughly from north to south New Jersey with counties noted.
We've linked to our related hike guide but these aren't snow specific so reduce routes as needed.
For more ideas use our Hike Finder Map to choose a hike nearby, or try one of our lists: Short Hikes, Best Hikes in NJ, Best Hikes in Central Jersey, or Best Hikes in South Jersey.
---
Related: Buying Snowshoes | Winter Traction Devices
---
High Point State Park
Trails in the main part of the park are managed by the High Point Cross Country Ski Center in winter. Fee per day; rentals also available. This area can be very popular.
In the main area, the 5 mile Monument Trail is the one snowshoe trail. The rest are groomed ski trails. In the other side of the park, the Iris Trail/Appalachian Trail is no fee. Sussex County.
---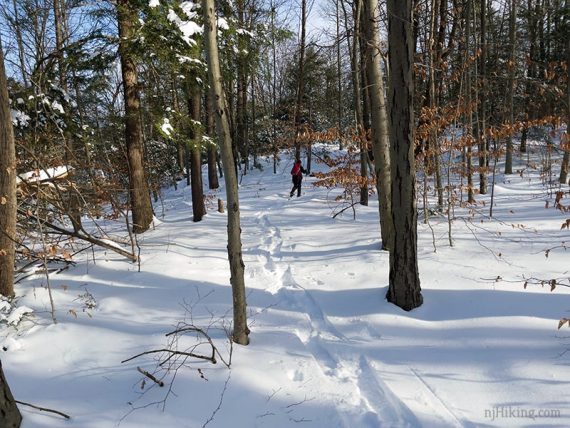 This park features a large network of trails that range from mostly flat to rolling hills. Offers free snowshoe sessions in season, check the park's Facebook page.
Snowshoeing at Wawayanda ranges from easy to moderate. Try our short Wawayanda Furnace Loop. Sussex County.
---
Very large network of wide carriage trails as well as regular trails. Hemlock Falls is especially beautiful when frozen. Essex County.
---
Large park that offers multiple trail options plus interesting destinations like the Deserted Village of Feltsville and cemetery as well as Lake Surprise.
Snowshoeing at Watchung Reservation leans more towards moderate than beginner. Union County.
---
Wide, level rail-trail with 15 miles available. Hunterdon/Morris County.
---
Level trail beside a beautiful canal with 70 miles to choose from. There are road crossings but most will people will be fine with a short out-and-back in one section to avoid them. Somerset, Mercer, and Hunterdon Counties.
---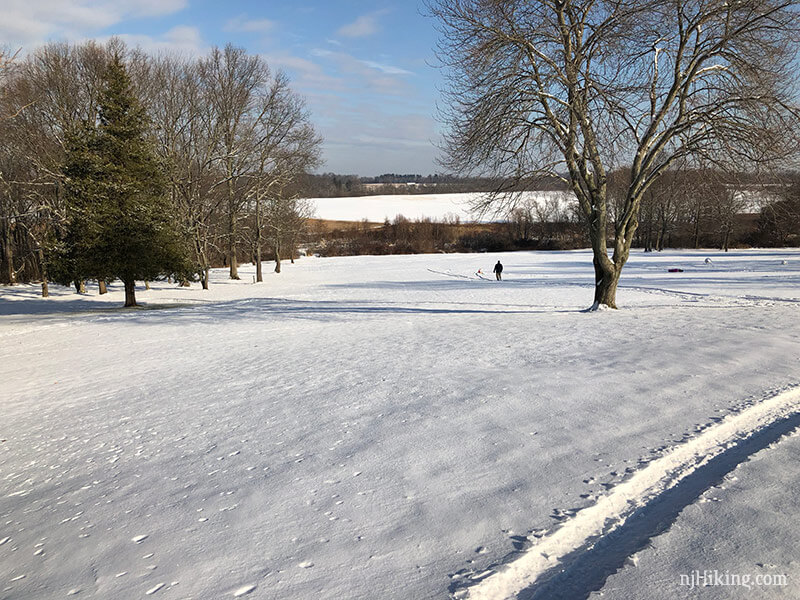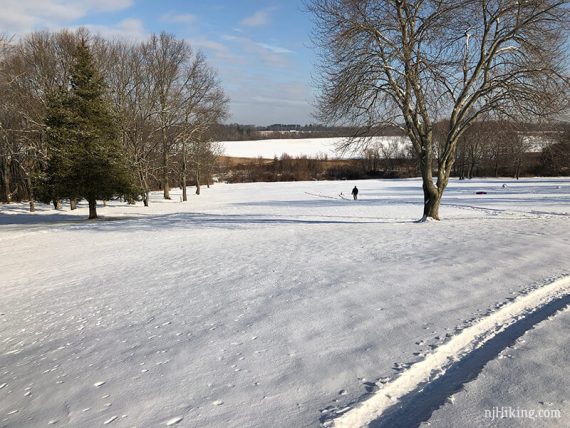 Gentle hills over wide open fields and through forest plus a bonus sledding hill. Snowshoeing at Monmouth Battlefield is mostly easy terrain. Monmouth County.
---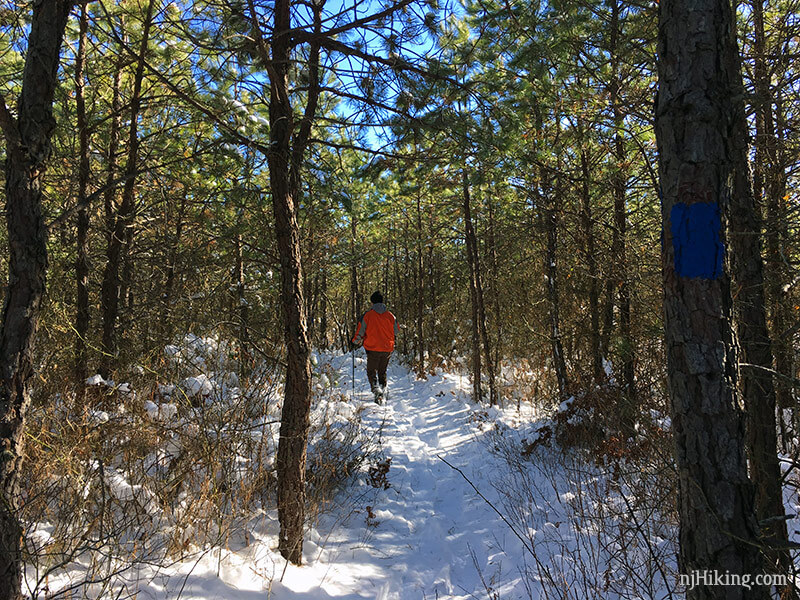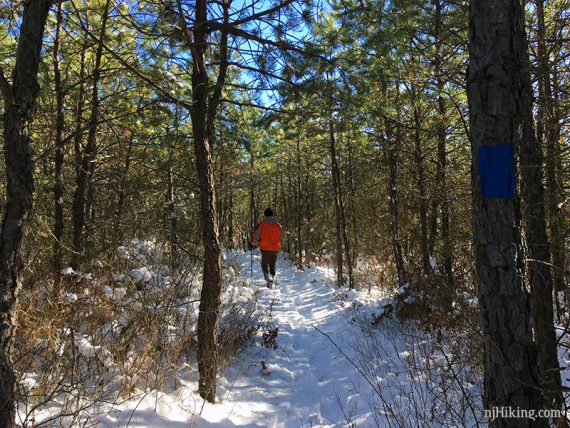 Mostly flat trail that winds through pine barrens. Snowshoeing at Jakes Branch is on relatively easy terrain. Ocean County.
---
Batona Trail
50+ miles of flat trails surrounded by beautiful pine trees that are green year round. Try a section from the Carranza Memorial near Apple Pie Hill. Burlington County.
---
Multiple short flat trails in the center of the park plus a network of wide sand roads. Cumberland/Cape May County.
---
Where to rent snowshoes in NJ:
Renting snowshoes is a great way to try out the sport, if you only go occasionally, or you're considering buying them.
Check sites or call for availability as rentals are limited. Some can be reserved while others are first come, first served.
High Point Cross Country Ski Center – at High Point State Park. Sussex County.
Wawayanda State Park has some rental snowshoes with their snowshoe clinics. Register ahead as these get booked fast; they post sessions and open slots on their Facebook page. – Sussex County.
Pyramid Mountain may offer rental snowshoes – Check with the park for current info, they've run snowshoe events in the past. – Morris County.
Thompson Park Ski Center – Monmouth County.
Big Bear Gear – Lambertville, NJ – Hunterdon County.
Gear Shops: Check with your local REI, EMS etc as they may offer rental snowshoes.
Guided Snowshoeing: This is another great way to try out snowshoeing as you'll learn too. Check Kayak East, Northeast Mountain Guiding, and REI.
Know of another place to rent snowshoes? Let us know!