There are lots of great books for hiking in NJ, and we've tried to collect most of them here along with reviews of our favorite ones.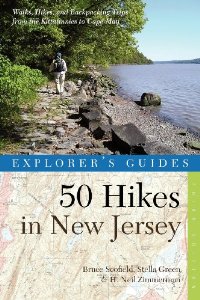 The classic Jersey hiking guide and a great gift for new hikers.
If you are only purchasing one book on Jersey hiking or want to start with a good sampling of the hiking in New Jersey – this is the book to get.
There are a variety of hikes throughout the entire state, in all lengths and difficulty levels. Hikes include Jersey classics such as Mt Tammany, Terrace Pond, and Bearfort Ridge, central and southern NJ favorites like Sourlands, Cheesequake, Wells Mills, and Parvin. This edition includes quite a few different hikes from past versions, such as Lake Sonoma, Osio Rock, and Point Mountain so it's worthwhile even if you have a prior edition.
Each trail description includes the distance, approximate hiking time, trail elevation, difficulty rating, corresponding map set, how to get there and, of course, the trail route.
There are detailed color topographic trail maps for each hike, with the route marked in red. These are super easy to read and a big improvement from our trusty and well-worn 2006 version. Updated in 2014.
---
by Daniel Chazin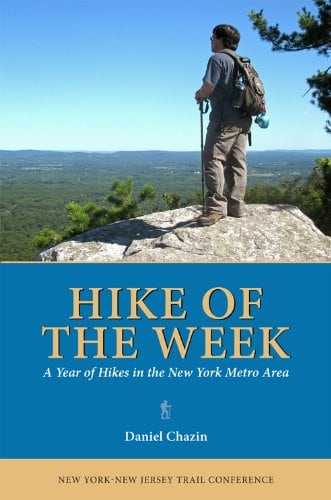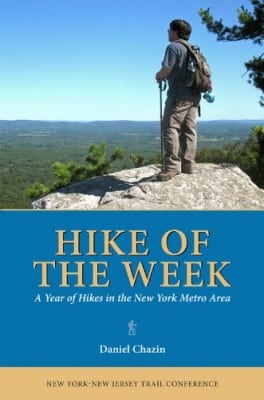 A year of hikes in the New York Metro area. This book collects 52 hikes from the Hike of the Week column in Bergen County's 'The Record' newspaper.
Hikes are sorted by season and difficulty level and include a map for each hike. Associated history, geology, and wildlife information is included.
Since the focus is on the NY Metro area, these hikes are concentrated in northern NJ with some in the adjacent NY area and a few further out in areas such as the Catskills. Average hike length ranges from short 1.5-2 mile hikes to around 8 miles, with a handful of 8+ for avid hikers. Published in 2013.
---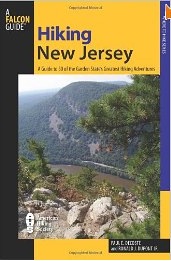 by Paul E. DeCoste, Ronald J. Dupont Jr.
Excellent trail maps, and clear, well-organized directions.
Nice mix of trails all over the state. Maps for each hike are very well done, and directions for the hike are broken down by mileage in the left column… super easy to follow along.
Also gives difficulty rating, trail surface, "canine compatibility", relevant websites etc. Includes little chunks of history of the hikes. Published in 2009.
---
by George Petty
This book focuses on the Jersey Highlands region. Areas covered include Wildcat Ridge, Hacklebarney, Ringwood, Wawayanda, Norvin Green, Farny State Park, Jenny Jump, Long Pond and more.
It's broken up by starter hikes, longer/scrambles and challenging hikes and each hike has a trail map diagram. The hikes tend to be on the shorter side (under 6-miles or so), however.
---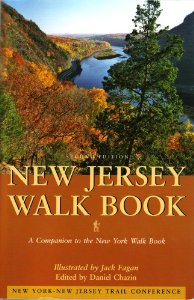 This book covers EVERY trail in NJ. Yes, EVERY park and trail in the state.
Save yourself a lot of aggravation and get this. We hiked for years without knowing it existed – what a HUGE difference once we picked this up.
This guide is broken down by region and then by park/area and then trails. Includes directions to the parks/trails, some facts and history about the parks and trail creation, the trail routes, mileage and blaze color. There are also trail maps in the back of the book. NOTE: there are no suggested "loops" – it describes each trail from start to end.
This book was published in 2004 and while the many trails have been changed or updated, the overall information is still relevant.
---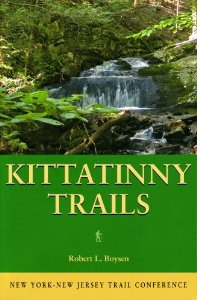 By Robert Boysen
This book covers northwest Jersey's Kittatinny ridge region – all trails from the Delaware Water Gap to High Point State Park.
Areas covered include Worthington State Forest (Mt Tammany's Red Dot and Blue Dot trails, Sunfish Pond, Dunnfield Creek, the AT in NJ etc). Del. Water Gap NRA such as Crater Lake and Rattlesnake Swamp. Also: Stokes State Forest and High Point State Forest.
There are detailed trail descriptions, trail maps, photos, elevation profiles, and parking directions.
---
By Michael P. Brown
This isn't a trail book with hike descriptions or specific trails listed, but is a good resource for locating parks across the state. You may find ones nearby you didn't know existed.
The guide is grouped by regions with a basic locator map at the start of each section. Each brief park entry lists address, park description, hours, fees, location, and allowed activities such as camping, boating, fishing, picnicking etc, as well as how many miles of trails the park contains. There are some photos throughout.
---
More great books…
NEW – Published 2/2019
AMC's Best Day Hikes in New Jersey: Four-Season Guide to 50 of the Best Trails in the Garden State, from the Skylands to the Shore
For hikers looking for easy hikes in NJ:
Best Easy Day Hikes New Jersey
For hikers closer to NYC, these include hikes in Northern NJ as well:
Take a Hike New York City
60 Hikes Within 60 Miles: New York City
For hikers closer to NY – Harriman State Park (just over the NJ border)
Circuit Hikes in Harriman – Revised 2017, new in 2015
Harriman Trails: A Guide and History – NEW edition, June 2018 (Prior 2010)
For hikers closer to Philly, these include hikes in southern NJ as well:
Best Day Hikes Near Philadelphia
60 Hikes Within 60 Miles: Philadelphia
For hikers wanting to explore into Pennsylvania:
Hiking the Poconos
Hiking Pennsylvania – includes many that are in the Poconos book
For hikers with kids:
Best Hikes With Children – New Jersey
For hikers with dogs:
Best Hikes with Dogs: New Jersey
For hikers also into biking rail-trails or kayaking:
Rail-Trails Pennsylvania, New Jersey, and New York
Quiet Water New Jersey – AMC's Canoe And Kayak Guide To The Best Ponds, Lakes, And Easy Rivers