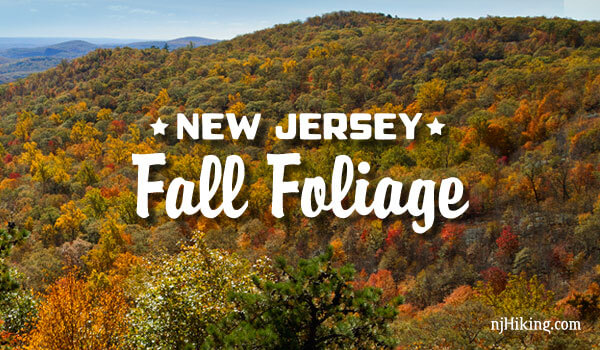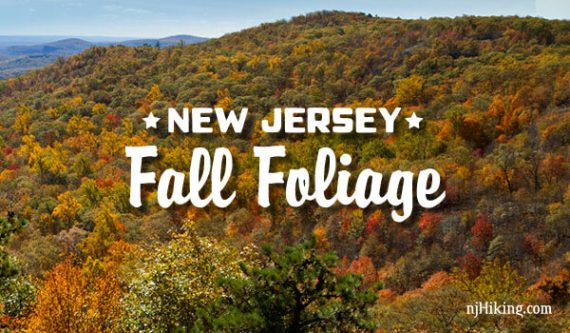 New Jersey Fall Foliage Reports, maps and resources to help plan fall foliage hikes and scenic drives.
Check out the New Jersey and the Northeast Foliage Resources below.
For our fall hike recommendations see Best Fall Foliage Hikes in New Jersey.
Need even more hike ideas? Try our Hike Finder map. Also check out the book Best Easy Day Hikes New Jersey for a nice selection of easy day hikes.
Peak Foliage in NJ for 2020
*Average New Jersey peak fall color is October 19 through 29*
While there are average times for color change, it really depends on several variables like temperature and rainfall.
Trees at higher elevations turn color before ones at lower elevations. Leaves change first along water so head to areas with lakes, ponds, or rivers.
Leaves usually change color starting from Maine and higher elevations of New England and then work their way south.
New Jersey fall foliage generally starts in the northwest corner at High Point and in the Highlands region in north central, progresses to the central part of the state, and finally to the south and the coastal regions.
This means that leaves could be past peak in North Jersey but still barely changed in South Jersey.
Use the info here to get in as much color as you can, it doesn't last long!
NJ Fall Foliage 2020
*Reports are in reverse order, scroll for foliage resources at the bottom of the page.*
NJ Foliage Reports start in late September, 2020!
Use the resources in the chart below for various reports and maps.
---
Resources for tracking fall color in New Jersey and the Northeast
General info about fall foliage in New Jersey
Resources for tracking fall color near NJ
For the rest of United States, check out our Fall Foliage Reports – U.S. page.
Previous years foliage report archive – See how the color usually progresses through various hiking areas in New Jersey.