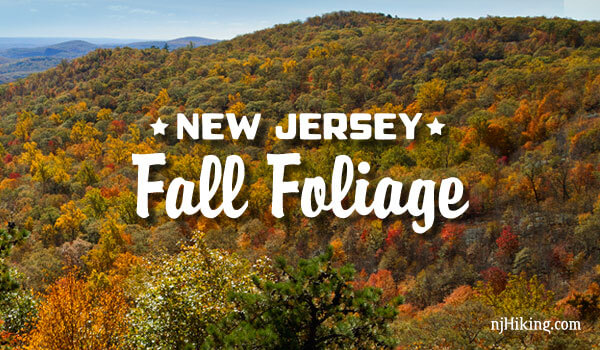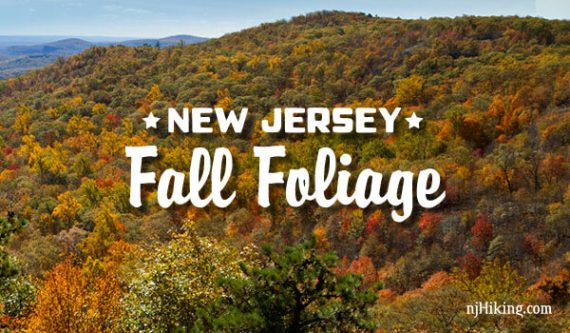 New Jersey Fall Foliage Reports, maps and resources to help plan fall foliage hikes and scenic drives.
Check out the New Jersey and the Northeast Foliage Resources below.
For our fall hike recommendations see Best Fall Foliage Hikes in New Jersey.
Need even more hike ideas? Try our Hike Finder map. Also check out the book Best Easy Day Hikes New Jersey for a nice selection of easy day hikes.
Peak Foliage in NJ for 2020
*Average New Jersey peak fall color is October 19 through 29*
While there are average times for color change, it really depends on several variables like temperature and rainfall.
Trees at higher elevations turn color before ones at lower elevations. Leaves change first along water so head to areas with lakes, ponds, or rivers.
Leaves usually change color starting from Maine and higher elevations of New England and then work their way south.
New Jersey fall foliage generally starts in the northwest corner at High Point and in the Highlands region in north central, progresses to the central part of the state, and finally to the south and the coastal regions.
This means that leaves could be past peak in North Jersey but still barely changed in South Jersey.
Use the info here to get in as much color as you can, it doesn't last long!
NJ Fall Foliage 2020
*Reports are in reverse order with foliage resources below them*
9/25/20…
This weekend and into next week…
The season is just getting underway with low color is starting to appear in north western and north central New Jersey, with spots of color showing up in the rest of the state.
Best bets for a little color in NJ would be High Point and Stokes S.F., and possibly Bearfort Ridge – Surprise Lake area.
Further out… New York: Best bet for color now is the Adirondacks region in NY with 50% color. Catskills region ranges from 25-40%. Hudson Valley/Hudson Highlands/Bear Mtn. area is just changing and around 10-20%.
Pennsylvania: Poconos are just changing with 10-15% color; but Tobyhanna State Park  and Prompton State Park may be options to snag some color that may be further along than NJ.
Even Further out… Northern Maine is seeing high color at 50-70% while south remains low at 10-30%. New England's overall season looks to potentially be bright – but a bit early and possibly brief. Right now try Smugglers Notch in VT or in NH the higher regions of the White Mountains or along the Kancamagus Highway.
9/23/20…
Recent cool overnight temperatures are kicking the foliage change into gear, slightly earlier than usual. If drier than normal conditions continue, colors could be a bit muted.
9/20/20…
Overall, color is just starting to appear but trees remain mostly green. We spotted yellows and a few pops of color appearing north of Rt 80 in the north central part of the state.
---
Resources for tracking fall color in and near New Jersey
Sites that contain forecasts or foliage maps for NJ and the surrounding region such as the Adirondacks or the Catskills in New York or the Poconos in Pennsylvania.
---
Resources for tracking fall color in the Northeast
These can be used to help plan trips to the New England region that change well before New Jersey, such as Maine, Vermont, and New Hampshire.
Savvy planners can hit foliage in several spots as it works it's way down.
---
General info about fall foliage in New Jersey
The best fall foliage displays start with healthy green trees. Then September needs warm sunny days and cold but not freezing nights.
If it remains too warm it can delay the change and dull the colors. A cloudy fall also can mute the colors.
Rainfall is also a big factor. Too much before the season is bad for color, while drought conditions can bring on an early change and leaf drop.
Overall it can be very hard to predict the quality of fall foliage every year because it's a delicate balance between many variables.