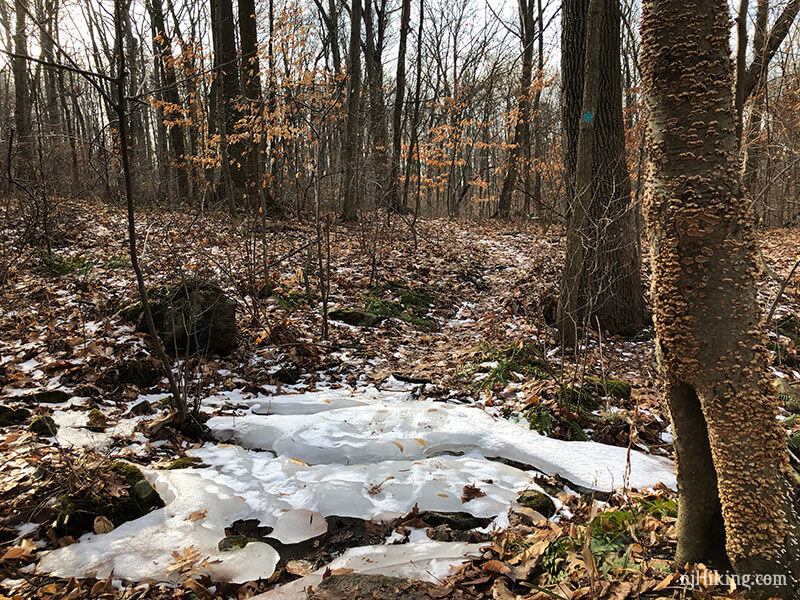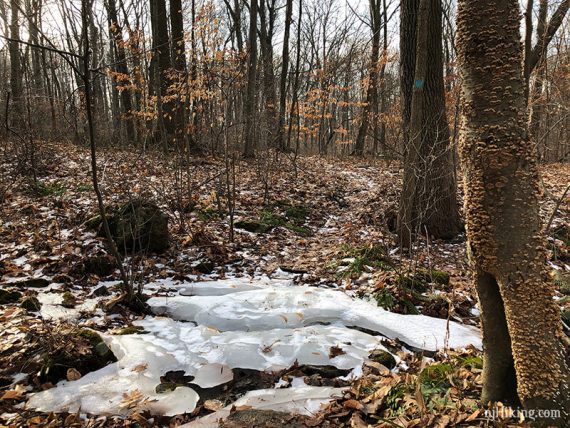 For detailed hike directions, maps, GPX, and more photos visit our Voorhees State Park page.
Somehow we'd never gotten around to checking out Voorhees. It's one of those parks we just kinda skipped due to lack of info waaaay back in the day*, and it just kind of stayed that way.
(*You know, the Hiking Dark Ages before everything was available online… when all you had was a hiking book with not all of the parks and maybe some vague topo maps…
…with no way of knowing if there was enough trail to be worth driving an hour and a half to a park… using a paper street map to find the trailhead before there was GPS and Google Maps…. the horror…)
At any rate, now with very nice park maps, we could plan a route and finally go check it out. It was "warmer" in the 40s which felt utterly balmy after the cold weather we'd been having.
But two steps onto the trail revealed they were solid ice. Hunh.
I'd checked the snow depth map and expected little if anything. Instead, the remaining spots of snow were packed and frozen solid, mixed with bare dirt that was clear-coated with ice.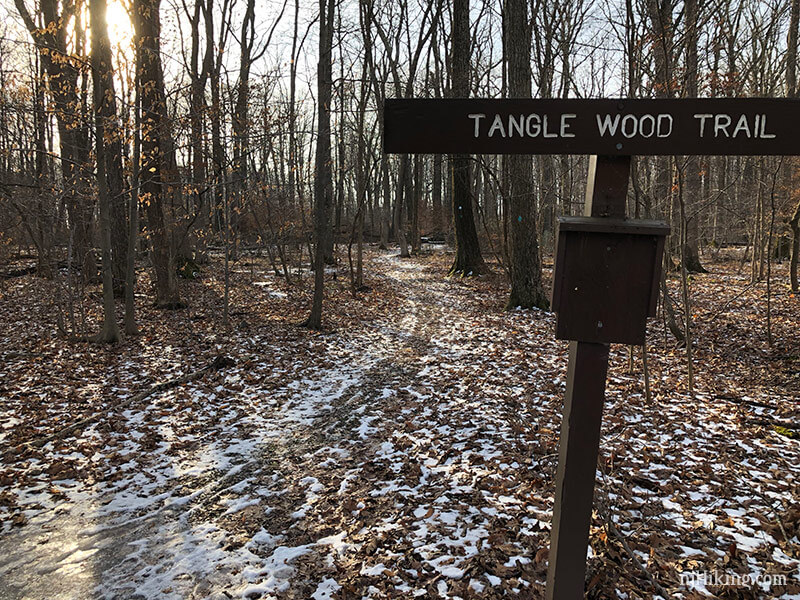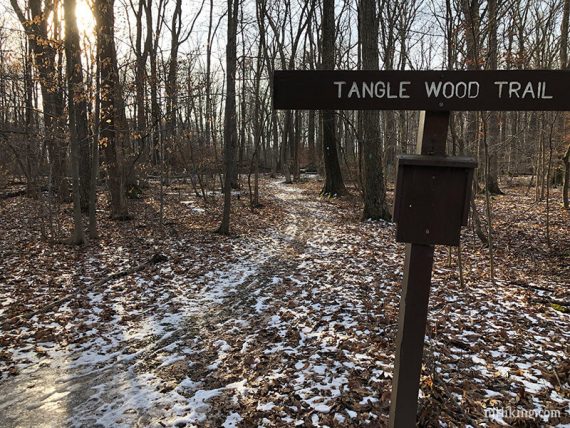 Thankfully we keep our MICROspikes in our boot bag in the car. It would have been utterly miserable or not safe to hike without traction.
I don't know how many times the spikes have saved the day (or me from being sprawled on the ground) at this point.
The park is standard Jersey hiking and pleasant but without any big "destinations". The viewpoints are partially-obscured, but you can sit in George's Thrones (chairs made out of stone slabs).
The Solar System trail is nifty and passes by an observatory.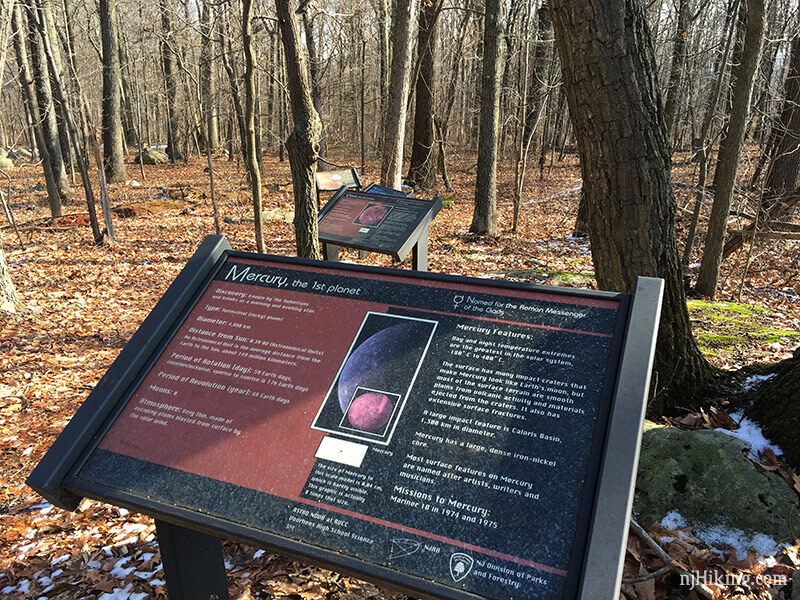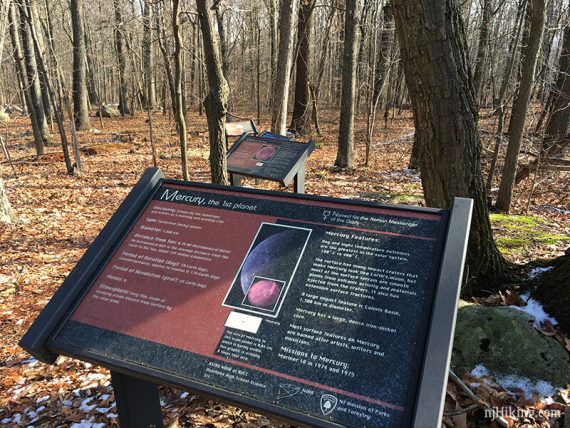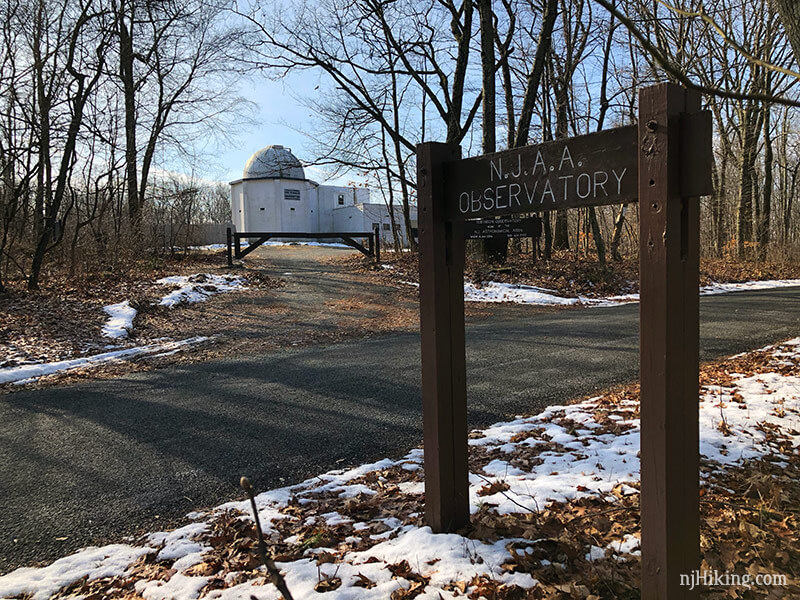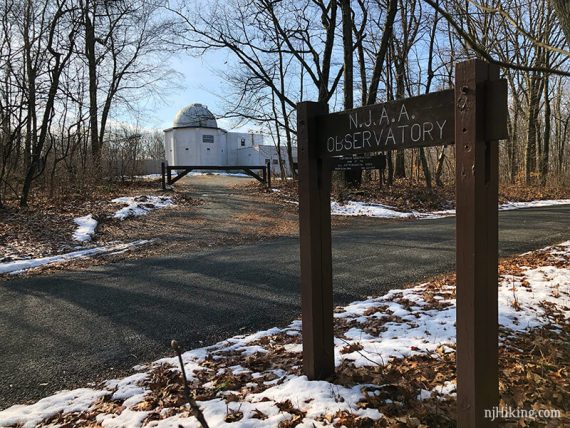 We didn't see anyone on the trail until coming back on Brookside.
Even though it was softening up by then, people were still walking hesitantly so we might have a garnered a confused glance or two as we nonchalantly click-clicked on ice past them.
Miles: 5.4
Route: Company Street – Highlands (TEAL Diamond) – Vista (PINK) – Solar System (PURPLE) – Hill Acres (BLUE) – Brookside (ORANGE) – Highlands (TEAL Diamond) – Company Street
Post-hike: Caramel macchiato – but with toffee nut instead of vanilla syrup – and an extra shot. Magic.