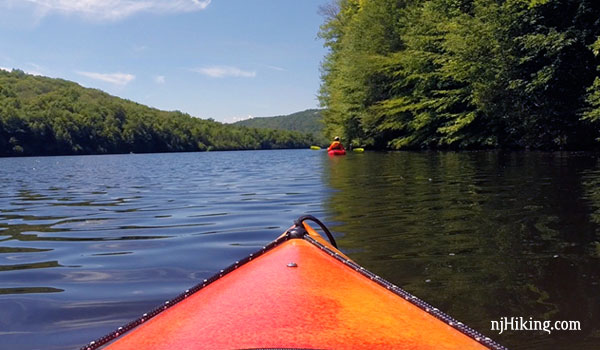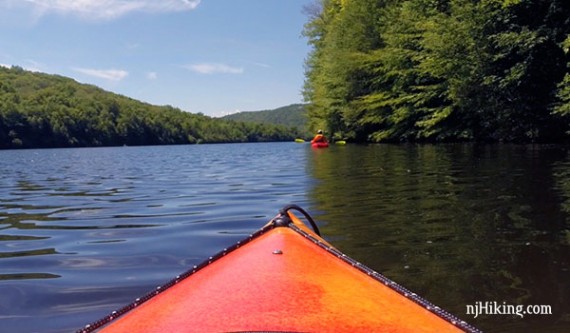 Thinking of buying a kayak? A guide to what equipment is involved.
This guide is for anyone who has decided they want the flexibility of their own kayak and are interested in the gear needed to paddle easy, quiet water.
We used to just rent occasionally but considered buying kayaks for a long time (it's best to rent first and learn how to kayak before buying).
Now that we have our own, we go out a lot more often and regret not buying them sooner.
Check our Kayaking NJ page for some ideas where to kayak.
While this isn't meant to be a definitive guide to choosing a kayak and gear, we thought that detailing what purchases were involved and what we chose might be useful to someone thinking of getting into kayaking.
Note: These are all our own purchases and were not supplied by any company for review.
Single or Double Kayak?
One double is usually cheaper than two singles (when renting or buying).
A double can compensate for two paddlers with different endurance or abilities.
Singles let everyone drive.
After years of renting a double kayak, we tried two singles on a trip to Acadia N.P. and decided that was the way to go for us.
We enjoyed the freedom of steering our own kayaks and just that one outing dispelled any concerns that I would tire out too soon.
We like slow, easy paddles on quiet lakes and paddling on my own hasn't been an issue (while I'm in no way dainty, realistically I don't have the same arm strength/endurance as a guy).


West Marine 9.5′ Saba Kayak
Total for 2: $500 ($350 minus $100 rebate, each)
Our research found that these rated well for entry level kayaks that were stable yet light-weight (35lb) and easy to control. Overall, we're happy with the choice.
This isn't our main hobby so we wanted to start with less expensive kayaks to see if we even used them enough. If we feel we need to upgrade later, we can always sell these and get higher-end kayaks.
[Update 2017: This exact model no longer seems to be available, we purchased these in 2014, but a similar model would be a Perception Conduit. The West Marine kayaks seemed to be made by Perception anyway.]
Going cheap at the start may not be the best route, however, as upping the budget just a bit can get a more comfortable ride or more features.
At around $400 or so per kayak we could have gotten a covered storage hatch, better carry handles, and a molded cup holder in the seat; more money and the storage hatch would be contained and waterproof… and so on.
A budget of about $700-800 will start you out nicely. Those extra features weren't important to us at this point, so we put the money elsewhere.
We opted for 9.5′ long kayaks but longer ones will paddle nicer and glide straighter. Since we don't have a lot of storage or a huge truck, we weren't interested in hauling a couple of 14ft-ers around.
Watch for clearance sales at end of season or around holidays (we scored ours during a 4th of July sale).
Craigslist can also be a good option if you don't mind used gear. People are always upgrading, or unloading kayaks bought with the best intentions that sat unused for years in a garage.
A kayak is only a portion of the cost of getting started. Equipment adds up quick… paddles, PFDs, roof rack…
Paddles
The width of the kayak and your height determine the paddle length. There are several types and options, check "Kayak Paddles: How to Choose" for a nice overview.
The weight difference between aluminum, fiberglass, and composite can be huge. We opted for fiberglass paddles for a good compromise between weight and price.


This is a basic recreational paddle and we've had no issues with them. Two sections click together to easily fit in your vehicle or storage.
Life jackets
Also called PFDs – Personal Flotation Devices. A must-have safety item that some places will even require.
We didn't expect this would be a big expense, but unless you opt for the cheapie orange jackets – the kind they toss to you as the cruise ship is sinking – you are looking at starting at $50… and even those aren't very comfortable.
Stick to models for kayaking as they have wide arm holes and a mesh lower back to clear the kayak seat. Gals – opt for women specific ones as it makes a big difference.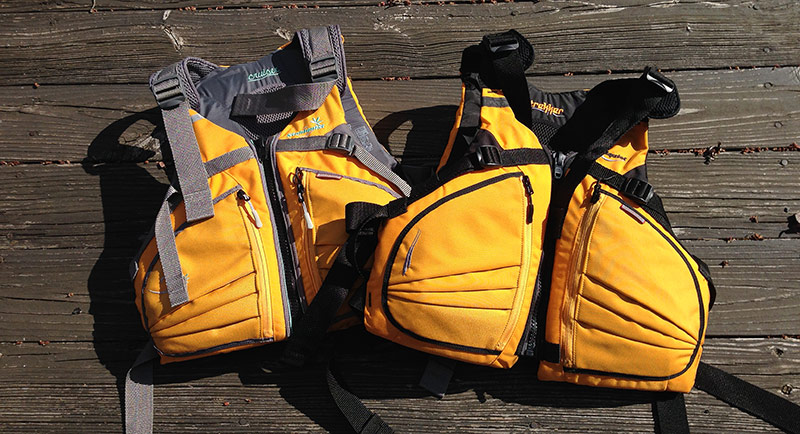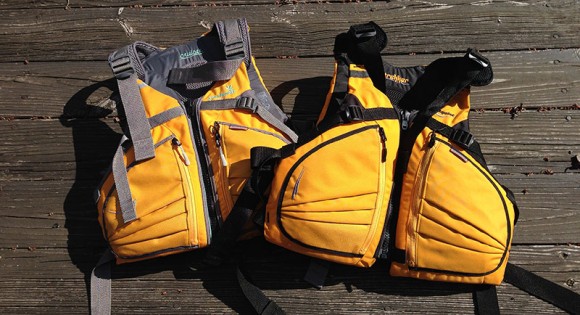 After trying on every model in several stores and totally hating them – it felt like being squeezed by a foam boa constrictor – these were good. So for comfort-sake we ended up paying more than we expected.
Bonus that we never thought we'd use but do: pockets (gloves, water proof bag with money/keys, phone, snack bar).
Roof Rack Carrier
The suitable rack type/model depends on the vehicle, but we went with a Thule rack (we'd purchased their Vertex Hitch bike rack a few years ago and really like it).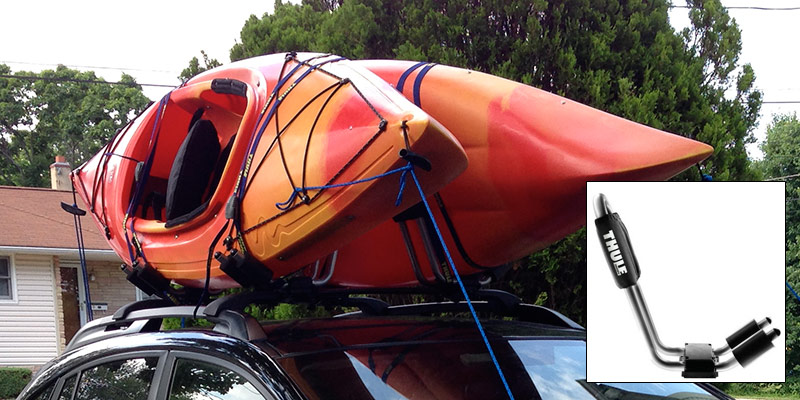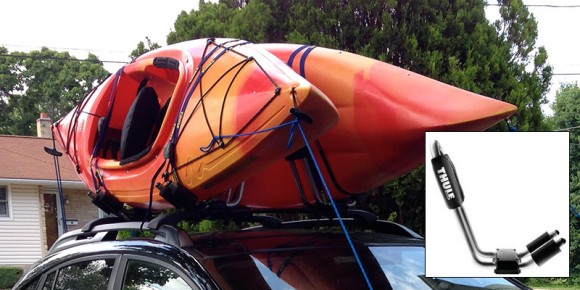 Our car already had roof rails but we also needed to get cross-bars in order to use these. These are so easy to get on and off that we don't leave them on the car all the time. But go up to the Pro 835 model and the arms fold down when not in use.
Not needed, but nice to have:
Excellent guide book, can't recommend this enough. Directions, maps, paddling distance available, wildlife you can expect to see – this is our main source for finding paddle spots.
It is available as an online Kindle book but sadly the print version is no longer available – other than used copies that are generally going for absurd prices for some reason.
An option is "AMC's Quiet Water Mid-Atlantic" from 2018 which contains 13 of the 52 ones in the New Jersey-only book.
In addition to the New Jersey and Eastern Pennsylvania guide, AMC's Quiet Water series offers paddling books for much of the northeast coast such as New York, New Hampshire/Vermont, Maine etc.

Bought these in 2017 after deciding that we needed to add more comfort to our bottom line. Breathable mesh over gel cushioning with a no-skid bottom and folds in half for storage.
Wide brim, chin strap, lightweight, UPF 50+… and floats. We have several hats by Outdoor Research and they always last a long time.
Long-sleeve Paddle/Sun shirt
Long-sleeve UV protection paddle shirts help avoid sunburn without having to glop on sun lotion. We snagged two EMS Sessions long-sleeve tees on clearance that are no longer made. Anything along the lines of a SUPreme UV Shield would work.
A cover reduces wind drag when transporting and keeps weather and critters out of the kayak when stored. It requires a snug fit so they are a little bit of a struggle to get on, but not a huge deal.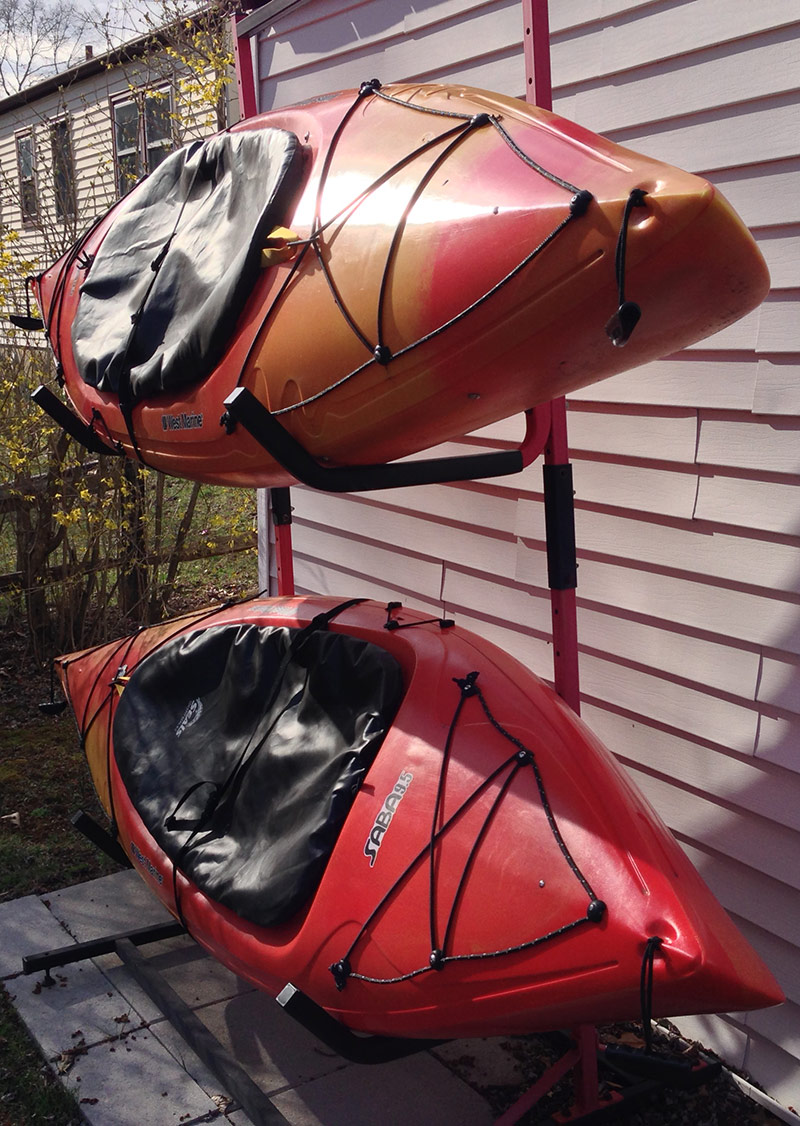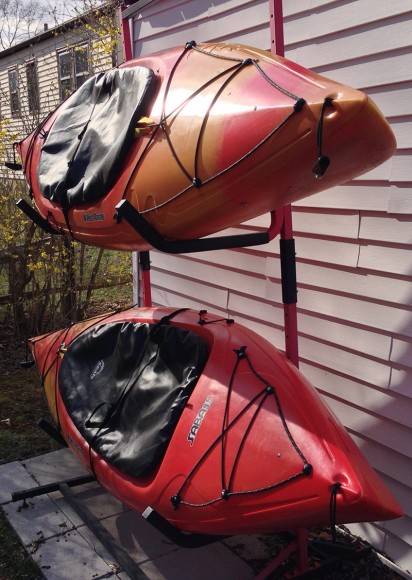 The only room we have for the kayaks is behind our shed, and we wanted to keep them off the ground and be accessible. This Malone rack is sturdy and really easy to just chuck them on and off of.
They have other models that hold more if you'd like to start a kayak collection.
Small waterproof bag to hold money and keys. Bonus: we ended up using this for rainy hikes too.
After our first paddle we realized – duh – that we needed somewhere to hold a water bottle and this was a cheap and easy solution for kayaks without cupholders.
The "Canpanion" clips on and off easily and holds the bottle right where you need it.