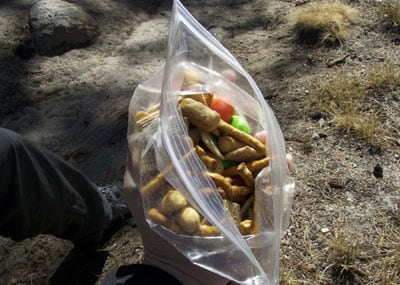 We find the easiest, most portable way to bring food on the trail is with energy bars or trail mix.
Some people prefer packing sandwiches for a lunch break, or even a full-blown picnic spread (you can even buy a picnic backpack... complete with plates, cutlery and a cooler for wine).
But you need to discover what works for you. To get you started, we've listed what we do and use.
We usually get breakfast on the way there… like a bagel with cream cheese, or egg & cheese on an roll (to go really Jersey, get pork roll, egg, & cheese…).
During the hike we have energy bars and trail mix (our faves are listed below). Depending on the length of the hike, we go through a bar each plus trail mix. For a short 2 or 3 mile jaunt, you won't need much (or anything).
We don't like to hike after eating a lot of food, so toting lunch around doesn't work for us. Then we'll eat dinner when we get back home.
Of course, we still sometimes usually always stop for coffees or ice cream on the way home (because let's face it, we earned that that caramel macchiato or Snickers Blizzard by hiking all day, right? RIGHT?).
Energy Bars
There are many brands of energy bars, flavors, and textures. Just try some till you find ones you like. Some are awful. REALLY awful. (like the original Power Bar… ick).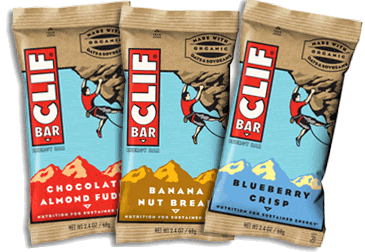 Clif Bars have been our hiking snack of choice for years, and we tend to enjoy anything put out by Clif, including their Luna Bars (with vitamins geared for women and texture of a firm Rice Krispy Treat), and Mojo Bars (salty pretzely nutty snack bars). We use their Builder Bars for a larger portion with more protein.
One of their newest bars is the Nut Butter Filled which we have been favoring over the original – it's basically a slightly smaller original bar with peanut butter or almond butter inside.
Clifs have great flavor and texture, don't melt or get gooey in the heat, use all natural ingredients, are filling but not too filling, and actually seem to provide sustained energy.
Also good for travel – a Clif Bar in your bag is insurance you'll never be hungry even when stuck on a flight or somewhere with weird food.
Clif Bar favorite flavors – chocolate almond fudge, blueberry crisp; chocolate peanut butter for Filled or Builders, lemon zest Luna.
---
Balance Bars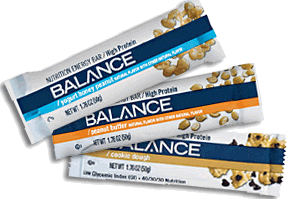 are more "candy bar" in texture and taste, and tend to give more an immediate boost of energy and are not as long lasting as a Clif. They are high protein and packed with vitamins/minerals. Downside is that certain flavors get melty/gooey when its warm and make a mess. Chuck them in the fridge the night before to mitigate that a bit.
Balance Bar favorite flavors – cookie dough, yogurt honey peanut, and peanut butter (none of these get melty).
---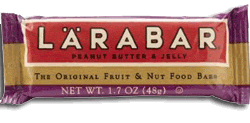 Larabars are made from only a few ingredients (ex. the PB & J flavor contains just dates, peanuts and unsweetened cherries). They are seriously tasty and have a nice not-too-firm chewy texture. Downside is they contain more fat than a Clif or Balance Bar.
Larabar favorite flavors – PB & J, Banana Bread
---
Trail Mix
You can go for the classic GORP (Good Old Raisins and Peanuts) or there are tons of recipes for trail mix around. We'll start you off with our simple tasty fave… just mix equali-ish parts together and pack some in a sandwich baggie in your backpack:
Salted, roasted almonds (provides protein, salt, vitamin E)
Dried tart cherries (helps reduce inflammation which makes knees/joints happier)
Plain or Peanut M&Ms (protein, and well, everything is just better with chocolate, right?)
Energy Bar Shopping Tips
Most supermarkets run sales on individual bars and usually carry 6-paks which brings the per bar price down.
Target carries a good variety of 6-packs of Clif, Luna, Balance etc for savings over individual bars.
Hiking stores often carry more flavors, but can be pricey… but this is a great way to discover new flavors.
If you go through a lot of bars and really like a certain flavor, search online to find deals on larger packs.