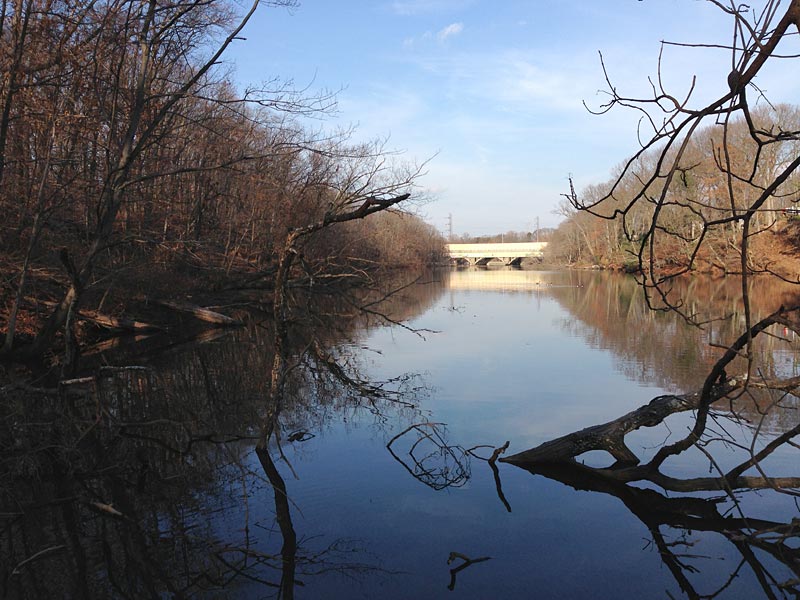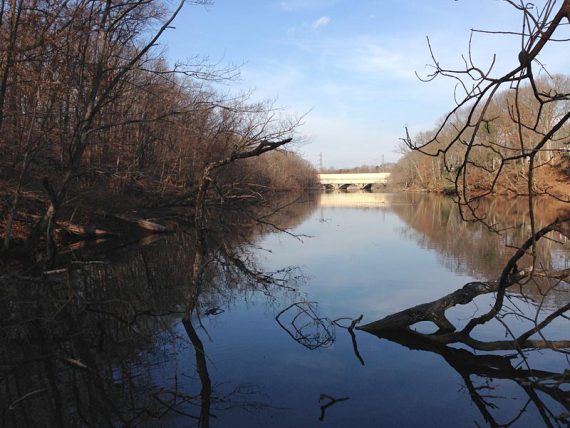 Post Hurricane Sandy short hike in a small section of woods by Rutgers Gardens in New Brunswick.
December 3rd and 60's and sunny. Well, I certainly couldn't be expected to stay inside all day even though it was a workday so I scampered off for a quick hike at Helyar Woods.
This is a tiny little plot of woods with a few trails that is tucked in by Rutgers Gardens in New Brunswick.
Miles: 2.25
For complete hike directions check out our main Helyar Woods page.
I hadn't been hiking here in awhile ("Helyar Woods in December") so this was the first look at the trails after Hurricane Sandy. The woods contains quite a few large, mature trees and took a beating.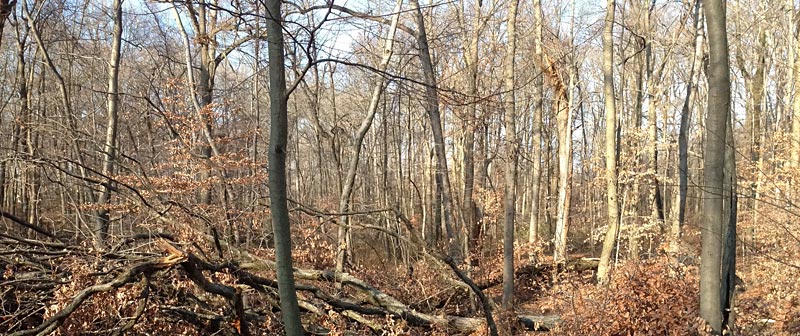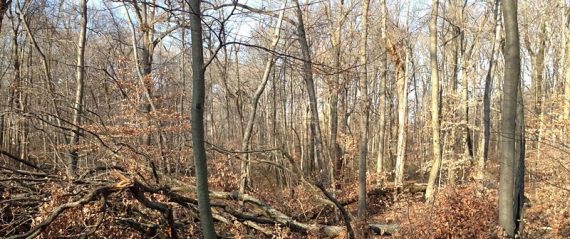 Shortly in, there were several large blow downs to limbo through. Not too bad, but after that the trail was blocked by multiple trees that had fallen like dominoes.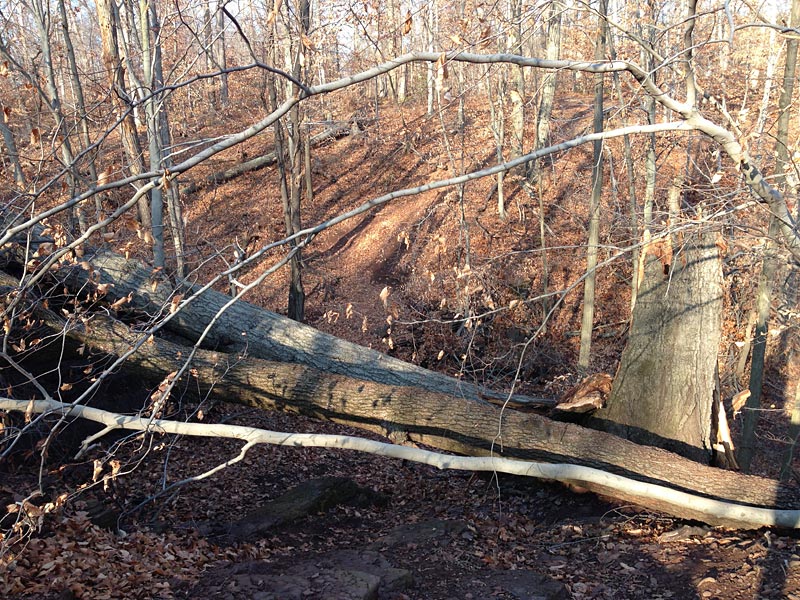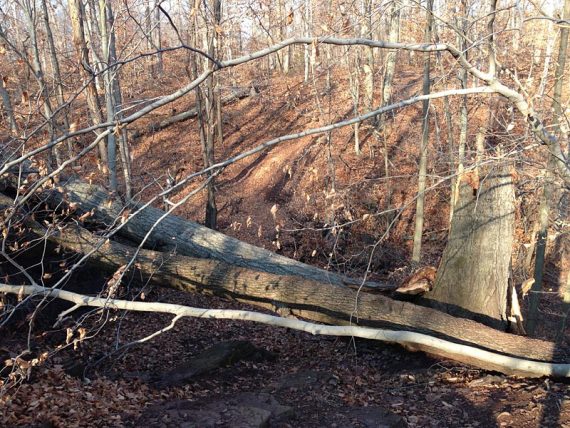 So I started bushwacking to try and find a way around with no luck.
I popped back out onto a trail and kept trying to head around…. nope.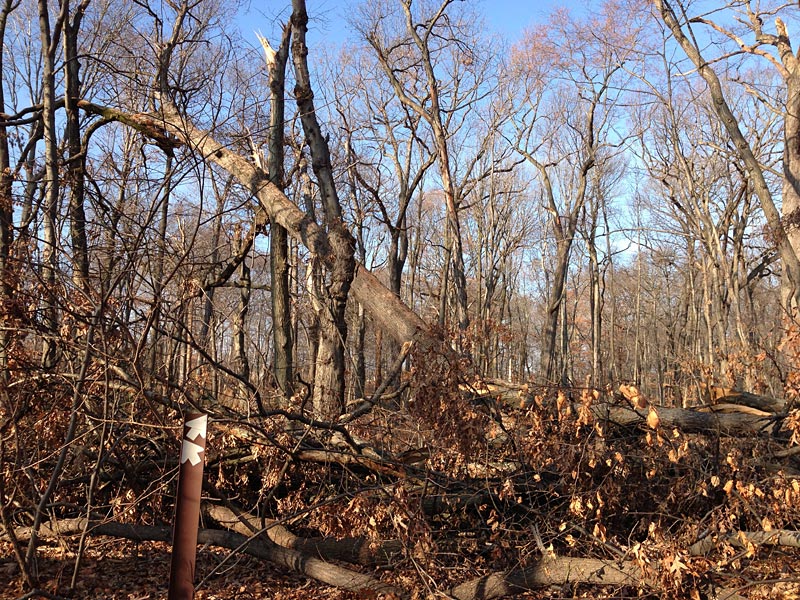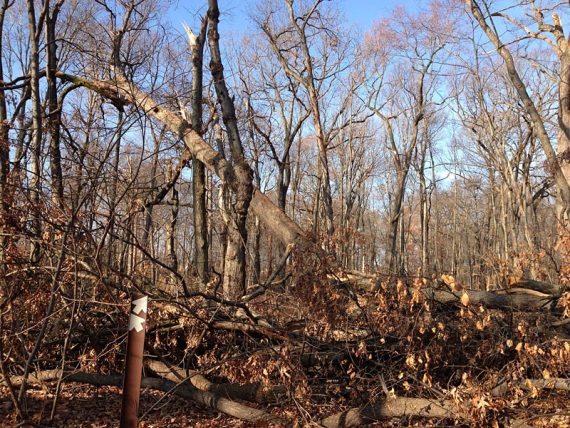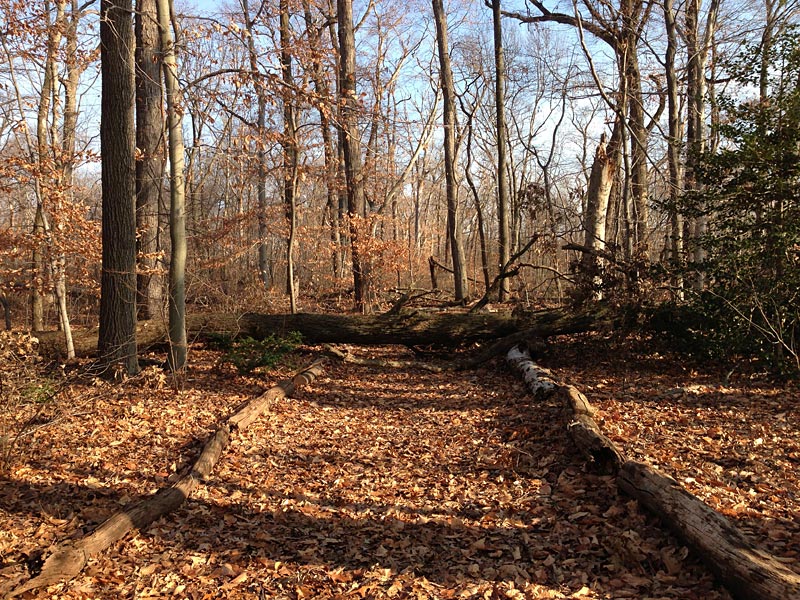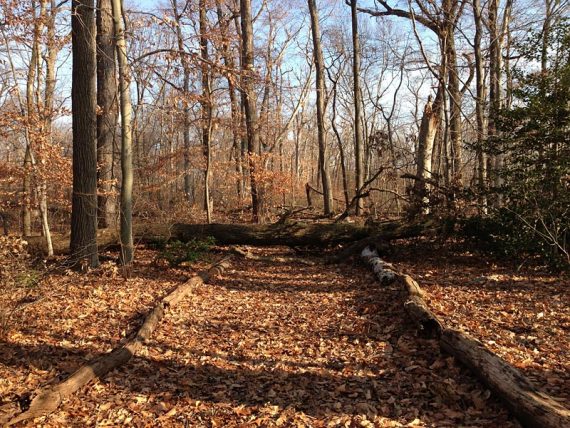 Basically the one side of the park was pretty much a wash. I contemplated hopping over some and giving it a shot, but there were also at lot of dangling trees and I was by myself so I didn't push it.
I backtracked and decided to take where the trail used to go years ago, which meets up with the trail on the other side of a little gully.
That trail that runs along the water was fine, other than a few blow down to hop over, and I followed it to where it hits the overpass at the end.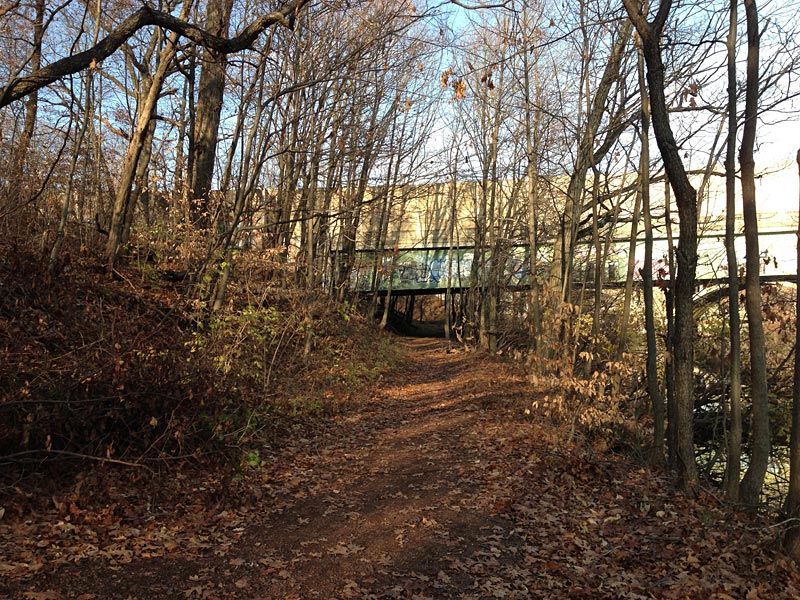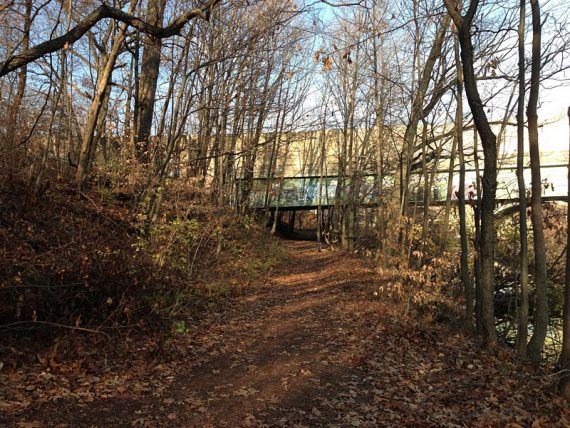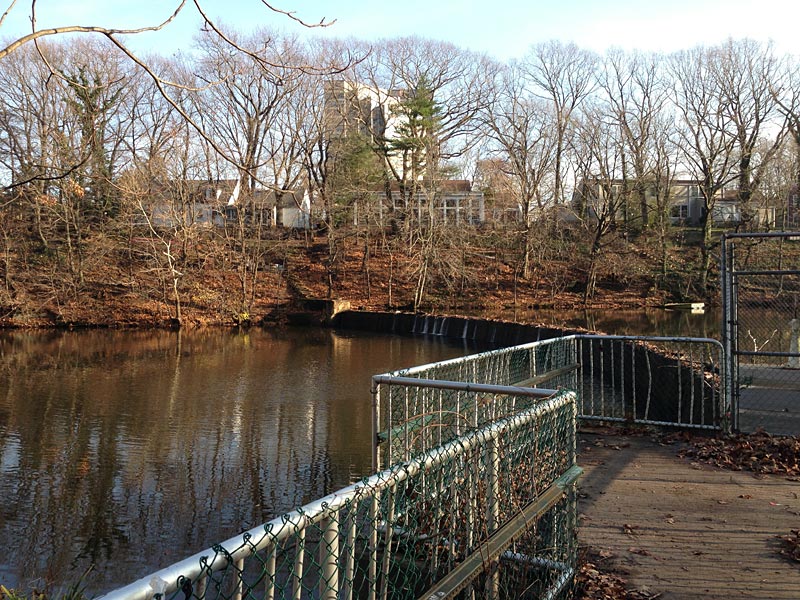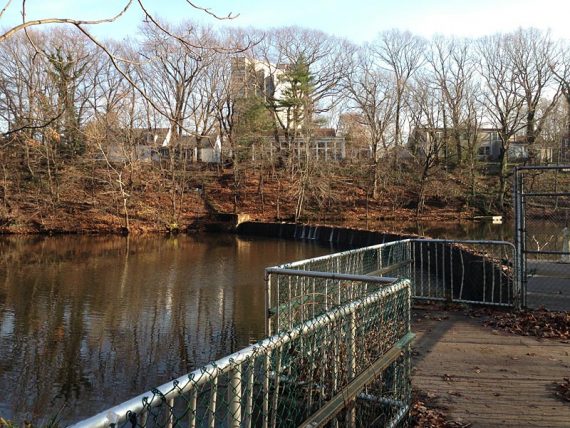 There is a trail back that skirts the field, passing by a neat stand of planted evergreens (an old Christmas tree farm) I wanted to see how they weathered the storm, but I decided to bail and retrace my route, figuring that I may run right in too many blow downs on the other half of the park.
And, besides, while I would have liked to have spent the afternoon romping around trees, I needed to get back to work… so I can support my hiking habit…
Bonus: While looking up current info on the park, I noticed the Rutgers Gardens Farm Market has been extended this year, with dates into December.
The market is set up at the entrance of Rutgers Gardens and offers produce, cheese, honey etc from local farmers on Fridays.
Route: Because of the blow downs I had to vary the route on our main Helyar Woods hike this way:
Started out on the trail all the way to the right (with your back to the lot, not the one with the mailbox).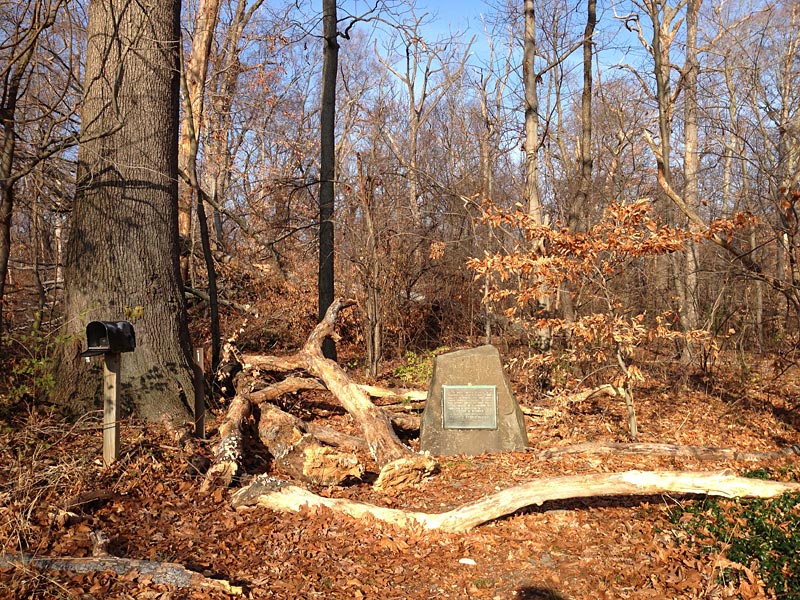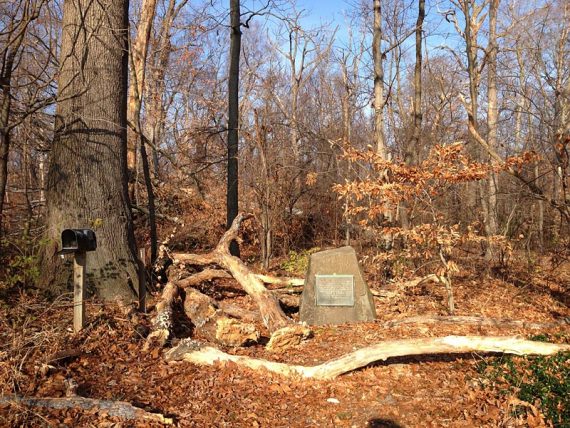 Shortly in, the trail hooks to the left where there are a few manageable blow-downs blocking it. The problem is after that it's hard to continue on anywhere.
Instead of turning left into the blow downs, you can go straight down a steep (and deceptively slippery) slope, duck under a fallen tree, hop over a small trickle of water, and then up a short steep slope to join back in to the trail.
From then on, the trail follows alongside the water with just a few blow downs to hop or step over. On the return, I retraced my route instead of going along the field.