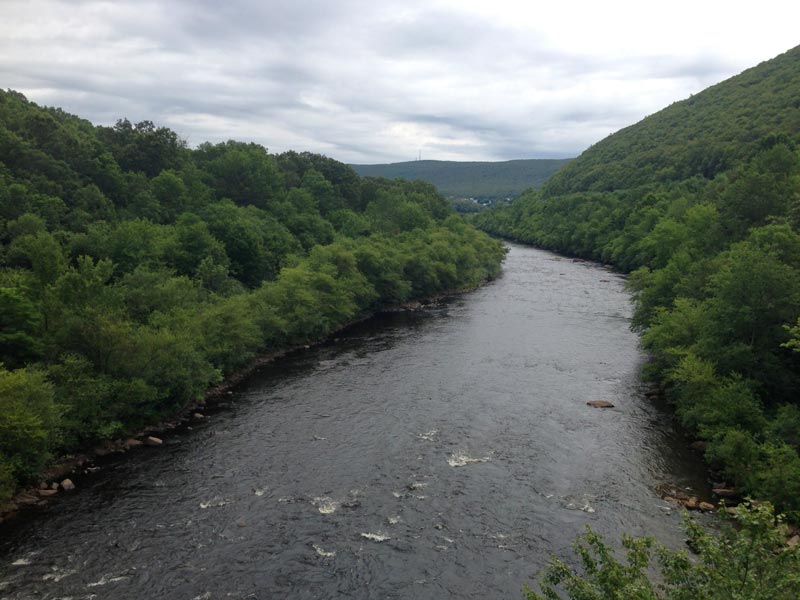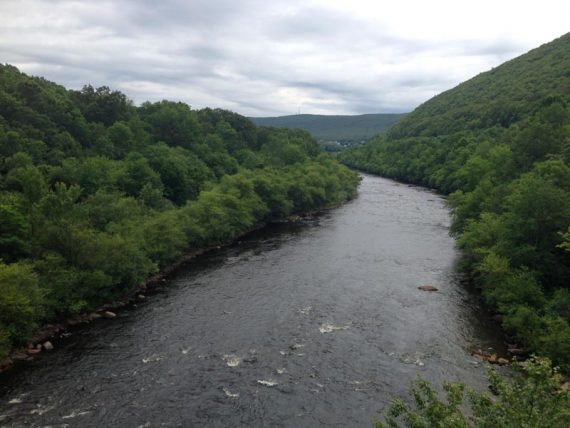 Biking a 25-mile stretch of the Delaware & Lehigh (D&L) rail-trail that runs above the Lehigh River from Jim Thorpe to White Haven, PA.
On the drive back from biking Lambertville to Frenchtown, I was browsing for info on the D&L (Delaware & Lehigh), which made me recall that it continues up through Lehigh Gorge near Jim Thorpe.
Lehigh Gorge is a popular and busy area on weekends, not only with the rail-trail but also with rafting along the Lehigh River.
We had a weekday off planned so we decided to check it out.
Updated: 5/2020 – Page refreshed, not re-hiked.
The D&L at this point is on an abandoned rail bed that runs above the Lehigh River.
The most popular section is a 25-mile stretch between Jim Thorpe and White Haven, PA but the trail does extend some in each direction.
It's quite beautiful with the river on one side and forest on the other, with a few waterfalls along the way. Fall foliage season must be fantastic and we plan to try to hit it during that the next time we visit.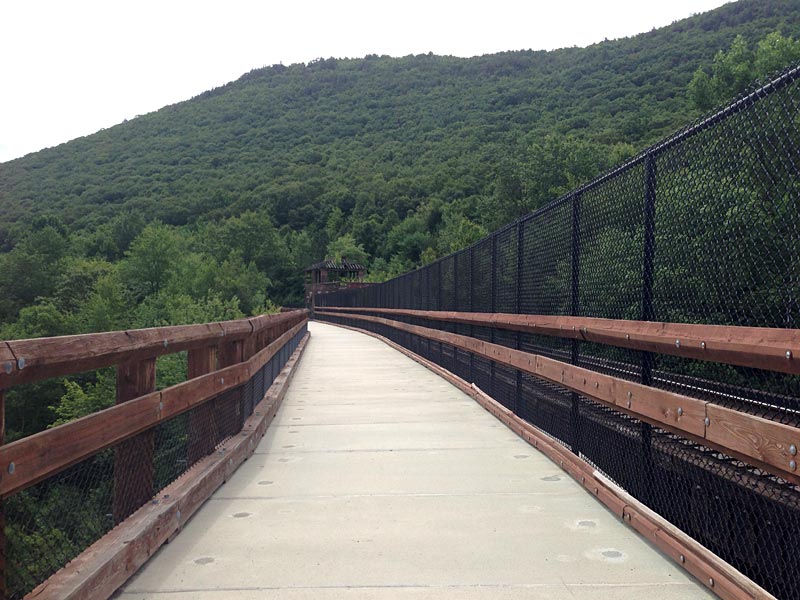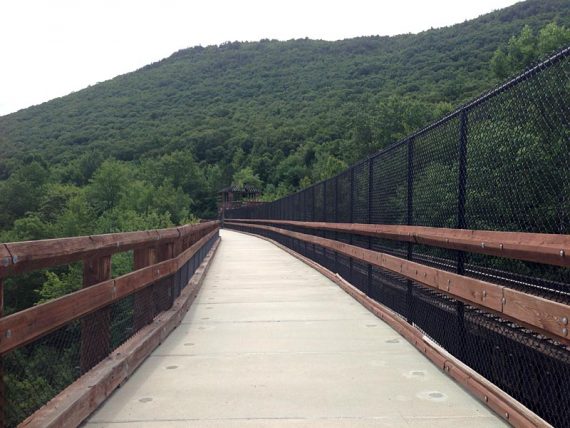 Not far north of Jim Thorpe there is nice view when the trail crosses the river on a bridge (the photo above). This was the one big open vista of the trail, however – start from Glen Onoko and you miss it.
The trail surface: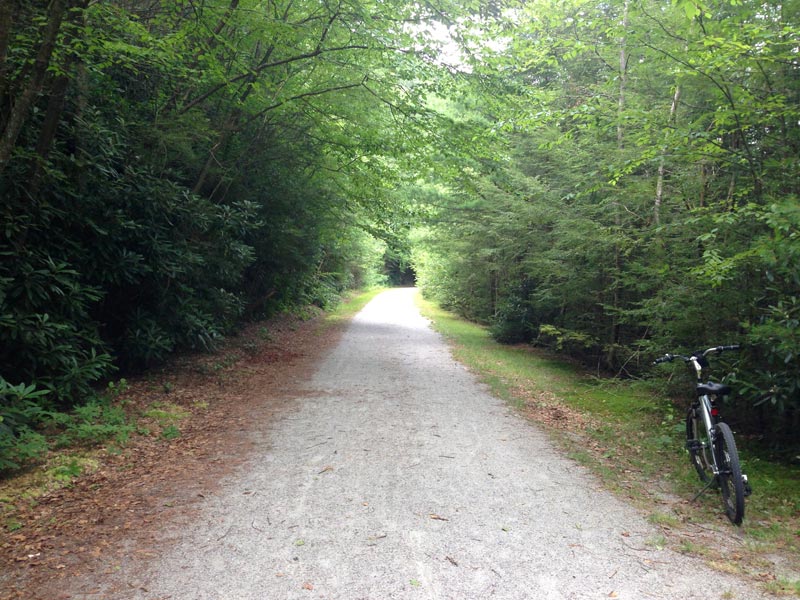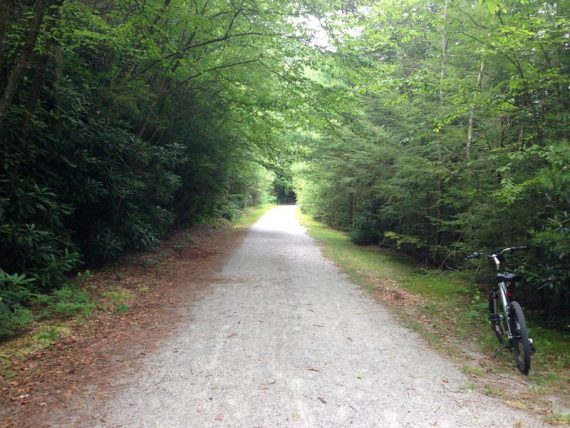 Trees do obscure the river somewhat, more so even further north as the trail turns away from the river.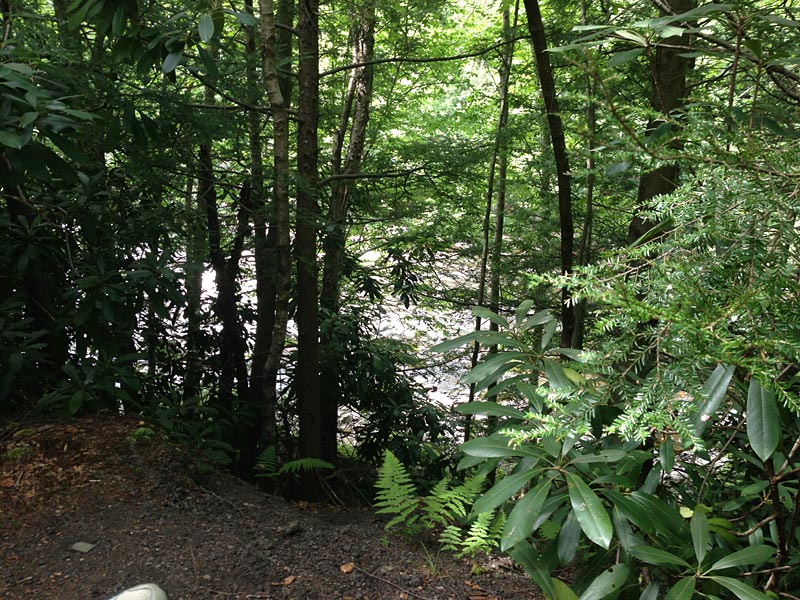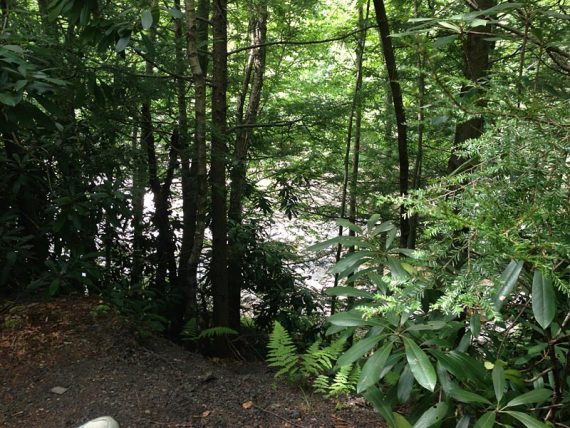 From Jim Thorpe to Penn Haven Junction the trail runs along an active railway, and the scenic train from Jim Thorpe chugged slowly past us, with several families waving out the windows.
Structure along the way: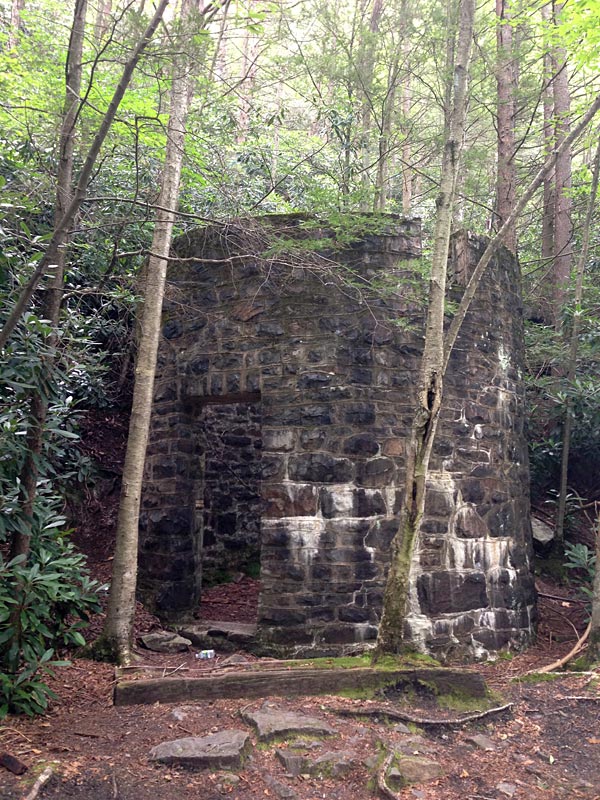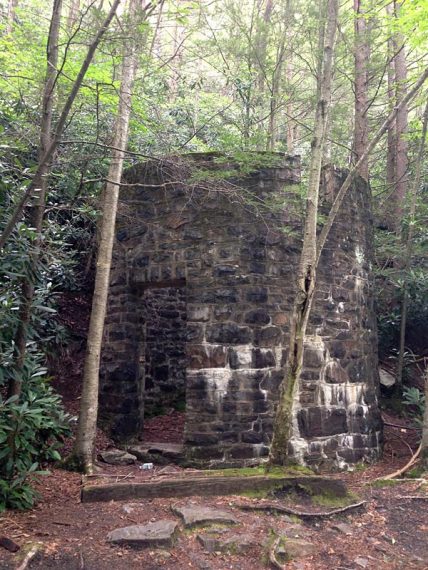 Luke's Falls just before Rockport, right along the trail: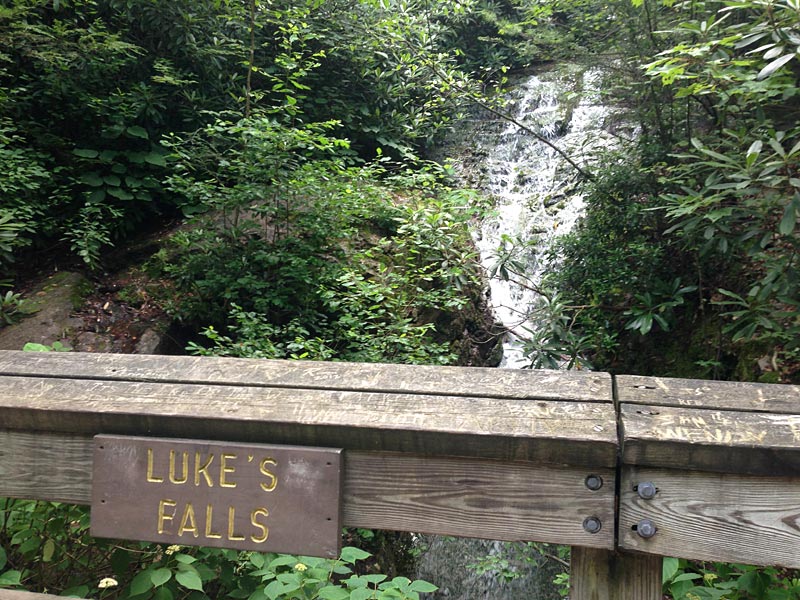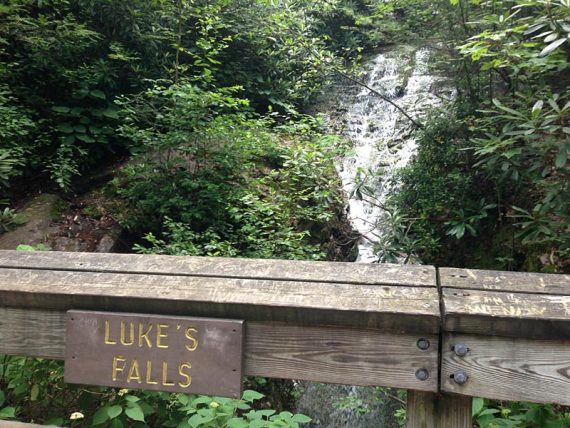 We decided to start in Jim Thorpe and ride north to White Haven and back, a nearly 50-mile trip.
We normally average 25-30 miles round trip, with our previous best at 40 miles on the D&R, but we figured this was a good place to shoot for a new record.
There are shorter options, of course:
Jim Thorpe to Rockport and back = 30 miles
White Haven to Rockport and back = 20 miles
Out-and-back any length segment you like: mile markers are on the map and posted along the trail
Pay for a shuttle: Park at Jim Thorpe, shuttle to White Haven, ride 25 miles downhill, for example. There are other configurations.
There are stairs down to river level at Rockport: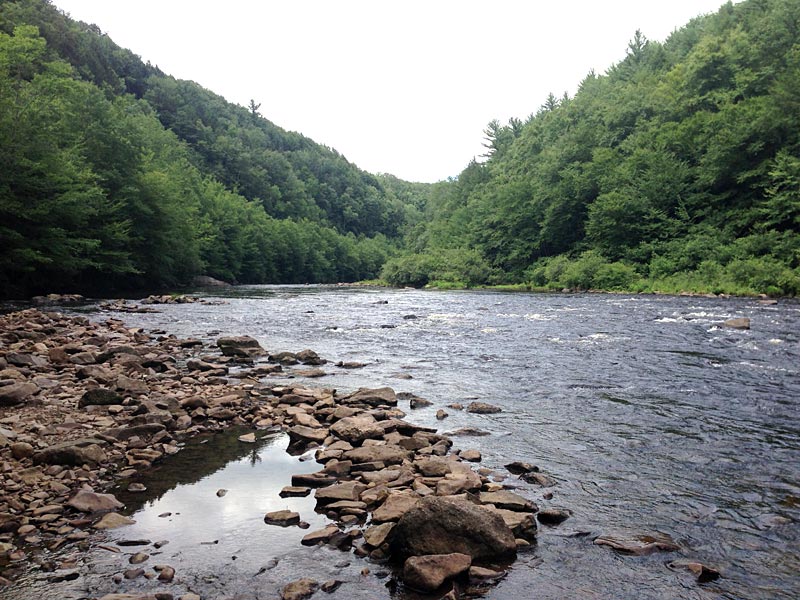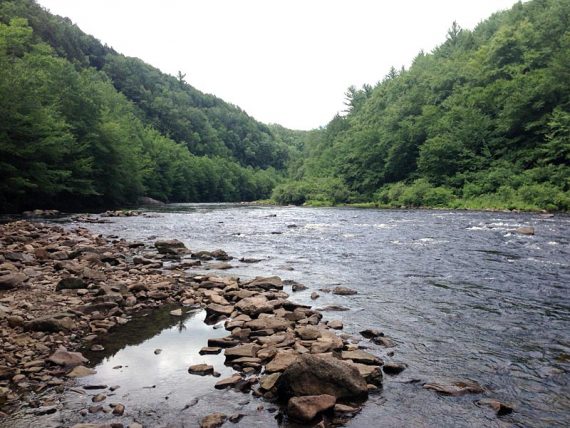 Buttermilk Falls, not far after Rockport. This is right on the trail: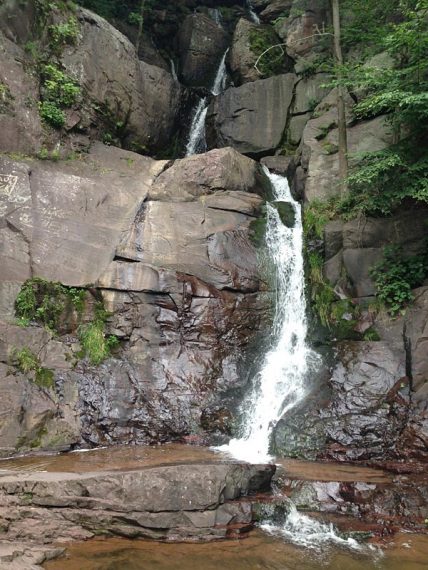 Approaching White Haven, the trail passes under an overpass for Rt. 80, through a large gravel lot, past a bike place and peters out in the back of a parking lot for a shopping center.
The trail does continue a bit more to Port Jenkins after a brief section through town. But this was plenty far for one day and we turned around.
Lehigh Gorge State Park – D&L Trail Resources:
Book:
Rail-Trails New Jersey & New York
Miles:
48.9 [We are so totally rounding this up to a more impressive sounding "50" if anyone ever asks us what our longest bike ride was]
At the train station. Parking fee was $5.
Rt 78W to 476N Exit 74, to 209/Lehigh Ave in Jim Thorpe.
About 2 hours from central NJ (New Brunswick-ish area). There are lodging and restaurant options in the area that would make a nice overnight stay.
Restrooms:
Didn't spot any bathroom facilities in the Jim Thorpe train lot, but it's right in town plus there was a gas station after exiting 476.
At Glen Onoko parking just north of Jim Thorpe there is a "rustic restroom" marked on the map – though we didn't stop to check out the lot and see.
At Rockport there is building with composting toilets right along the trail.
At White Haven there was a porta-john in the parking lot, plus there are likely restrooms at the bike rental place at the trailhead.
A few things to consider:
The rail-trail surface is gravel and well graded, but is a slight uphill when heading north. It's minor, but the ride back was a tad easier (but not downhill enough for coasting either).
Several companies offer bike rental and trailhead shuttles – great for people who don't own bikes or want to give biking a rail-trail a try before buying a bike. The shuttle services drop off or pick up at certain sections, allowing you to ride the whole trail without riding back etc.
There is a dam release on certain days, which would mean the river below could be busy with whooping rafters. Consider avoiding if you prefer more serene surroundings. [Dam release schedule]
There is only one minor road crossing in the entire stretch (and we saw no cars), so it's very nice being able to just ride. However, you won't be passing stores and restaurants on the way – so be sure to have provisions. There are plenty of picnic tables along the way and stores in Jim Thorpe and White Haven.
—
Biked 7/25/13.