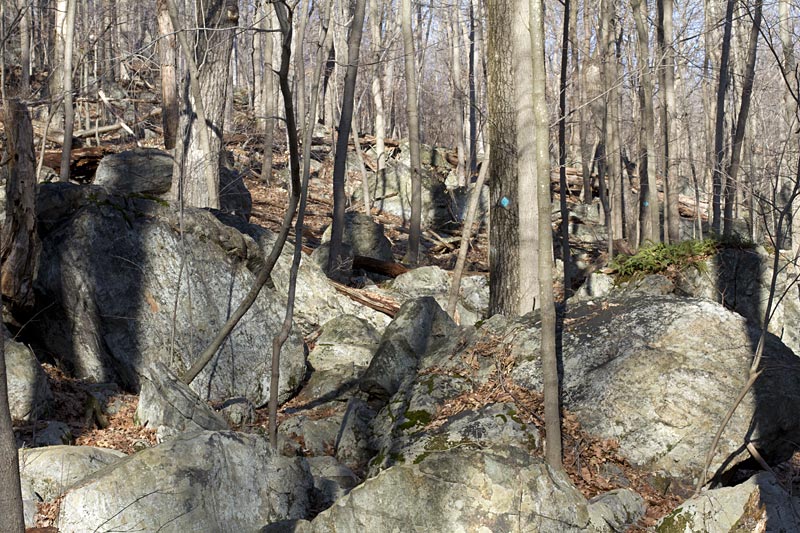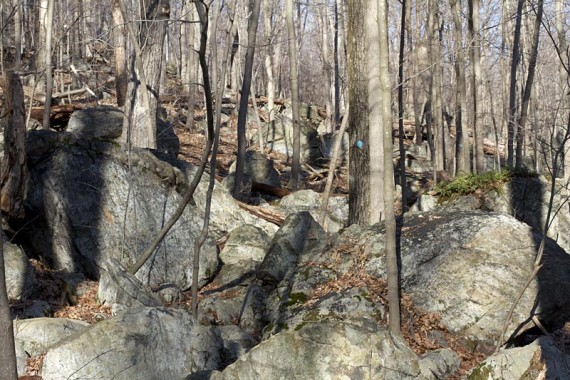 For our annual New Years Day hike we ended up at Mahlon Dickerson Reservation.
Many people had the same idea, whether it was to take advantage of the unusually mild (low-50s) winter day or maybe getting an early start on a New Years resolution to exercise more.
We chose Mahlon because we wanted a moderate loop that we'd mostly done before so we didn't have to think too hard after having our annual 'wine-n-cheesies' the night before.
Mahlon's trails are very scenic, plus there is Headley overlook and another viewpoint. (Both viewpoints are a little drab this time of year however)
We planned on parking at the Saffin Dam lot. While I knew that there was a Highlands Trail re-route on the one side of the dam, I didn't know the entire Saffin Pond parking lot was roped-off and closed (and porta-john removed).
There were several cars parked along the road but we decided to head further down the road to another parking lot and start our route from there.
Saffin Pond is really pretty, but if you are heading just to the park just to see it – hold off. It's not-so-scenic while they are working on the dam. The water is very low, and there is construction equipment at the dam. The trails in the park are fine and worth hiking though!
>>>For more info, trail maps, and other hikes in Mahlon, check out Headley Overlook or the Beaver Brook Trail.
Miles: 8.7 miles
Parking: N41 00.776 W74 33.833 (picnic parking area)
Route: HIGHLANDS (Teal) – WHITE – BLUE DOT – BLUE – HIGHLANDS – [Saffin Pond] – YELLOW – Unmarked – HIGHLANDS
Snack Time: Clif Bar recently sent us this cute little box with some samples. On this hike we tried the last item we had left: Clif Shot Bloks, Citrus. They come 6 bite-sized pieces to a package, and it's recommended to eat 3 to 6 pieces every hour. Well, we had one package so we split it.
Verdict: 2 thumbs up. We'd never tried any of the Clif Shots products before, as they've never appealed to us. We use energy bars as an easy, portable meal replacement while hiking – as opposed to some super performance thingy. (It's not like we are running a marathon or a bike race.)
The texture is like a gummy-bear but not as chewy or sticky. The citrus taste was mild and pleasant, and not fakey or left an aftertaste like we expected.
As for actually giving us energy… we'd have to test them more to see. Negatives: Not filling, so they wouldn't work as a portable meal replacement. However, we would consider buying.