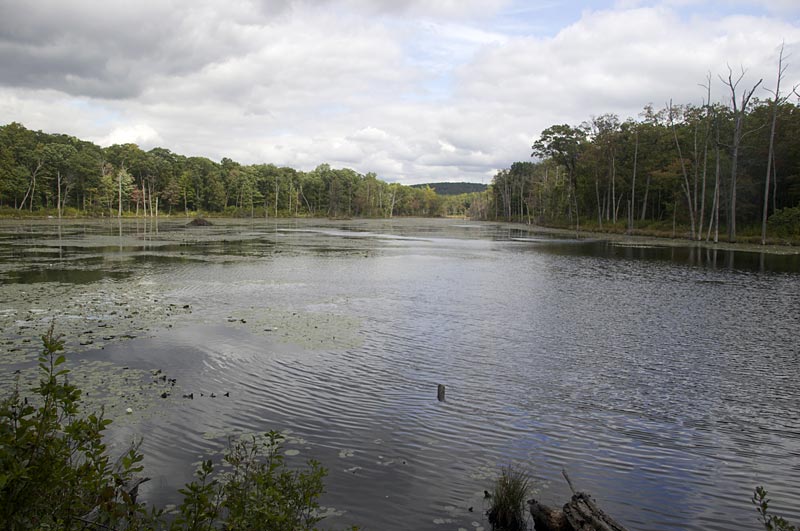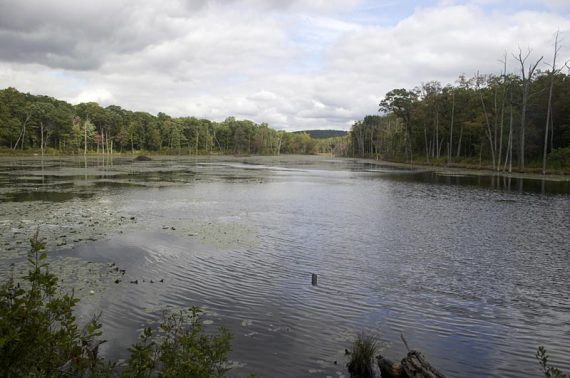 Hiking the Highlands and Beaver Brook trails to Lost Lake, where there are beaver lodges and a dam.
6.6 miles. Moderate trail surface; The Highlands trail is an old woods road, while the Beaver Brook trail is somewhat rocky.
Shorter option: There are multiple trails branching from the parking lot for short loops.
Super Easy: Just walk around Saffin Pond, bust out your picnic basket and call it a day.
Longer: 10.7 – Directions included in the description to extend this hike.
Alternate: Start at the parking area on Berkshire Valley Road and go the opposite direction. To just the lake and back is about 6.2 miles round trip from that direction. [This would also be affected by a potentially difficult Beaver Brook crossing before arriving at the lake.]
Another popular hike destination in the park is Headley Overlook.
Hike Info:
Our two cents:
This is a good medium length hike that opens with a scenic pond and has a nice destination to look forward to.
We only recommend attempting the longer route noted below (10.7 miles) if you are adventurous and interested in extending your mileage.
Update 8/15/15 – Beaver Brook can be crossed at the power line cut via a long plank on a dirt embankment.
Update 4/21/14 – rehiked, description updated, photos added, and GPS track added. Due to it now being difficult to cross Beaver Brook at the power line cut (construction work disturbed the crossing), we've changed this hike to stop at Lost Lake instead of continuing into a 10 mile hike.
Map:
This entire hike is covered by the Jersey Highlands Trails. There may be paper maps in the kiosk in the parking lot, or print out from the park site ahead (or better, just have the Jersey Highlands map).
Books:
A complete description of the Beaver Brook trail is found the The New Jersey Walk Book.
Rt 287 to Rt 80 W. Exit 34 to Rt 15 North. Right onto Weldon Road. Large parking area is on the right.
Go past the first sign (Saffin Rock-Rill) and driveway to the 2nd lot; shortly after the first (Saffin Rock-Rill lot is for the yellow trail and has a kiosk but no porta-john).
Restrooms:
Porta-john in the parking lot.
Hike Directions:
Overview: Highlands Connector (BLACK DOT on TEAL DIAMOND) – Highlands (TEAL DIAMOND, also a Highlands Diamond) – Beaver Brook (WHITE) to Lost Lake and then retrace the route
0.0 – Highlands Connector (BLACK DOT on TEAL DIAMOND) trailhead is at the back of the lot, not far from the porta-john. Almost immediately arrive at Saffin Pond – probably one of the quickest view payoffs on a trail, ever.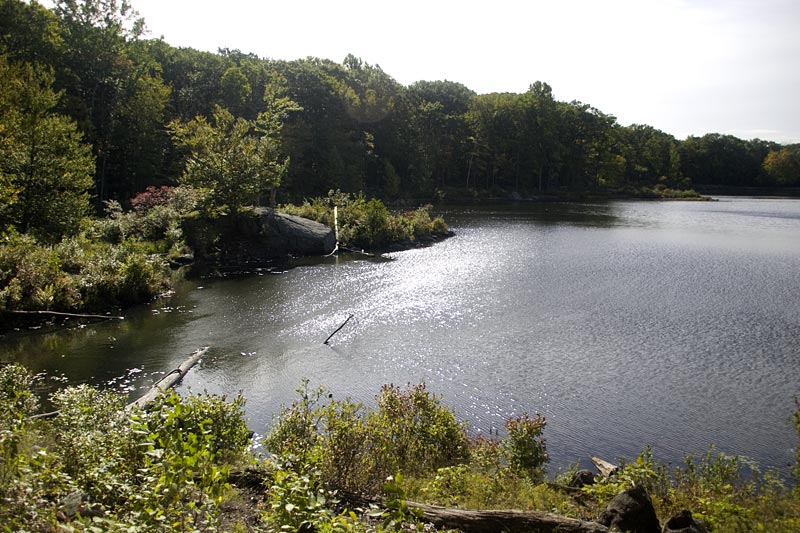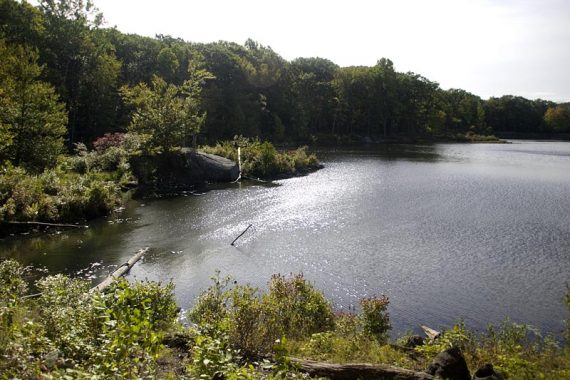 Head LEFT, following Highlands Connector (BLACK DOT on TEAL DIAMOND.
The trail hugs the pond and is very rocky. There may be fallen trees from beaver activity.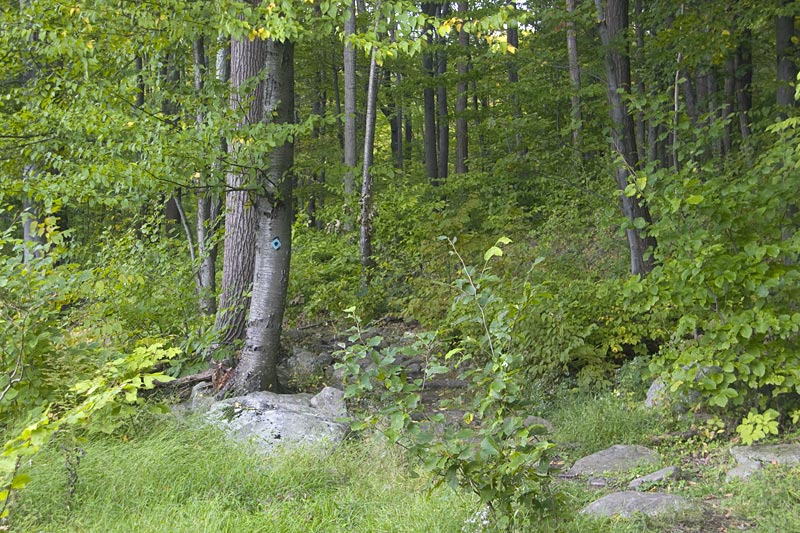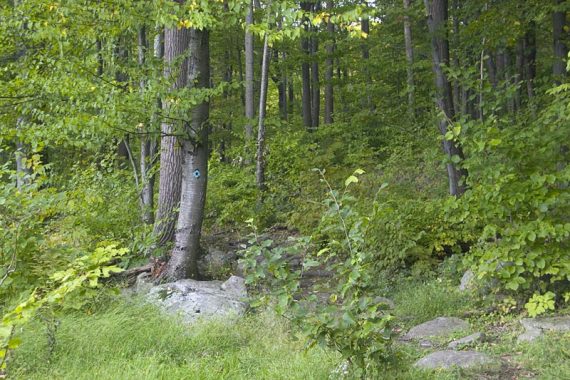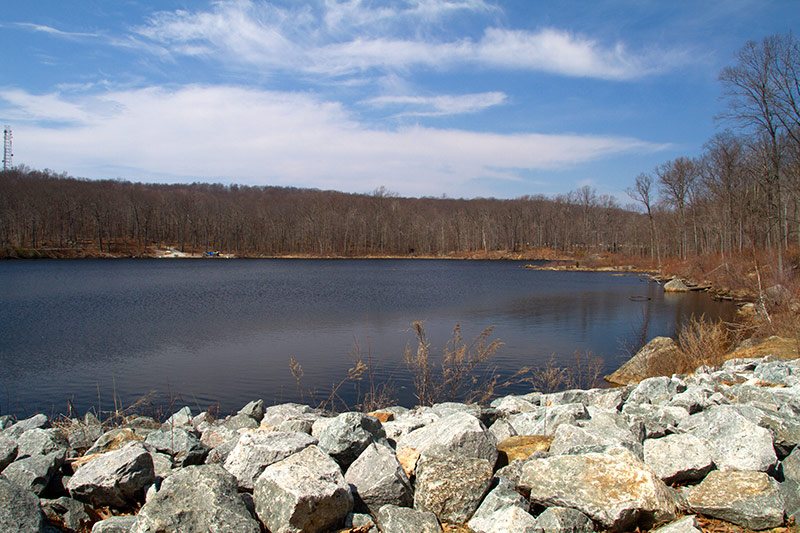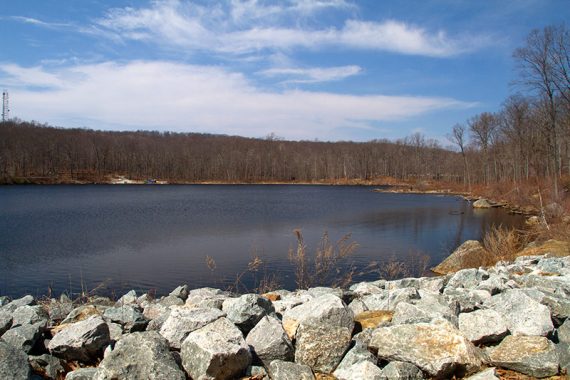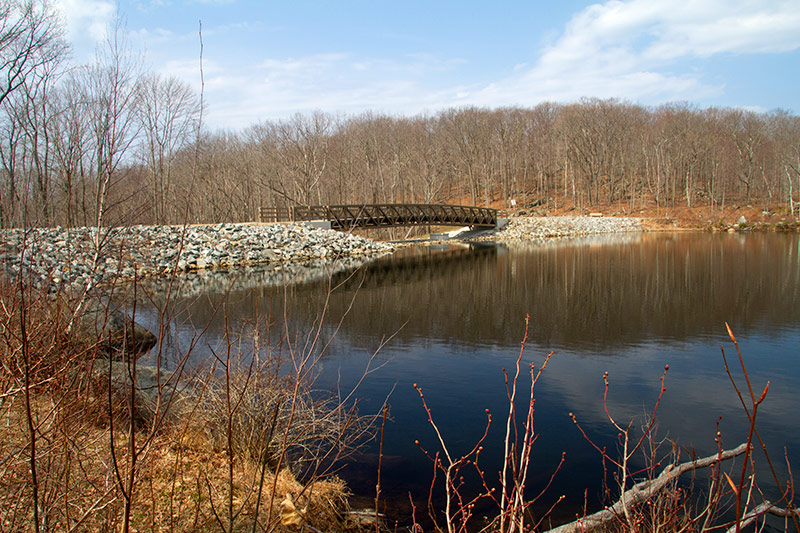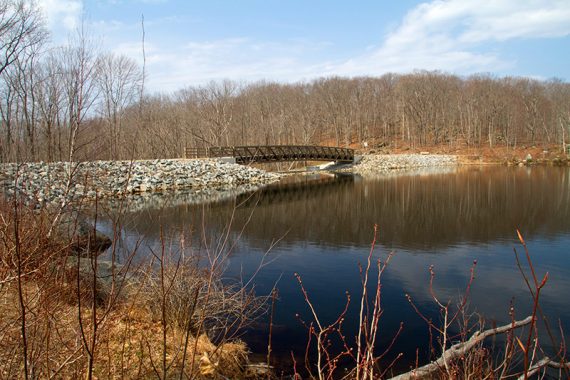 0.3 – At the end of the pond, near a bench, make a sharp LEFT onto a gravel path and start following Highlands (TEAL DIAMOND).
0.5 – At a T-intersection and a bench, turn RIGHT onto a woods road and continue following Highlands (TEAL DIAMOND).
[To the left, the woods road continues, unmarked.]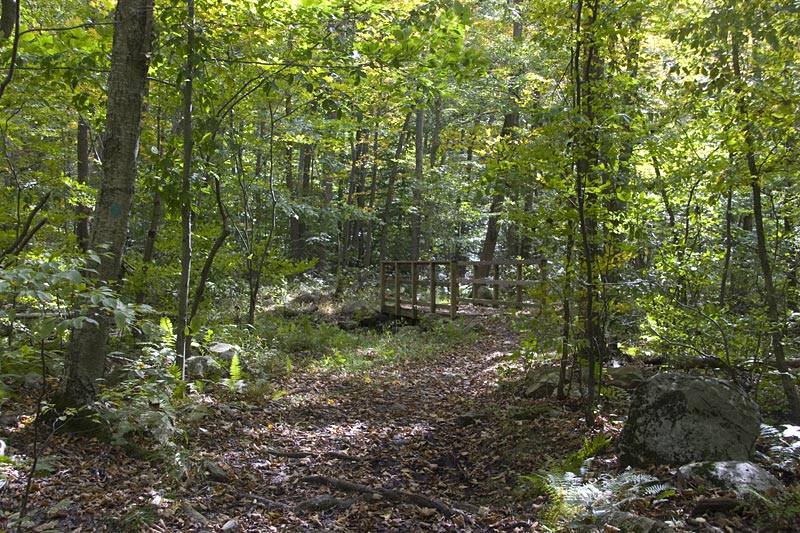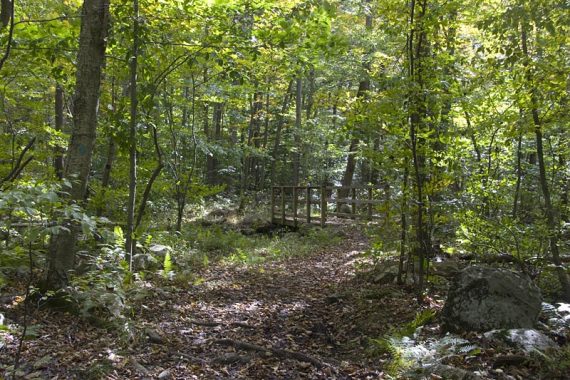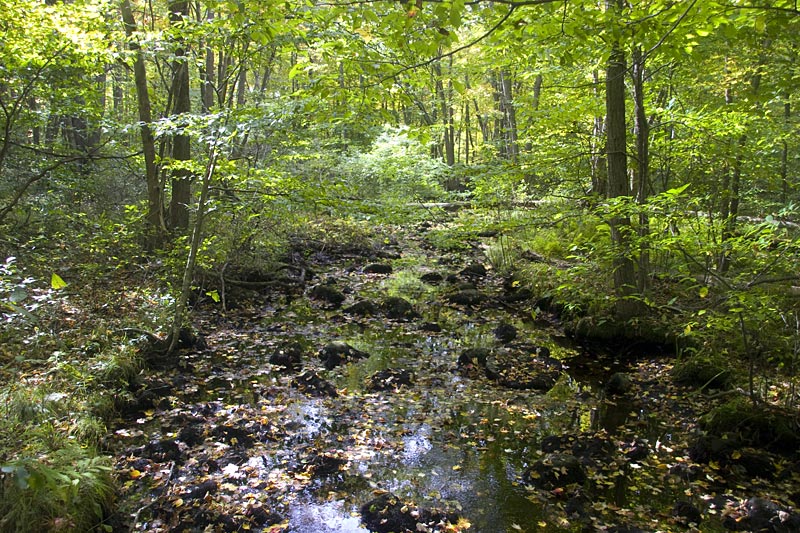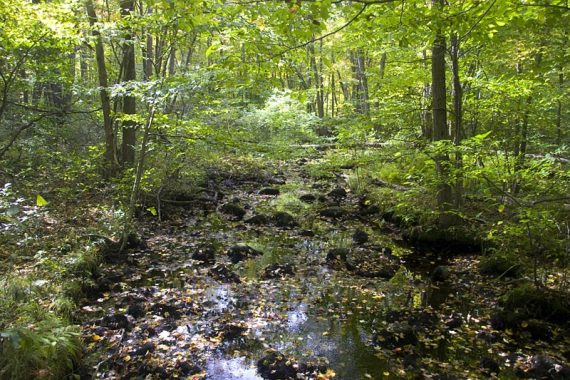 1.6 – Turn RIGHT and start following Beaver Brook (WHITE).
[Highlands (TEAL DIAMOND) goes left. Straight is an unmarked trail that is not on the park map but it is shown on the Jersey Highlands Trails leading to the yellow trail.]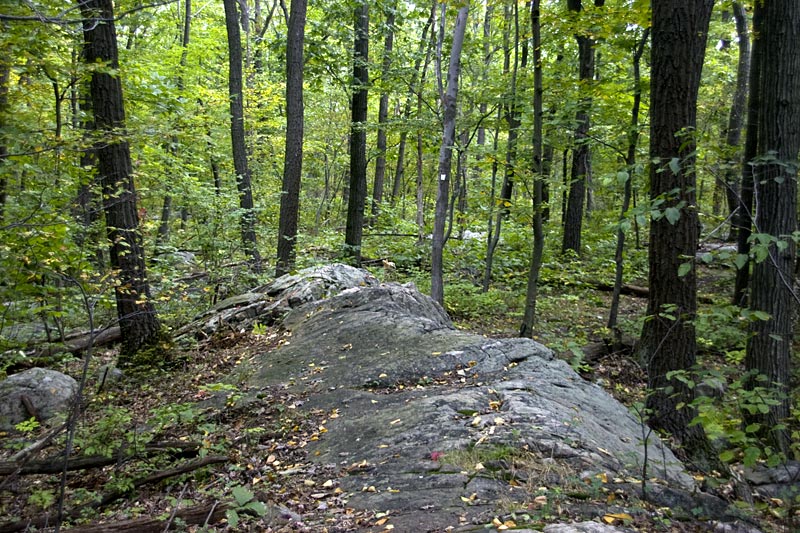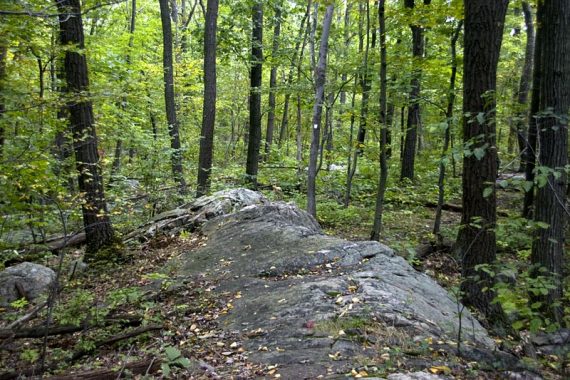 2.1 – Continue straight on Beaver Brook (WHITE).
[The YELLOW trail crosses left and right]. There is a trail kiosk and sign stating you are leaving Mahlon Dickerson and entering Weldon Brook Wildlife Management Preserve.
The trail becomes more rugged, traversing some rock slabs and heading downhill in spots. Cross a few unmarked trails.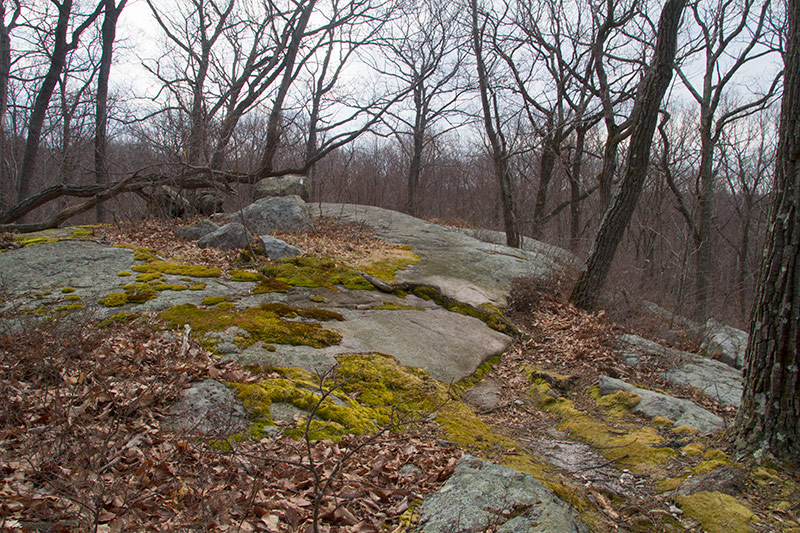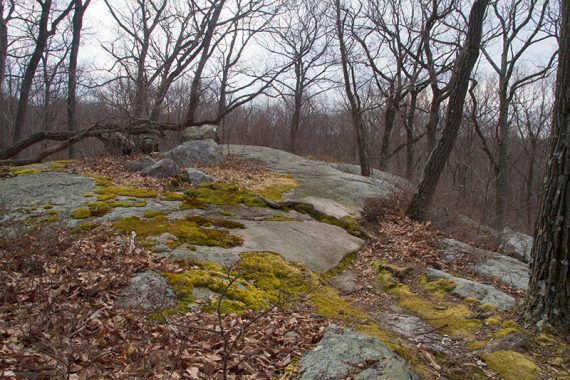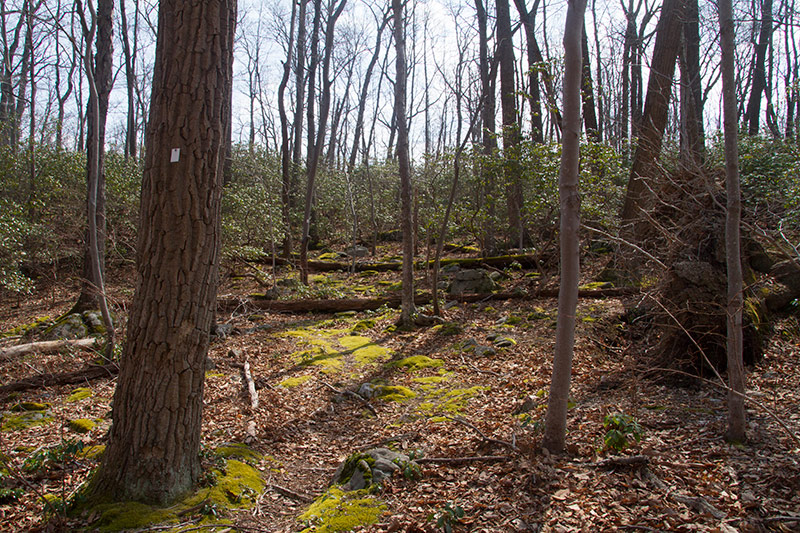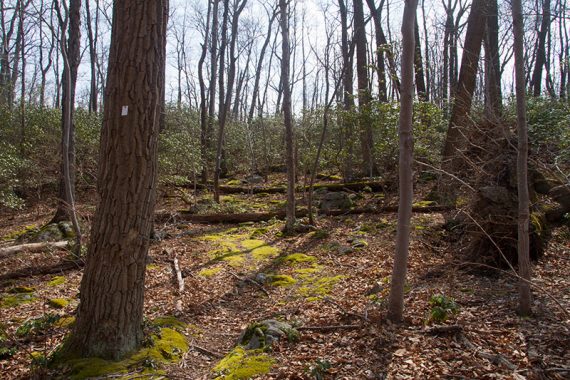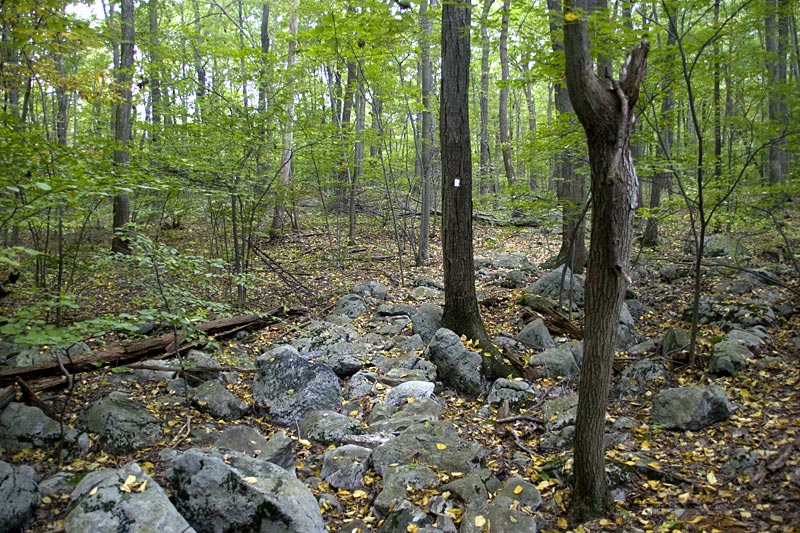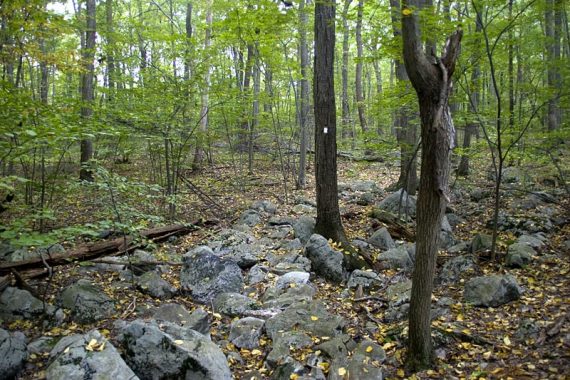 Lost Lake will come into view. Optionally scramble down to the water's edge for a photo opportunity but – wait to take a break at a nice break spot in just a bit.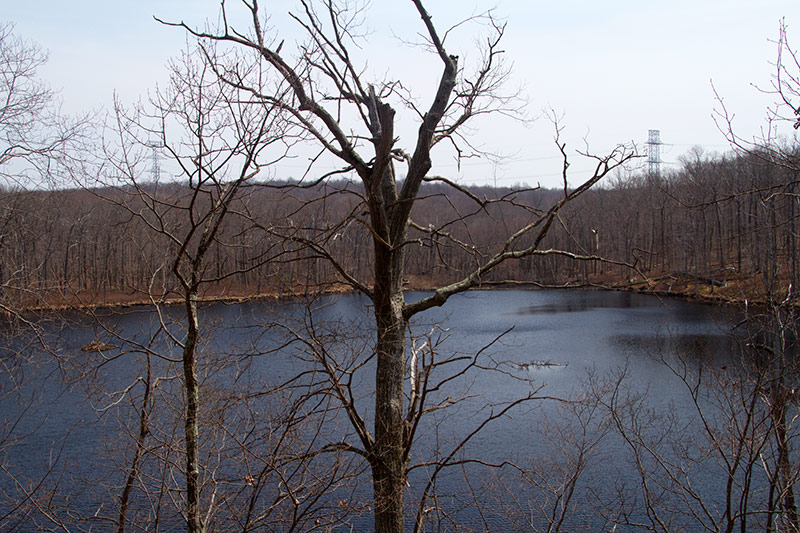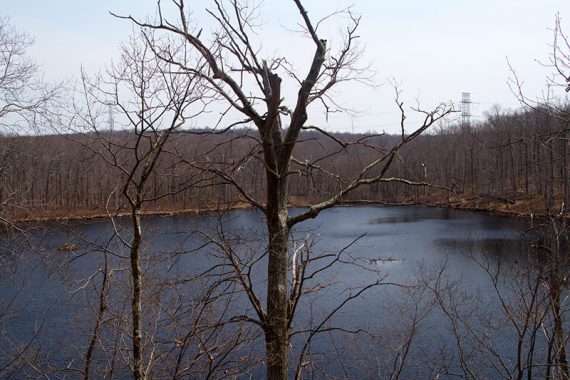 3.2 – The trail goes through a huge split rock called – amazingly – Split Rock.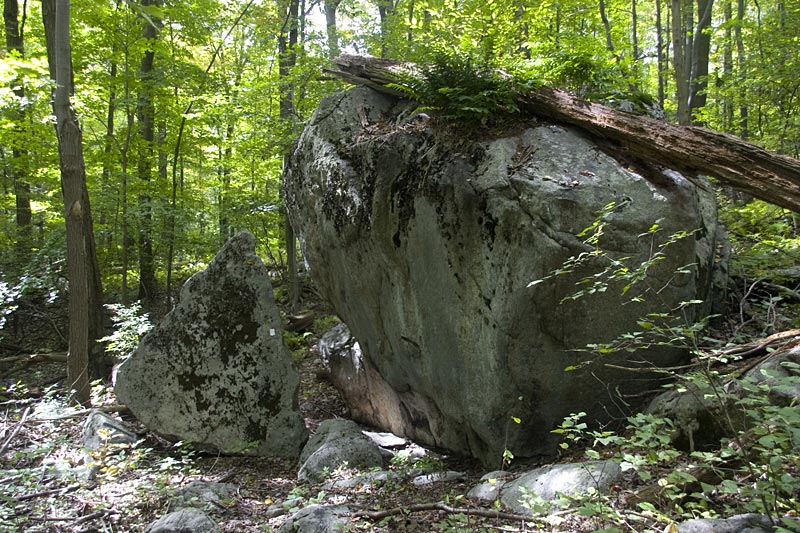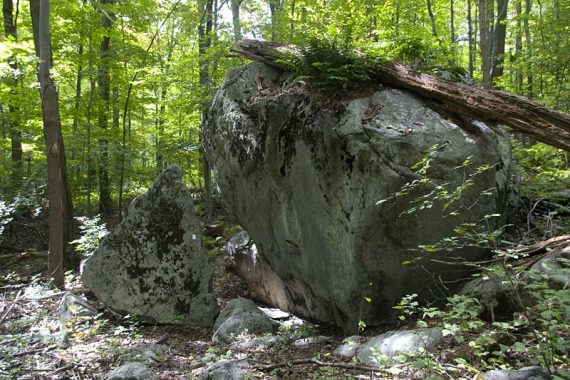 3.3 – The trail comes to the edge of Lost Lake with a huge log to sit on and enjoy the view.
Two beaver lodges can be seen out in the lake, and the water is damned by trees and debris on the one end.
When ready, turn around and retrace the route back to the parking lot (or continue with the extension below).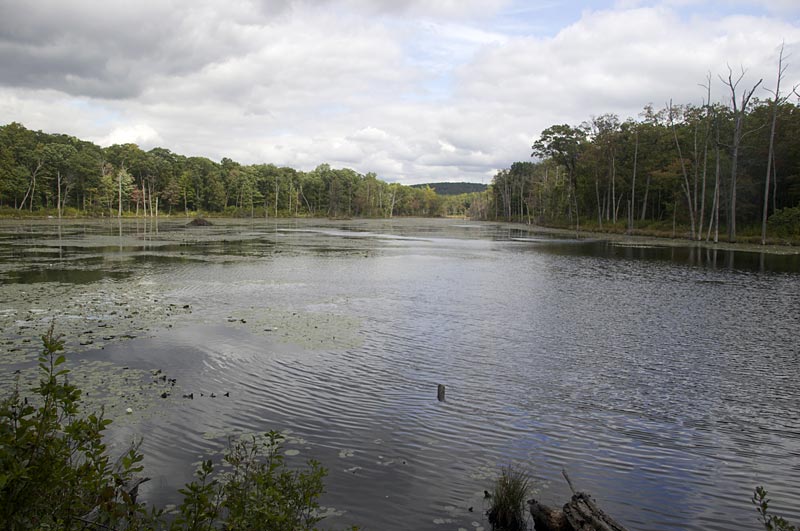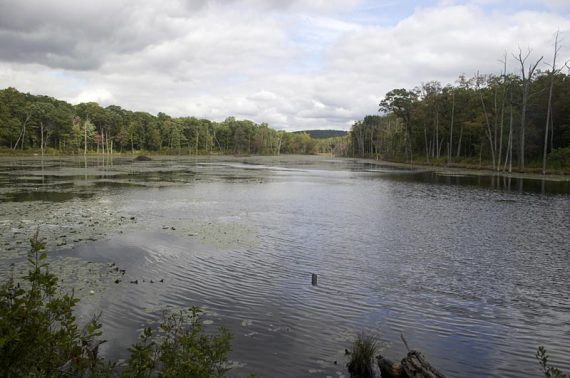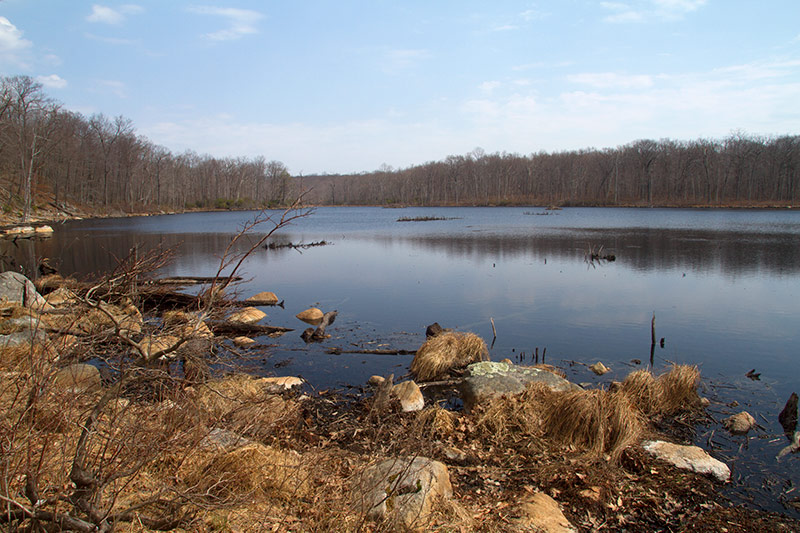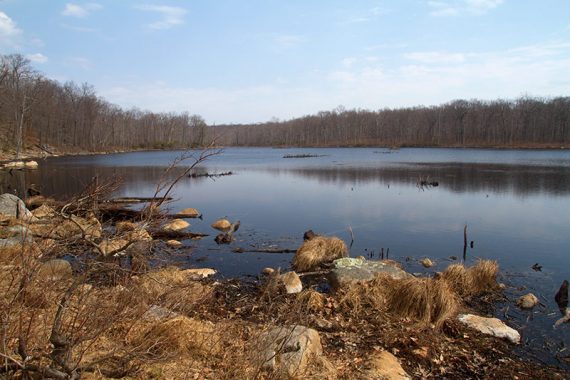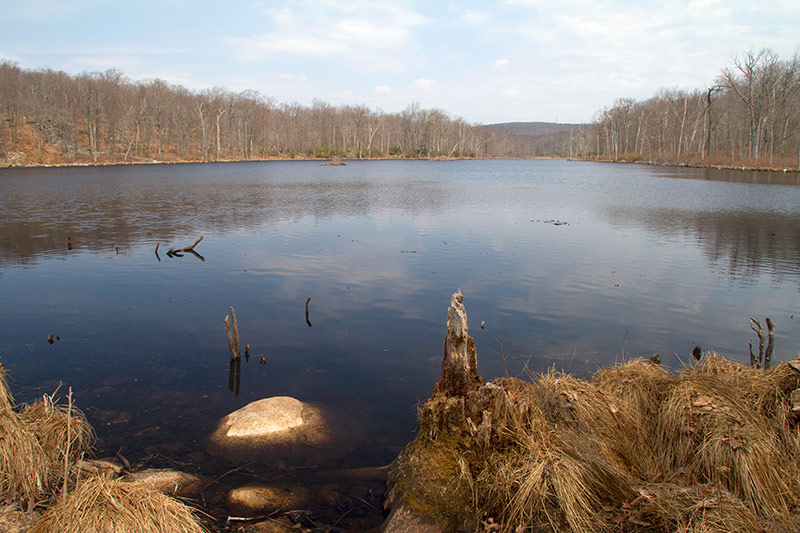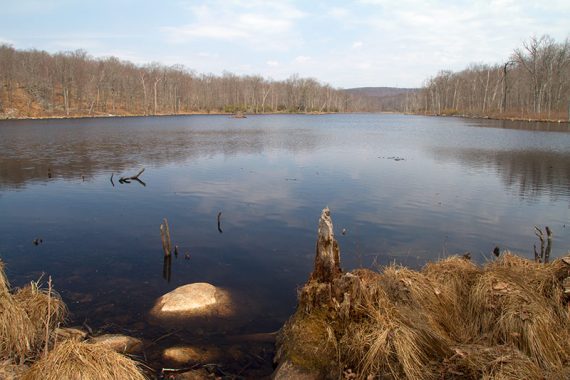 Beaver dam on Lost Lake, and more of their handiwork.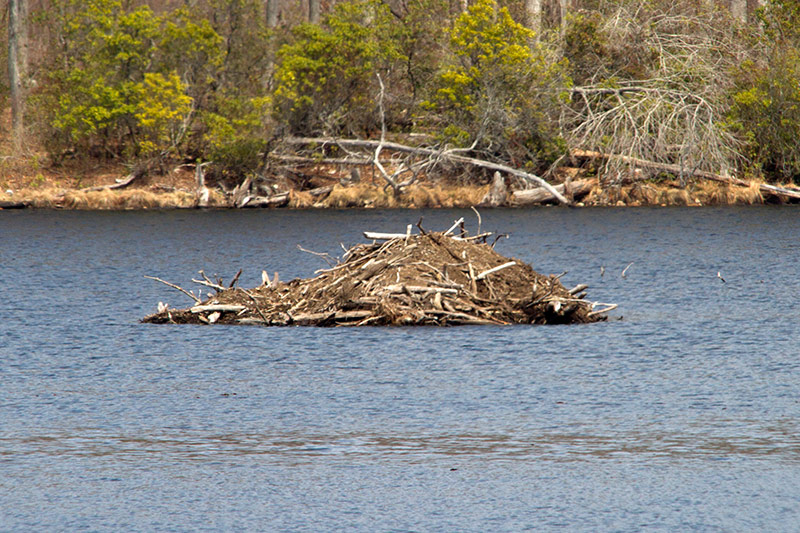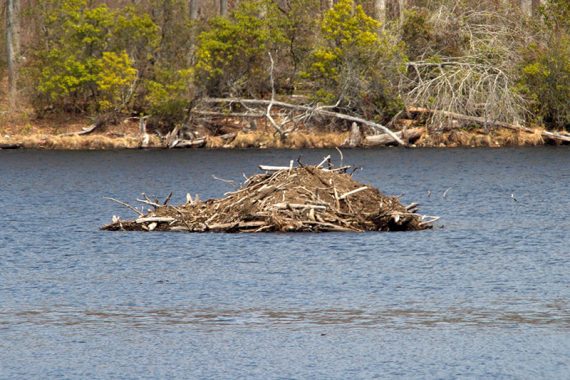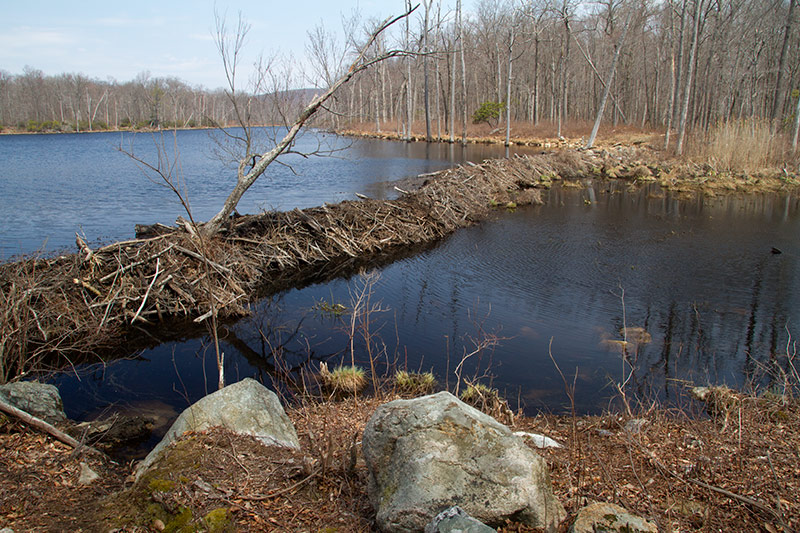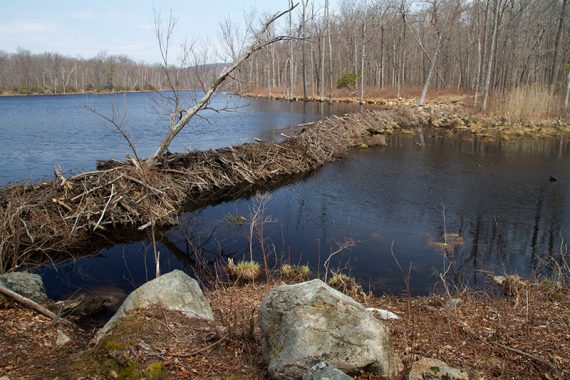 /// Optional extension: The Beaver Brook (WHITE) trail continues another 6+ miles to a parking lot on Berkshire Valley Road.
We did a 10.7 mile version of this route in 2009 but in 2014 a water crossing was too difficult (see Trail Blog links below for more detail). Those directions are included below.
There are a couple of viewpoints later down the trail but they are quite limited, and the trail is more rugged with several elevation changes from Lost Lake on.
There are some unmarked woods roads that cross the trail here and there, so just watch the markers. The trail is mostly easy woods road, and passes some deer stands.
3.9 – Cross Beaver Brook – if possible.
In regards to crossing Beaver Brook at the power line cut: after perusing maps at home later, we saw that there is an unmarked trail a bit down the cut that may offer another crossing possibility.
4.7 – Come down a large rocky slab that has a very limited view. Notice there is a rock cairn – turn RIGHT here and it's not blazed, plus it looks like the trail could go straight.
Follow the rock piles until spotting WHITE blazes again on the left. The trail heads downhill, and the trail will change elevation more often and more steeply than before.
The trail continues on in this rugged way for the rest of the hike, finally ending at the Berkshire Valley parking area.
Just go as far as you like, keeping in mind you'll have to hike back as much as you hiked in, or set up a car shuttle by leaving a 2nd car at the other lot.
It's been quite a few years since we've started from the parking area on Berkshire Valley so we don't have any current info on the state of that lot.
—-
Hiked: 8/15/15.
Hiked: 4/13/14. Trail Blog: "Mahlon Dickerson – Beaver Brook to Lost Lake"
Hiked: 9/26/09. Trail Blog: "Beaver Brook Trail… and a bear in a tree"
Hiked: 4/14/06. 6.5 miles. To Lost Lake from Berkshire Valley Road.