Hike to Headley Overlook for a view of Lake Hopatcong, pass the highest point in Morris County (1395′), and return via the Ogden Mine Railroad rail bed.
7.5 miles. Easy-moderate trail surface… first half on the Highlands trail was more rugged than the 2nd half on the Pine Swamp trail. One very minor scramble on Highlands Trail. Ogden Mine Railroad is flat, level, cinder path. Extensive trail system allows for all sorts of loops.
Hike Info:
Shorter (5.0 mile) – Instead of continuing to the picnic area, turn left onto Yellow and take back to the pond [route is in Hiking New Jersey
Shorter (3.8 mile) – just do the Pine Swamp Loop portion. This starts from the picnic parking lot further down Weldon Road. Good for a beginner hike, with options to bail and make it shorter along the way.
Super Short – start from the picnic lot, cross the road and take the Highlands trail, follow the sign for Headley Overlook up a wide grassy path… not sure on the mileage but its like maybe 10-15 min.
Longer – Extend your hike by adding the Yellow trail to Saffin Rock Rill, the Winona Trail loop, the new Mt. Paul section, or some of the Beaver Brook Trail (check the trail map to see where)
Map:
We prefer the Jersey Highlands Trails map but the park map is good too.
Books:
Shorter variations are in 50 Hikes in New Jersey and Hike of the Week.
A 10.2 mile loop in 60 Hikes Within 60 Miles: New York City, a 5.0 mile loop is in Hiking New Jersey, and a 3.2 mile thru hike is in Hiking the Jersey Highlands. Detailed trail descriptions found in The New Jersey Walk Book.
Detailed directions from the park site. This route starts from the lot near Saffin Pond. Rt 287 North to Rt 80 W. Exit 34 to Rt 15 North.
Right onto Weldon Road. Large parking area is on the right. (You will first pass a park sign and driveway that goes to another lot)
Restrooms:
Porta-john in the parking lot.
There is another porta and camp-style restrooms (composting toilet in a building) at the picnic parking area, just after the trail crosses the road.
Hike Directions:
Overview: Highlands Connector (BLACK on TEAL DIAMOND) to Highlands (TEAL DIAMOND/Highlands tag) to Pine Swamp (WHITE) to Boulder (unmarked) to Ogden Mine Railroad (unmarked)
0.0 – Start following the Highlands Connector (BLACK on TEAL DIAMOND). Walk in and get a view of Saffin Pond.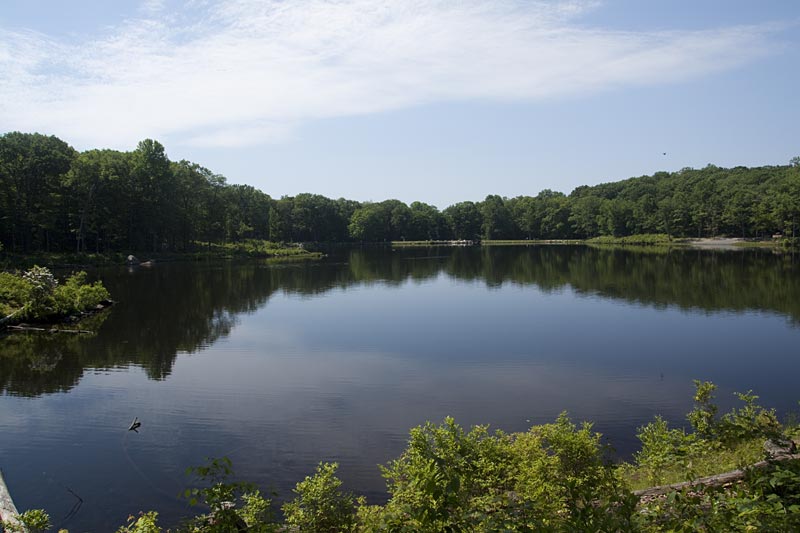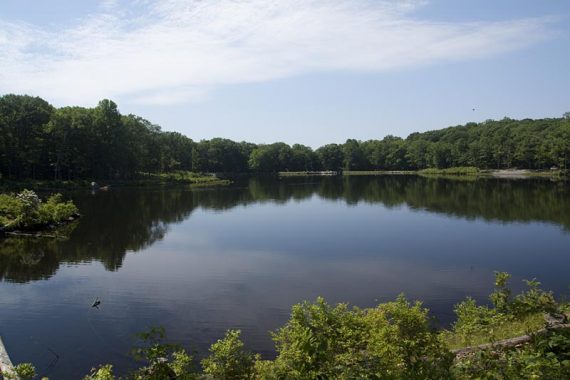 Head around the left side of the pond over a rocky area. At the end of the pond, turn left and now follow Highlands Trail (TEAL DIAMOND).
Shortly at a T, make a right and keep following Highlands (TEAL DIAMOND) as it meanders along for awhile – it's well blazed.
Cross a bridge, and then later pay attention for a left turn to continue on Highlands where it meets the WHITE trail.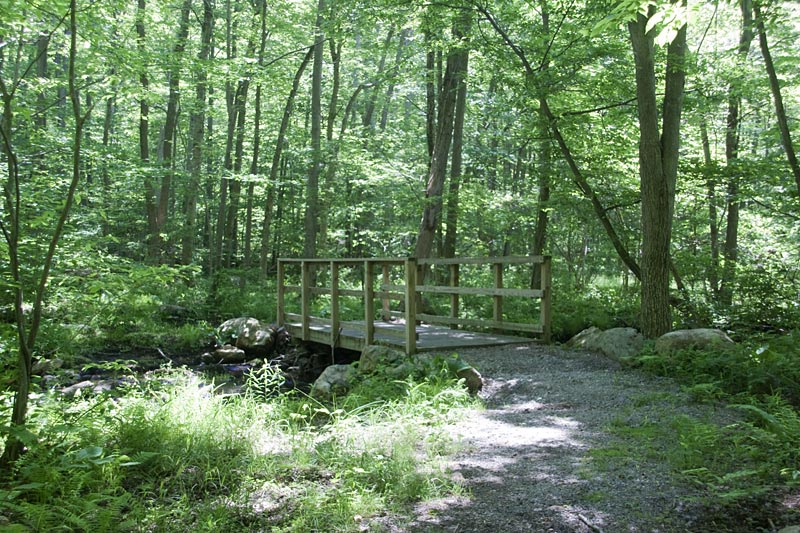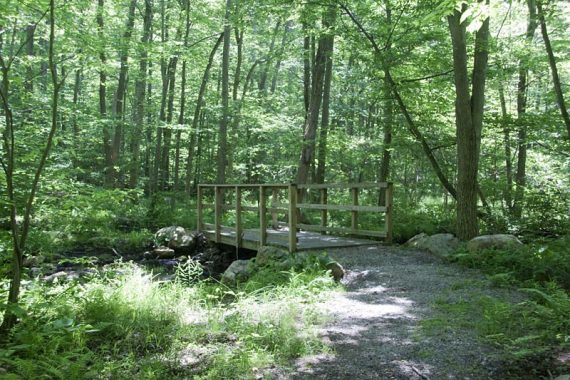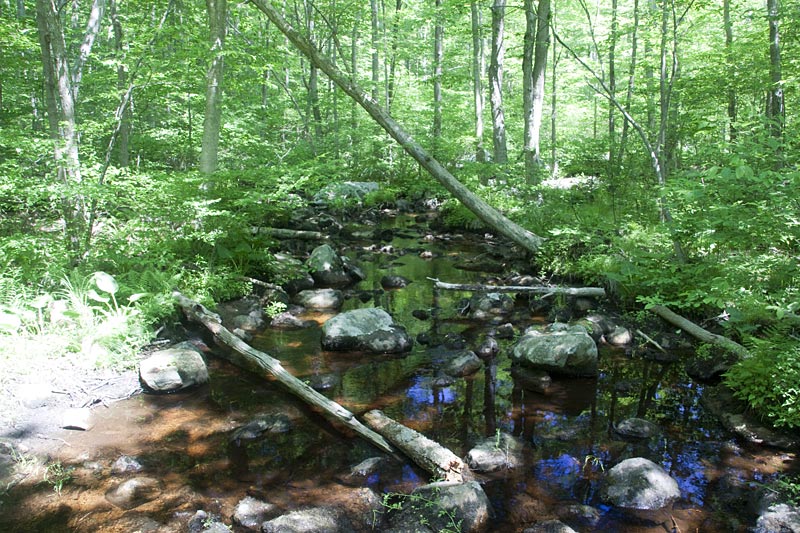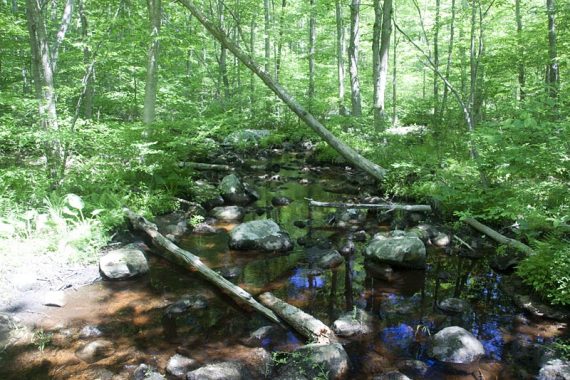 2.2 – Cross the YELLOW trail in an open area. Continue straight on Highlands (TEAL DIAMOND). Highlands Trail is rugged and overgrown in spots.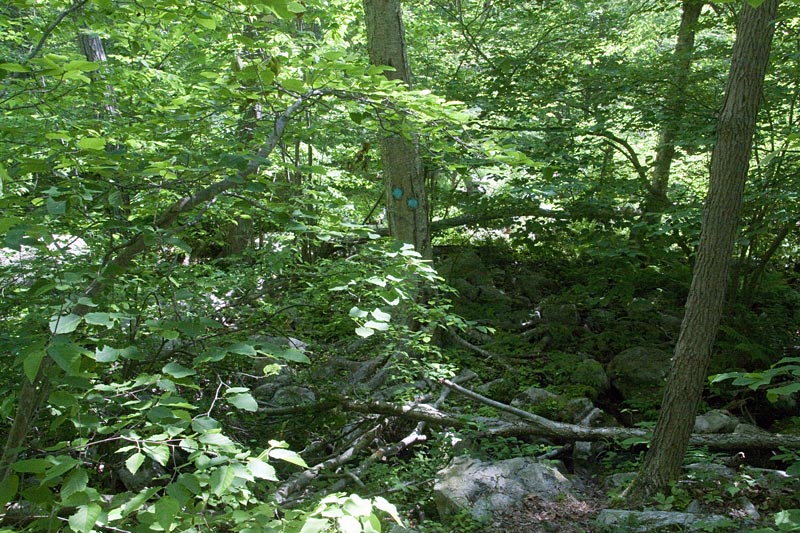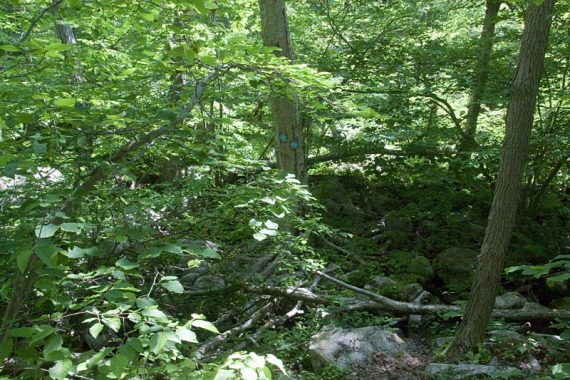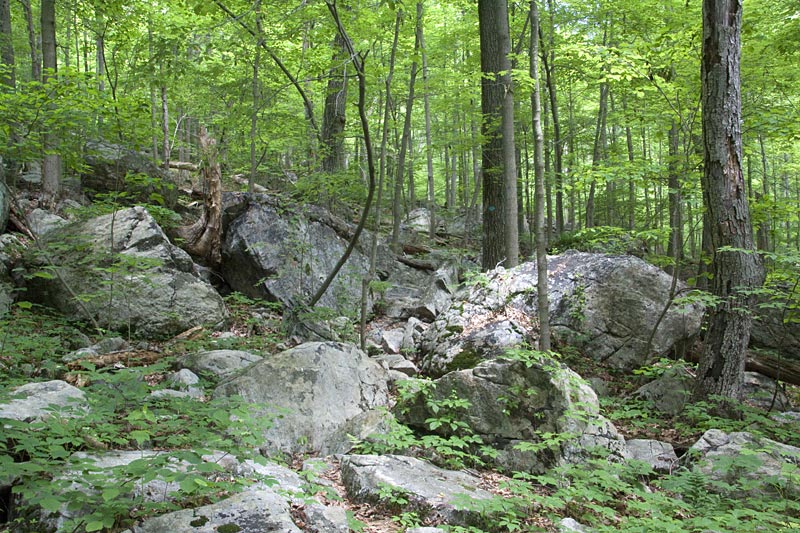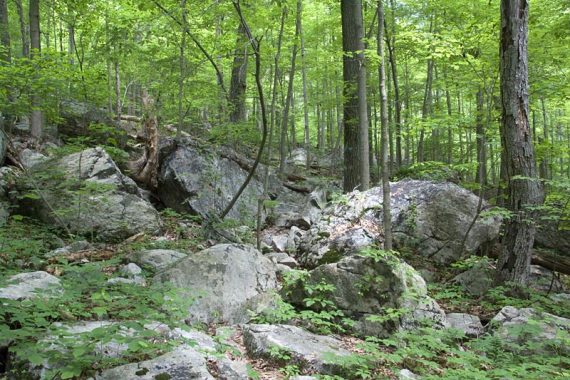 There are two overlooks before arriving at Headley Overlook.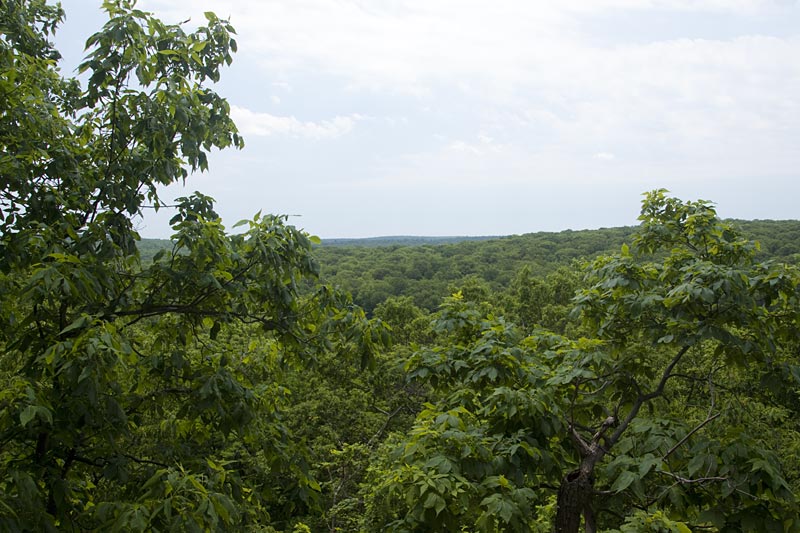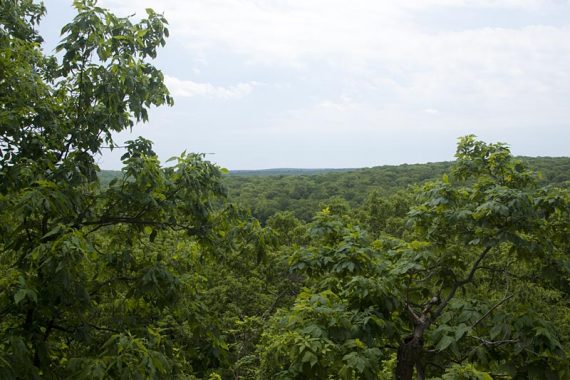 2.6 – Arrive at Headley Overlook on the right. There is a bench and Lake Hopatcong is somewhat visible in the distance.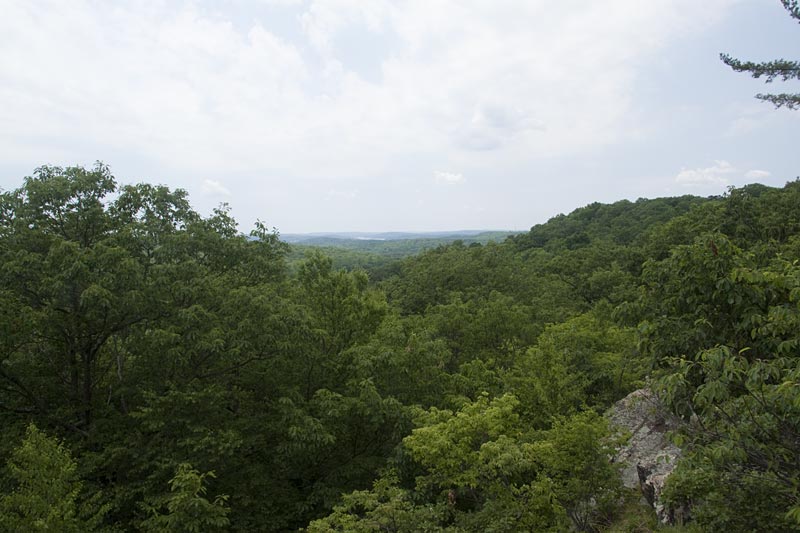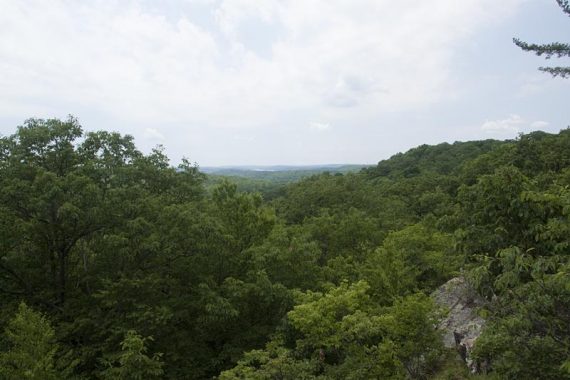 Continue following Highlands (TEAL DIAMOND) down a wide grassy path, ignoring any other side trails.
3.0 – Arrive at the picnic parking area. There is a trail kiosk with maps, a porta-john and also a building with composting toilets which could be just open seasonally (not sure).
Walk straight through the picnic area (near the dumpster) and follow signs for Pine Swamp (WHITE).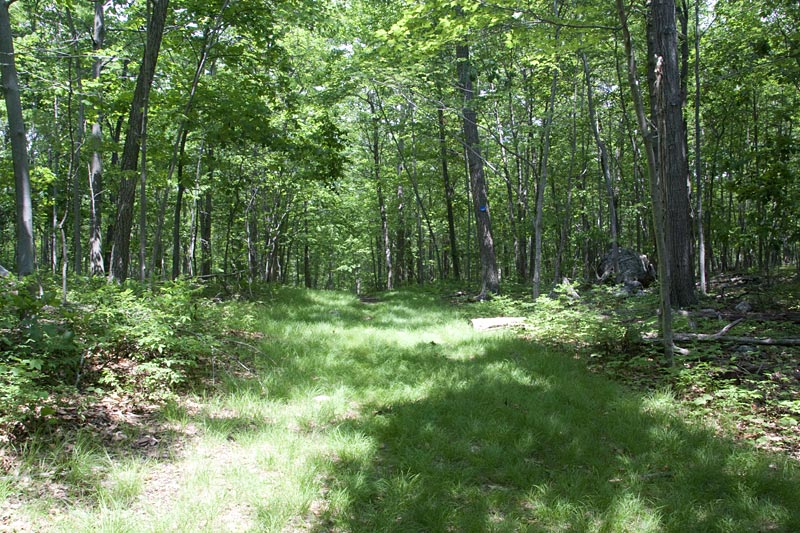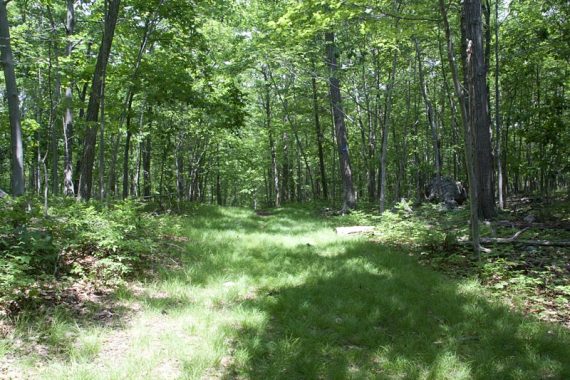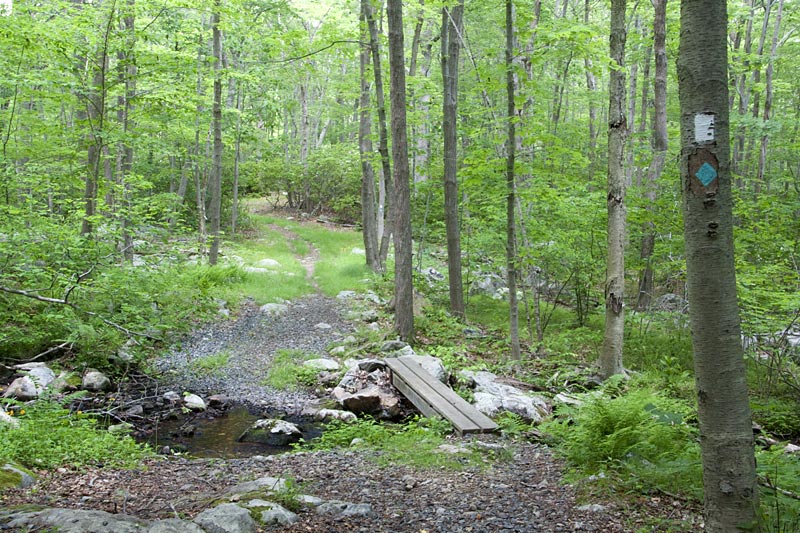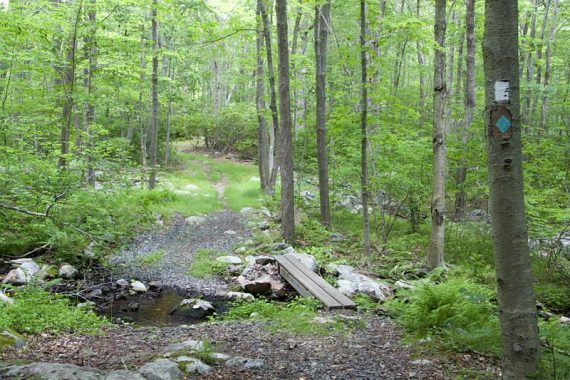 3.3 – Turn RIGHT to now follow Pine Swamp (WHITE). [Pine Swamp (WHITE) also goes left].
There are a network of trails crossing in this area, some unmarked… but just keep following WHITE blazes. Pass a trail on the RIGHT.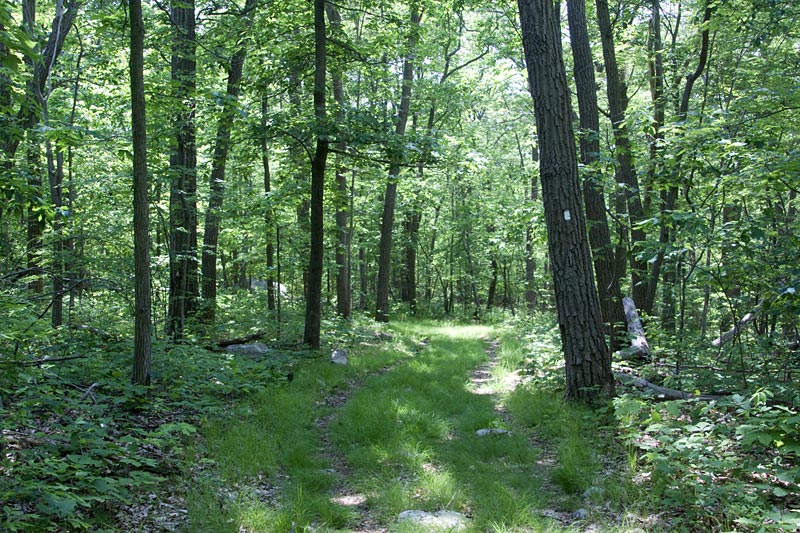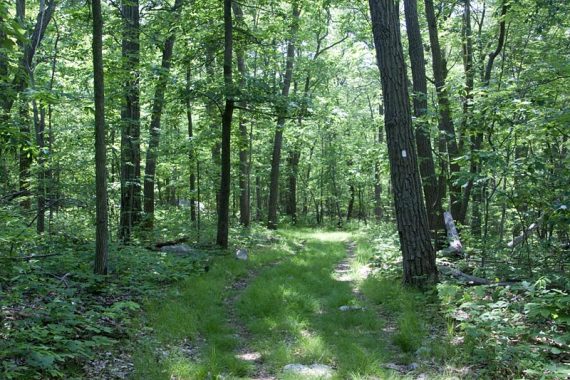 A bit later, arrive at the highest point in Morris County – marked with a sign and there is a bench.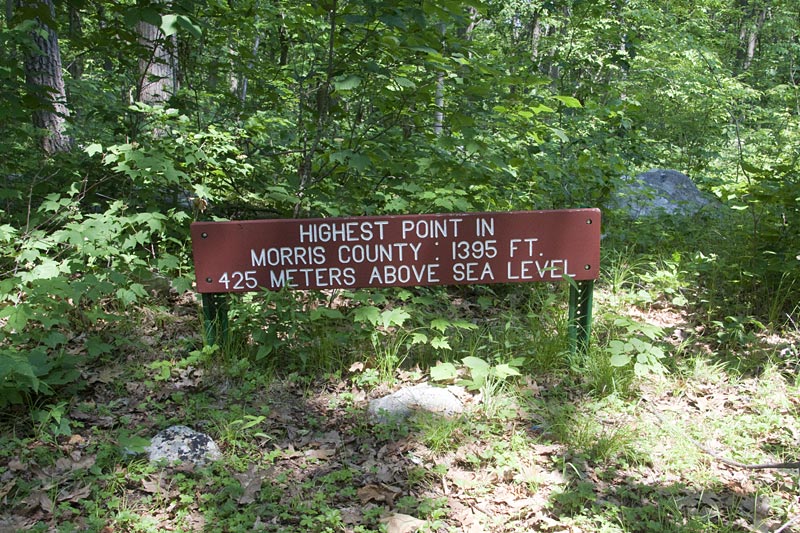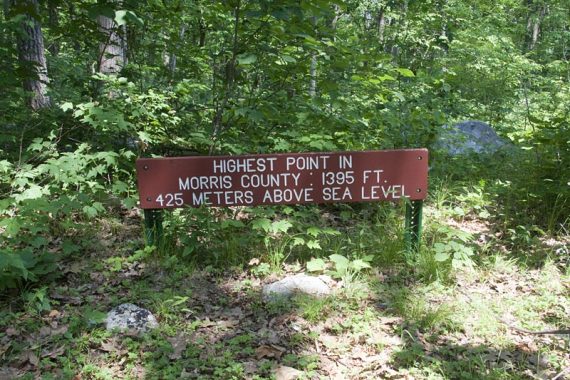 5.7 – Turn RIGHT onto the Boulder Trail – this trail is not blazed so the trail is a little confusing.
(If you want to double-check you are at the right place, turn left and walk a few steps – you will see signs for the other trails, and the Boulder Trail in the other direction.)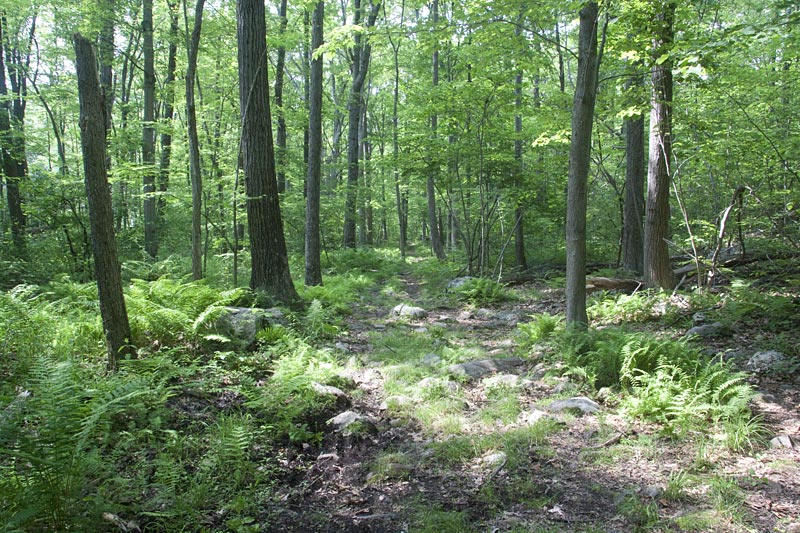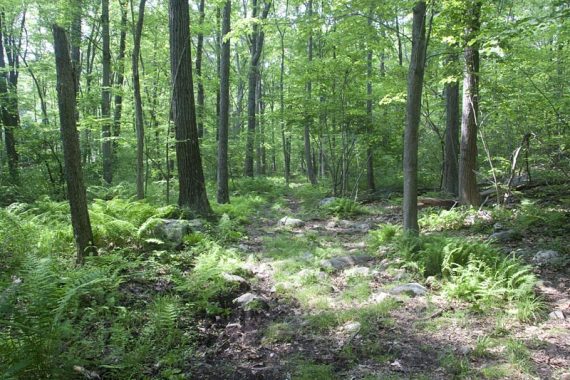 Keep following the unmarked Boulder Trail, and it will come to a T with another well worn but unmarked trail – turn LEFT.
(At this point it may not seem like you are on the right trail because the trail map doesn't show another trail or a left turn).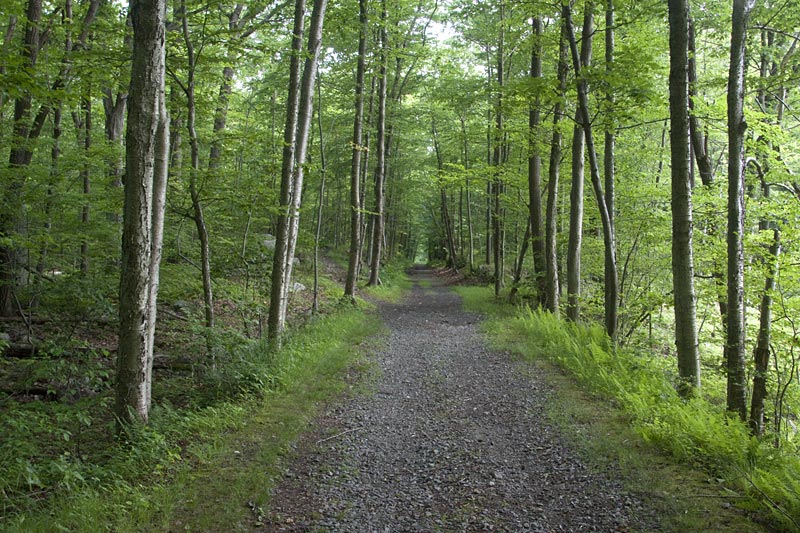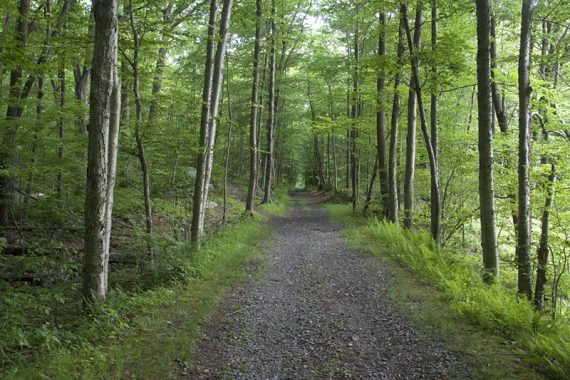 6.5 – Turn LEFT onto Ogden Mine Railroad near a large swampy area. Take this back to the parking lot.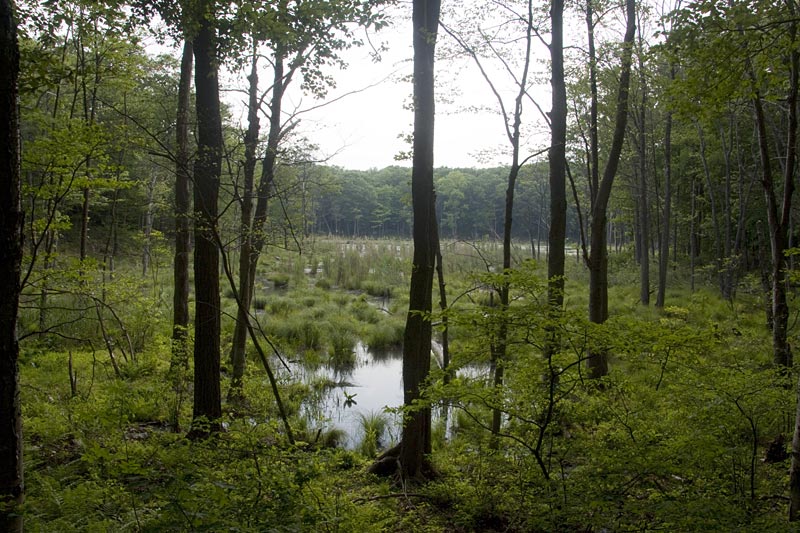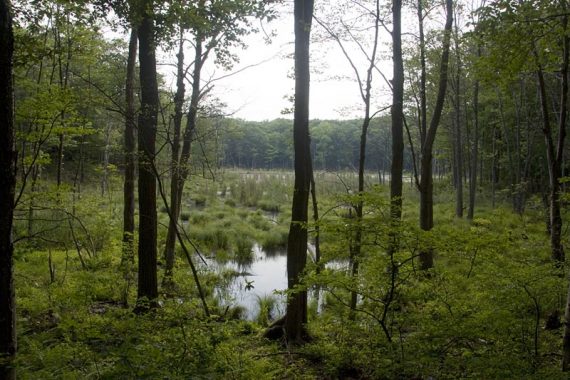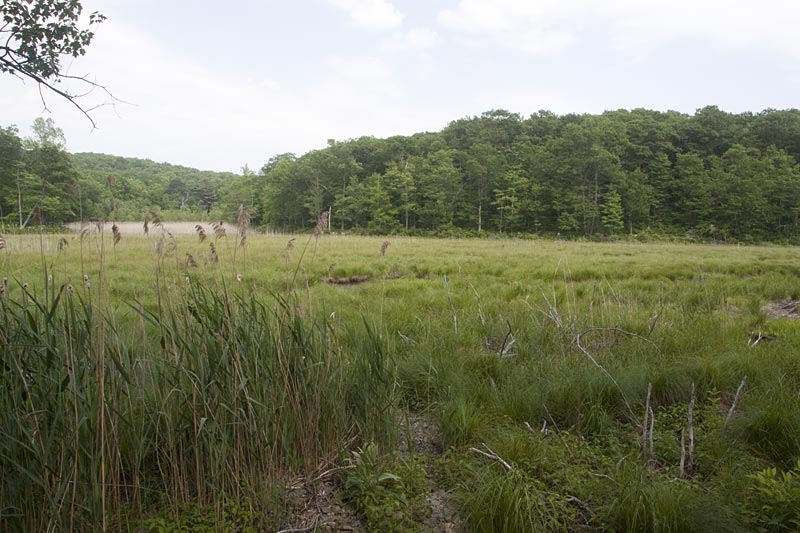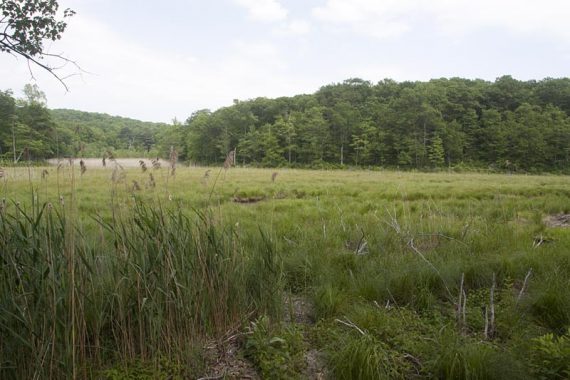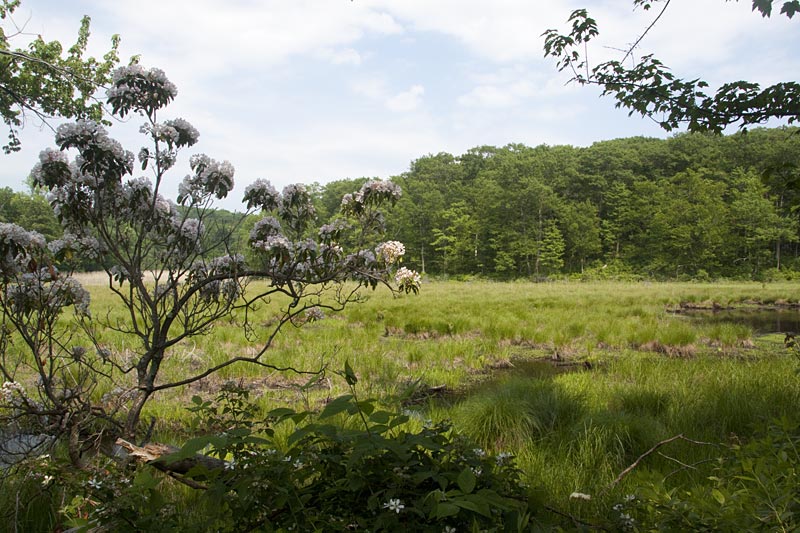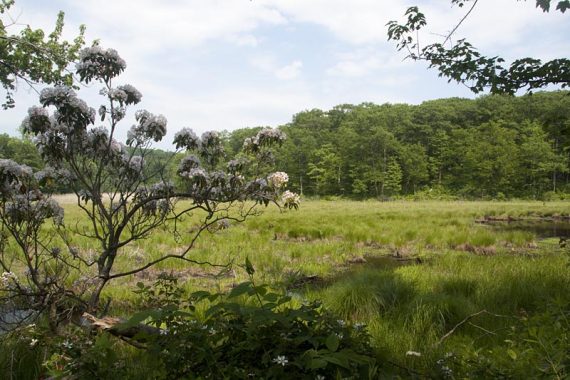 Great blue heron along Ogden Mine railroad.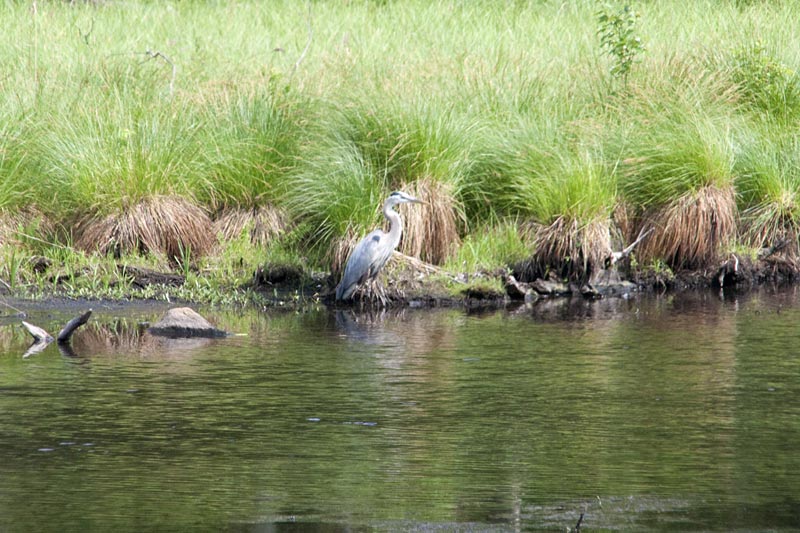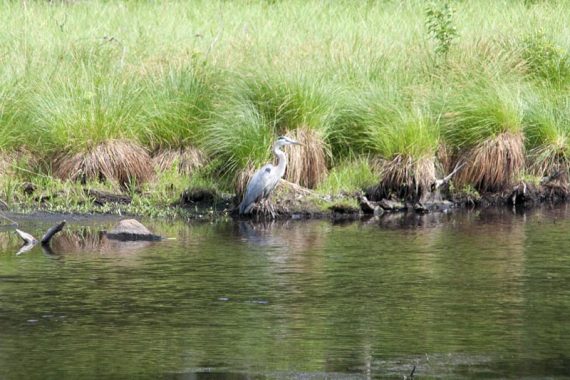 —
Hiked: 1/1/12. Trail Blog: "Mahlon Dickerson – Highlands, Pine Swamp, Saffin Pond"
Hiked: 5/31/10. Trail Blog: "Mahlon Dickerson – Headley Overlook"