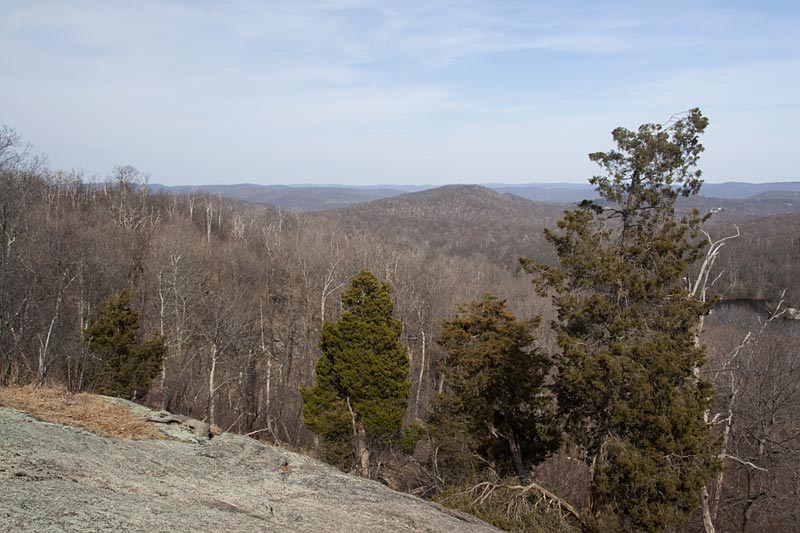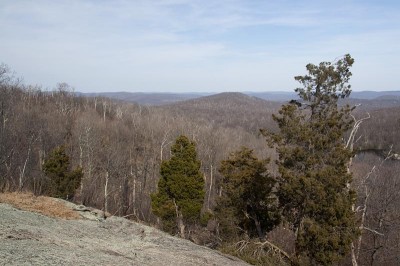 Complete hike details, photos, and video on our Lake Sonoma page.
8.1 challenging miles and 70 degrees, sunny and perfect… such a nice change after this crazy winter. We hiked in the northern section of Norvin Green State Forest, located to the southwest of Monksville Reservoir in West Milford. There are two newer (2008-ish I believe) trails there we wanted to check out, Lake Sonoma and Overlook.
This isn't a really long hike but with a decent amount of rugged up/down, several stream crossings, we'd rate it on the low end of "challenging". The new trails were very pleasant, with some really nice vistas. You may want to save this one until the trees are green, or even better, for fall foliage.
Map: You'll want the North Jersey Trails, don't think there is a map online. If you have the map earlier than the 2009, Sonoma/Overlook and the parking are not on there.
Route: The trails are very well marked, with frequent blazes – just pay attention as there are many unmarked paths to amble down if you get distracted.
Since we parked a bit down from the parking, we started with the RED Stonetown Circular trail near where we parked, up Harrison Mountain, took a left onto WHITE Horse Pond Mountain for some ridge views, then left and steeply down YELLOW Burnt Meadow. Hit Burnt Meadow Rd and turn right, walk down the road a bit, then turn left back into the woods for a level section that's a bit of a break.
When you get to BLUE Hewitt Butler, turn left and follow that south for a while. Take a left onto WHITE Overlook, cross a power line cut, and follow until you get to a large rock that is Overlook Rock for a very nice view. Follow the ORANGE blazes for Lake Sonoma after this, it requires a bit of a backtrack. Take Sonoma all the way back, with views of the Lake, then skirting near it. When back onto Burnt Meadow Rd, turn left and walk back to your car.