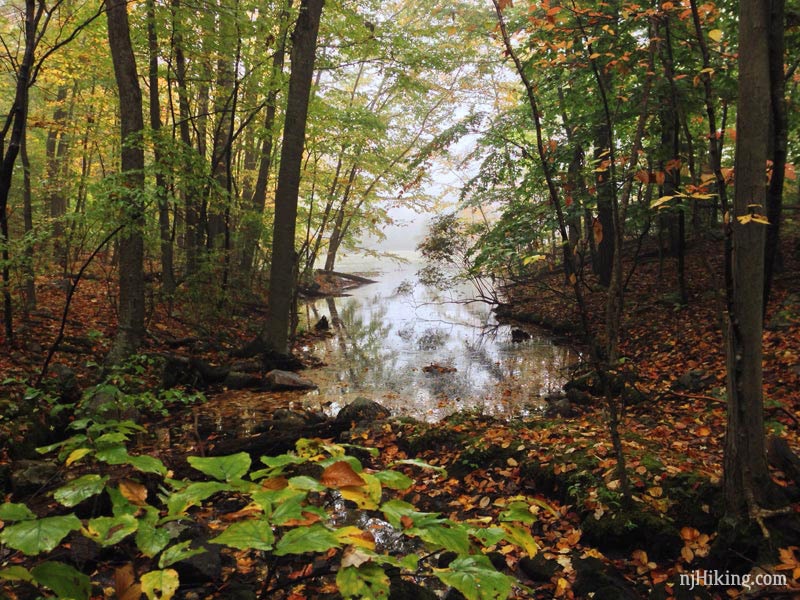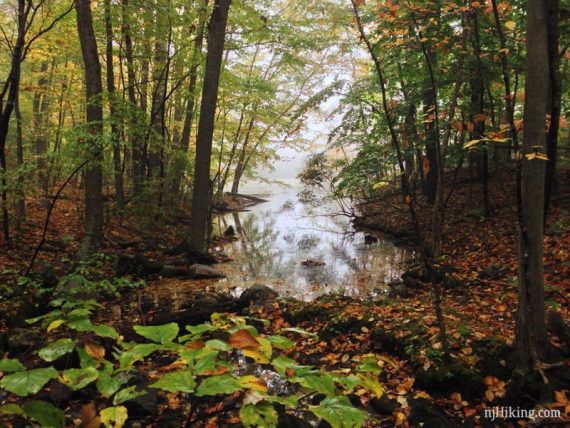 The forecast said "partly cloudy". The radar map showed no precipitation anywhere nearby. We figured the fog that loomed in the distance halfway on our drive there would burn off as the morning wore on.
Nope.
It's foliage season so that means that each week we spin the foliage roulette wheel and try to land on the best color for our hike.
We decided we'd try redoing a hike to Norvin's Lake Sonoma ("Norvin Green – Lake Sonoma and Overlook Trails") but modifying it to start at a different parking lot. This hike has several nice viewpoints but there weren't many leaves on the trees when we had hiked it, so Fall was a nice choice for a return.
It wasn't raining, but the fog had made the downed leaves wet enough to be slippery and this only got worse as the morning wore on and it didn't clear up. It was beautiful regardless, with everything shrouded in fog and there was an eerie quiet quality to the forest.
Except that every viewpoint was fogged in. And not in an "oh, it's kinda hazy" way – a solid wall of white where we often weren't sure if we were at a viewpoint or not.
The fog and water on the trees had also created a persistent light mist that was starting to drench us slowly… and making it tough to take photos and keep the gear dry.
At the start of the hike, we had decided to reverse our intended route so there would be more trail options for a bail-out loop if the wet conditions persisted – which is exactly what we did at Not-So-Much-Of-An-Overlook-Today Rock. We'll revisit the trail another day.
Complete hike details and photos on our Lake Sonoma, Overlook Rock, Manaticut Point page.
Route: Manaticut Point (YEL) – Lake Sonoma (Orange) – Overlook Rock (WHITE) – Hewitt Butler (BLUE) – Manaticut Point (YEL)
Miles: 4.7
Trail Map: North Jersey Trails
(Note: The 2012 version shows two parking areas for trailheads near each other on Crescent Dr. – this is no longer the case. The two ends of Manaticut Point (YEL) split a bit in from the road.
Restrooms: None. Gas stations and convenience stores along Rt. 511.
Wildlife spotted: lots of little froggies.