Shady rail-trail through rural New Jersey, along farms and the Paulins Kill river, from Warbasse Junction to Old Station Road.
Our two cents: Nice shady ride with many access points to change it up. Can be combined with Sussex Branch and Great Valley for more options. The trail surface is mostly good but can be rougher than something like the Columbia or the D&R Canal Towpath.
Miles: 20 – round trip from Warbasse Junction to Old Station Rd.
Available Miles: The entire Paulinskill is 27 miles one-way, though each end might be a bit unkempt and unridable, reducing mileage.
Trail Surface: Gravel and dirt, ranging from 4-6' wide to a narrow strip. A few rutted areas that would have been muddy if the trail was wet. Road bikes are probably not a good idea – hybrid or mountain bikes better. Generally level, though slightly uphill in the beginning from Warbasse. Street crossings are more frequent in the beginning.
Parking: N41° 05.118′ W74° 41.984′ [Warbasse Junction]
206N to 94N through. Right on Warbasse Junction Road (Route 663). Half mile to a parking lot on the right. Multiple other access points, see map.
The Warbasse Junction trail head has a decent sized dirt lot with a composting toilet, and snazzy trail sign: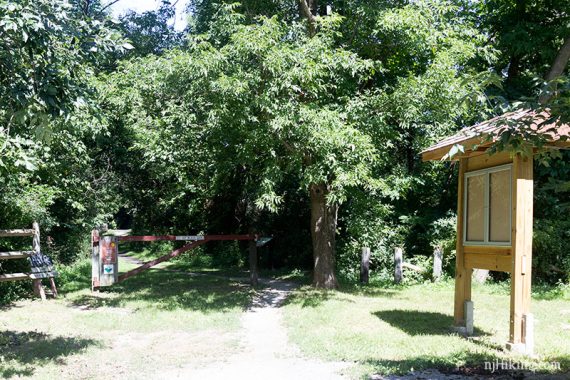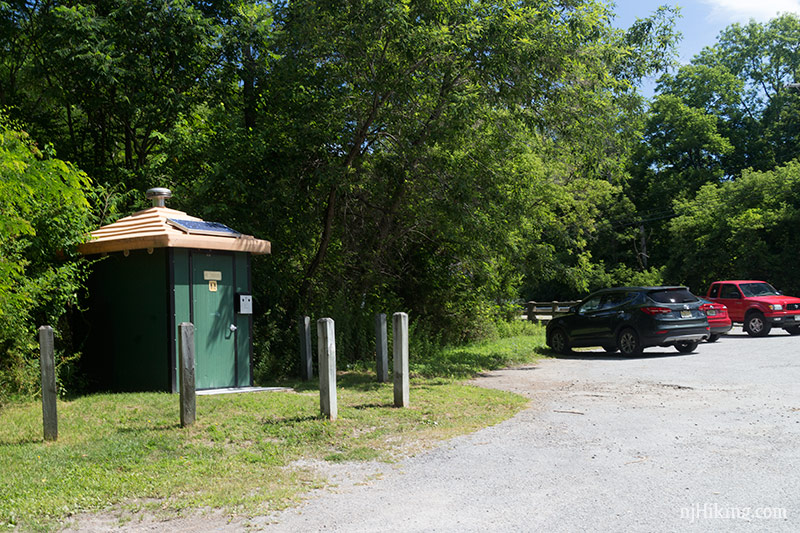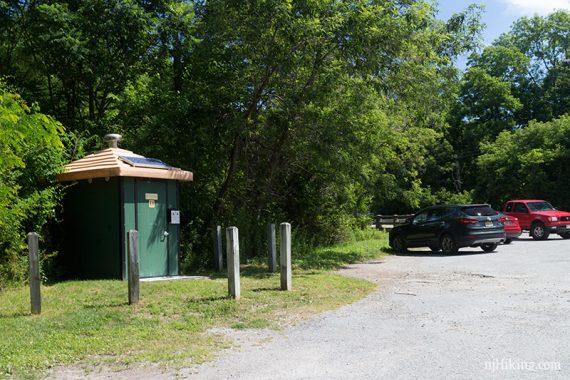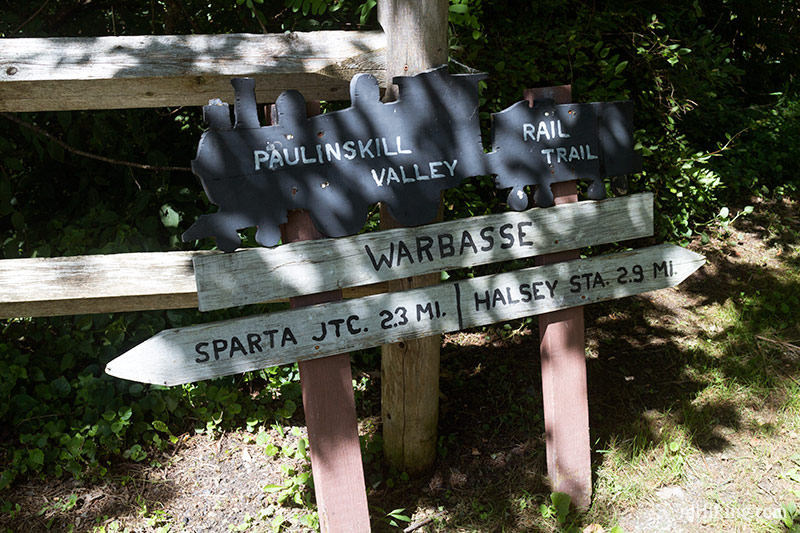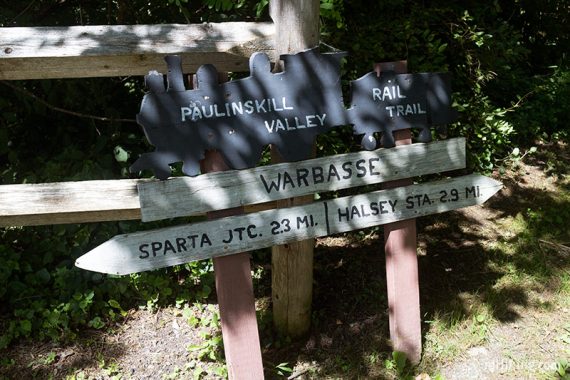 Starting from Warbasse, the first bit of the trail heads uphill slightly, has a little loose gravel, and frequent road crossings. After that, it's more level and there aren't as many road crossings. The trail varies between wide gravel and narrow dirt: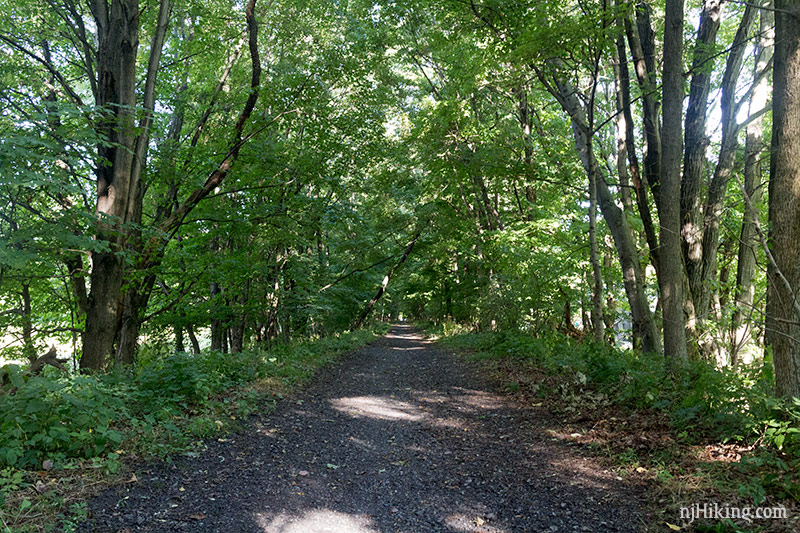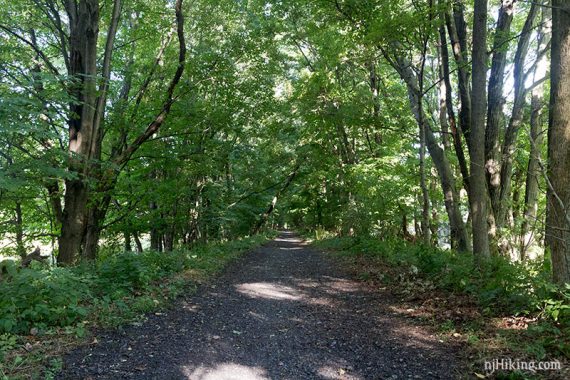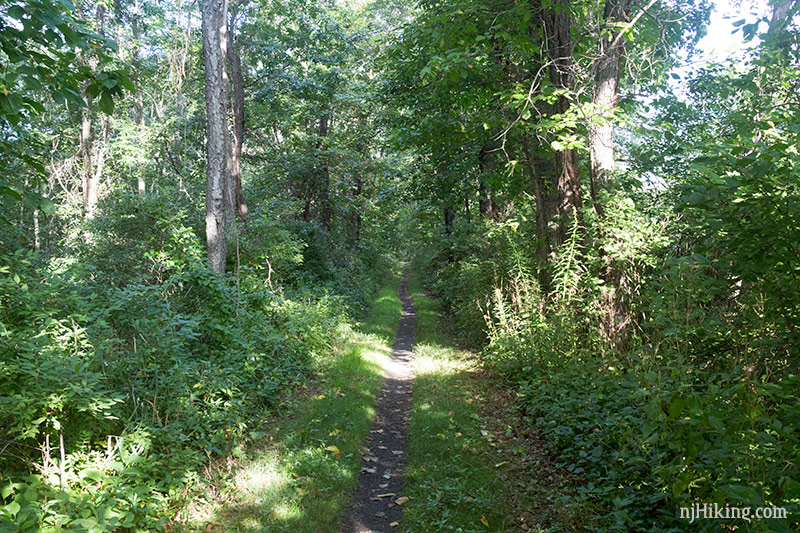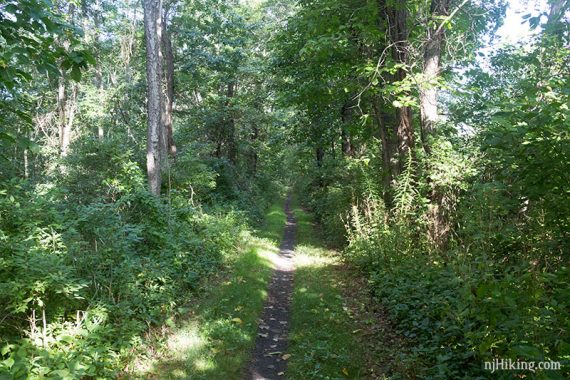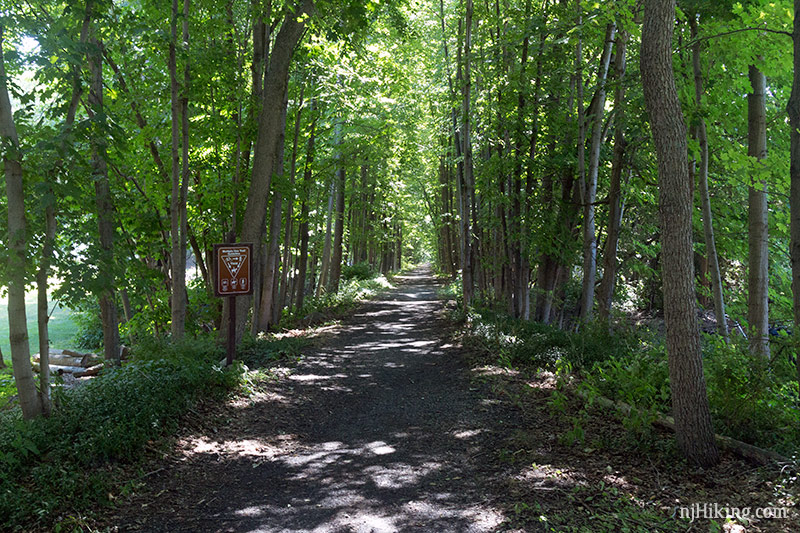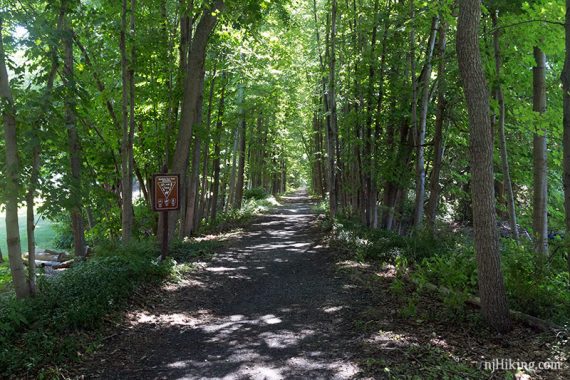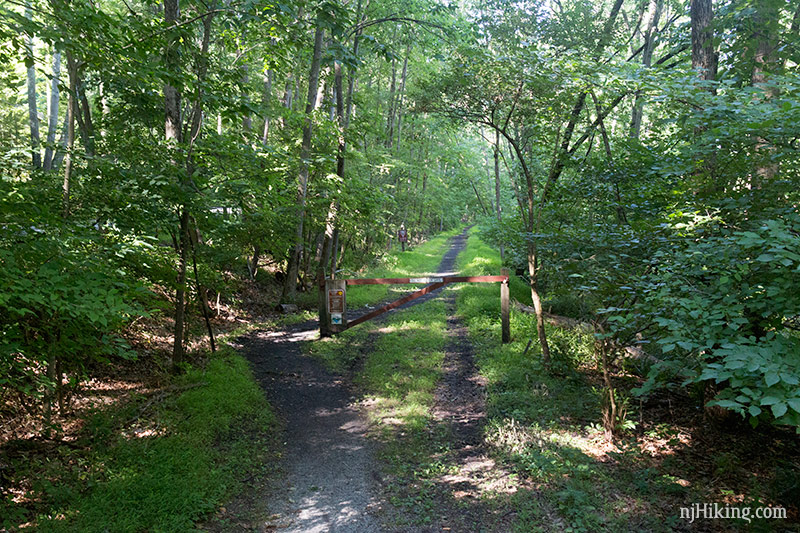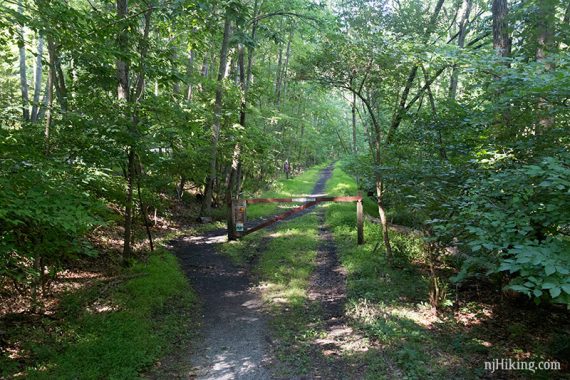 Houses and farms (and maybe some cows!) are visible along the way: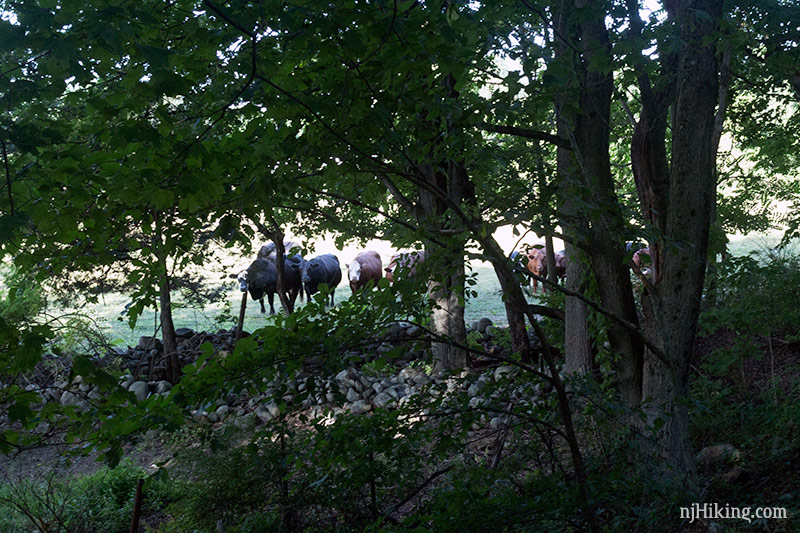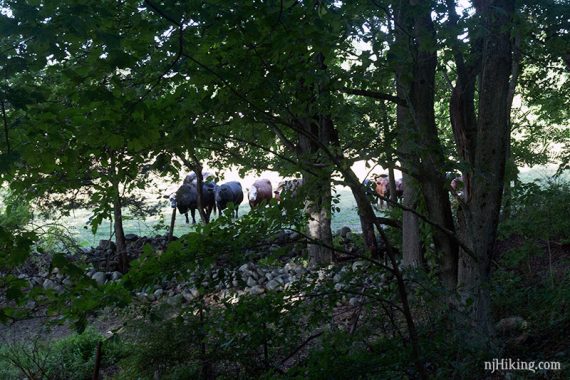 A rail-trail is basically an old railroad that has been converted for recreational use. Signposts along the way would mark the miles. This post indicates "68 miles to Jersey City".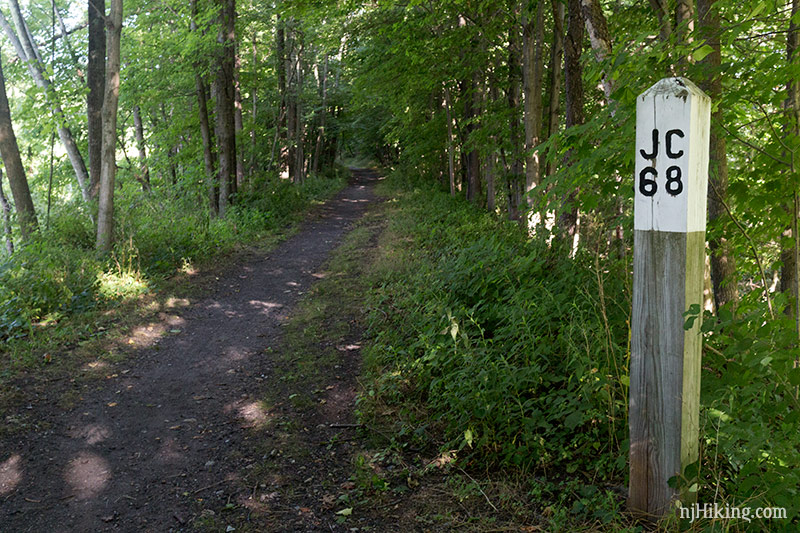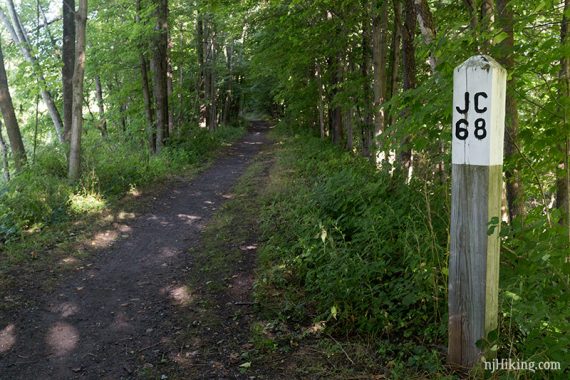 There are several areas with tall rock faces, where the railroad was cut right through: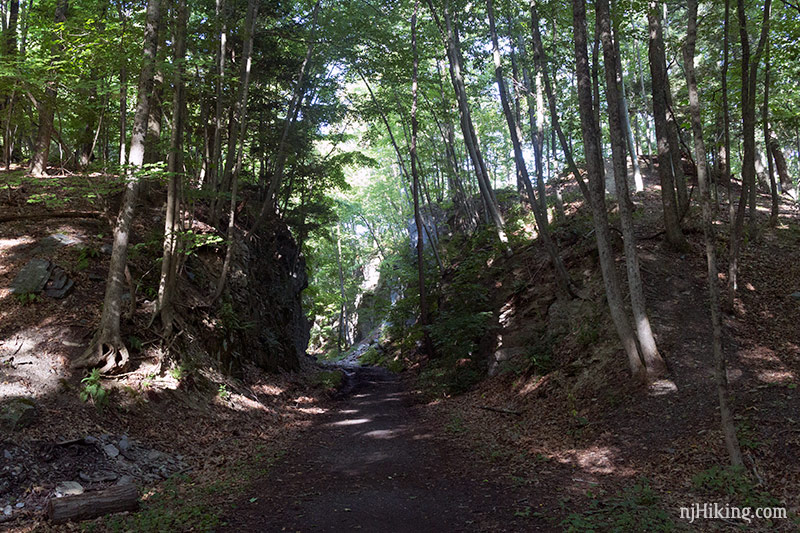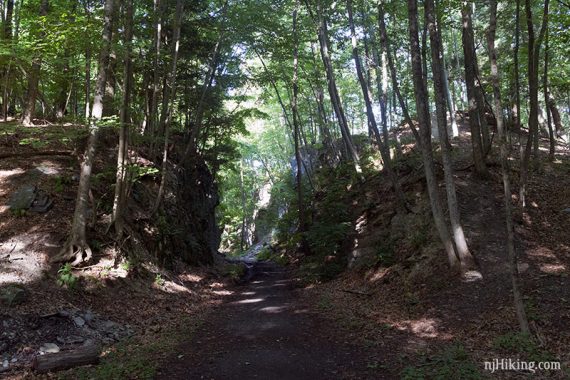 For this section, there are two bridges over road crossings that have been removed, so these require walking the bike down a short, steep, rough, rooted section, riding the road a bit to cross, and then rejoining the rail-trail. Getting down to road level is doable but not the funnest thing in the world. The first one isn't until 5.8 miles from Warbasse, so if you prefer a 10 or 11 mile round trip, this is a non-issue.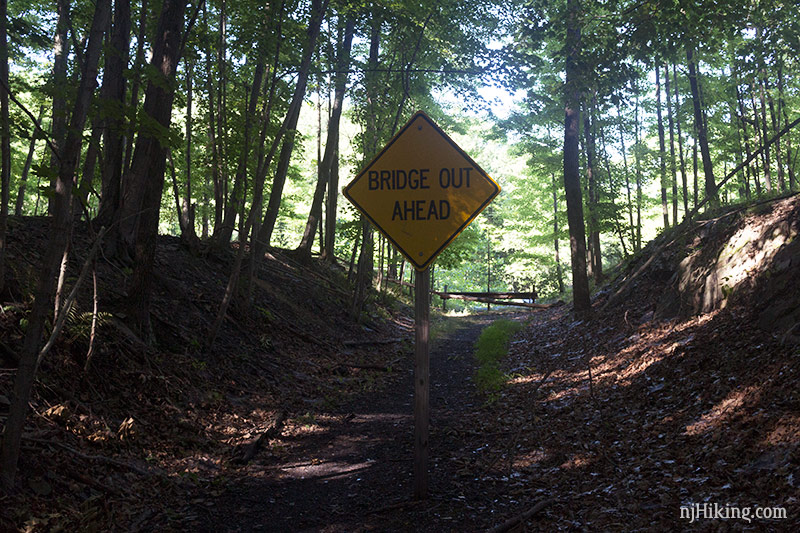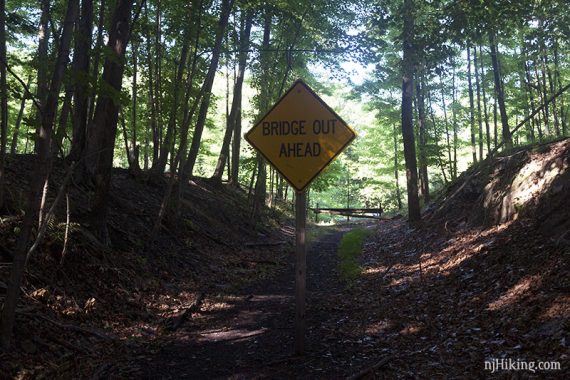 On the ride back we spotted a pair of oncoming horse riders in the distance so we pulled off to the side to wait for them to pass (hikers and bikers yield to horses). While standing there, we noticed something odd playfully scampering along behind them. A mule?! a large awkward dog?! That made no sense.
As they got closer we realized it was a deer. We asked the riders how long had the deer been following them and they had no idea, "ohhhh so that's why the horses kept turning to look behind themselves!". It was so cute watching this playful and curious deer that was so fascinated with the horses.
The horses passed and the deer stopped to contemplate us. We waited a moment. He just stood there staring. So we slowly started walking our bikes so as not freak him out, and he bounded off into the woods.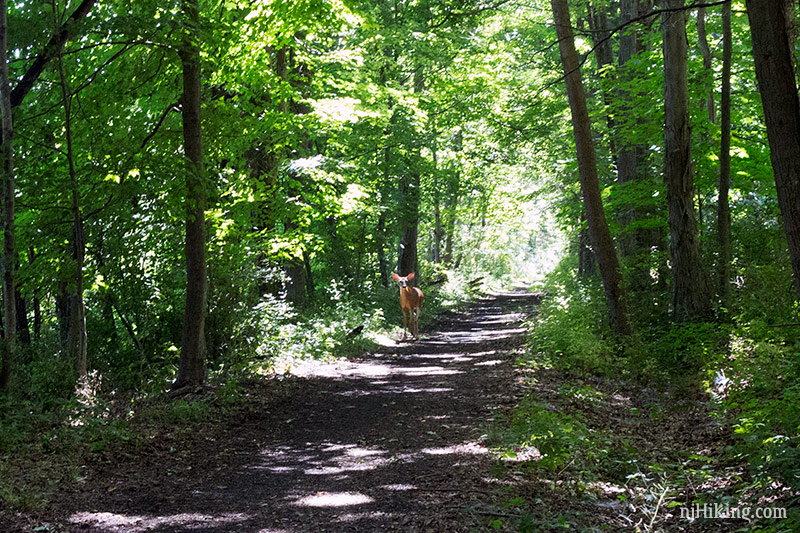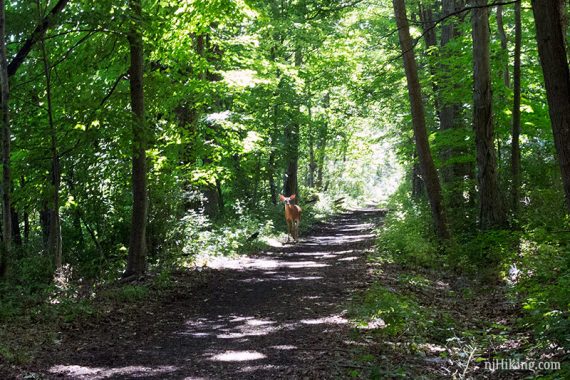 Resources:
GPX: Paulinskill Valley – Warbasse – Old Station
Restroom: Composting toilet at Warbasse. Porta-john at a small park at the intersection with Kohlbocker Road, passed at 8.2 miles in.
Book: Rail-Trails New Jersey & New York
Directions
0.0 – Warbasse Junction. The trail starts at the gate by the trail sign. (Across the road is also Paulinskill for a short distance before it intersects with the Sussex Branch trail).
5.4 – Great Valley Trail junction (might not even notice it).
5.8 – Bridge out. Walk the bike down the short, steep, path, and cross Old Swartswood Rd / Rt 622. After crossing the road there is a small parking area, where the trail continues.
8.1 – Bridge out sign. Turn right and walk the bike down a short dirt path. Turn left onto a paved road, and then cross Rt 614 to Kohlbocker Road. There are several steep paths that lead back up to the rail-trail level.
There is parking and a porta-john at the park on Kohlbocker Rd.
Alternate: Ride along the Kohlbocker Road for a half mile and rejoin the trail, skipping going up to the short section of the rail-trail.
8.6 – Cross Kohlbocker road again and rejoin the rail-trail at a gate.
10.0 – Bench at Old Station Road. Turn around and retrace the route… or cross the road to the right and keep going…
For more biking ideas, check out our NJ Bike Trails page.
—
Biked 6/24/16. 20.2 miles. Wildlife spotted: a deer following a pair of horses.