Cairn is a monthly subscription box for hikers and outdoor enthusiasts.
New gear arrives each month – but you won't know what you're getting until you open the box!
Subscription boxes have become a popular way to try new products in a category you are interested in such as snacks, coffee, pets, or books.
Each month a box of items in arrives in the mail. They also make terrific gifts for hikers.
Disclaimer: Cairn provided a complimentary box, but did not provide compensation or exercise control over the content of this post.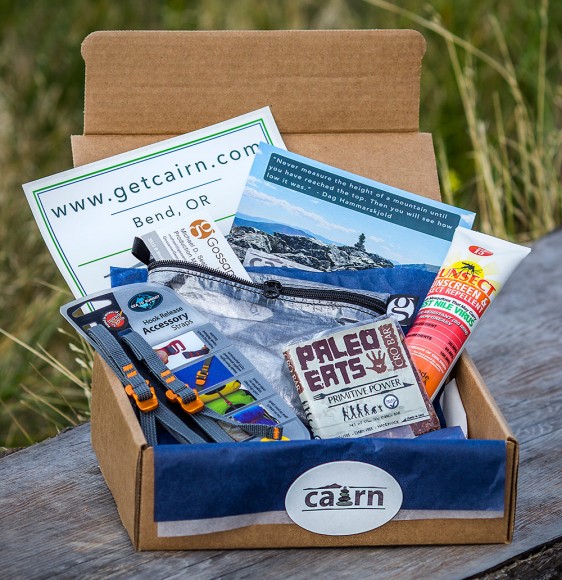 Friends of ours have a subscription to a dog-themed one (BarkBox) and enjoy getting new toys and treats each month (though I am not sure who gets more giddy at it's arrival… the dogs or the humans…)
Cairn is basically a box of toys and treats for hikers, so we were happy when Rob Little, founder of Cairn, contacted us to check out the service.
How does Cairn work?
For $34.99 a month (free shipping; save with a 6 or 12-month subscription) a box arrives with a "carefully curated" selection of outdoor related items.
The items generally total about $50 worth of products from these categories:
GEAR: Hydration, Headlamps, Cookware
APPAREL: Hiking socks, Gloves, Beanies
FOOD/ENERGY: Energy Bars, Snacks for the trail, Drink mixes
SKIN CARE: Sun products, Insect repellents, Lip balms
EMERGENCY: First-aid kits, fire starters
Fill out your account profile for apparel and accessory sizes. Choose a gender neutral box for couples sharing items or select female or male to get specific sizing.
Specify recreational interests for non-winter and winter activities (hiking, camping, climbing, snowshoeing) and if you like to drink coffee or alcohol, are vegetarian, or are interested in items for dogs or kids 13 and under.
In 2020 the option to select to receive sunglasses or CBD items was added.
In some months everyone gets the same items, but often there are multiple versions in any month.
So hikers might get a different item than bikers, vegetarians wouldn't receive jerky, or a past item that was popular might be given again while an older subscriber who already received that item would get something new.
Subscriptions auto-renew and can be canceled at anytime. Each month, random recipients get an Adventure Upgrade pass and score more gear.
For a bigger subscription, check out Obsidian – 5 to 10 items delivered quarterly with several individual items over $50 and a total box value of over $300.
Any subscription can be given as a gift, too.
---
More than just Subscription Boxes.
In addition, occasionally there are holiday bundles or custom collections (such as from Backpacker and Outside magazines) available across a range of price points and with different themes.
For these, the gear is listed so you know what you're getting and it's a one-time box.
All of the various offerings are detailed out on their subscription and gift pages.
In addition, earn points for filling out a box review survey each month and save up points to get a free box or other items.
KITTED by Cairn – Try Before You Buy.
In 2021 KITTED by Cairn was officially launched after being in beta or invite only for awhile. This is a curated collection of outdoor gear and clothing that is refreshed seasonally.
How KITTED works: Choose up to 5 items, test them for a week – even outside!!! – send back what you don't want and only pay for what you decide to keep.
Build a kit whenever you like – no commitment, no subscription, no return fees required. There is a $25 curation fee that is credited to orders over $100.
The collections are themed – such as trekking, camping, running, "trailgating" – and some offer men's and women's options. KITTED is an easy way to try out gear and clothing.
---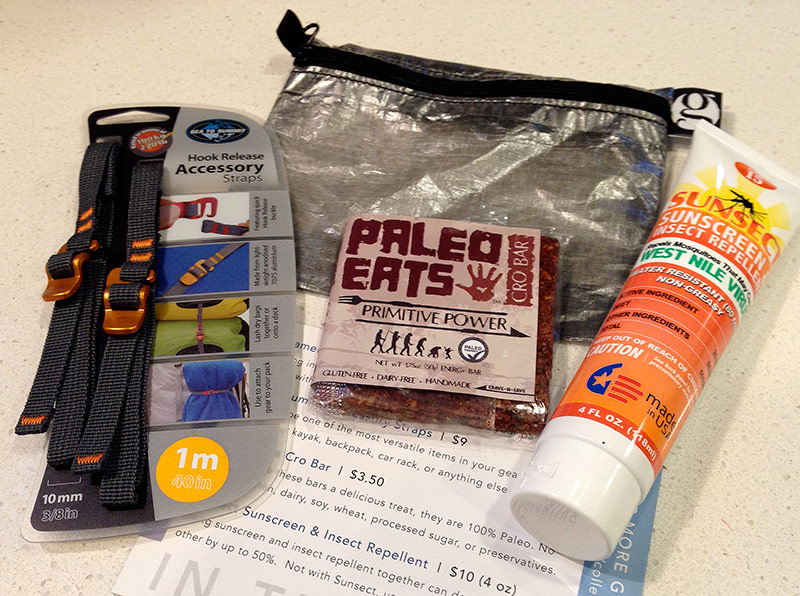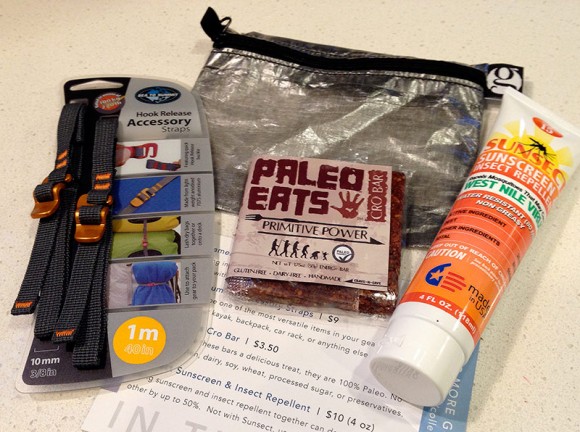 Inside the Box
We received the August box for review. Opening the brown box sealed with a Cairn logo sticker revealed nicely packaged colored tissue paper enveloping the items, affixed with a Cairn sticker.
In addition to a nice note to us from Rob and a postcard with descriptions of the items, the box contained:
Gossamer Gear Ultralight Q-Ditty Bag [value: $16]
Sea to Summit Accessory Straps [value: $9]
Paleo Eats Cro Bar [value: $3.50]
Sunsect Insect Repellant and Sun Screen [value: $10]
I wasn't familiar with any of the products but could see each being useful, and we always enjoying finding new energy bars to try.
While we own some gear from Sea to Summit, the other 3 companies were new to me.
Information on all the products can be found on Cairn's site.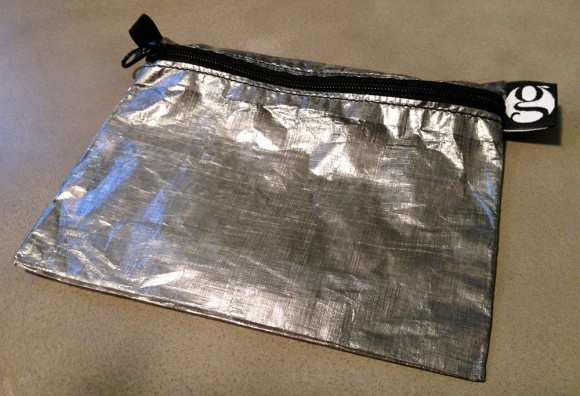 Gossamer Gear Ultralight Q-Ditty Bag
This is a feather-light (.2 oz) but supposedly strong bag, about 5″ x 6″.
I mean, it is light. The weight must all be from the zipper and looks like it should tear in three seconds.
So I couldn't help myself – I gave it several good tugs and pulls and it seemed solid. I might transfer our first-aid items to this to save a little weight.
Update: We've been using this bag since 2014 to hold our first aid items, compass, small multi-tool, and whatever else we need to keep together, and really like it.
It works great when we switch between backpacks too – just grab it to pop all the essentials into another bag.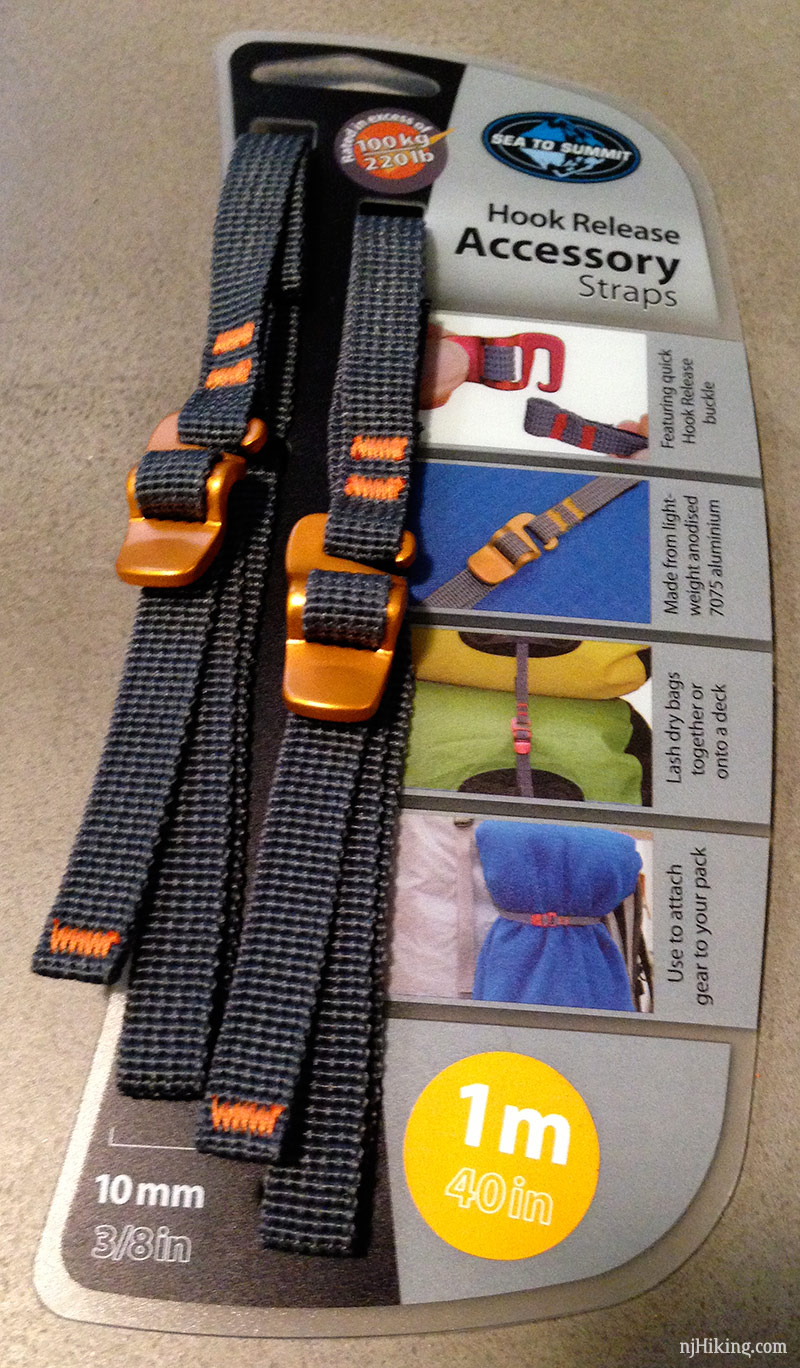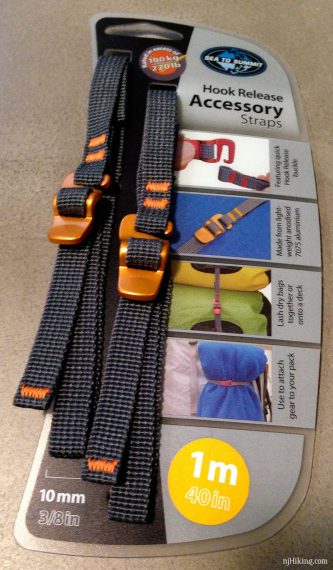 The package contained two 40″, strong, buckled straps with a quick release hook that could be used to secure a jacket to a pack, or to strap down gear etc.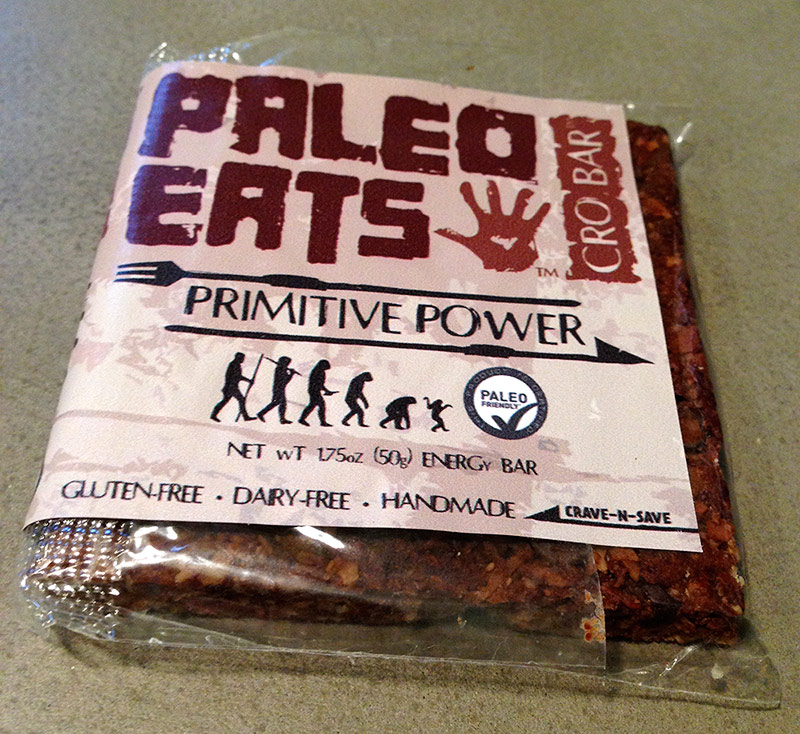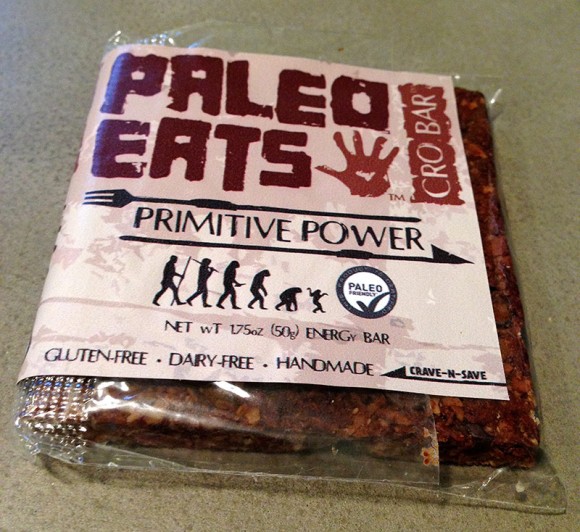 Paleo Eats Cro Bar
This looks tasty but we won't know for sure until our next hike. Until then, the CroBar sits here taunting me like a sliver of brownie.
Taste update: Good flavor, if slightly dry. The first ingredient is coconut and it's texture is obvious in the bar, so if you aren't a fan then stay clear.
The bar is small, and we split it between us to taste test it but it felt satisfying without being heavy.
Of note, the bar follows a Paleo diet and is way higher in fat than what we'd normally eat in a hiking bar: 24g of fat, 14 of those saturated, 320 cals, 6g protein. (That's nearly 5X the fat in a Clif Bar.)
Sunsect Insect Repellant and Sun Screen
Normally repellent and sun screen lose effectiveness when used together, but Sunsect supposedly has that sorted out.
We always use insect repellent but are not so vigilant in our sunscreen use for that very reason, so we're interested in giving this a go.
---
Value
The total purchase price of the items adds up to $38.50, making this a decent value as long as you find most everything that comes in a box useful.
Update: Current boxes generally average about $44 worth of products, this particular box is from 2014. Check the links below for run downs of monthly boxes.
The curation aspect is actually quite good. Over the years, Cairn has pretty consistently sent quality choices and interesting items (many I was unfamiliar with – and I read a lot of gear stuff).
There are items from boxes that we've now been using for years (such as the Craft gloves from the January 2017 box that I absolutely love) or we started buying only after discovering them in a Cairn box (currently enamored with RXBAR Oats from the November 2020 Cairn).
Plus, a box of goodies arriving at your doorstep every month is kinda fun.
---
Overall
This is a fun service for a hiker or outdoorsy person that is into trying gear or who enjoys receiving a little surprise in the mail every month.
It also could be a nice gift for the hiker in your life (especially for the impossible-to-get-for ones).
Check out GetCairn.com for more info.
The latest specials from Cairn:
---
The Summer 2021 Obsidian Collection
– Two variations: Camping or Mountain Biking (based on profile) features items like a UST sleeping pad, camp saw, SOL bowl set, Biolite grill tools, Patagonia Provisions meals. Bike version includes an Osprey lumbar pack, Backcountry shorts and liner, Truck gloves, Cycle Medic.
Limited quantities available!
---
BONUS BioLite Headlamp 750!
$99.95 value! Pro-level rechargeable headlamp, forever pass-thru charging, and 8 lighting modes, 750 lumens, 150 hours on low, 7 hours on high.
---
Get 20% off your first box!
Valid for both Obsidian or Monthly Subscriptions.
Use code GET20.
---
BONUS Gregory Nano Waistpack Mini!
Large zippered main compartment, internal divider pockets; front zippered with secure key leash. With a 6- or 12-month subscription.
Hurry to secure your favorite color!
---
KITTED by Cairn - Try Before You Buy!
Curated outdoor gear collections. Choose up to 5 items, try them at home for a week, and only pay for what you decide to keep.
---
Get one, Gift One!
Subscribe to Monthly Cairn and receive a FREE GIFT MONTH to send to someone you care about!
$29.95 value.
---
BONUS Growler - $60 value!
Get a FREE DrinkTanks 64oz Insulated Growler with a new 6- or 12-month Cairn subscription! Keeps drinks COLD 45+ hours / HOT 20 + hours.
Limited quantities available!
Great to keep in the car for before/after your outdoor activities (or fill at a local brewery on the way home!)
---
First Cairn for a DOLLAR
– Get your first month for $1 when you subscribe for 6 or 12 months!
---
BONUS Water Bottle - $45 value
– Get a free MiiR 42 oz. Wide Mouth Bottle with a 6- or 12-month subscription. Cold drinks stay cold for 24+ hours, hot drinks stay hot for 12 hours. Hurry to secure your favorite color. Quantities are limited.
---

More run downs:
– Cairn - April 2021
– Cairn - November 2020
– Cairn - August 2020
– Cairn - June 2020
– Cairn - May 2020
– Cairn - March 2020
– Cairn - February 2020
– Cairn - January 2020
– Cairn - November 2019
– Cairn - October 2019
– Cairn - September 2019
– A Year of Cairn
– All reviews...

—
Updated: May 2021 (pricing); February 2021; November 2020; November 2019; November 2018; November 2016. Original review: August 2014.