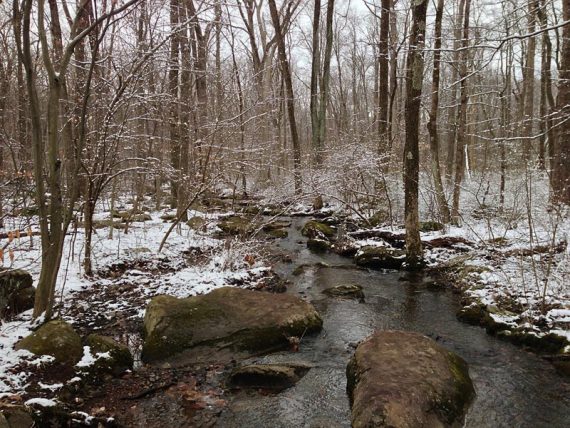 Scenic trail systems in Hunterdon and Mercer counties, with large boulder fields and multiple stream crossings.
We continued our exploration of central Jersey parks under an hour away from us by hitting up the Sourlands Mountain Preserve, Ecosystem Preserve (formerly called North Stony Brook) and the D&R Greenway, located in East Amwell and Hopewell Townships.
I'd overlooked this section of Sourlands for awhile as it's also called "Sourland Mountain Preserve".
(This one is in Hunterdon County, the other Sourland Mountain Preserve is in Somerset so they appear on different web sites).
We'd been saving this one for a day when we didn't have a whole day to hike.
Across from the parking area is the Sourlands Ecosystem Preserve and D&R Greenway, which allows for a longer route to be created.
These two parks were very scenic with a dusting of snow from the night before, and would be even prettier in spring or during fall foliage.
It's not very remote hiking so there's a bit of road noise… but this area is definitely worth a visit if you are looking for a nice scenic hike in central Jersey.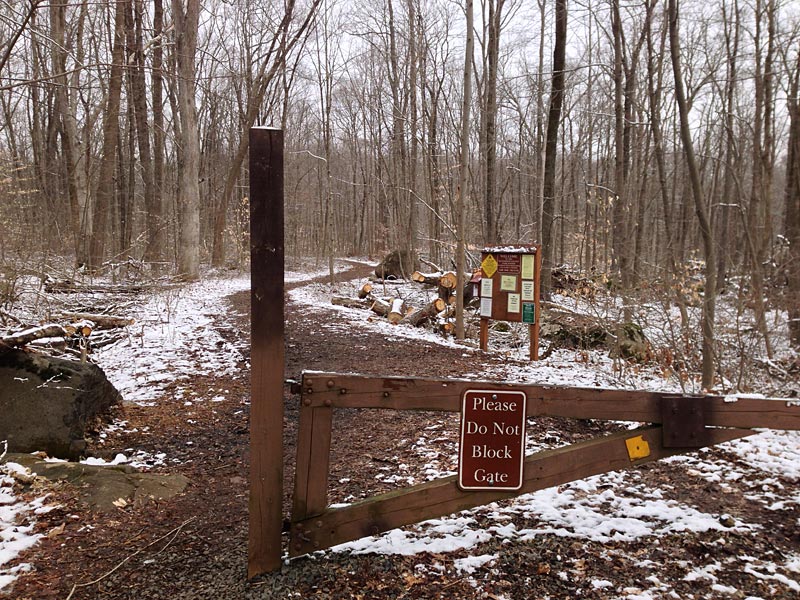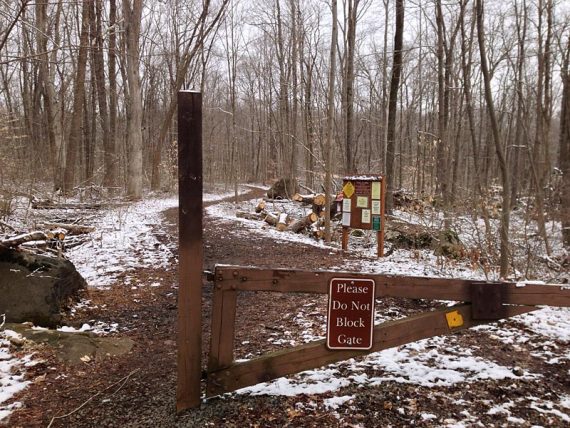 We hiked the Sourland Mountain Preserve section first. The route starts on the Service Road Trail, which is actually a pleasant, flat, easy, woods road despite it's off-putting name.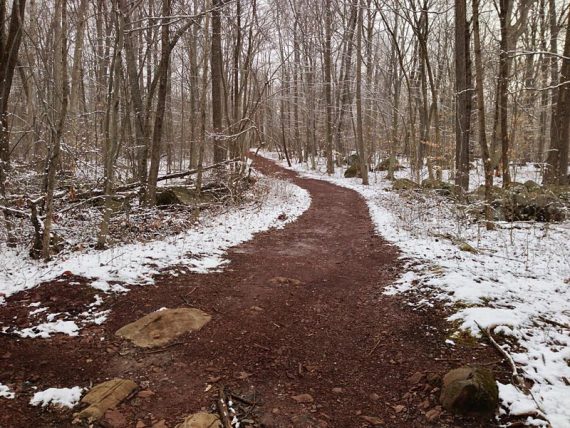 The YELLOW trail soon branches off and heads into the woods, and then we picked up the WHITE trail which loops back to the Service Road Trail. All trails traverse a rocky landscape with several stream hops.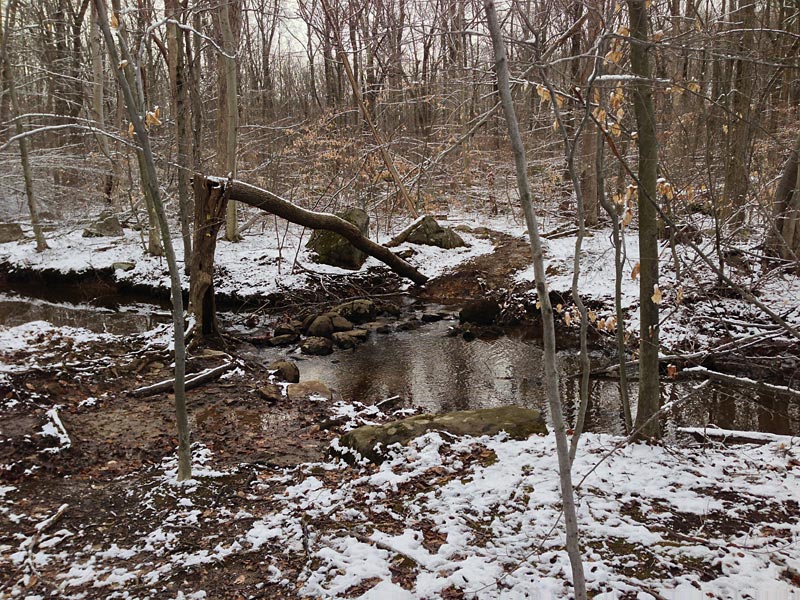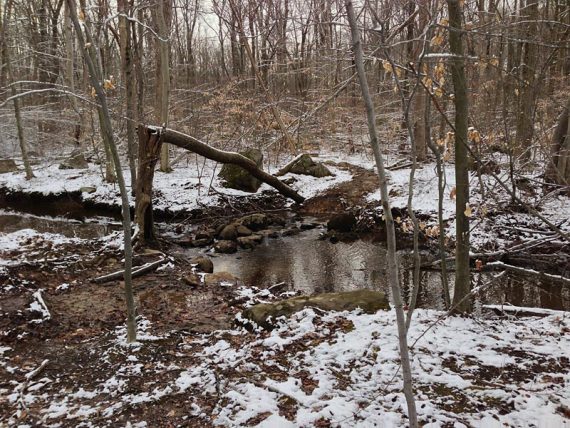 We crossed the road to the Sourlands Ecosystem trailhead. Many intersections on the Ecosystem side had 'You Are Here' trail map signs with a bit more detail than the map available online maps.
There are several decent stream crossings via rock-hops on the Sourlands Ecosystem side as well.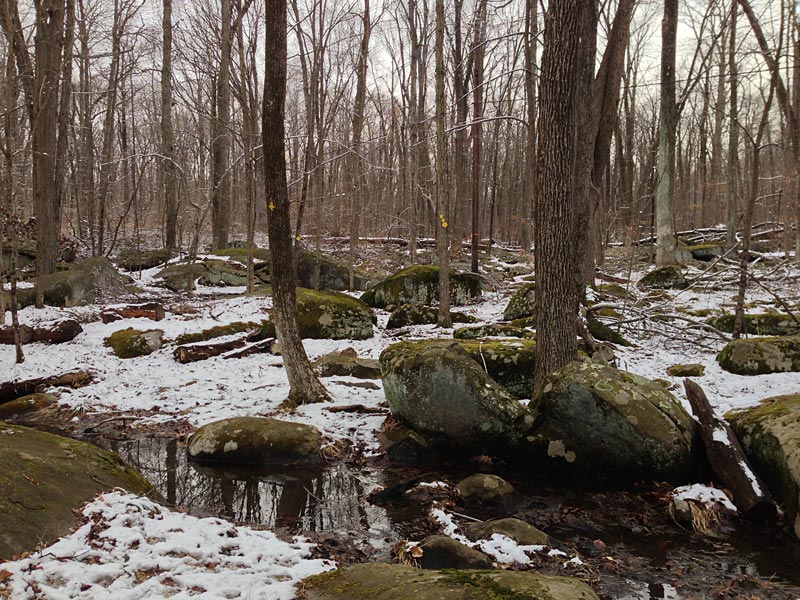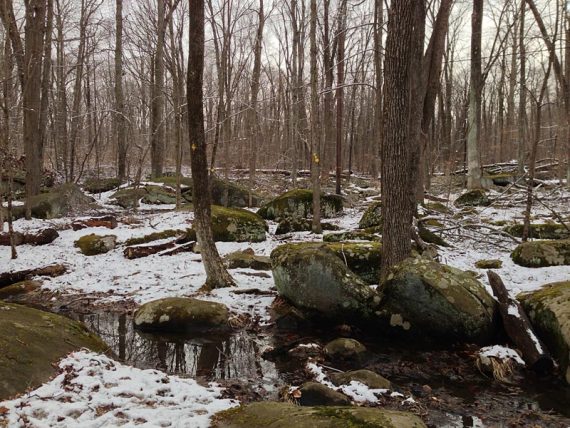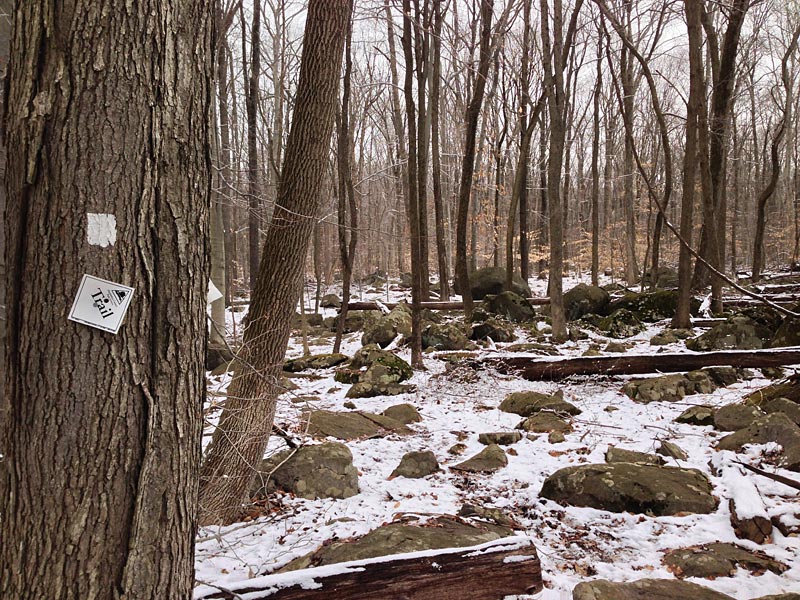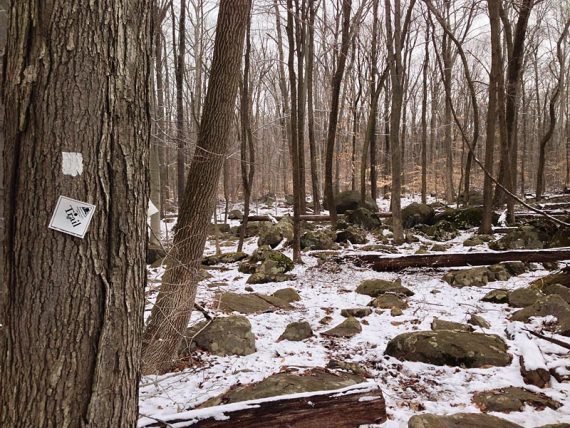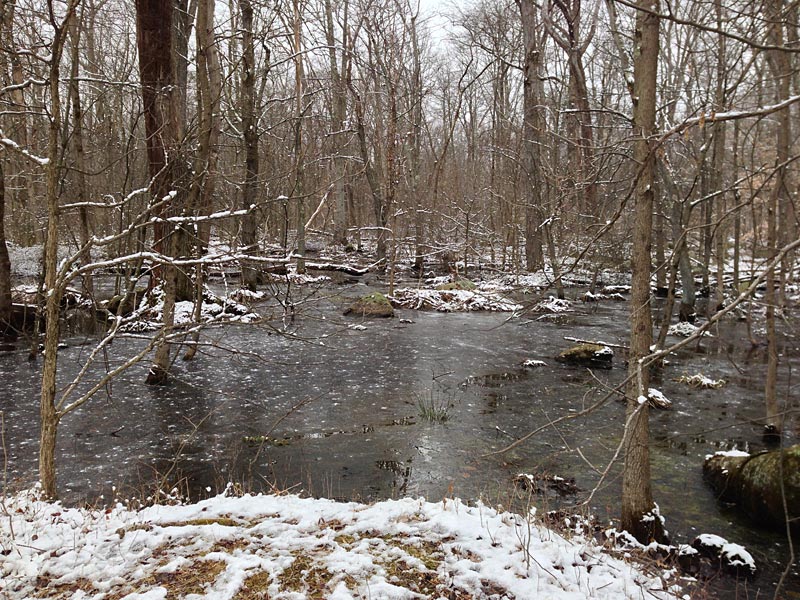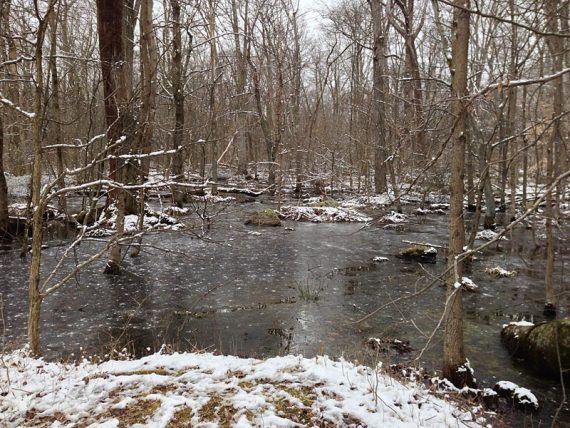 Upon crossing back over Mountain Church Road, the markers just stop and leave ya' hangin'…
Turn to the left and walk down Mountain Church Road a bit, watching for a trail on the right, I don't recall any markers, just a trail sign with a 'You Are Here' map fallen to the ground.
This area is visible on the map, just not entirely obvious in real life.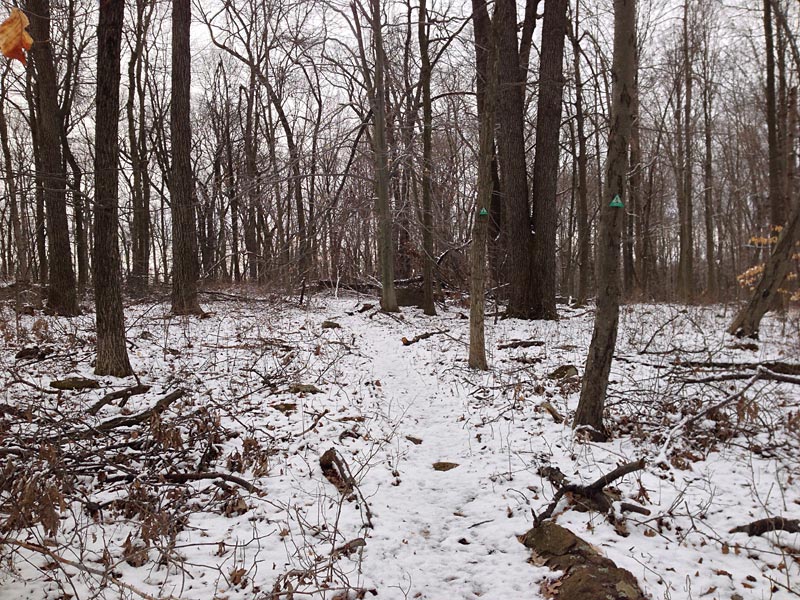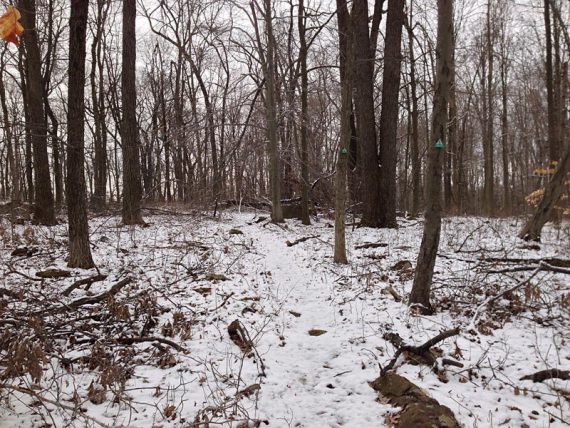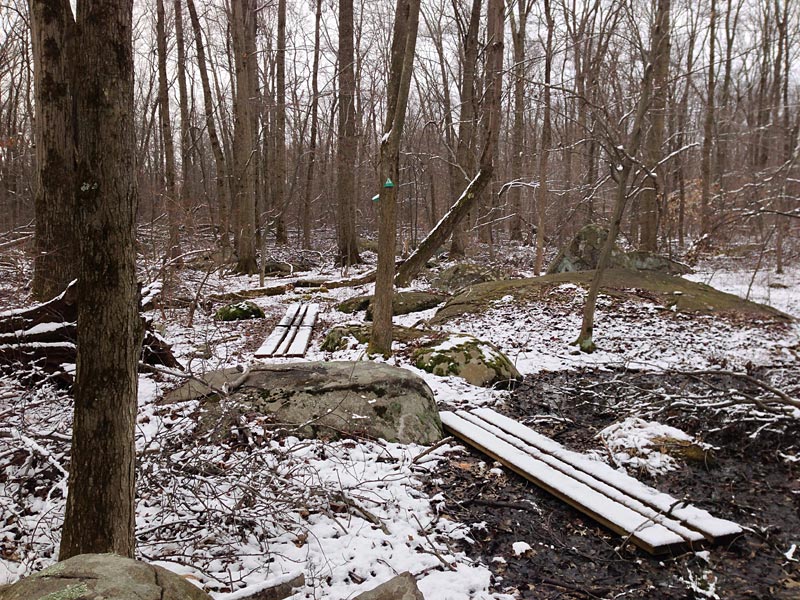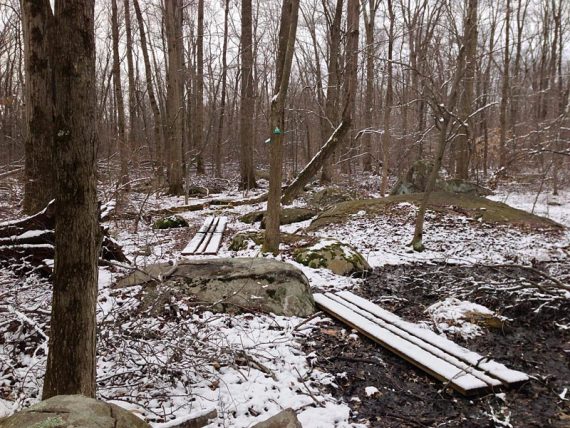 Stream crossing on GREEN (more do-able than it looks)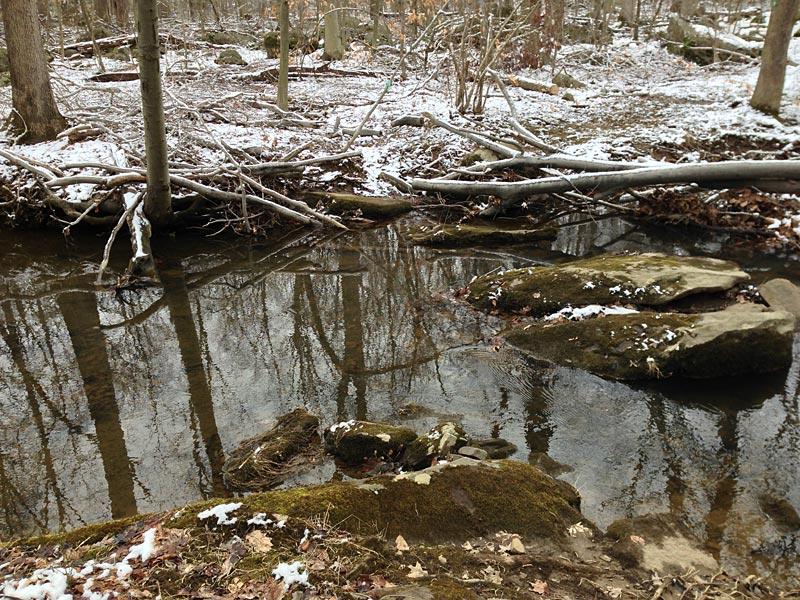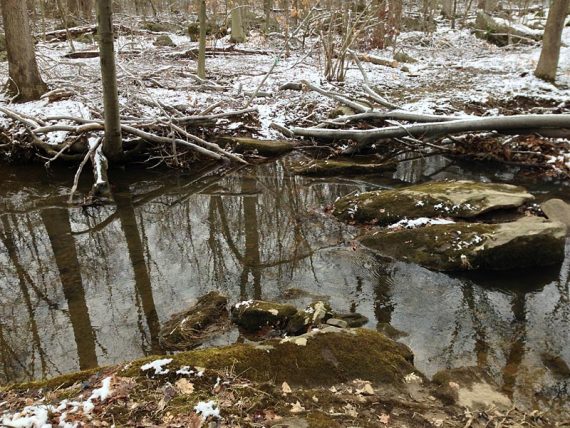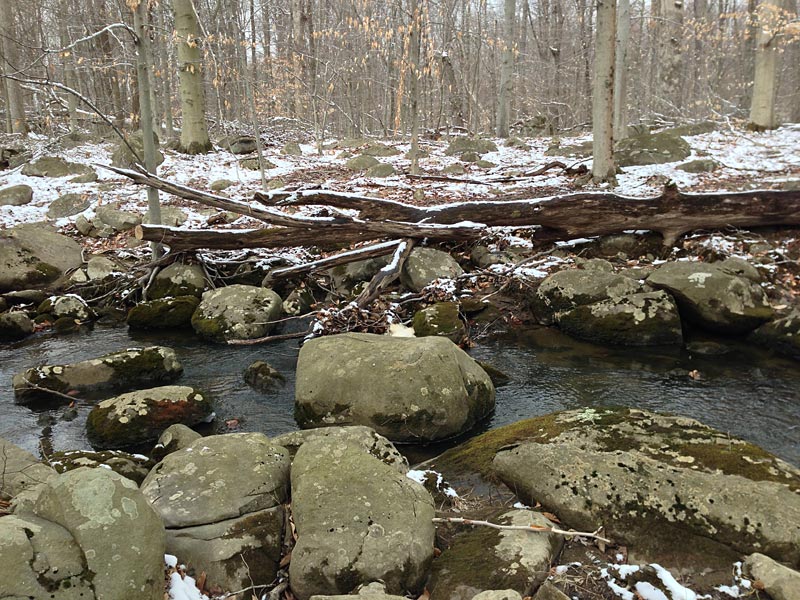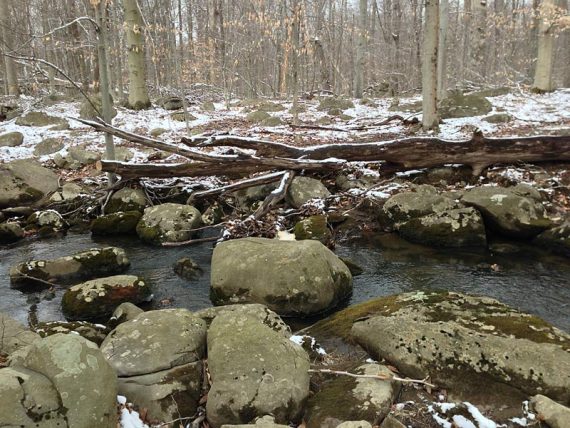 Towards the end of the route, the green markers can be a little hard to spot as the trail twist and turns, so pay attention. The path itself is likely easier to see when leaves are on the trees.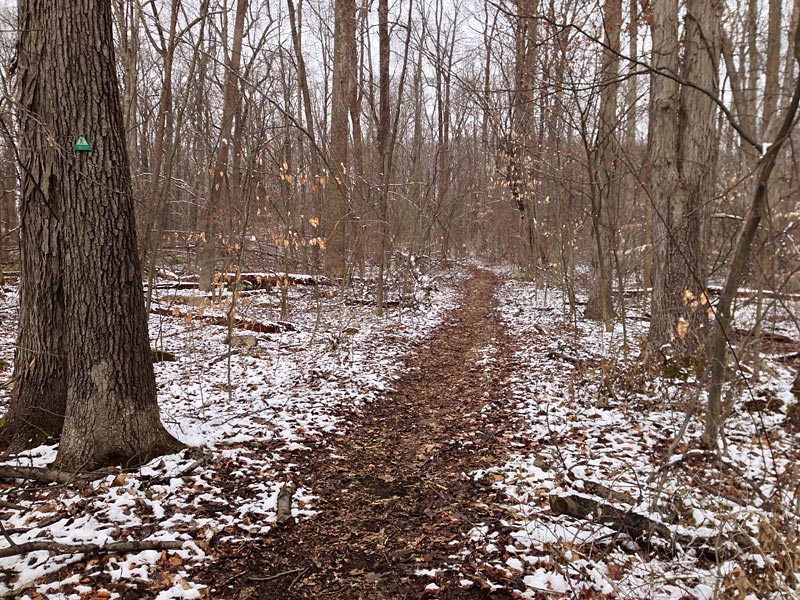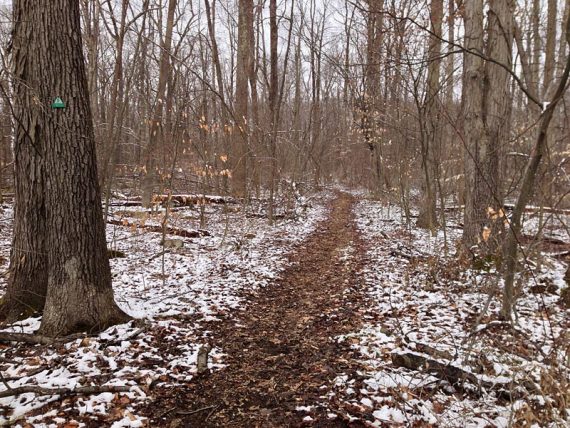 I'd read that the trails can be wet and muddy after a rain, and we'd been holding off coming because of it… but finally we just decided to go.
Well, that info was correct – the trails were squishy squishy squishy. More so on the Ecosystem section, and hiking through constant mud did get a little tedious. But hey, that's what waterproof boots are for!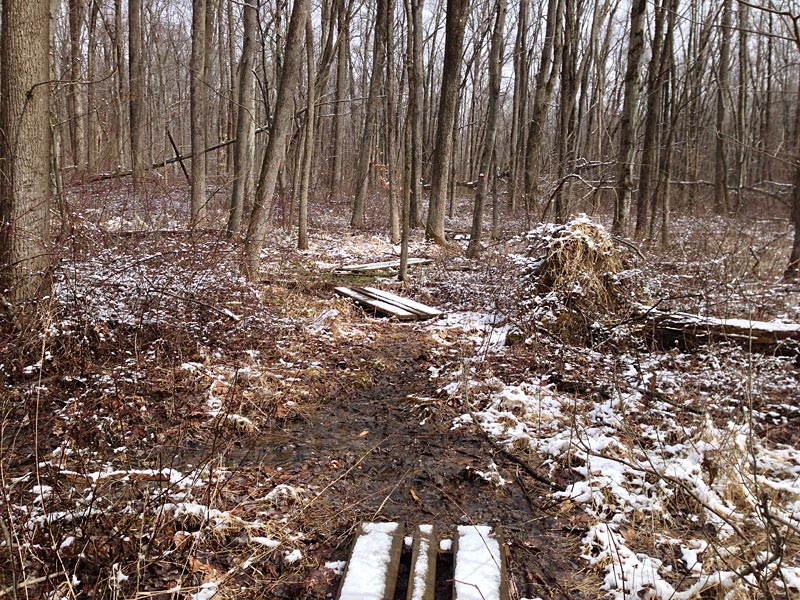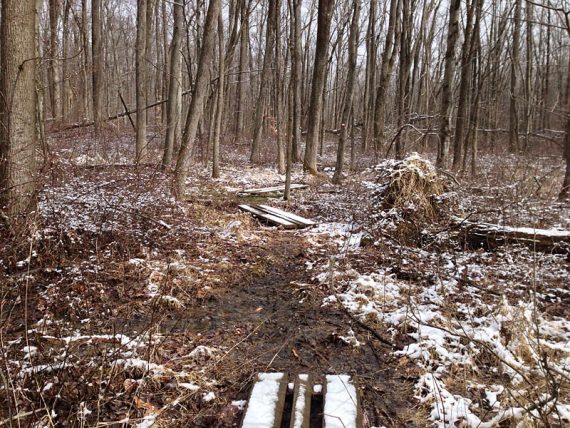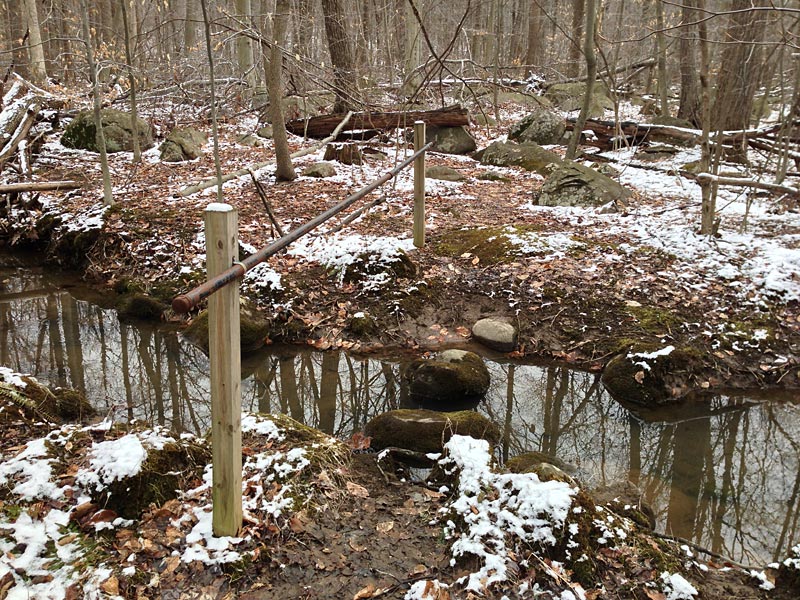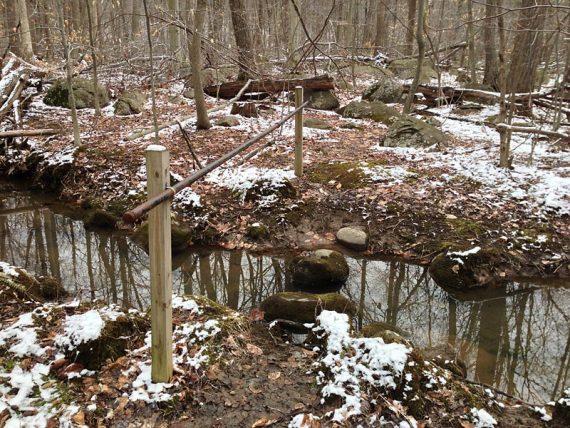 One of the "You Are Here" maps at a trail junction: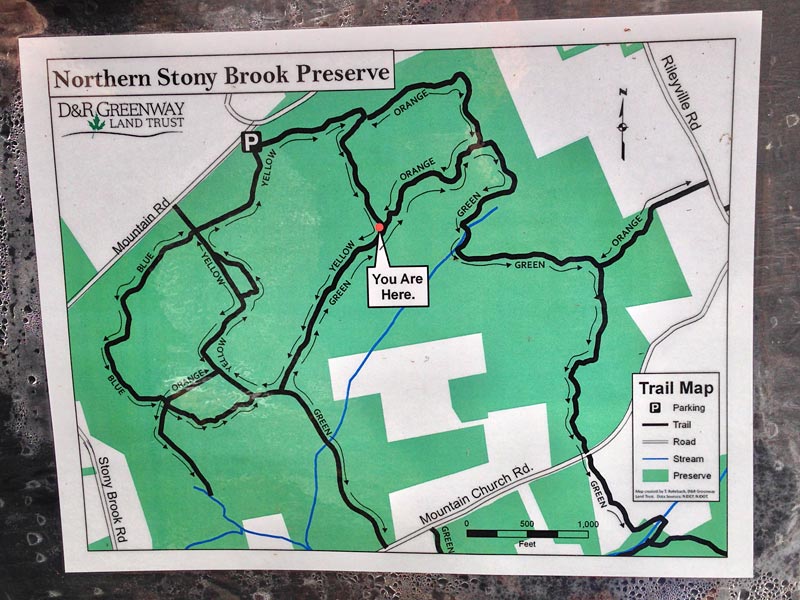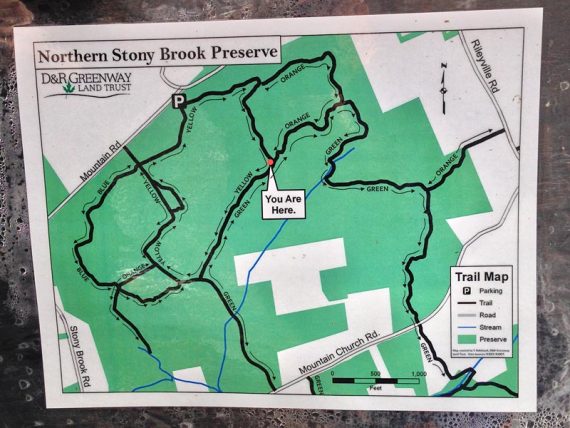 Parking: N40 25.275 W74 47.303 [Rileyville Road lot]
Head straight once turned off the road; there are private driveways to the left and right of the park entrance road. The lot is small with room for about 6-7 cars. No bathroom or porta-john.
The Sourlands Ecosystem Preserve trailhead [N40 25.292 W74 47.392] is found by walking back out of the driveway, turning RIGHT and walking down the road just a bit. It's across the road at a small trail sign. (no parking is at the actual trailhead).
Miles: 6.0 [using both parks. Just doing Sourland Mountain Preserve section would only be 2.2 miles]
Route: We did two loops, from the same parking area:
Sourland Mountain Preserve: Service Road Trail – YELLOW – WHITE – Service Road Trail.
Sourlands Ecosystem Preserve: ORANGE* – GREEN – ORANGE (*On the 'You Are Here' maps the trail is listed as Orange but looks more Yellow in real life. And on the map we printed from online, the trail is marked GREEN from the trailhead)
Total mileage could be increased a bit by including a larger loop in Sourlands Ecosystem Preserve, and even a bit more by including an out-and-back on the BLUE trail in the Sourland Mountain Preserve.