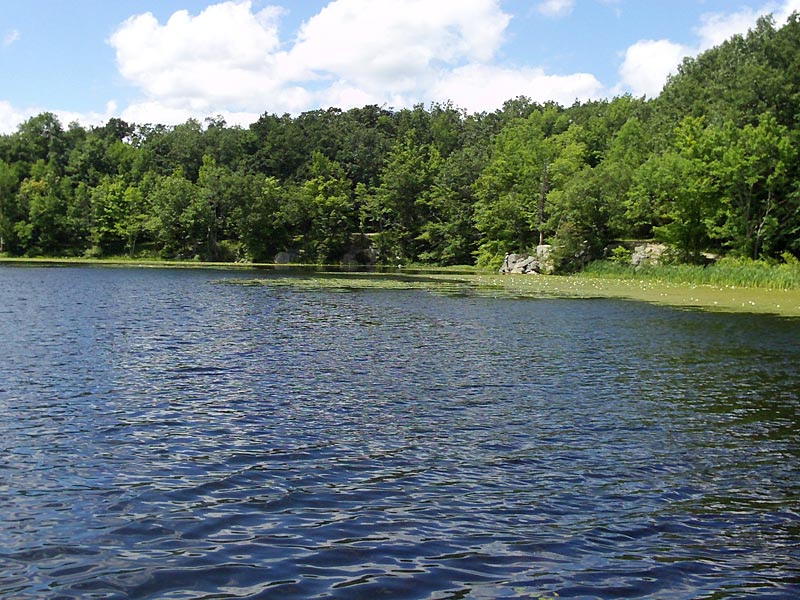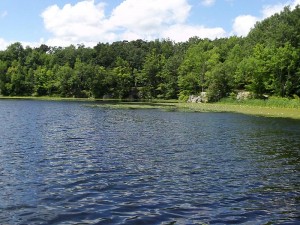 For detailed hike directions, maps, photos and GPS coordinates, visit our Wawayanda State Park – Old Coal page.
11 miles, mostly easy surface. Wawayanda's trails are mostly level, woods roads. Really just pleasant, easy hiking in a beautiful park.
Wildlife spotted: A bear along "Sitting Bear" trail — how cliché…
He was gleefully tearing into a dead tree looking for buggy snacks, well off the trail.
We stopped cold in our tracks, looking around for mama. He was a young bear, but thankfully not a cub with mom in tow.
We had been making noise as we hiked so he was aware of us; and he couldn't have cared less we were there, was too engrossed in snack time.
We decided to continue past, keeping an eye on him.
At one point, he stood up and hugged a standing tree stump and started tearing into that… amazing to see, yet a little unnerving to see the raw power as he shook and clawed the dead tree.
This route starts out on Old Coal Trail, which is a woods road. It's rutted and very muddy in spots.
The short section of the trail from Lookout Lake to Cherry Ridge road was especially scenic, lots of ferns, large rocks and tall trees.
The area around Wawayanda Lake was crowded of course, and we got stares from picnicking beach-goers as we walked around the lake area in boots and backpacks…
…but that's ok because we had the trails to ourselves on a totally glorious July 4th.
Quite amazing, considering how crowded Jersey is, that you can ramble for hours in the woods and see only a handful of people.
Route: Old Coal Trail (RED) to Lookout Trail (WHITE) to Cherry Ridge Road (dirt road) to Laurel Pond Trail (YELLOW) to Sitting Bear Trail (Unmarked trail on our map) to Nature Trail (unmarked trail on our map) to Laurel Pond Trail (YELLOW) to Cherry Ridge Road (dirt road) to Old Coal Trail (RED)
If you have the 2007 or earlier North Jersey Map set, the "Sitting Bear" trail is unmarked… the 2009 version just came out and it's labeled on there.