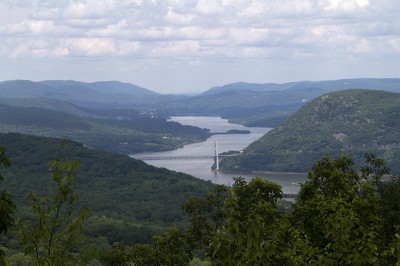 Detailed hike info and directions on our West Mountain, The Timp, Doodletown page.
A hike in Doodletown had been on our list for awhile. Years ago we had ended up around that area during one of our pick-a-trail-as-we-go wanderings around Bear Mountain, and realized later we just had skirted the edge of the town.
This time we were armed with maps that showed Doodletown in more detail than on the trail map.
Doodletown was a small town from the 1700s until the 1960's. Most of the buildings were demolished then, so there actually isn't all that much left in Doodletown to see, and the path through it is not that scenic.
In the Herbert Cemetery, the graves date back to the 1800's, and there is also June Cemetery which we did not visit (one old cemetery is enough per day!) It is interesting to see how quickly an area can be so overcome by nature, however. For more history, photos, and a guided tour w/map is included in Harriman Trails: A Guide and History.
The first part of the route has lots-n-lots of viewpoints – of Bear Mountain and Perkins Tower, west of the park, and the Hudson River and NY to the east. There are plenty of hills and rocks on the first part, while 1777 through Doodletown is a wide, level, path with crumbling blacktop.
7.7 miles.
Route: 1777W (Red 1777W on circle) – AT South (WHITE) – WHITE/BLUE (Timp/Torne) – 1777 (Red 1777 on circle) – Just past the Herbert Cemetery, don't take 1777 to the left, stay straight – At the main intersection in Doodletown, turn right – 1777W (Red 1777W on circle)
Trail Map: map #119 of Harriman-Bear Mountain Trails

Doodletown Map – photo of sign; from Wikipedia
Harriman Trails: A Guide and History – History, map and guided tour w/numbered descriptions
Wildlife spotted: lots of birds catching the thermals at viewpoints, and a turkey vulture was perched on a branch while at The Timp viewpoint.
Random Oddness: Not far from the parking lot we found a bunch of items along the trail (see first photo in the gallery). There were several boxes off to the side that they'd been unpacked from. The items didn't look wet from recent rain or that they'd been there awhile. Not sure what it was for and why it was on this trail.