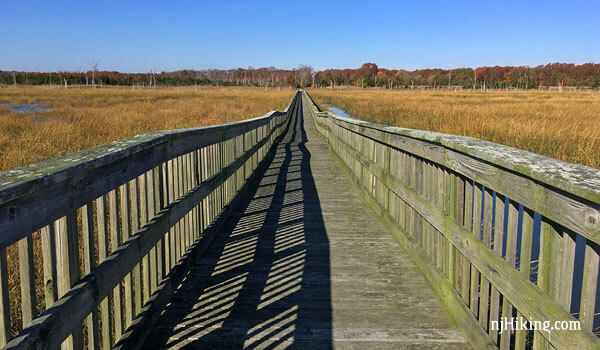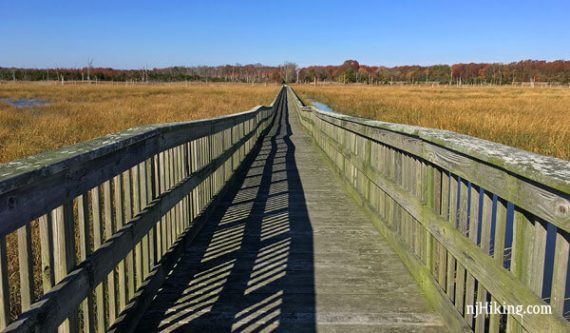 Easy hike with observation boardwalks along restored wetlands near the Maurice River on the Delaware Bay side of NJ.
3.6 miles, out-and-back. Easy, flat, dirt/sand and crushed shells (!); some boardwalks. No shade; can be windy; potentially buggy in summer.
Our two cents:
More of an interesting nature walk than a hike, but a nice example of the diverse natural environment we have in Jersey.
Not something to drive far for unless you'll be combining it with something else, or just like exploring every offbeat nook and cranny of the state.
According to friends that walk here, if the wind is blowing just right there can be an overwhelming fishy smell from the processing in Bivalve.
Possibly one of the least snazzy titles for a park, ever.
Updated: 4/2020: Page refreshed, not re-hiked.
Map:
Print out the overview map, though it's not very detailed. The 2nd parking had a kiosk with a better map on the board.
Books:
Similar hikes but with snazzier titles in Best Day Hikes in New Jersey ("Bivalve Wetlands Walk") and Hiking New Jersey ("Maurice River Estuary").
From the north… Turnpike south to Exit 3 to Rt 42S to Rt 55 S. Follow Rt 55 into Rt 47. Right on Rt 670/Mauricetown Crossway Rd. (Wawa).
To 649 then Left on North Ave. into Port Norris. Right on Main St and then left on Strawberry Ave which ends at a small dirt lot.
This area is rather remote and tucked away, be sure to plan ahead with a GPS, use a good map, or print out something ahead.
Restrooms:
None at the lot and not much around. There is a WaWa at Rt 47 and Rt 670 if you are coming south via Rt 55.
Hike Directions:
The trail is not really blazed, but the route is pretty obvious and not hard to follow.
0.0 – Straight from the parking, follow the paved path.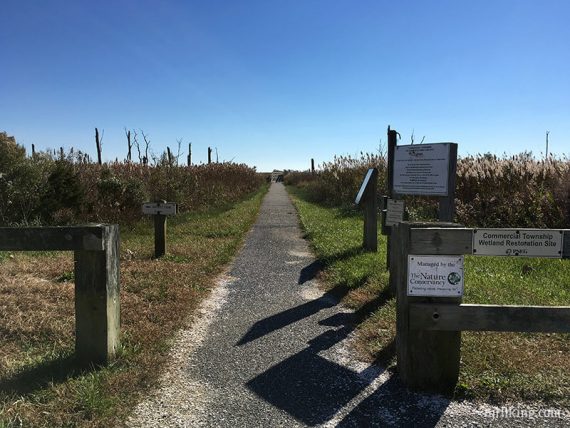 This leads to a long boardwalk with wide views over wetlands.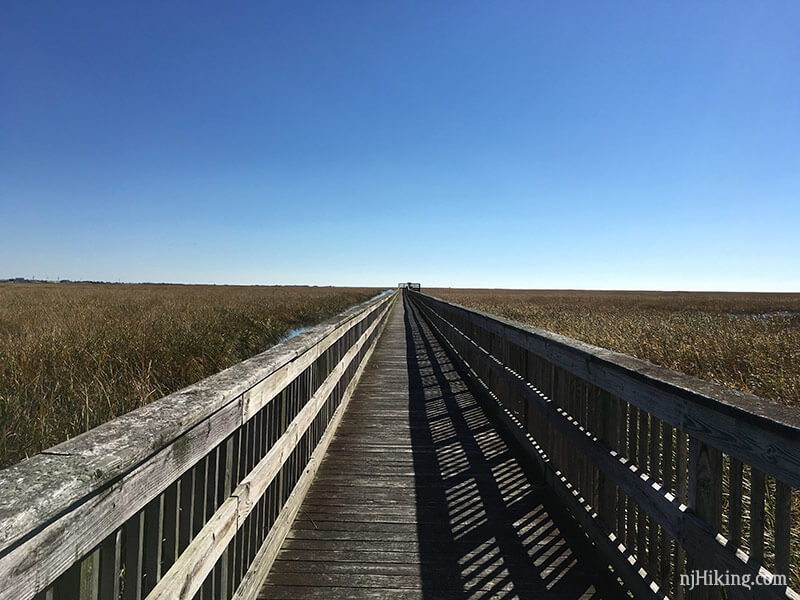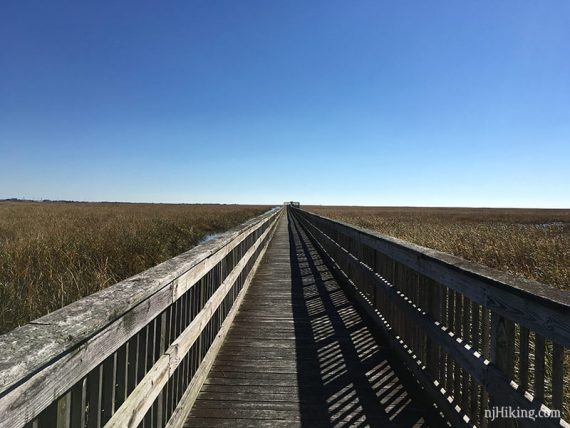 View from the boardwalk: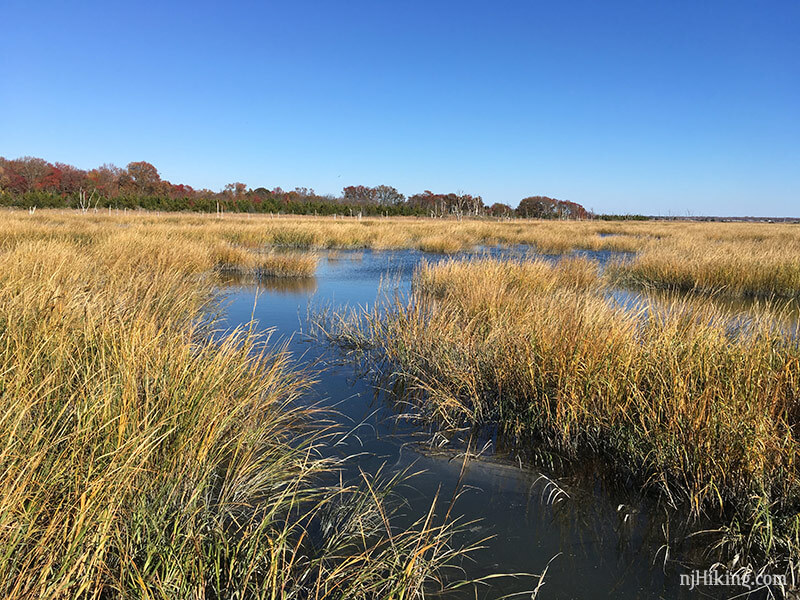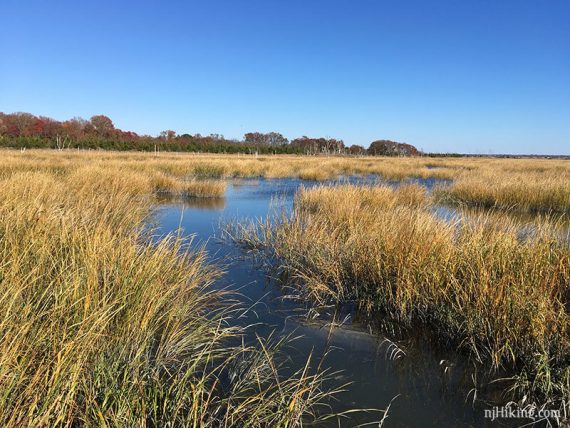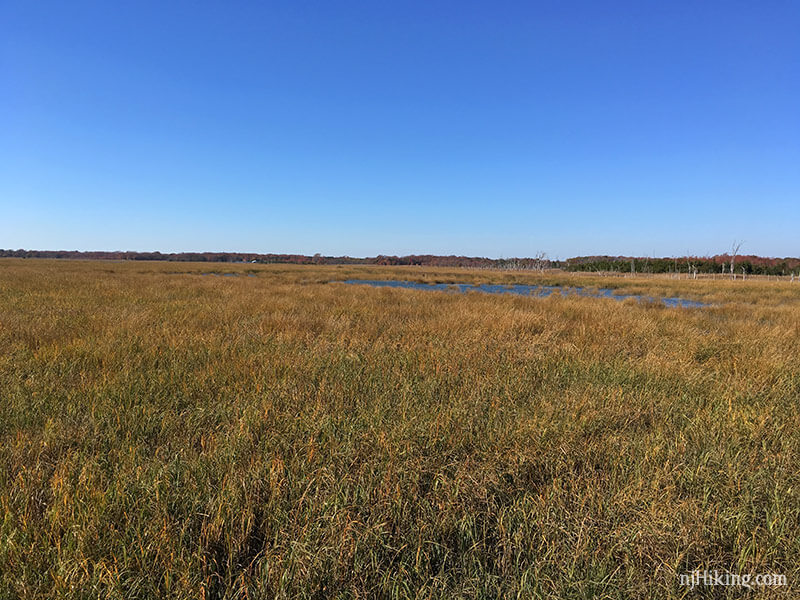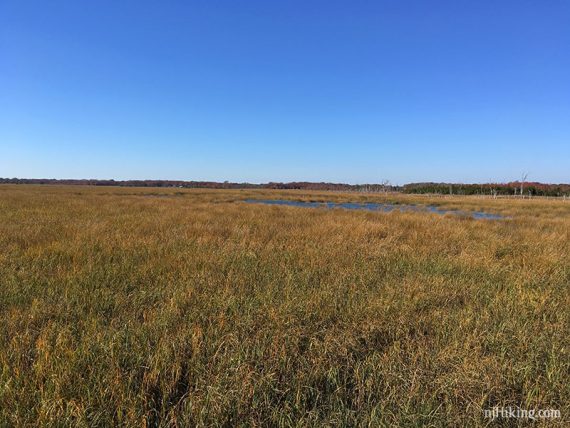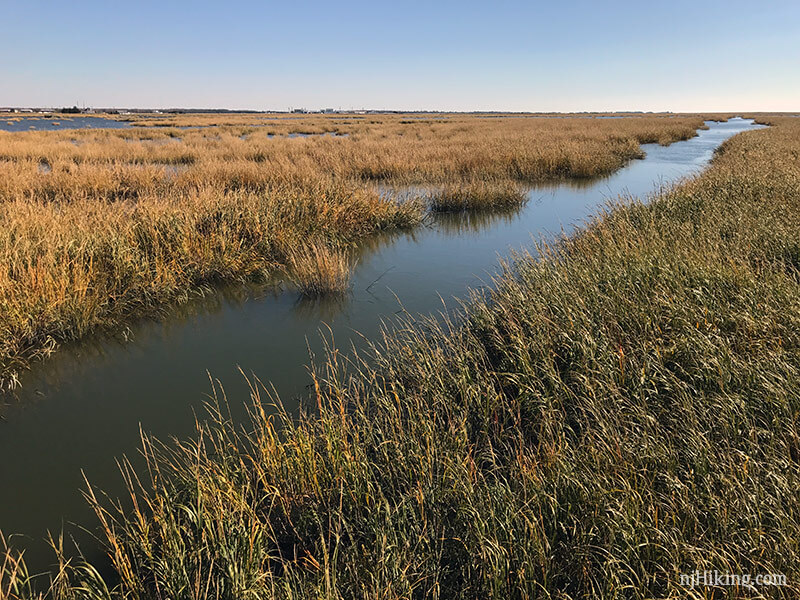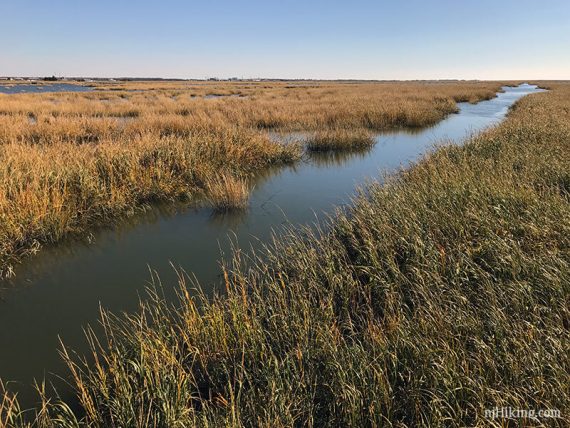 Looking back from the end of the boardwalk. Return to the lot.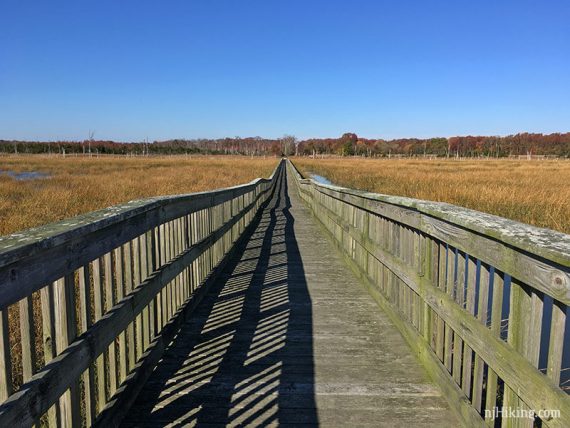 0.4 – Back at the lot, take the other direction (marked with a 'nature trail') sign.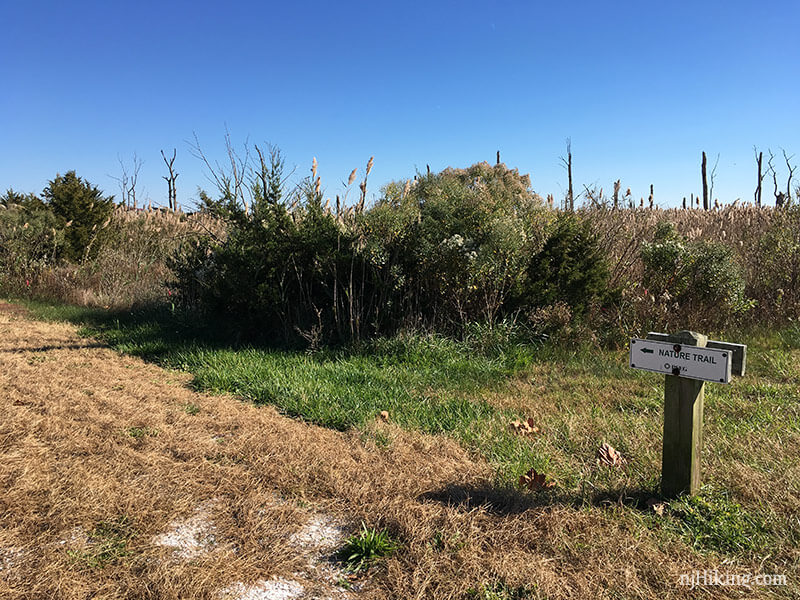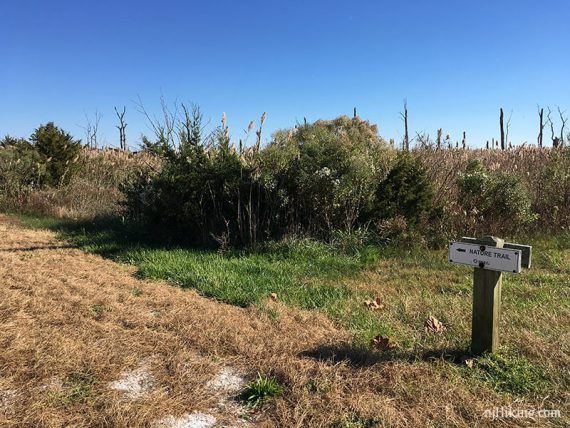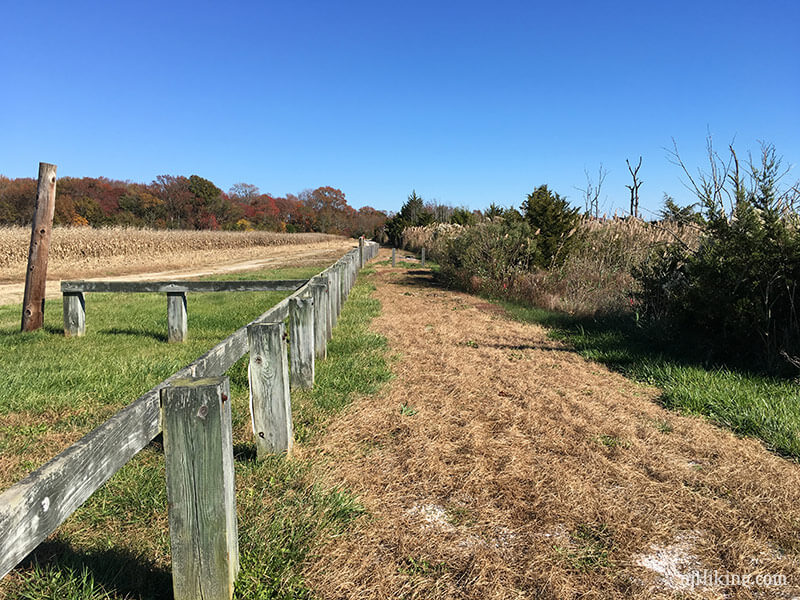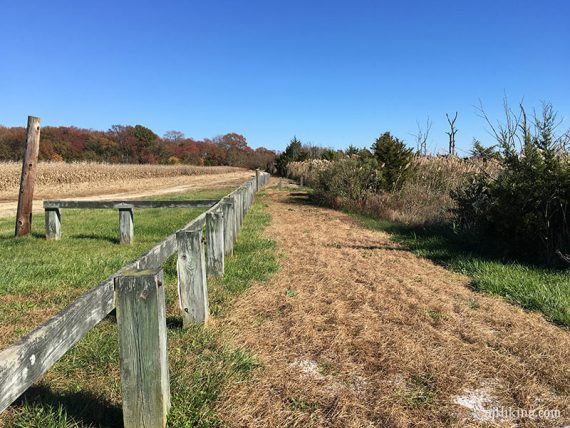 Much of the trail surface is crushed shells… unusual but neat.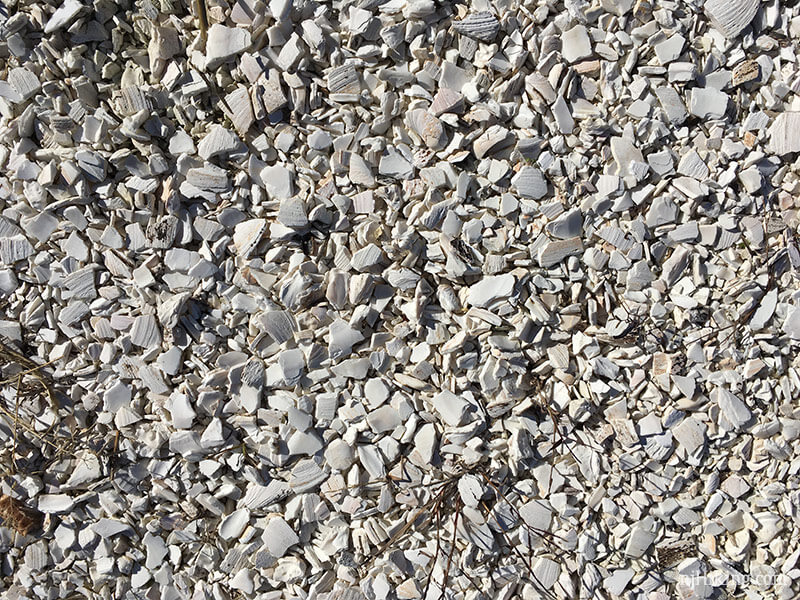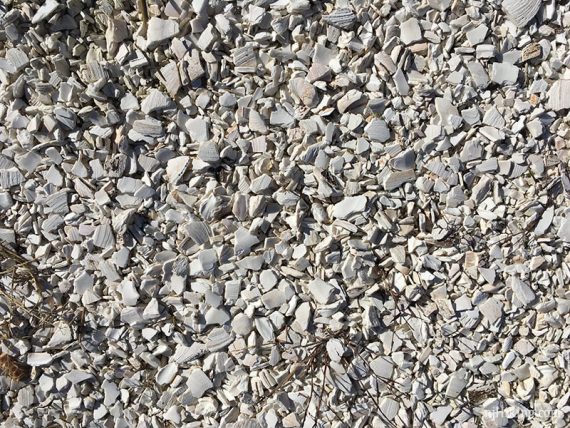 Pass fields and tall grasses.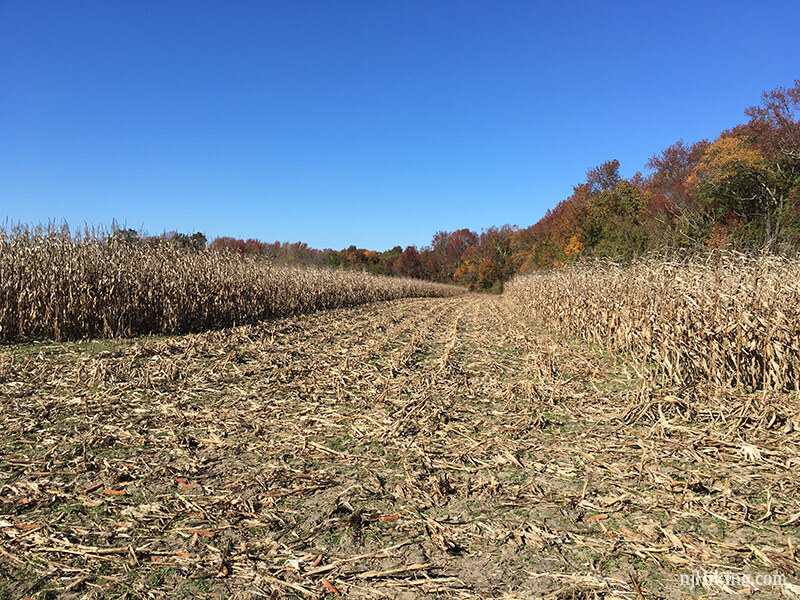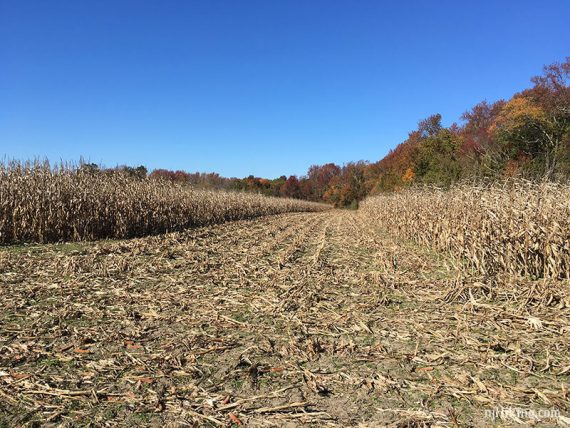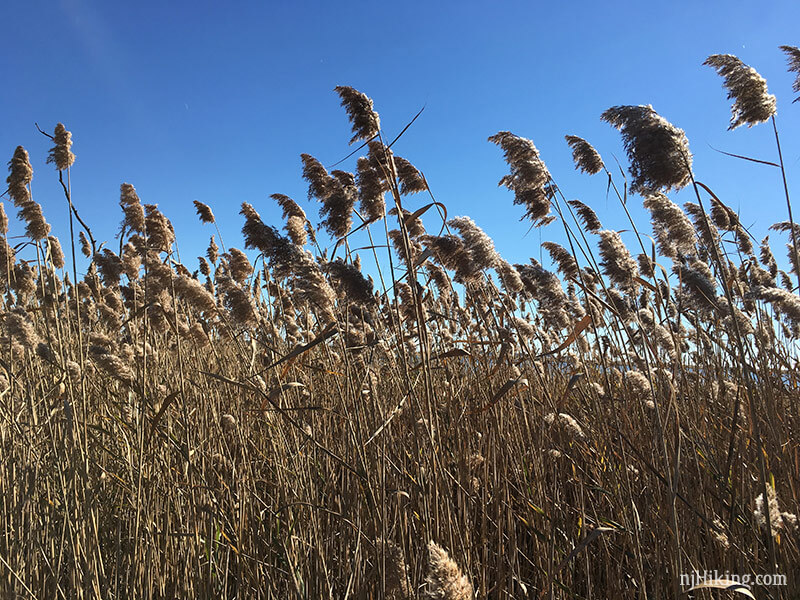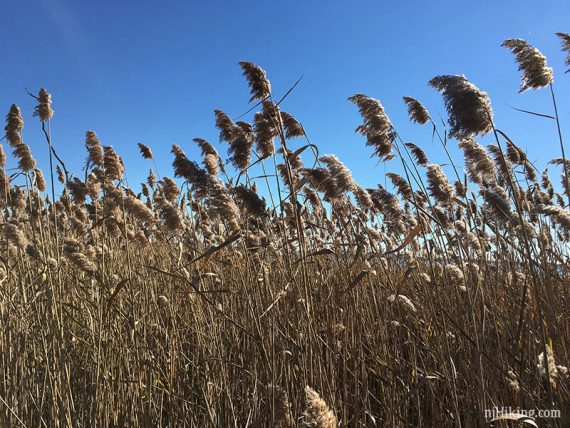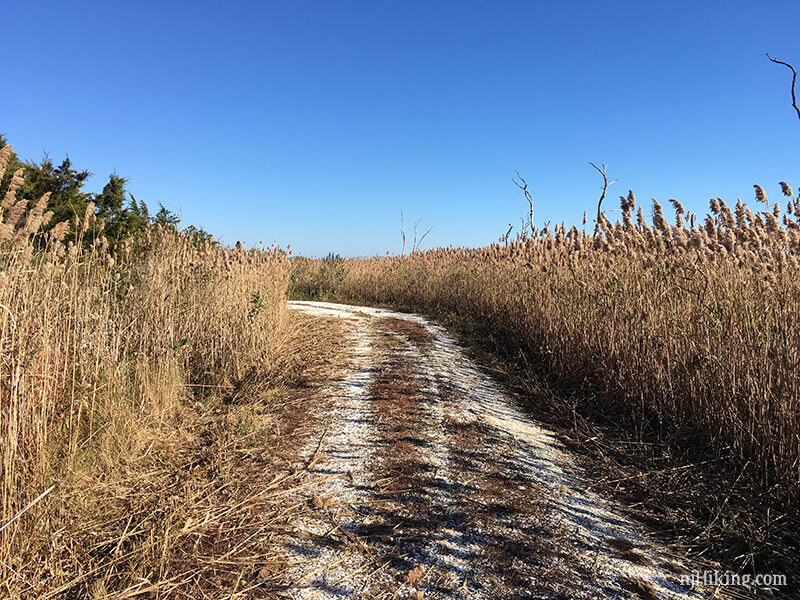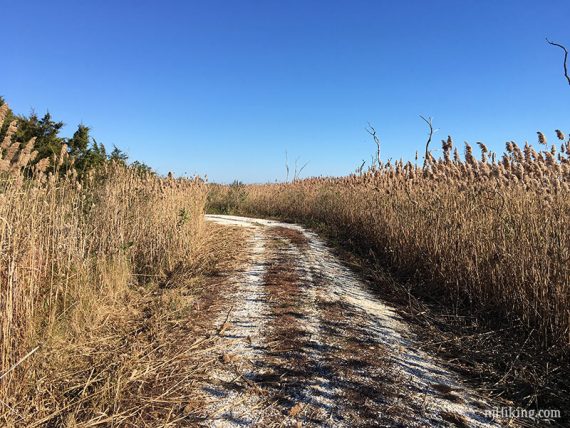 Many views of the water.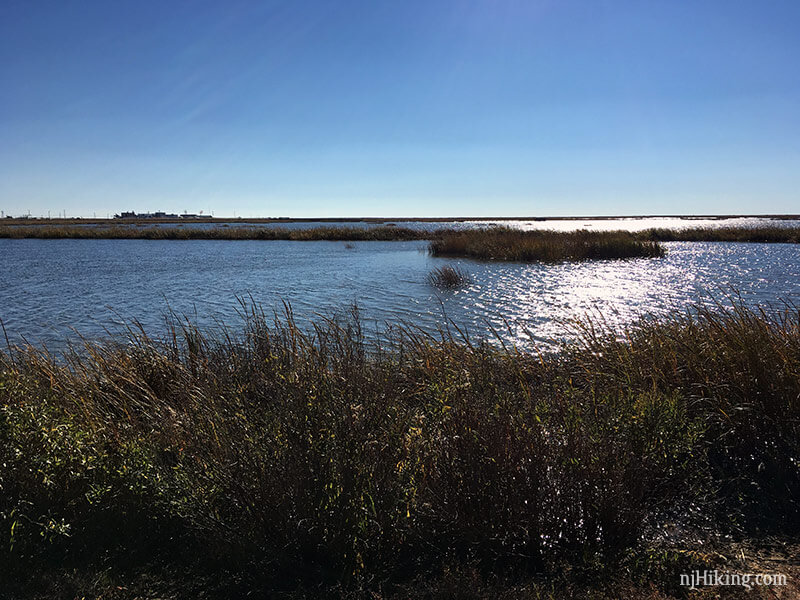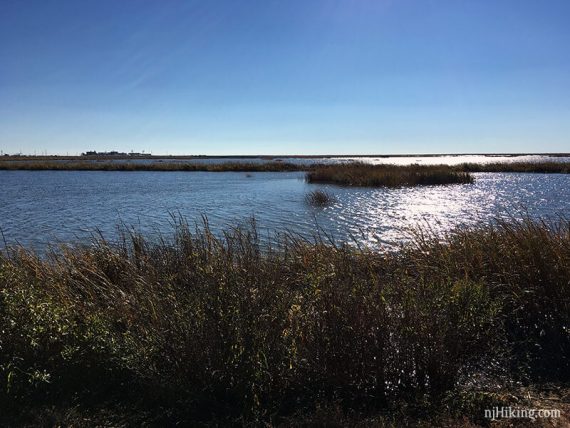 0.7 – There is a short trail split, either way ends up at the same spot. Can take the other side on the way back.
Pass a gate and walk along a raised berm.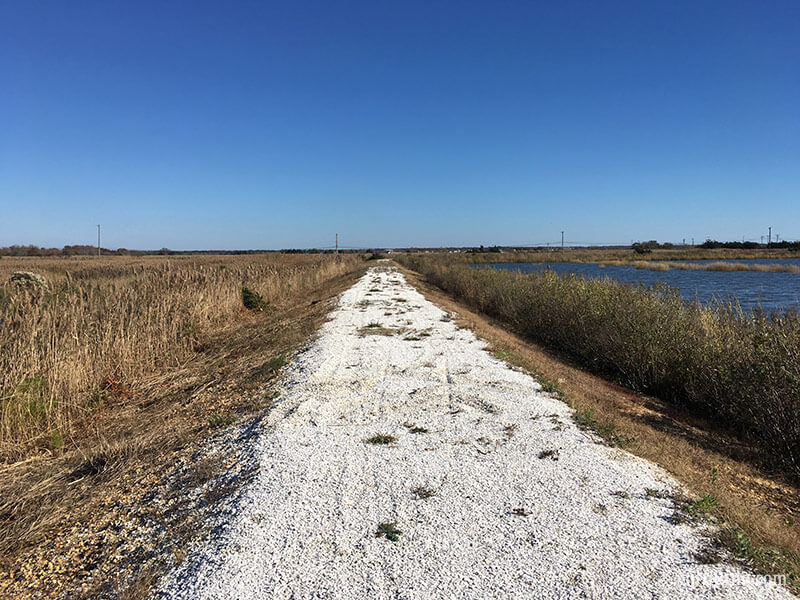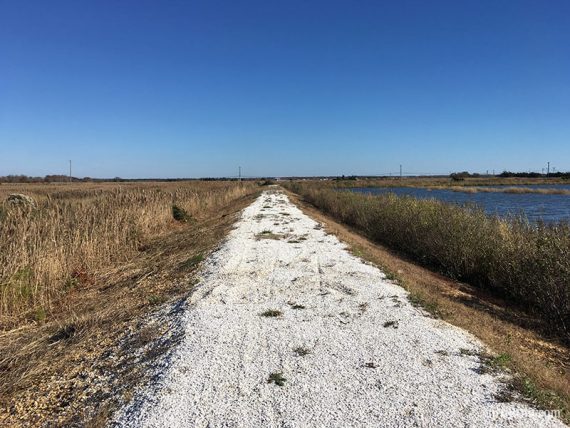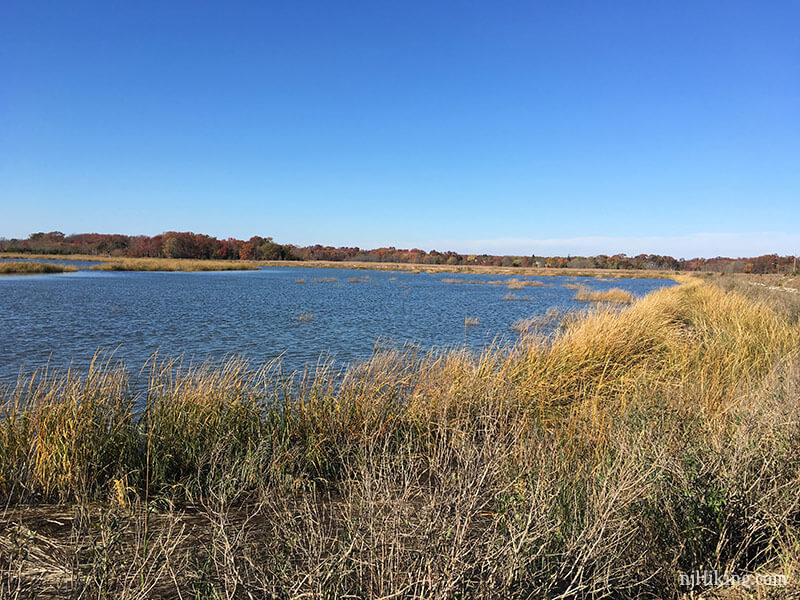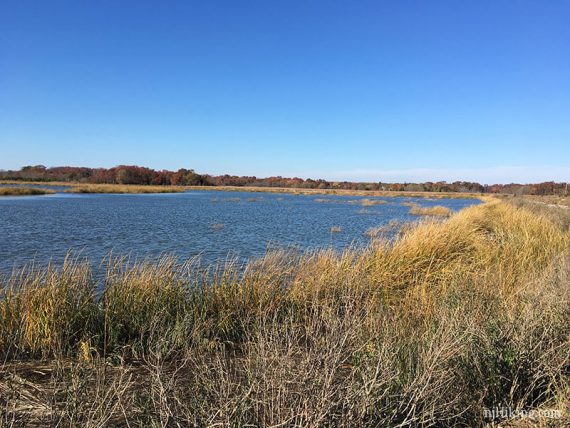 1.0 – Trail turns RIGHT.
Pass a second parking area on the left that has a small kiosk with a trail map and some information about the area. The trail veers right and passes a short boardwalk on the left.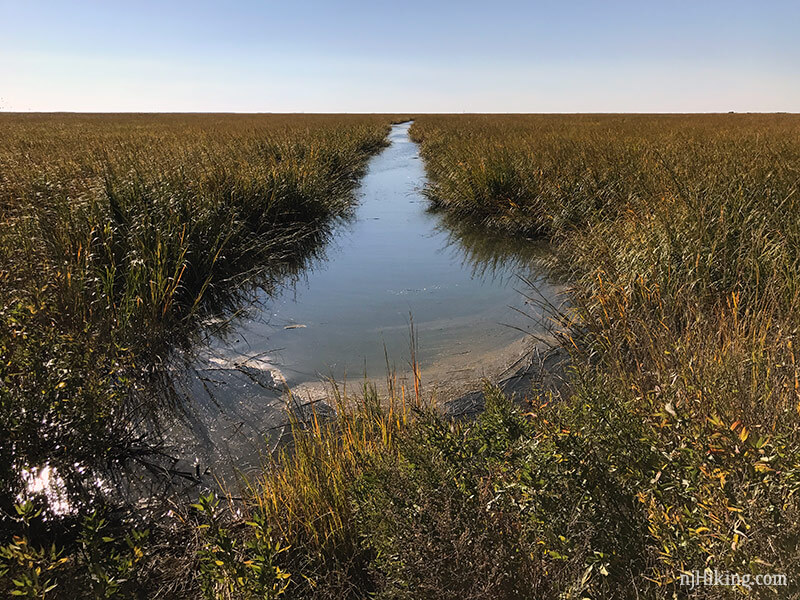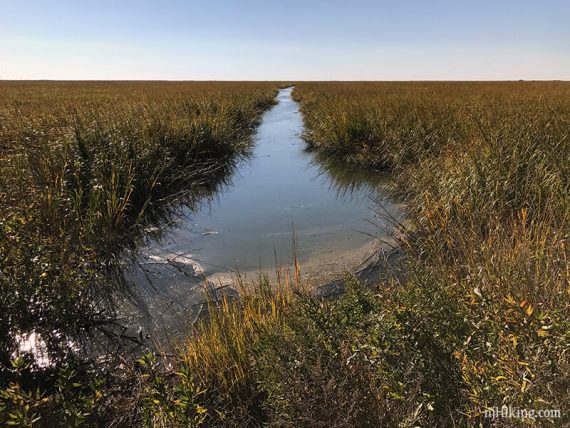 1.4 – Out and back on another observation boardwalk to the right, it's closed off from damage part-way in.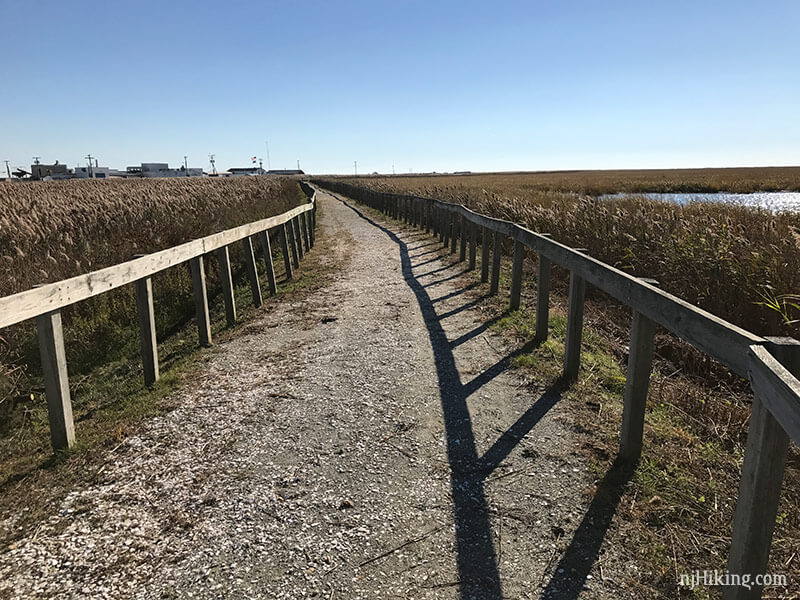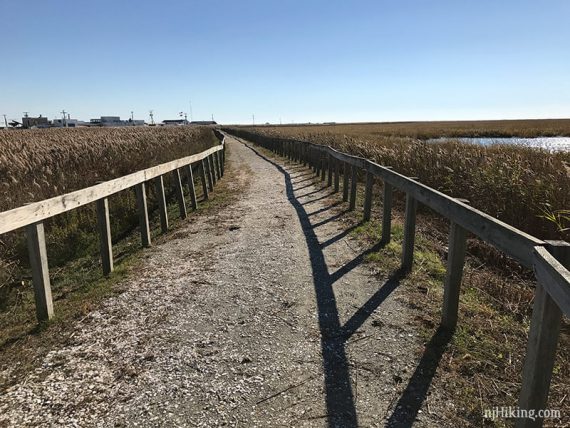 Huge piles of shells at the processing plant in the distance come into view, likely with tons of seagulls flying around.
2.1 – A large wooden observation deck for panoramic views – but part of it is often under water, which makes the main deck inaccessible.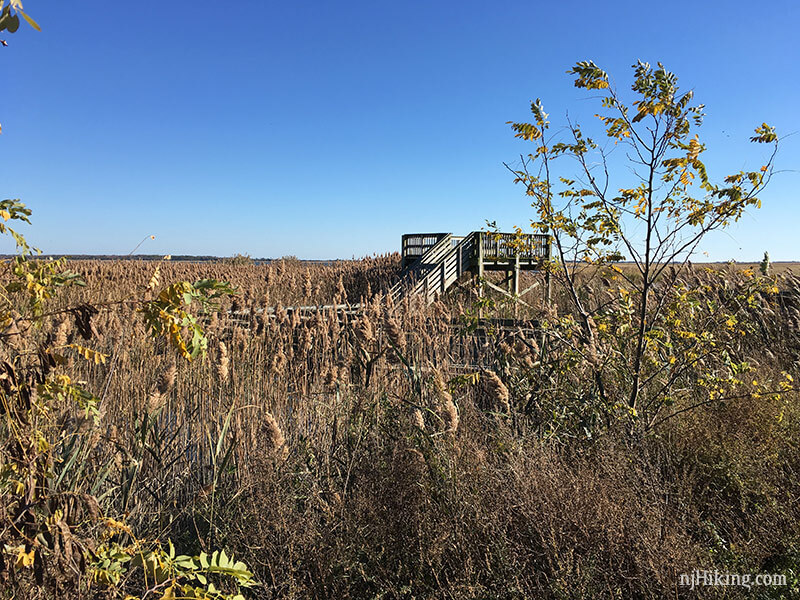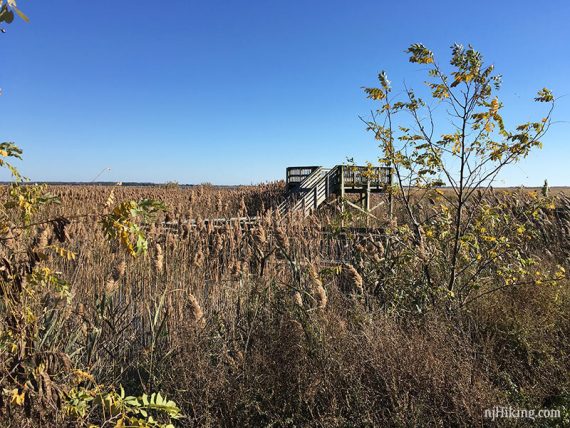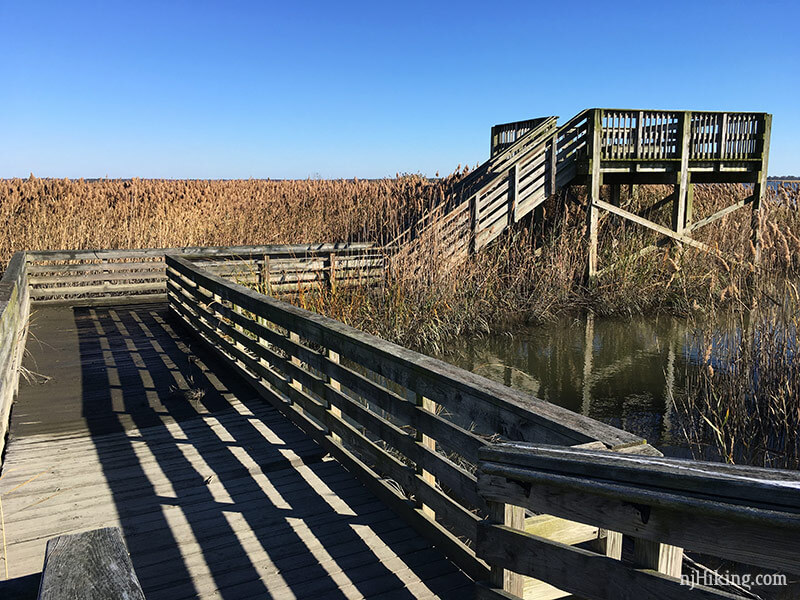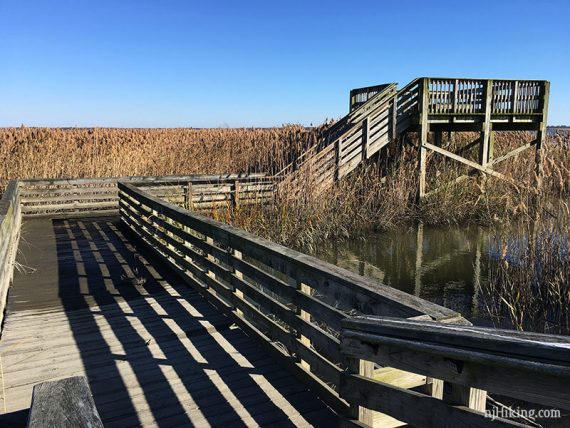 This is a good turn around spot (but the trail technically does continue just a bit more before ending).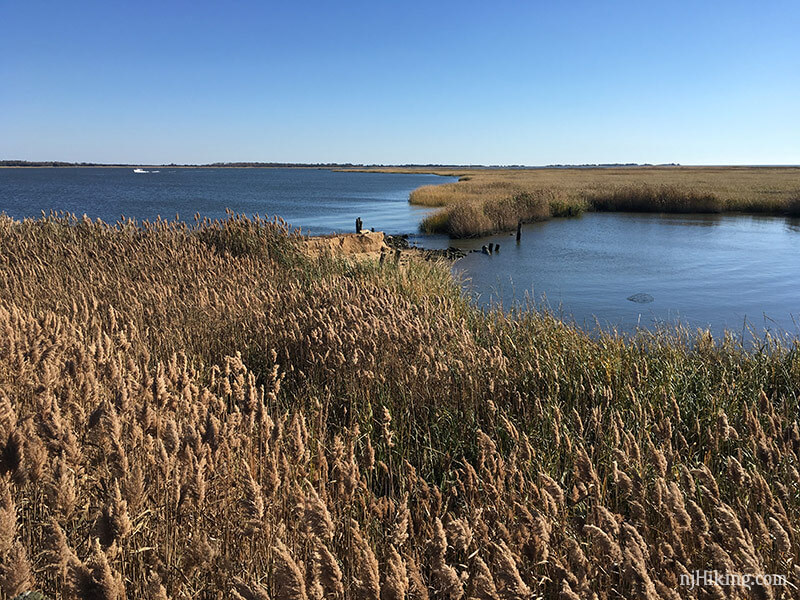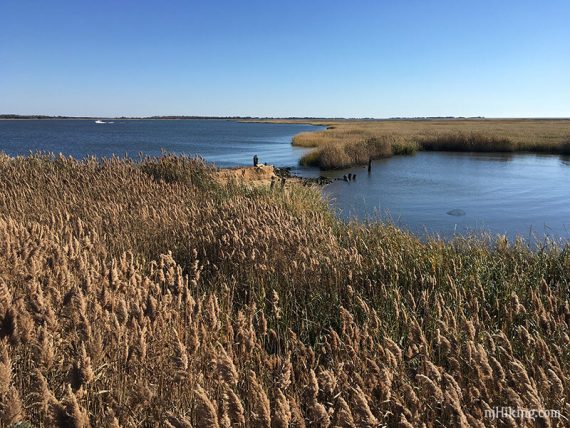 Retrace the route back to the lot.
—
Hiked: 11/5/16.