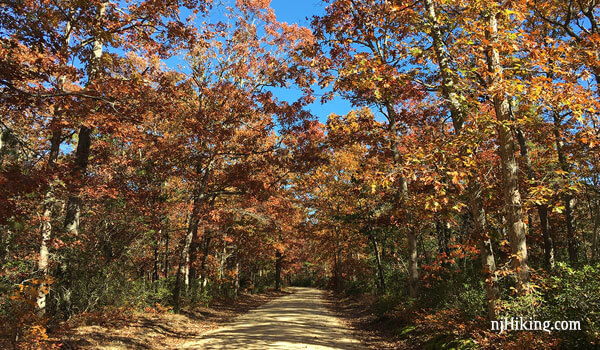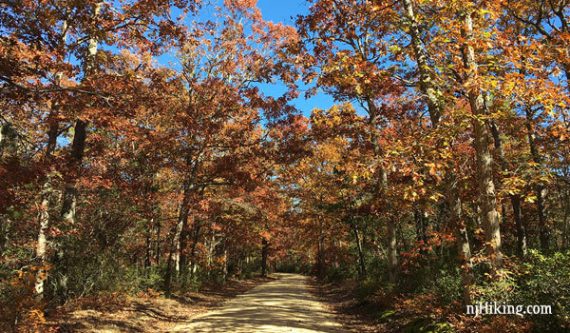 Hike a loop from Lake Nummy using the East Creek trail and sand roads in Jersey's pine barrens.
4.7 miles. Easy, flat, packed sand trails. Basically no elevation change.
Shorter: There are several trails around Lake Nummy, all under 1-mile: Nature Trail (.89m), Meisle (.61m), North Shore Trail (.72m), Goosekill Trail (.28m) plus many wide sand trails and paved park roads.
Shorter: 3.3 miles – remove Tom Field loop, noted in description below.
Longer: 7.2 miles for the whole East Creek trail. See "Belleplain State Forest".
Hike Info:
Our 2-cents:
Easy and flat trail, partially on sand roads and pavement. Shorten it by turning down Sunset Rd. earlier. Network of wide sand/paved roads in this park are a good option to avoid ticks in summer months.
Updated: 7/2020 – Page refreshed, not re-hiked.
Map:
Print out ahead or pick up a park map at the Forest Office. The detail level is a little hard to see Tom Field trail and Sunset Road. The sand and paved roads may not be marked other than named on the trail map.
Note:
There is a fee from Memorial to Labor Day. Check our NJ State Park Pass page for more info. There are small lots outside of the fee area, you could start there instead.
Books:
Not aware of any that this route is in. A longer route on the entire East Creek Trail with detailed instructions and a trail map can be found in 50 Hikes in New Jersey and Hiking New Jersey
The Lake Nummy trailhead is reached by continuing past the Forest Office, and turning right onto Miesle Road towards Lake Nummy.
A few parking spots are near the interpretive center. ***Google may direct you to use interior park roads that could be gated.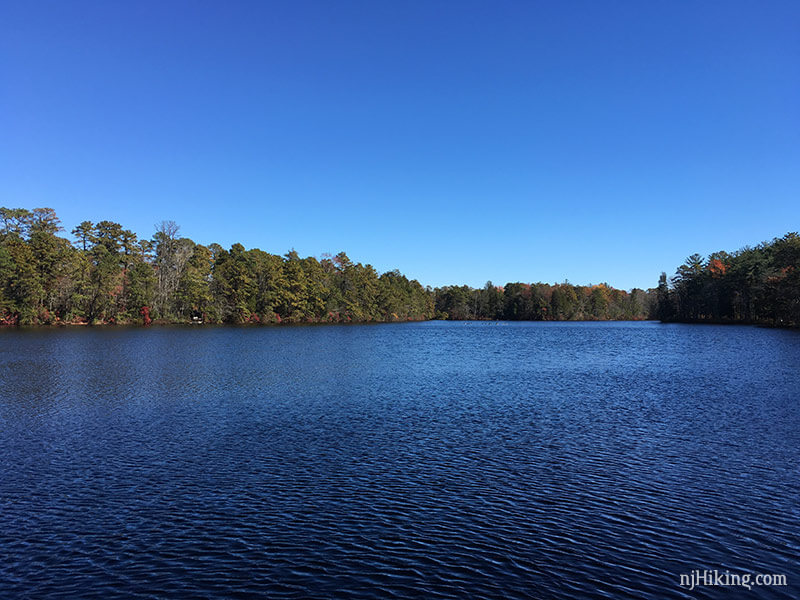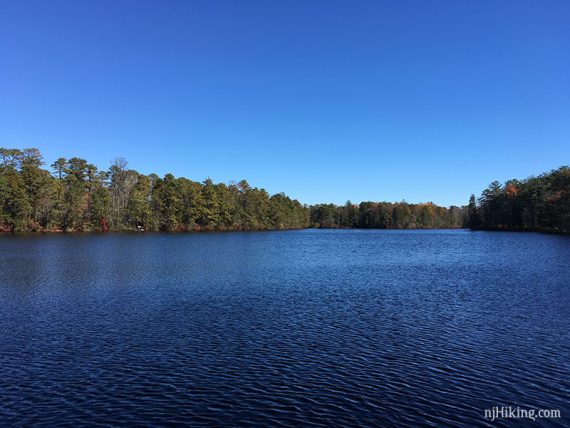 To the Forest Office:
From the Garden State Parkway: exit 17 southbound to Routes 9 and 550 or exit 13 northbound. Follow the highway signs to the forest.
From Rt. 55 South: Take 55 South until it ends and becomes Route 47. Bear left onto Route 347 when it splits and Route 47 is to the Right. Continue along Route 347 for 5.5 miles and turn Left onto CR 550/Spur/Hands Mill Rd. (This turn is around a bend, just after you pass Hands Mill Pond.) Follow CR 550/Spur/Hands Mill Rd. for 3.25 miles to a Stop sign, and turn Left. Turn Right at the blinking light, and the entrance is located approximately 2 miles ahead on the Right. The office is immediately to your Right upon entering.
Restrooms:
Inside the Forest Office. There are buildings on the other side of Lake Nummy that are marked as bathrooms on the map, they may be seasonal.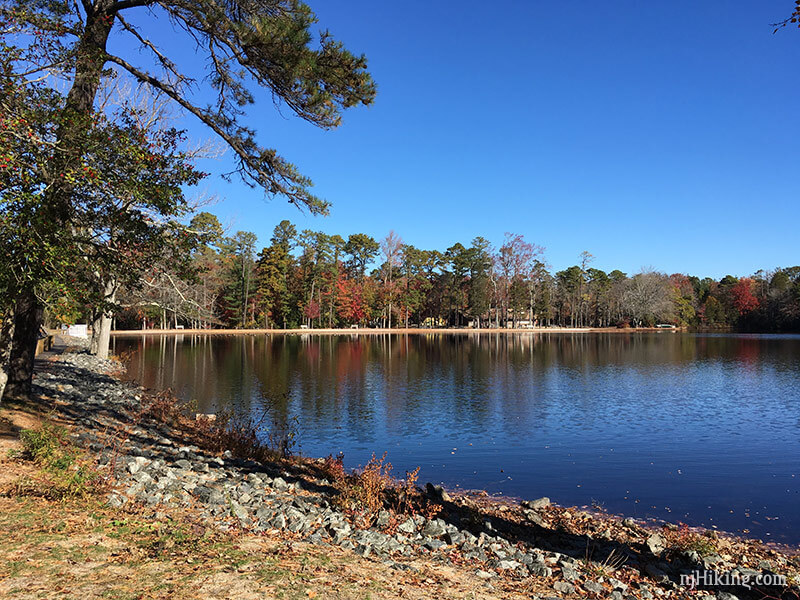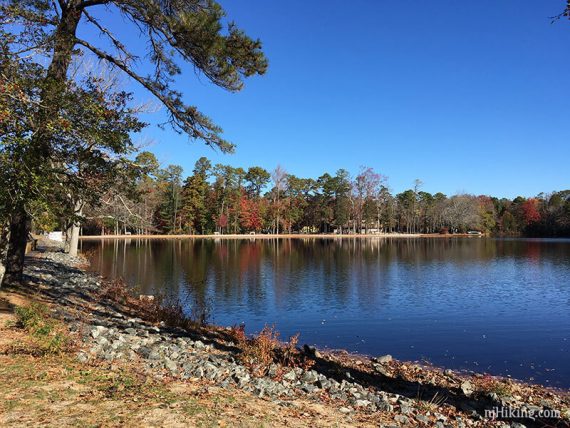 Hike Directions:
Overview: Champion Dr (paved) – East Creek Trail (WHITE) – Tom Field (sand road) – Sunset Road (paved) – East Creek Trail (WHITE) – Deans Branch (paved).
0.0 – The East Creek trailhead is not near the parking area. When facing Lake Nummy with your back to the interpretive center and parking spots, turn left and walk down the park road.
In just a bit, there is an intersection at the corner of the lake with a sign for the group camping area and signpost for Champion Dr.
Turn RIGHT and walk on the park road (Champion Dr), with Lake Nummy on the right.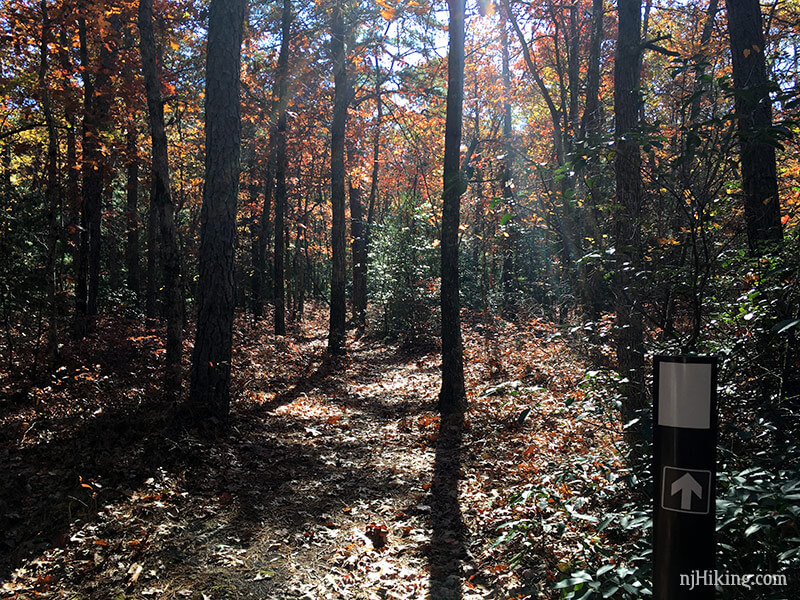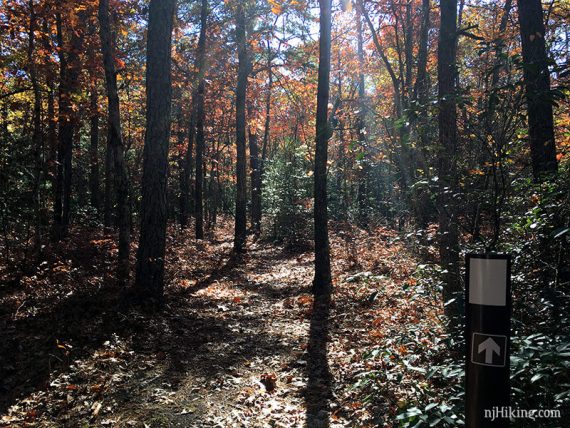 0.2 – Turn LEFT to start following East Creek (WHITE).
Continue following East Creek (WHITE), occasionally crossing park/sand roads and intersecting with the Mountain Bike Trail (PINK).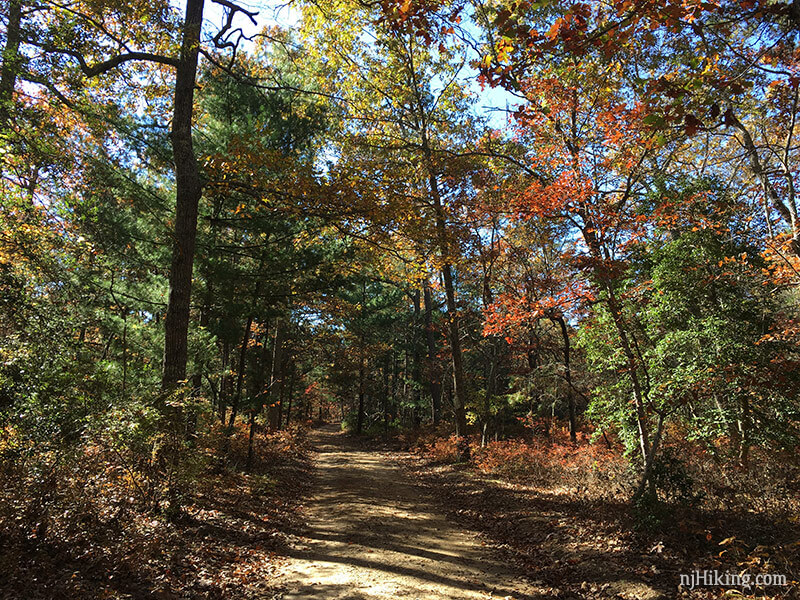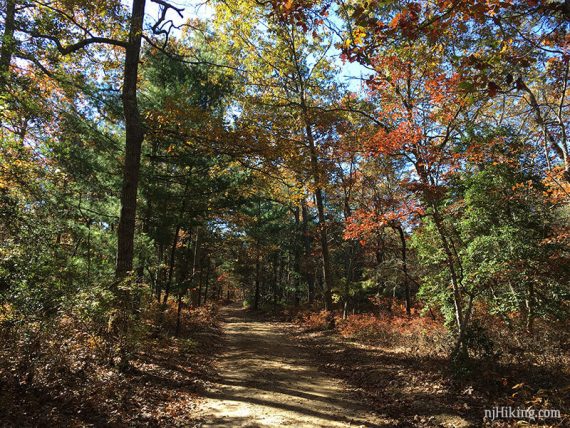 1.9 – Cross Sunset Road (paved, possibly no markings) to continue following East Creek (WHITE).
[Shorter option: Remove 1.4 miles from this route by turning LEFT onto Sunset Rd. and pick up the description at 3.6 below.]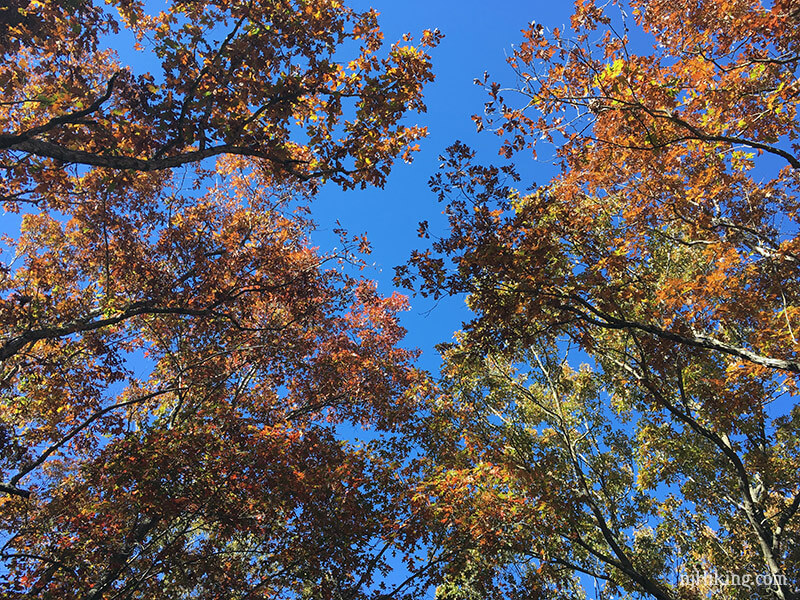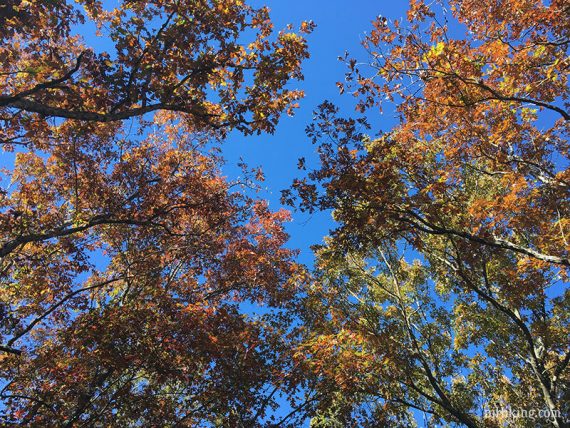 2.7 – Follow East Creek (WHITE) as it veers LEFT and arrives at a wide sand road.
It may not have markings but on the map this is called Tom Field Trail (PINK with a square around a car). Turn LEFT to start following Tom Field Trail.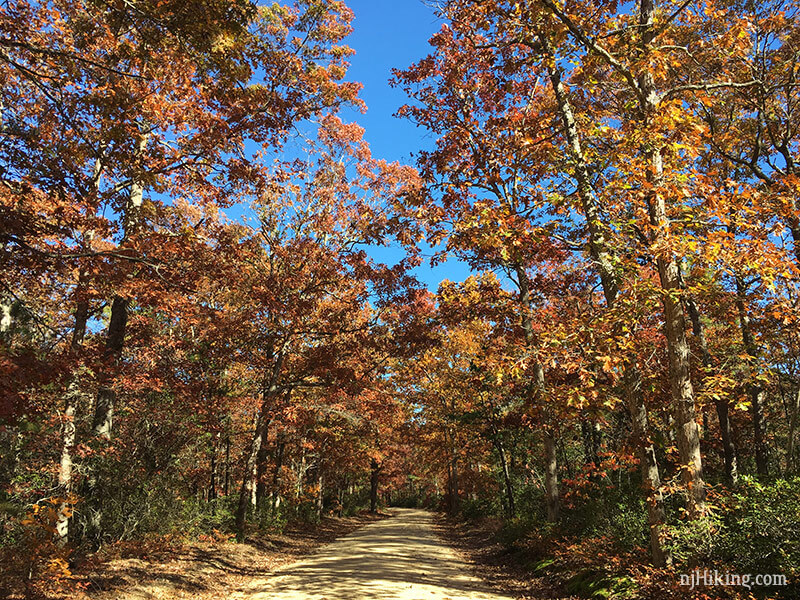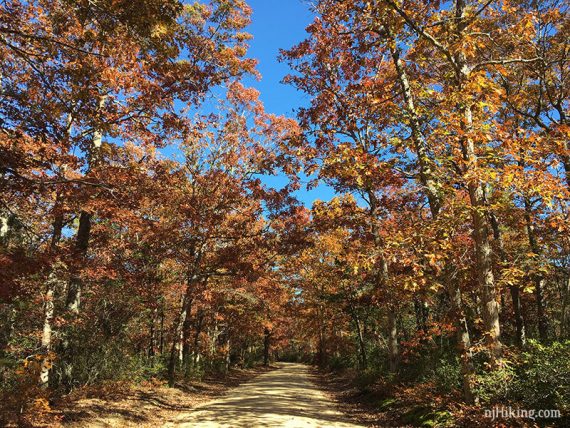 [East Creek (WHITE) continues for a long hike around the pond, but there aren't any other options to cut it short other than here.]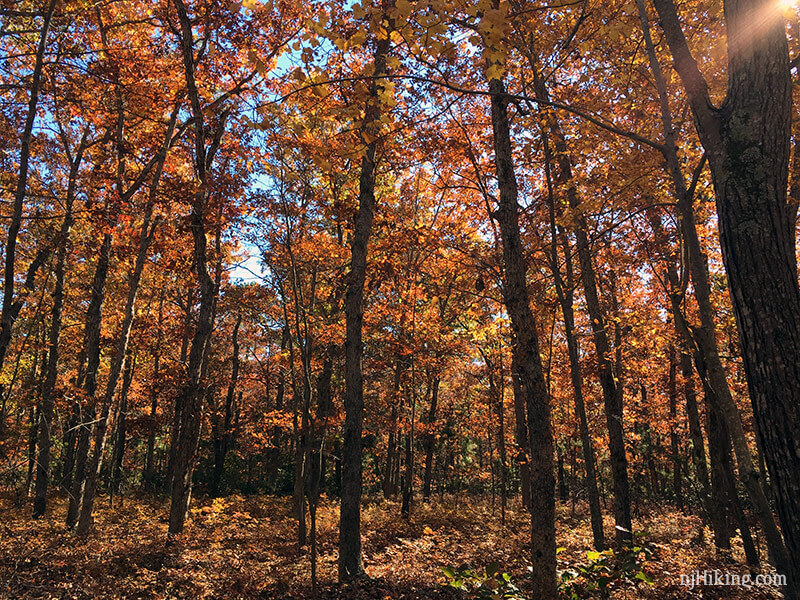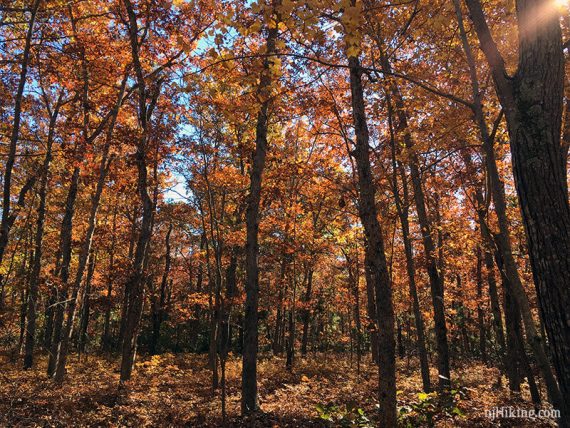 3.3 – Arrive back at Sunset Road (possibly no markings). Turn RIGHT and now follow Sunset Road (paved).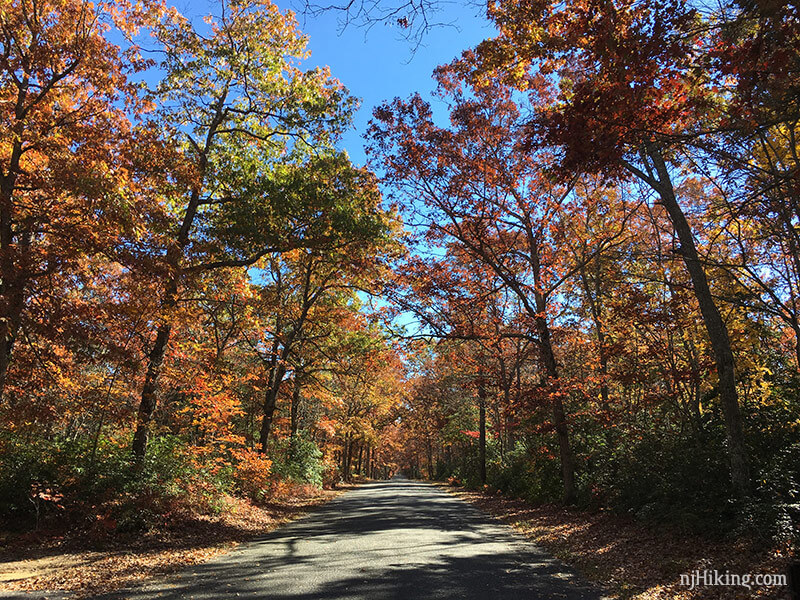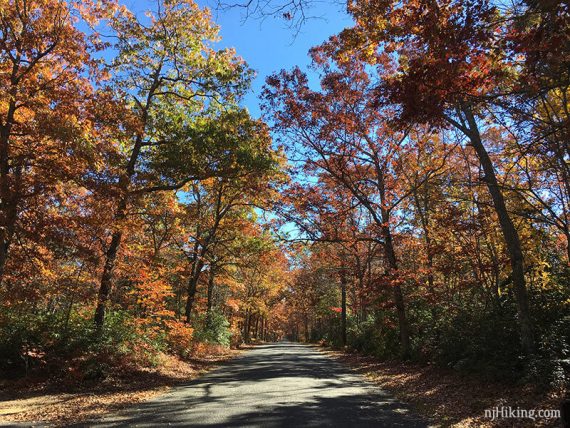 3.6 – Turn LEFT and start following East Creek (WHITE) again. There is a large hiker symbol sign. [Sunset Road continues straight.]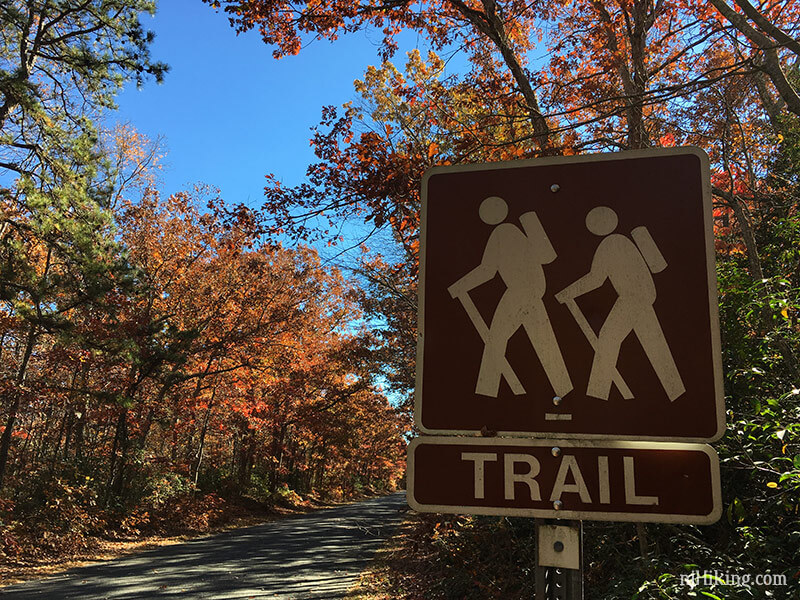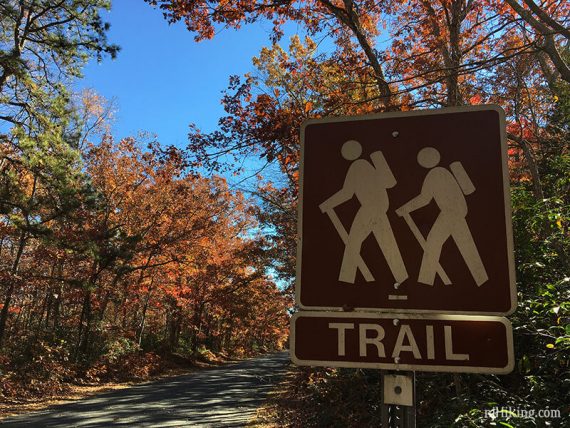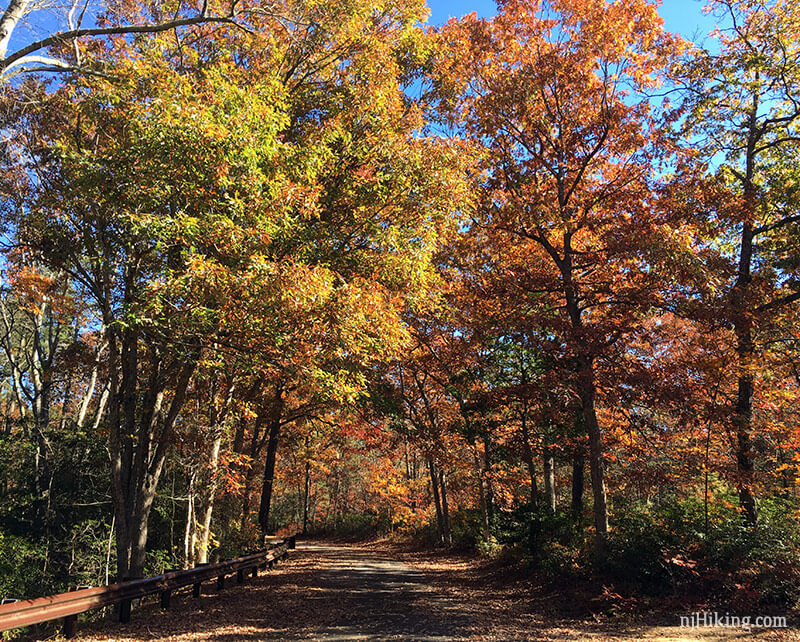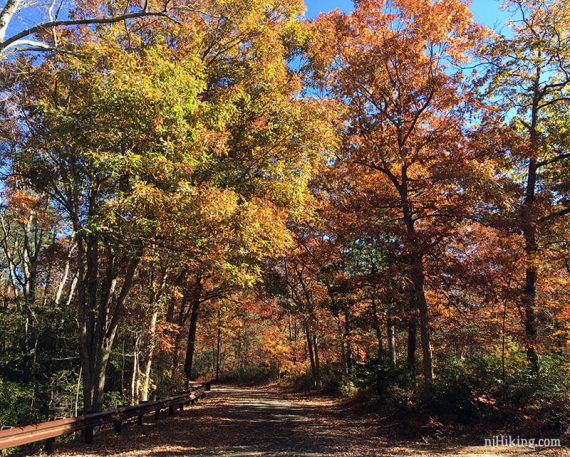 4.6 – Arrive at a paved park road, Deans Branch (possibly no markings). Turn RIGHT and follow the paved road towards Lake Nummy and the parking area.
—
11/5/16; via B&T.