A hike is a great way to kick off the New Year. There is nothing like fresh air and an invigorating hike on the first day of the year.
It's also not a bad way to shake off some holiday over-indulgence… although, in our opinion, leftover holiday cookies count as "trail mix".
For New Year's Day hike ideas to do on your own, try our Best Hikes in NJ page.
For group hikes check out one of the First Day Hikes that the New Jersey State Park Service are holding across the state on January 1, plus a few more listed below.
And for links to First Day Hikes for each of the 50 states, visit America's State Parks.

Some New Jersey First Day Hikes include:
Bass River State Forest – Little Pine Plains Hike – Easy-moderate ~ 5 miles.
Belleplain State Forest – East Creek Trail Hike – Moderate, 3.5 miles.
Brendan Bryne & Michael Huber Preserve – Easy~ 2 miles.
Cheesequake State Park – Moderate, ~ 2 miles.
D&R Canal State Park/Mapleton Preserve, Easy ~ 1.5 miles.
Double Trouble – First Day Jaunt – Easy ~ 1.5 miles.
Forest Resource Education Center – Easy~ 1 mile.
High Point State Park – "First Day Challenge" hike. Difficult to Strenuous ~ 6 miles.
Kittatinny Valley State Park – Paulinskill Valley Rail Trail. Moderate, 4.5 miles.
Kittatinny Valley State Park – Welcome in the "Roaring '20s". Easy~2.5 miles.
Monmouth Battlefield State Park – Follow the Footsteps of Molly Pitcher. Moderate ~ 2 miles, open fields and hills. With historical interpretation.
Parvin State Park – Walk in History – Easy~ 3 miles.
Rancocas State Park – Easy to moderate ~ 2 or 3 miles.
Ringwood State Park – Easy to moderate, ~1 or 3 miles, depending on route: Botanical Gardens or wooded areas. Self-guided, family friendly.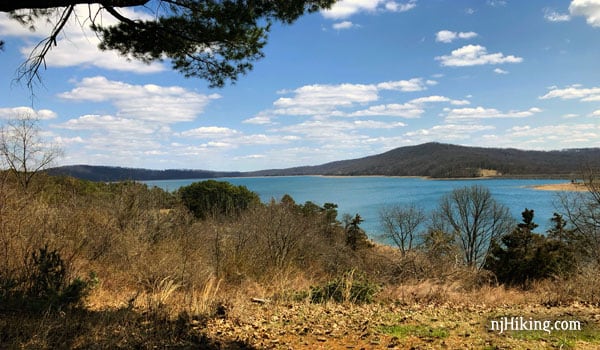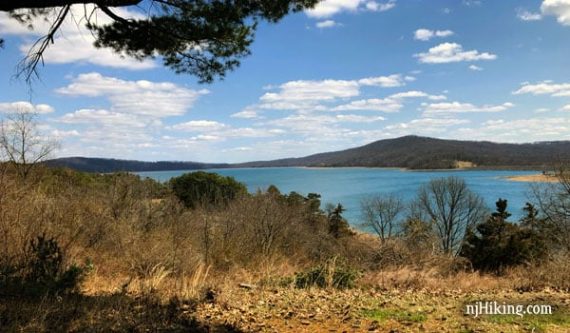 Round Valley Recreation Area – Cushetunk or Water Trail – Easy to moderate ~ 3 miles.
Spruce Run – Highlands Trail. Difficult ~ 15 miles (ALL DAY event; not for beginners)
Stokes State Forest – Moderate~3.5 miles.
Washington Crossing State Park – Easy to moderate ~ 1.2 miles; interpretive.
Washington Crossing State Park – Family Nature Hike and Tomahawk Throw (adults) Easy~ 1 mile.
Wawayanda State Park – Lake Lookout – Family friendly 2.5 mile or moderate 7 mile hike.
Wharton State Forest – Atsion. Mansion: Moderate pace ~ 6 miles, or Hampton Furnace: Easy-Moderate ~ 5 miles.
Wharton State Forest – Batsto Village. Family history walk. Easy ~ 1.5 miles.
Whitesbog Village – First Day Trash Hike and Clean-up – Easy ~ 1.5 miles.
No fees. Pre-registration required on some hikes.

Other hikes near New Jersey…
Bowman's Hill – Delaware Canal State Park – New Hope, PA
Join state park naturalists for a 4 mile hike on easy, level terrain, starting in the lower parking lot of Bowman's Hill Wildflower Preserve, River Rd. (PA-32), and heading 2 miles north on the Delaware Canal towpath toward New Hope and back.
All ages and abilities are welcome. Leashed, friendly dogs welcome. Hike at your own pace and turn back when you wish.
Wissahickon Creek Gorge – Pennsylvania.
Batona Hiking Club w/ Valley Forge Audubon. 5 miles. Meet at Valley Green Inn at 1:00 PM for our annual New Year's Day hike through this spectacular gorge.
There are parking lots at the bottom of Wises Mill Road and along Valley Green Road. From here, walk down the hill to Valley Green Inn. This is a combined hike with Valley Forge Audubon.
More First Day Hikes in Pennsylvania.
Sterling Forest State Park – New York.
Join us for an easy to moderate 4 Mile hike around the scenic Sterling Lake. Along the way hikers will enjoy historic remaining structures of the iron industry, some predating the revolutionary war. Weather Permitting, registered participants will be contacted in case of cancellation. Please wear appropriate attire/footwear and bring water and a snack. Registration: Required.
More First Day Hikes in New York.
JANUARY 5 (Sunday)
New Year's Meditative Hike – New Jersey Conservation Foundation
Come Contemplate the New Year on a Meditative Hike at our Hill & Dale Preserve. Participants will learn meditative techniques to use while hiking by hike leader Carl Klemme of Glow Yoga. No experience necessary, just a curious mind that's open to calmness. Participants will hike hills and dales stopping along the way to take in the fresh air, scenic vistas, babbling brooks and the changing landscape.
Please wear supportive hiking shoes and layered clothing to be comfortable in winter weather. Quiet and calm dogs are welcome too.