Hiking footwear recommendations
Footwear is the most important hiking purchase you will make – if your feet are miserable, you will be too.
We've gone through our fair share of hiking shoes over the years. Some gals swoon over expensive heels or strappy sandals, but I get giddy over the latest hiking shoes and boots. Open our gear closet and a cascade of hiking shoes tumbles out.
Footwear is incredibly subjective and everyone's fit and needs are different but I figured I could put my footwear obsession to good use and offer up what has worked for us.
Keep in mind that styles change constantly, and something may no longer be available or works/fits as we described.
Note: All of these are our own purchases and were not supplied by any company for review.
Usage: We mostly do long day hikes in hilly, rocky terrain, every weekend or close to it, with a light pack. We also do hiking-focused travel around the U.S., mostly in the Western National Parks, as well as a few international spots.
We're not doing long distance trails, backpacking, climbing Everest, or much of anything fancy in the hiking department – you might need something other than what we've got here. I've also included what we use for travel, water/hiking sandal, and post-hike.
Buying hiking shoe tips are below the recommendations.
See Also: Hiking Pants and Shorts | Hiking Shirts

Current Hiking Boot Picks
We've both been wearing mainly Oboz since early 2013. I think I first discovered them from a recommendation in Backpacker Magazine's gear guide, and then Tom ended up choosing a pair without realizing I'd been wearing the same brand for months.

Oboz Low-Cut
We use low-cut most of the time as neither of us really care for mid-cut boots. I'm on my 3rd pair of the Sawtooth Low BDry (waterproof) and also have 1 pair of the non-waterproof Sawtooth Low (Women's). I decided I prefer waterproof ones. [Note: They've now have the Sawtooth II – I have the original Sawtooth.]
Tom is on his 2nd pair of Bridger Low BDry (Men's) but started with a pair of the Firebrand BDry.
Pro:
Little to no break-in time.
Comfortable but the bottom has firm enough support for very rocky terrain (like what we get in the North Jersey, PA, NY area we mostly hike in).
Decent grip.
Same style (Sawtooth etc) for multiple years. It's always nice to just order the same shoe again.
We like the looks. Not that should matter one bit when choosing shoes, but well, it doesn't hurt.
Con:
The small toe cap rubber on the Sawtooth quickly gets chewed up by rocks and starts breaking away. It doesn't affect the shoe at all and most hiking areas aren't this full of pointy rocks… but I wish they'd use a better cap on it.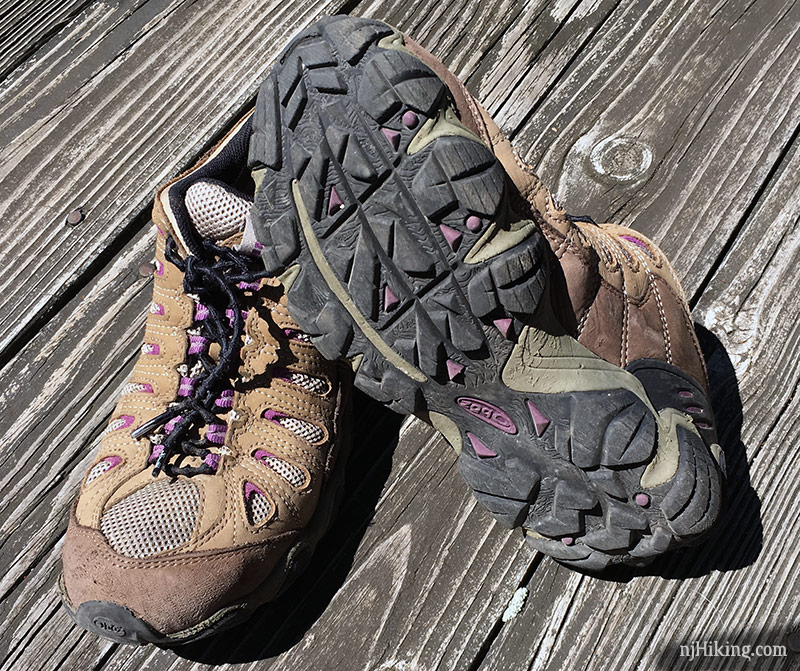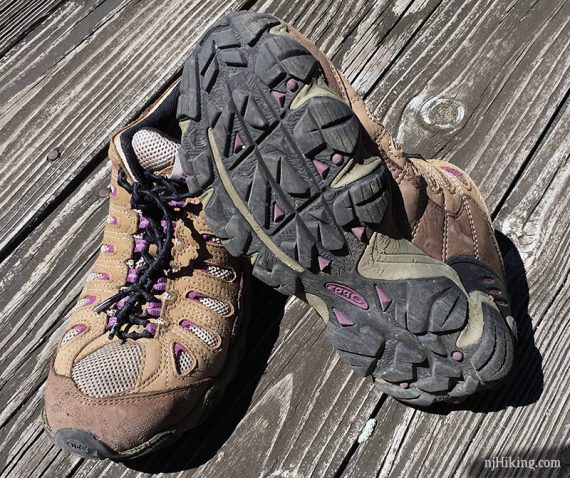 Oboz Mid-Cut
While I just mentioned we usually don't like mid-cut boots, in 2014 we wanted to do the Wild Cave Tour at Mammoth Cave National Park which requires over-the-ankle boots (this is an awesome adventure, highly recommend!).
Since we had so much luck with Oboz, we tried the Bridger BDry Mid (Women's) and the Bridger BDry Mid (Men's).
We've used them more than we expected – sloppy conditions, winter hiking, and snowshoeing – and a glacier hike we did a few years ago also required mid-cut boots in order to wear crampons. These turned out to be a good investment.
Pro:
I was surprised at the little break-in time and how comfortable they were because I generally don't like boots at my ankle bone. More support and stability over a low-cut but still nimble enough to scramble around. Decent lugs on the sole.
Con:
No tab at the ankle to help pull it on. Really?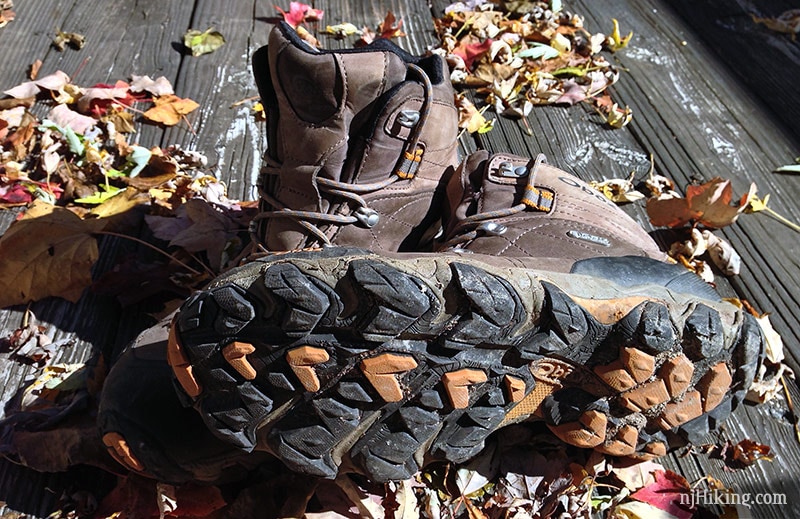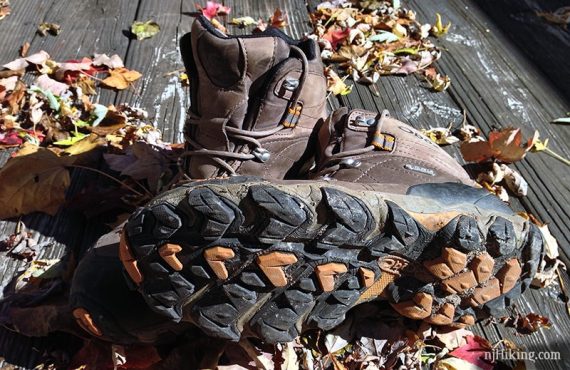 We've also had good luck with Merrell, Saloman, and Garmont over the years. The exact styles we used are no longer made:
Women's Merrell Chameleon Arc GORE-TEX XCR – Went through at least 3 pairs of these. Comfy, quick break-in, waterproof all around hiker with a grippy sole great for rock scrambles.
Women's Salomon GTX Trail Running Shoes – For moderate hiking, or for trail running. Solid, stable, supportive on the trail; slosh thru puddles. But felt there wasn't enough protection on the bottom for very rocky hikes.
Men's Garmont Men's Flash III GTX – Went through 2 pairs of these. Good all around hiker, comfy, decent protection, waterproof, ample toe box.
See Also: Winter Traction | Snowshoe Guide

Boot Laces
We've changed out some of the stock laces to Xtenex compression lacing. These not only turn boots into slip-on but allow for a more custom fit.
The elastic lace has notches at intervals to dial in the tightness and while it's a little fussy getting the fit right after that you're set. A big feature is they expand to accommodate foot swelling as the day progresses.
A pair of these came in the February 2017 Cairn Box and we set them aside, not thinking much of them until Tom needed to replace his laces.
For months I heard him rave about how comfortable they were, there was less rubbing and friction, and at the beginning and end of every hike, "It's so great that I can just slip these off". I was skeptical but was converted once I tried them.
A potential negative is if the boot gets wedged you could step out of the shoe. This happened most spectacularly on the Giant Stairs hike but it also might have prevented Tom from falling down instead.
I've also stepped into a deep hidden hole on the trail that was the right size to grab my boot. As my momentum brought my leg forward, my foot came partially out my boot instead of staying in the hole and causing an ankle twist or worse, a fall.
After the surprise of walking along then one leg suddenly dropping about 8 inches wore off, I was completely uninjured. We debated if the laces helped or didn't matter in this case but didn't come up with a verdict.
At any rate, we're using these on boots from now on. While we've discovered a lot of useful stuff with Cairn, this is one of our favorites.

Light Hiking and Travel
Keen Voyageur (Women's) work as straight hiking boots, but I've been using these since 2010 for trips where I am packing light and need a single pair of shoes to handle city walking, exploring ruins, and a few rocky hikes. Tom used the Keen Voyageur (Low, Men's) but he chewed through his years ago (someone is a little harder on shoes than I am).
Pro: Super comfy, the Keen footbed is outstanding. Toe bumper, good grip.
Con: Slightly longer break-in period than our other Keens. Tug on the heel strapping if they feel loose in the heel – almost sent them back until I discovered that.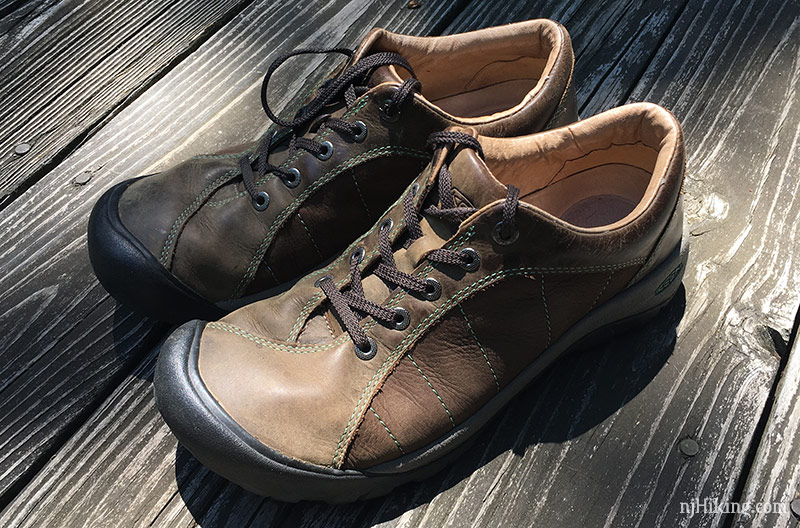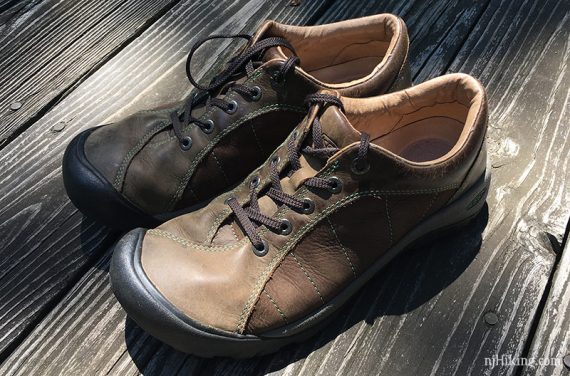 The Keen Presidio (Women's) and the Keen Austin (Men's) are not for hiking but are great all-around travel shoes and are especially good for trips that are a lot of city walking but also have a few rugged spots thrown in – the ruins in Italy and Greece for example.
I bought pairs in 2007 and 2008 and the first finally conked on me ten years later. Still using the 2nd pair while Tom's Austins gave up the ghost years ago.
Pro: Super duper comfy; footbed cradles the arch just right, wear them all day long with no problems.
Con: A touch more funky than I'd like to roll into a pub with but, whatever. My feet come first.

Water Sandal / Kayaking
Great for use for paddling and general kicking around. Rubber bumper for toe protection has saved my tootsies too many times to count.
We bought Keens Newport H2 (Women's) and Keen Newport H2 Sandal (Men's) for a tropical trip in 2006 and have been wearing them all summer ever since.
In 2017 we finally decided that maybe we should get new ones for casual use when the soles wore down and started to separate, and now only use the first pair for kayaking (fixed with Shoe Glue).
Pro: Comfy out of the box, fit cradles your feet, breathable, toe protection.
Con: The style is not to everyone's tastes but Keen makes styles with more minimal webbing. For hiking, dirt/sand can rub under the webbing – we wouldn't use them on long hikes. Useless on the beach – the toe caps trap about a bucket of sand each.


Post Hike
A comfortable slip-on with a grippy sole and good support, the Merrell's Jungle Moc (Women's) created a new category in outdoor shoes somewhere in the early 2000's.
I've been changing in and out of my hiking shoes at the trailhead ever since, channeling my inner Mr. Rogers (sans cardigan).
They're good to do the shoe dance at airport security (though less so now as we usually wear our boots with the Xtenex laces). I'm on my 2nd pair, and Tom also has a pair of Merrell's Jungle Moc (Men's).
Years ago my little brother scoffed "what are those – hiking SLIPPERS!?" but eventually he was sporting a pair. Never underestimate the power of foot comfort.
Minimal
Vibram Fivefingers are minimal footwear with individual toes and a glove-like barefoot feel. This type of footwear exploded in popularity, then kind of backed off, and is not suitable for everyone. Work up to walking around in Vibrams, as being "barefoot" uses different muscles. Check out Vibram for more info.
Back in 2011 or so, I got a pair of Vibrams (Women's Jaya, no longer made) because I figured they'd add just the right amount of protection to walking around the yard and house barefoot. I had no intention of hiking in them (especially here in rocky NJ) but most of the Vibrams are made for hiking (as well as running, watersports etc).
After about 6 months, I stopped using them. I loved them – but one foot did not feel the love back. Even though I'd worked up to using them, I kept getting a random odd pulling sensation under one toe that ended up causing issues for a while.
Pro: Offers just enough protection, but still feels like being barefoot. My foot strength and flexibility improved after only a few weeks of wearing them.
Con: Can be difficult to put on since toes fit snugly into individual pockets, and having spread toes is… different. Your shins may complain at first. Sweaty. When the second toe is longer than the big toe (common), Vibrams probably won't work.
---
Hiking Footwear Tips
Low-cut, high-cut, trail sneaker?
It comes down to personal preference and what fits, really.
For most day hikers, a low-cut hiking shoe or even a trail running shoe will work fine. Mid-cut styles offer more ankle protection. Trail running shoes are light, flexible, and grippier than a regular sneaker but I don't feel they are good for very rocky terrain.
For backpacking and carrying a heavy pack, you might want a sturdier boot than what we show here.
Specific to the New Jersey area: if hiking mostly in central or south, a good trail running sneaker will do the trick but we use our boots everywhere. For the rocks in the northern third of the state, I don't feel a sneaker is enough protection. Even with supportive boots, those rocks fatigue the feet.
Waterproof or not?
Waterproof styles can be warm in the summer. If that's when you mostly hike then consider a more breathable shoe, as they can dry out pretty quickly in summer. We lean toward Gore-Tex because we tend to use the same pair year-round.
Tips:
It's best to try on shoes at the end of the day when feet are swollen.
Wear them indoors for several days before deciding to keep it so you can exchange if needed.
Expect to pay $85-$150 for a good pair of hiking shoes. Waterproof styles usually average $120.
Work those end-of-season sales: getting "last year's" colors or style can save big bucks. If you have an uncommon size, clearance sales can be your friend.
Buy the next pair several months before the current pair bonks out, and break in the new one on short hikes before needing it to be your main shoe.
If you find something you really like, scoop up another (preferably on sale). Styles and fit often change.
Even with a shoe with little break in time, don't buy a pair 2 weeks before a big hike or trip. Plan ahead and get some wear on them first to make sure they're ok.