Scramble over the Giant Stairs – a long section of huge boulders that have tumbled from the Palisades – while enjoying views over the Hudson River into New York.
4.3 miles – Challenging due to scrambling. Surface ranges from flat to very rocky plus nearly a MILE of scrambling over large boulders.
Very steep down and back up from the Shore Trail. Steep cliff drop-offs. Not a great option for dogs and some kids. Avoid when wet or icy.
Hike Info:
Shorter: ~2.8 miles – Reverse the route, out-and-back to Peanut Leap Cascade, skipping the scramble.
Option: Loop can also be done in the opposite direction.
Longer: ~10-11 miles – Add Alpine to Forest View to the loop.
Our two cents:
Fun and unique hike that features the largest rock scramble available in New Jersey… and for this reason, this hike is certainly not everyone's cup-of-tea.
Be sure to check out the photos and especially the video before tackling this one.
This is an extended section of scrambling – nearly 1 mile – as opposed to the normal short bursts found in New Jersey.
If you use trekking poles for the steep descent/ascent to the shoreline, be sure to have a way to stow them or strap them to your pack – you need both hands to be free on the Giant Stairs.
Sadly, the rocks sport a fair amount of graffiti – just try to mentally Photoshop that out as you hike. Bonus: Pop into the State Line Café for post-hike food… you earned it.
Map:
Hudson Palisades Trails is best, but the park site has detailed maps too.
Books:
Hike of the Week and Hiking New Jersey have similar routes with more detailed descriptions and map diagrams. A slightly longer variation (from a lot accessible to public transport) is in Take a Hike New York City.
NJ Turnpike north towards Fort Lee/George Washington Bridge to Palisades Interstate Parkway to State Line Lookout exit. Large paved lot. The trailhead is in the far left corner when pulling into the lot.
Public transit: see the Park Site's Directions to State Line Lookout.
Restrooms:
In the State Line Café when open (9:30 AM – 5 PM, 7 days a week). Porta-john by the trailhead in summer months.
Hike Directions
Overview: Long Path (TEAL) – Forest View (BLUE over WHITE) – Shore Line (WHITE) – Long Path (TEAL)
First, you might want to wander across the parking lot to the stone walls for sweeping views across the Hudson River to NY and down to see a section of the Giant Stairs below.
The hike ends over here but it's a nice to see it at the start too. Head back over to the trailhead to start the hike.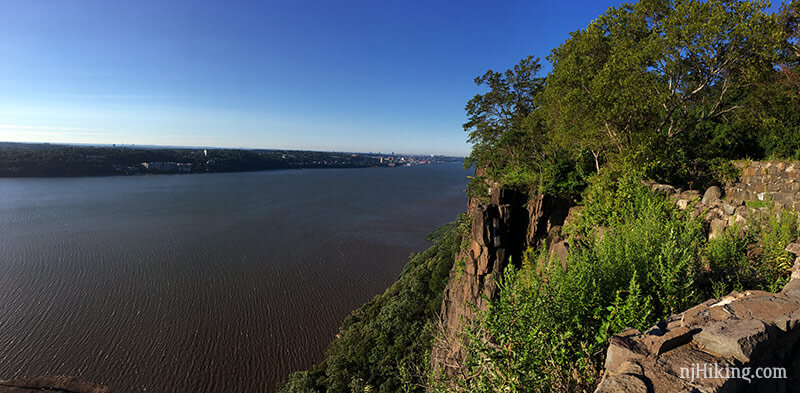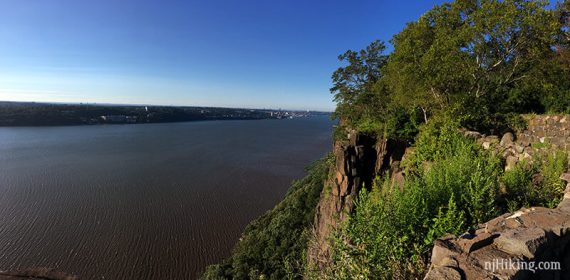 0.0 – The trailhead is in the far corner of the lot. Start following the Long Path (TEAL).
Shortly, turn LEFT and continue following Long Path (TEAL). [Trails may also have letters that are markings for ski trails. "A" also continues straight].
0.4 – Continue following the Long Path (TEAL) as it turns left and then crosses the park road. On the opposite side of the road is a trail sign with Forest View in .1 mile.
Shortly, a viewpoint is on the left with the cliffs and NY visible.
Continue following the Long Path (TEAL) as it heads steeply down stone steps that are so worn they sometimes feel slanted.
0.6 – Walk over a bridge and turn LEFT to now follow Forest View (BLUE over WHITE). A sign notes .3 to Shore Trail.
The trail continues down steep stairs and switchbacks.
0.9 – Turn LEFT to now follow Shore Line (WHITE).
1.2 – Giant Stairs start. Varying degrees of rockiness, sometimes in the forest and other times in open areas with views of the cliff face towering above and the river below.
2.3 – Continue on Shore Line (WHITE) as it goes through a break in a fence to cross into New York.
2.8 – Near the water is a bench and a swing hanging from a tree (go ahead and give it a whirl – we know you need to).
Nearby are ruins and Peanut Leap Cascade, which can be a trickle in dry conditions.
Continue on Shore Line (WHITE) as it goes up the steps of the ruin and continues steeply uphill.
3.1 – Turn LEFT and now follow Long Path (TEAL) over a small boardwalk bridge.
This intersection was not marked when we hiked it. [Shore Line (WHITE) ends. Long Path (TEAL) also goes right.]
3.4 – Keep heading uphill, sometimes on stone steps, on the Long Path (TEAL) to "High Gutter Point" – a rocky outcrop with views across the Hudson.
Cross back into New Jersey shortly after (there is a border monument nearby but we managed to not notice it).
4.0 – The Long Path (TEAL) merges onto the old park road for a bit.
The Long Path (TEAL) veers to the right, off the road – but continue on the park road to end up at State Line Lookout to check out the view again.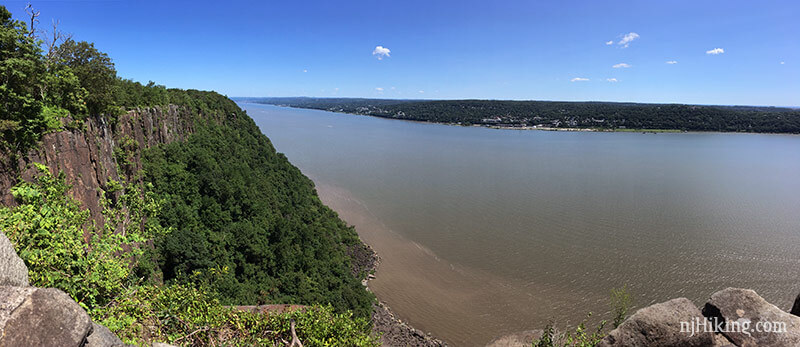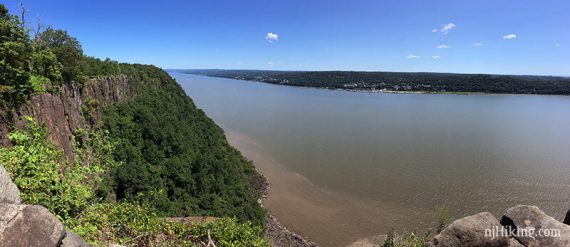 —
Hiked: 7/30/17.