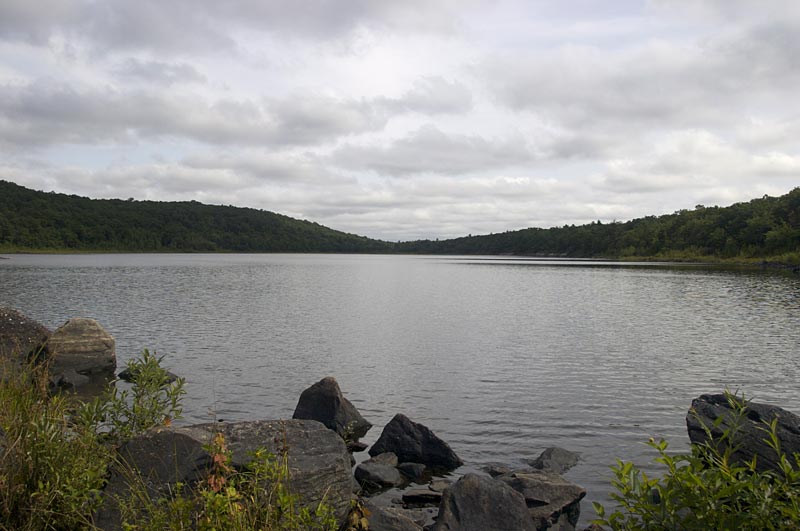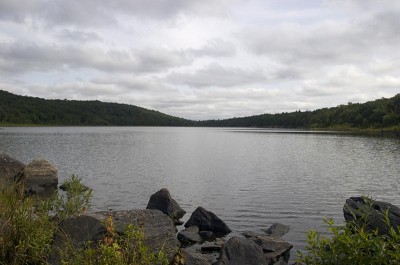 For detailed hike directions, maps, photos and GPS coordinates, visit our Hank's Pond page.
5.8 miles. Moderate trail surface, some woods road, some rocky outcrops. Minor elevation change in a couple spots, minor scrambles.
Hanks East (WHITE) – Unmarked – Hanks West (BLUE over WHITE) – BLUE – Fire Tower Ridge (RED over WHITE) – Highlands (Teal) – Hanks East (WHITE)
This hike is in the Pequannock Watershed in West Milford, NJ and so requires a hiking permit.
This was our first hike after returning from hiking in Glacier National Park in Montana. Now, we love hiking in Jersey, we really do, but it simply does not compare to Glacier. If you enjoy hiking, get out to Glacier sometime in your life. It had to be the best hiking we've done ever, and we've been fortunate to have visited quite a few excellent hiking destinations. Heck, even if you don't want to get out of the car… Glacier is still outstanding.
We wanted a less-crowded hike for Labor Day so we tried this trail. We saw one guy with his dog for the whole loop. The trail starts out dull on a woods road but quickly comes to Hanks Pond which is nice enough. It then follows along the pond past the remains of some buildings that were part of the Cross Estate.
The trail is level until you pick up BLUE, it heads uphill with a bit of a scramble. At this point the next blaze was hard to spot – it's actually up to your left, with another little scramble up some rocks. It's very overgrown with lots of sticker bushes here (wishing i had opted for long pants. sigh.) So overgrown, we questioned if we'd somehow gotten off route when we came up the rocks. But I looked back and there was a blaze. I also spotted one on a fallen tree at my feet.
The trail in this brief section is interesting, passing some rock outcrops, then a scramble up a jumble of rock to the Fire Tower Ridge Trail (RED over WHITE). The trail follows along some flat rocky ridge here.
The fire tower is in a grassy meadow. We stopped for a snack here before picking up Highlands and dropping down off the ridge. The trail twists quite a bit here as it descends.
Around this time we started spotting bear scat on the trail. Lots. It wasn't fresh but it was obvious bears loved to hang out in the area. We amped up our noise-making, clapping occasionally and talking.
We'd gotten used to clapping and talking for the entire day while at Glacier (highest concentration of grizzlies in the lower 48). The normal thing to do is yell out "Hey bear!" every so often. Talking is good too, but we tend to hike for 8-10 hrs and frankly you run out of conversation.
But in Glacier we'd gotten bored with just yelling out "hey bear!" all day, and started mixing it up a bit with variations like, "hey bear! we're coming around the bend!", "coming through! pardon us, excuse us!", and "hey bear! don't eat us!". Usually late in the hike we'd replace "bear" with "sugar bear" or "honey bear". On particularly long hikes we'd amuse ourselves by yelling out random things like "banana milkshakes!!".
I mean, let's face it… the bear doesn't know the difference.
My point being… #1, make noise when hiking in bear country. and #2, if you are hiking in Jersey and you hear a couple of idiots clapping and yelling out stupid bear phrases… chances are it's us.
Regardless, we came around a bend and heard noise in the dense brush that sounded heavier than a deer. We are pretty sure it was a bear, but never saw it. Saw a lovely pile of fresh scat around that time as well. We talked to the brush as we passed so it knew we were human and also not trying to sneak up on it. And maybe it was just a heavy footed squirrel, who knows.
The rest of the hike passed without incident.