A hike up to the crater rim of Mt. Vesuvius is a unique and interesting way to experience history.
We enjoy traveling as much as hiking, and even on our city-focused trips, we try to get at least one hike in.
We also have a thing for hiking volcanoes – I'm not sure why.
We've been fortunate to have climbed Mount St. Helens in Washington (oh the view!!) and have hiked out to the lava flows in Volcanoes National Park on the Big Island of Hawaii (coolest thing…ever).
So, on a recent trip to Italy, we had to hike Mt. Vesuvius.
Mt. Vesuvius is the volcano responsible for covering the city of Pompeii with a blanket of ash in 79 A.D., preserving it until it's rediscovery in the 1700s.
Much of what is known about day-to-day life back then is because of the excavation of Pompeii.
Check out the rest of our On The Road hiking-focused travel series.
The Hike
This isn't a long or particularly hard hike, but certainly interesting and worthwhile. We were told it takes about 20 min up and 30 min down… it was less than this.
Anyone who has done any hiking at all would have no problems – as long as you aren't horribly out of shape this is doable.
There are routes that start at the bottom and hike the entire distance up but we didn't have time to fit a long hike into this trip.
The hike is quite steep in the beginning and then becomes more gradual toward the top as the pathway goes about 3/4 of the way around the crater rim.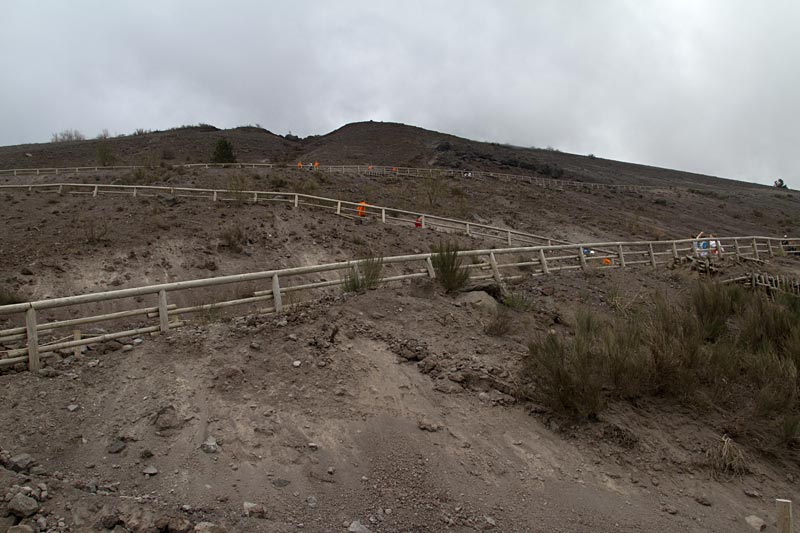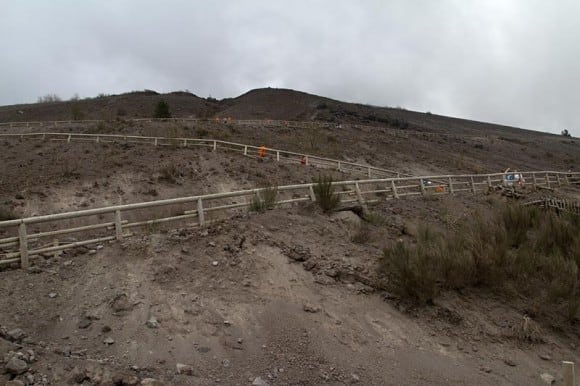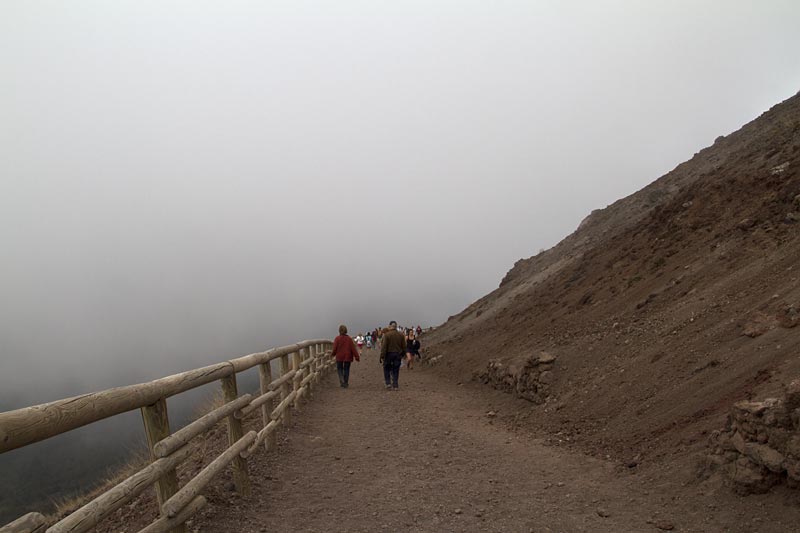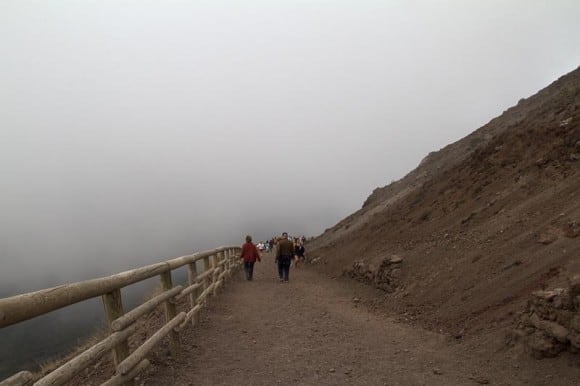 The trail surface is mostly wide and of pumice/ash. It's about 1 mile. A clear view would have been great, but the clouds made for a neat atmosphere anyway.
We had views into the crater, which has no lava but a little steam.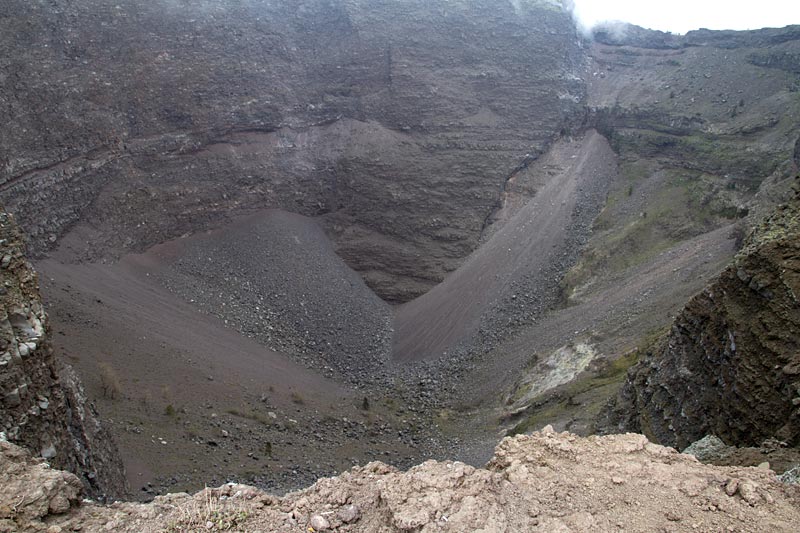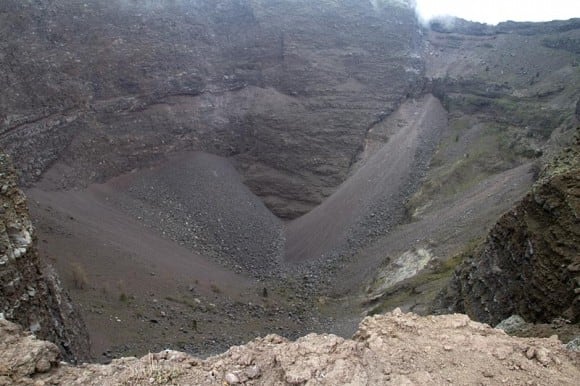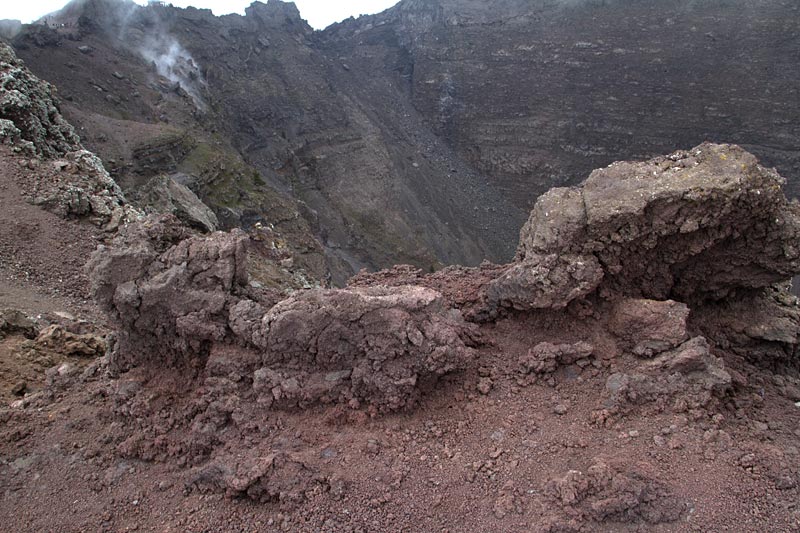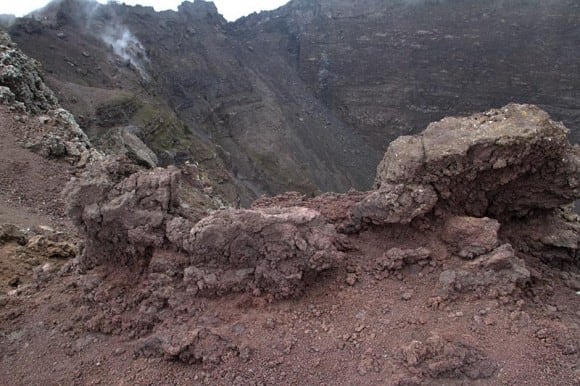 The view out to the Bay of Naples was totally obscured by clouds when we were there, but when clear it is spectacular.
There are nice views on the bus ride up as well. We could see Vesuvius from the bus on the way back too…. with the clouds now parting… of course!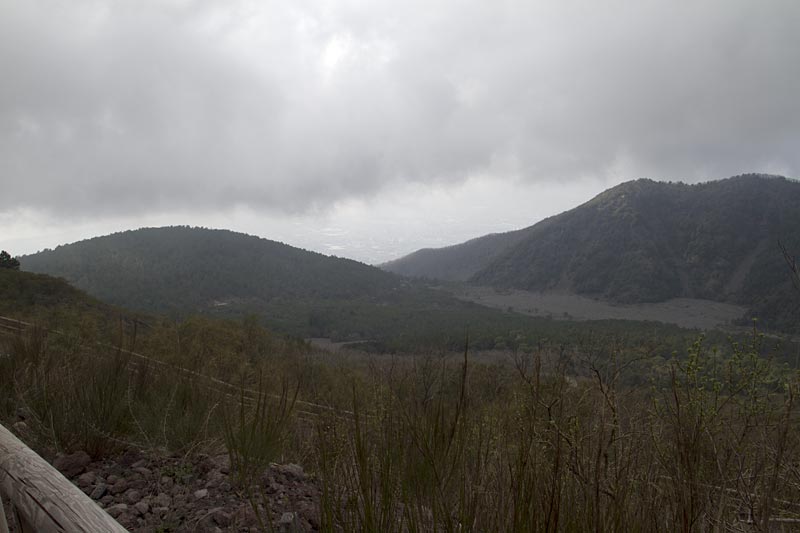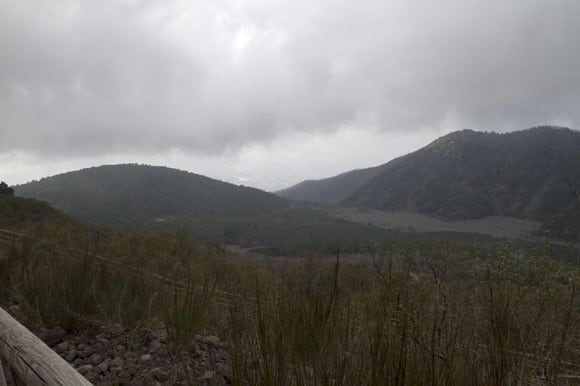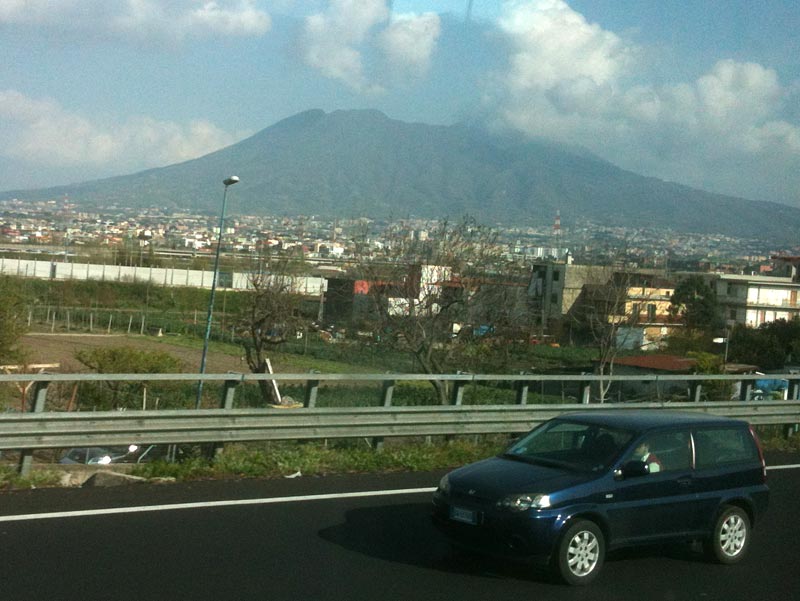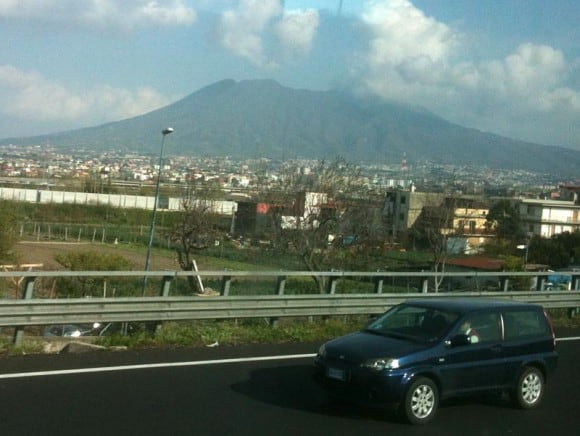 There is no need for any gear, water (there are snack shops along the way!) or hiking boots – all you need is the comfy walking shoes that you should be wearing to wander around the streets of Italy anyway.
If You Go
We did this as a long day trip from Rome, but Vesuvius is closer to Naples or the Amalfi Coast so that is an option too.
It should be combined with a visit to Pompeii (awesome).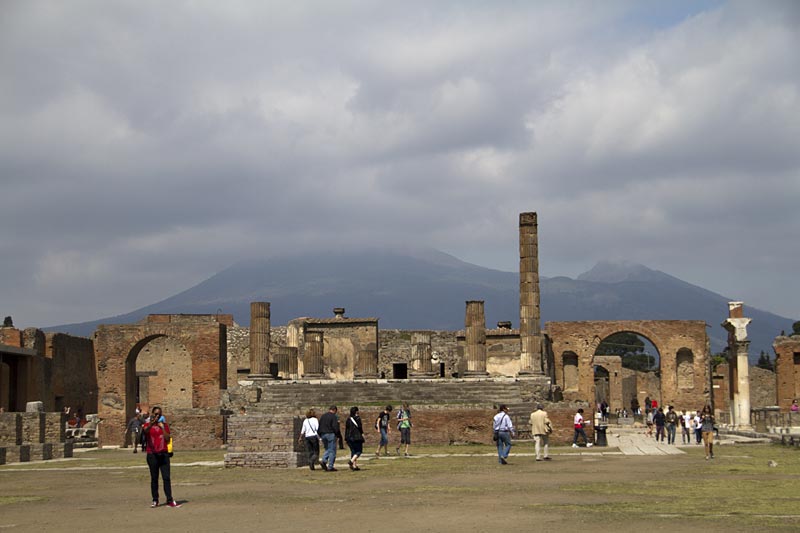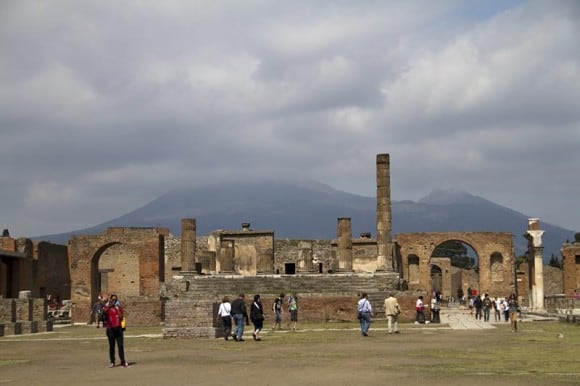 There are basically two ways to get to Vesuvius from Rome: the DIY approach or book a group bus tour.
"Do It Yourself" involves two trains and a bus ride, each way.
There are several organized bus tours to Pompeii, but not all include the Vesuvius hike.
We usually travel independently but do take the occasional bus day trip when they are more efficient, and felt that trying to juggle visits to both while relying on so much public transport was just going to be annoying.
Plus, this was at the end of a very logistically complicated trip and we just wanted to have a break and be driven around for a day.
Note: From Nov 1 – March 31 (or due to weather) the tours don't include the hike and a visit to Archaeological Museum of Pompeii is substituted. So keep that in mind while planning.
About the bus tour:

We were happy with our choice of Pompeii and Vesuvius Volcano tour.
Note: This was our own purchase, no tour or any consideration was provided to us.
We did a lot of research and chose this one. At the time it was run by Dark Rome, which is now under City Wonders.
My two concerns about going on a tour were:
We wouldn't have enough time in Pompeii (as we are really into ruins and historical stuff), and
I kept reading on forums that tours wasted time stopping at a cameo factory.
This tour didn't stop at a cameo factory. Pompeii is huge so it can't all be seen in one day anyway, so while we certainly missed areas I felt that this tour was in-depth enough that I didn't feel disappointed.
Overall, we'd take a tour like this again.
We love independent travel and planning every little bit of our trips… but there's a lot to be said for taking it easy and let someone else handle the details once in a while.
In researching this trip we didn't find that much detail about any of the tours.
So for anyone who happens upon this blog who likes to over-research and plan like we do and is wondering about the tour details, here ya go:
7:15a – Met the 2 guides at Piazza del Popolo (right near a metro stop). They checked everyone on the list and pointed out a cafe for restrooms.
7:30a – Left on the bus.
Rome to Pompeii drive – 3 hour drive + 20 min rest stop: first 1.5 hrs it's quiet, no info, then after the rest stop, they start covering some basic history etc but it's still pretty relaxed (we found both guides delivery to be rather amateur, though not a huge deal).
The rest stop was 20 min, which was just enough time to order a cappuccino and pastry (decent quality) and use the restrooms (very clean).
To exit, you have to walk through a little Italian pasta, chocolates, limoncello, souvenirs area, but its minor and it's not like being taken somewhere just for that.
Pompeii: Our bus guides handed us off to the Pompeii guide at the entrance. Was somewhere in the 1.5-2 hr range for the guided tour, with ear-bud headsets. The Pompeii guide was very good.
Lunch: Driven to Naples for pizza, for about an hour and a half. Pizzas came out kind of slow, with our table getting it last after others had finished. But time passed quickly by chatting with the two other couples at our table.
Pizza and beer were decent and better than I expected at a group tour restaurant.
Pizza choice was Margherita or a white pizza, and beer, wine, water, soda for the beverage options. Restrooms were clean. Lunch is probably the biggest time-sink of any bus tour, but a group of people can only be fed so quickly.
Vesuvius Hike: Drive up the winding road to the summit parking area. Hike up is on your own. I believe we were given around 40-60 min to be back at the bus. We had plenty of time to hike up, walk the whole crater path, and take pics, and come back down.
Drive back: 3 hrs, plus a 20-min rest stop halfway through at the same place. After that, the guides did a bit of promoting of their other tours but since people were interested I can't say that's a big negative.
Return: Around 8pm-ish. It was a long day but it was actually a relaxing break for us to just sit on a bus and enjoy the view of the countryside out the window (our usual travel style is go-go-go with a ton of things packed in).
Resources
Since this is a trail blog and not a travel one, I'll just list some resources and won't go into the rest of the Italy trip…
Except to say that it involved wandering around the streets of Venice, Florence, and Rome and totally overloading on amazing art and history…. while sustaining ourselves with pasta, pizza, espresso & gelato.
ohhhh the gelato… we ate gelato every…single…day.
And Italy is the only place we've ever found good pizza outside of the New Jersey metro area. (Because Jersey pizza rules.)
Books and sites we found very helpful:
Note: All books mentioned are our own purchases.
DK Eyewitness Travel Guide: Italy – We used this for an overview of the whole country to plan which areas to hit. This book is a brick, so I just photocopied the ruins/museum spreads instead of the taking the whole thing.
Top 10 Florence and Top 10 Venice – Since we were just hitting the tourist highlights of each city, we used these as they covered everything we wanted to see but are a nice small size.
Rick Steves' Pocket Rome – Very compact size with info that gets right to the point and covered everything we needed for the Rome part of our trip.
In addition to solid travel info, the book has tours to follow for the Colosseum, Forum, Vatican Museum, etc.
Normally we never follow guides like that, but he outlines the highlights of these VAST places so you don't miss the key stuff, and gives just enough info to be informative but not boring.
Ron In Rome – Very detailed articles with lots of how-to pictures on the logistics of traveling in Rome: buying train tickets, metro/train travel, to/from the airport, how to order gelato etc, tips on avoiding the lines at museums and a lot more.
Spend some time on this site, it will help a lot with the nitty-gritty of your trip. [Update: This site may be down. Hopefully, the site comes back as we found the content very useful.]
Slow Travel Italy – While some of the articles may have been written a few years back now, we found the info on how to read menus and order/pay, and language lessons such as "Caffe Talk" to be helpful.
Vesuviopark.it – Official site detailing the various longer hiking routes that we couldn't fit into this trip. Switch languages at the top right corner.
Italy has been around a long time and has many layers of history and art – it can be overwhelming. It's helpful to learn about it while prepping for a trip to put what you are seeing into context.
While we didn't think to do it for our trip, a video course like a "Guide to Essential Italy" or even something more specific like "Pompeii: Daily Life in an Ancient Roman City" probably would have been a good idea.