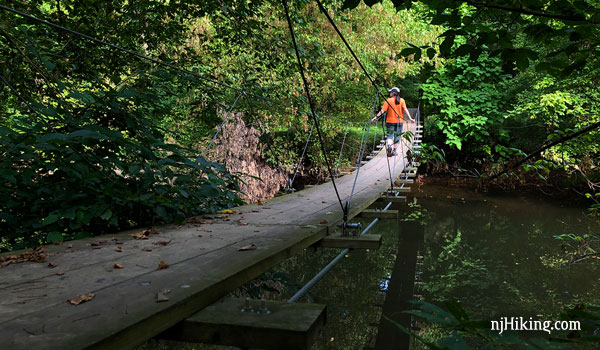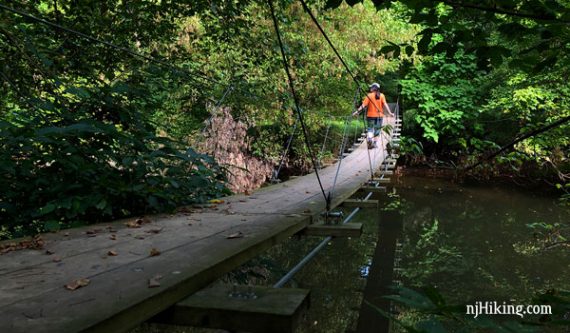 Hiking to the famous swinging bridge located at Institute Woods in Princeton, New Jersey.
We first did this short hike last winter ("Cold February Day at Institute Woods and Princeton Battlefield") but wanted to come back when everything was in bloom.
What a difference some green leaves make.
** 5/2021: Added directions and map for a short hike to the swinging suspension bridge. Or use our original 3.6 mile Institute Woods and Princeton Battlefield hike guide **
We did the exact route as before, starting at the Princeton Battlefield State Park lot and walking past Clarke House before turning at the stone marker and heading towards the Stonybrook Meeting House.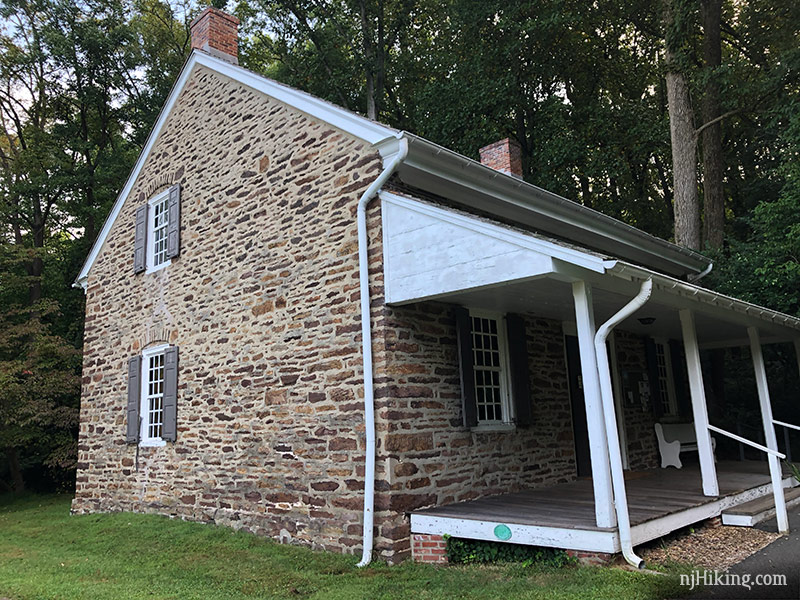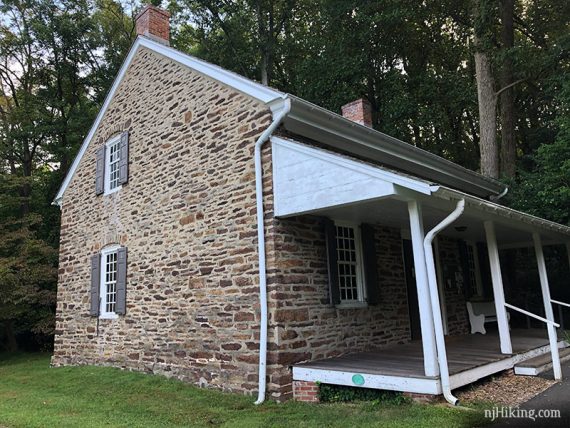 Just as we wandered over, a man was coming to open it up for their Sunday gathering and invited us in.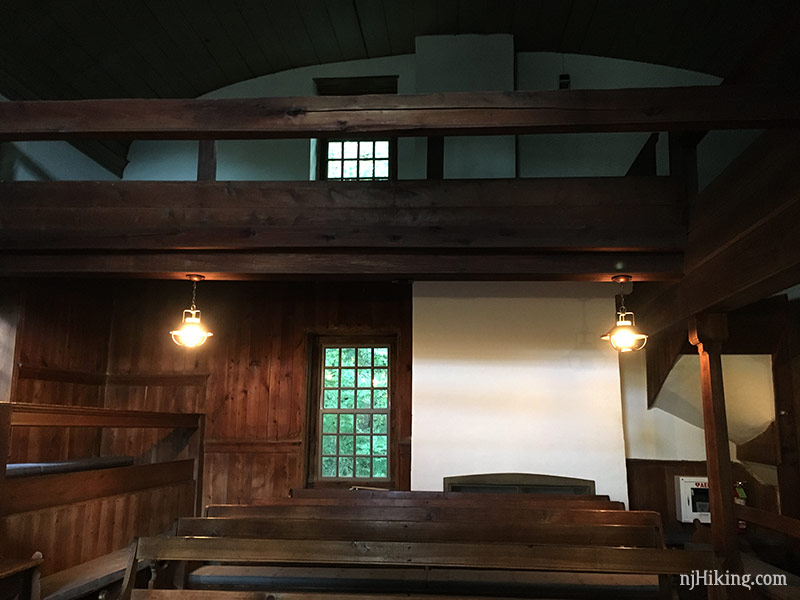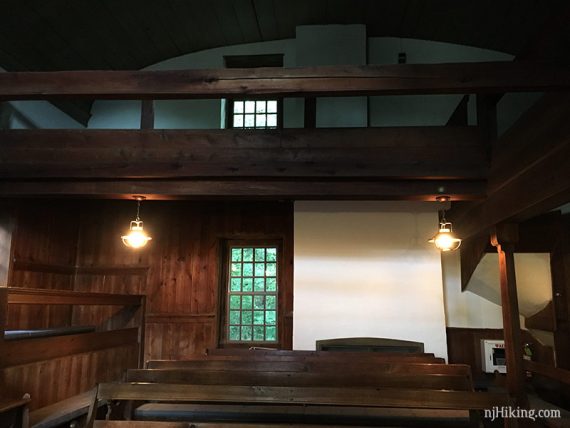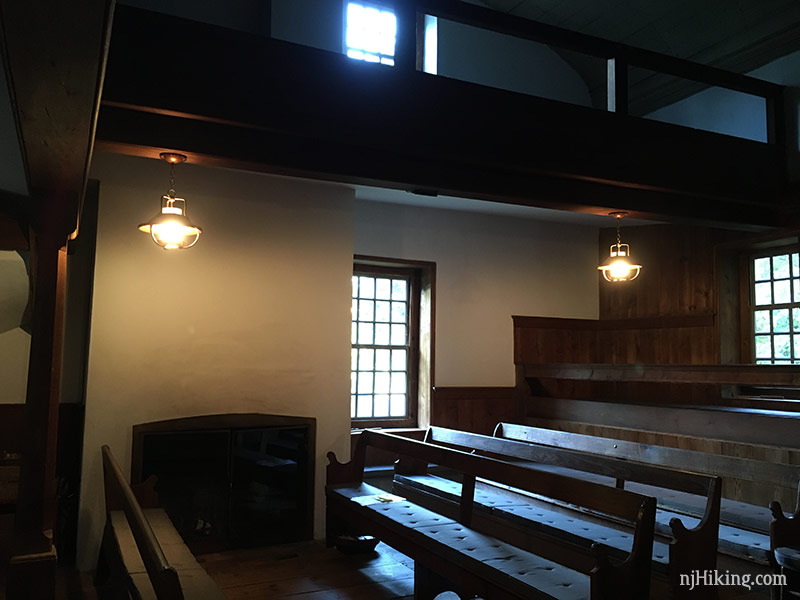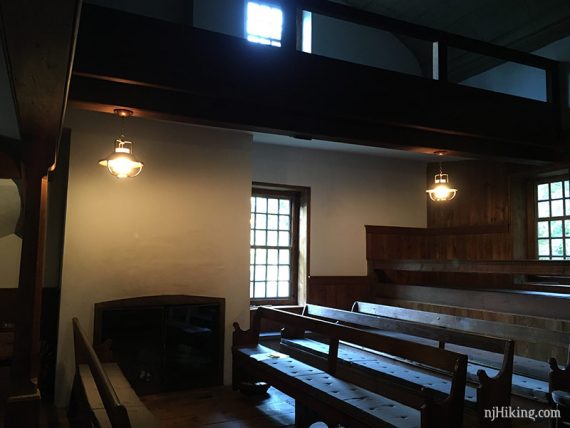 The building was built in 1726. There is also an adjacent cemetery.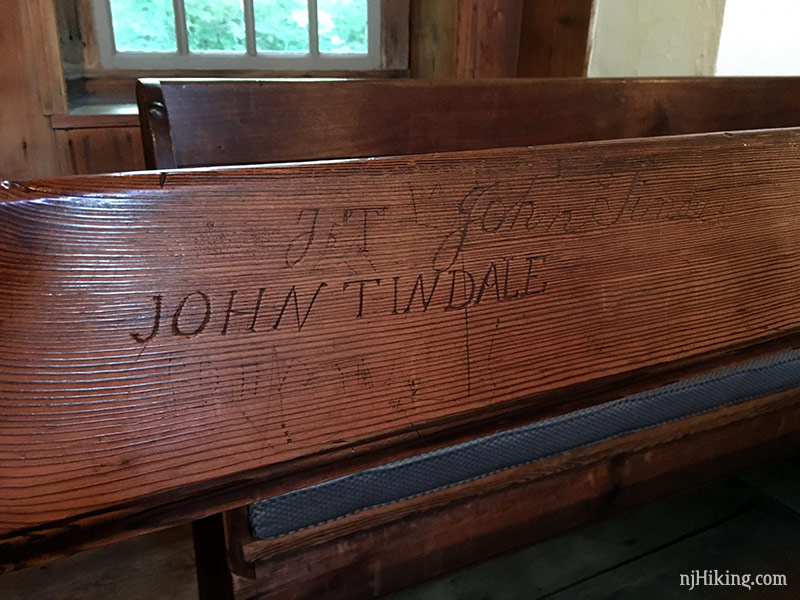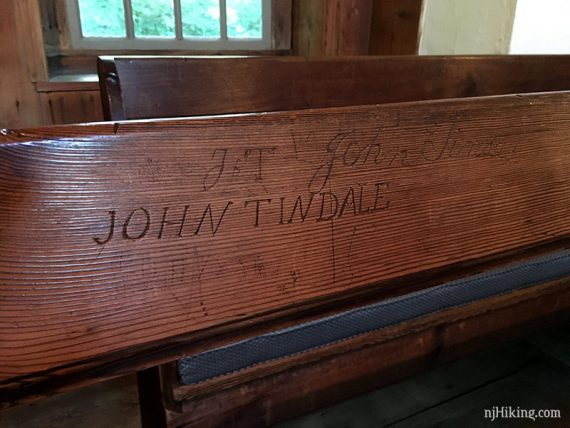 We made our way over to the swinging bridge that crosses Stony Brook.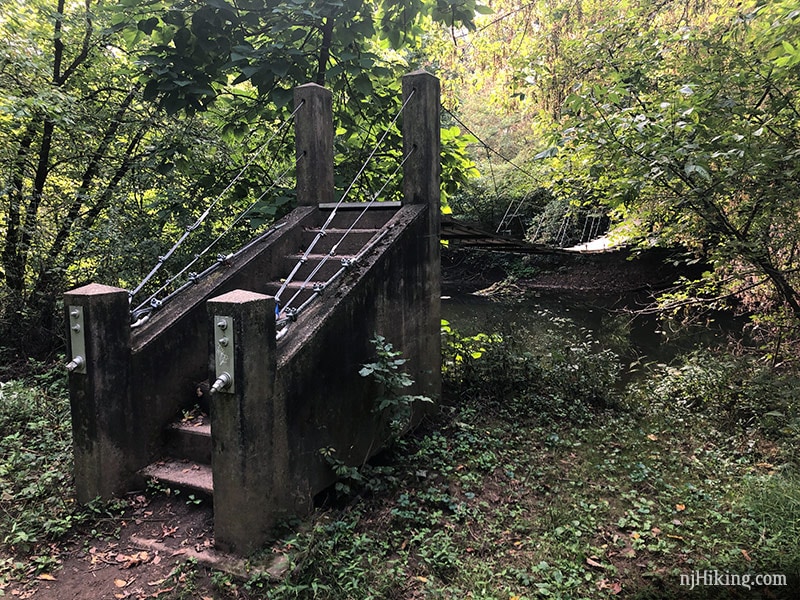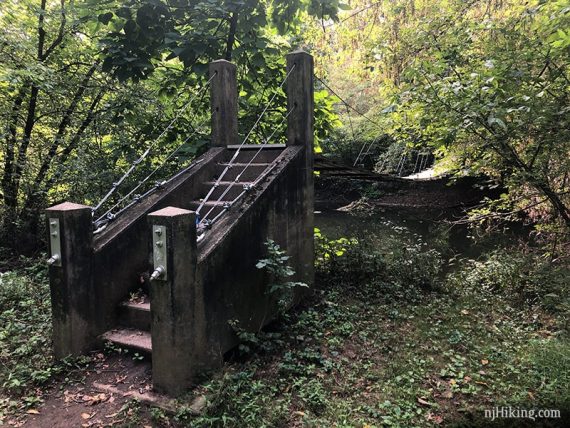 Such a different scene with leaves on the trees. The suspension bridge in winter vs in September: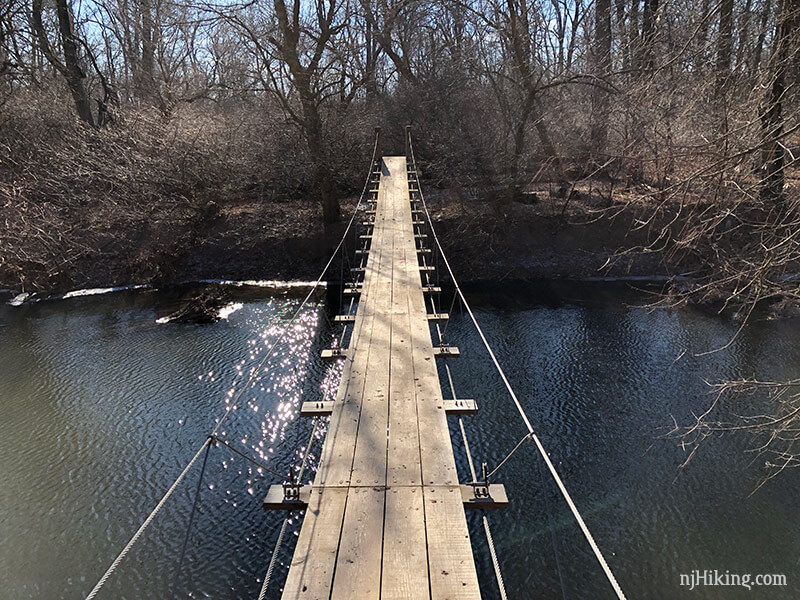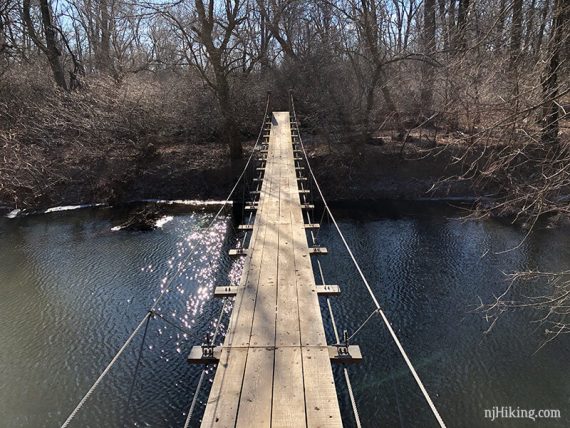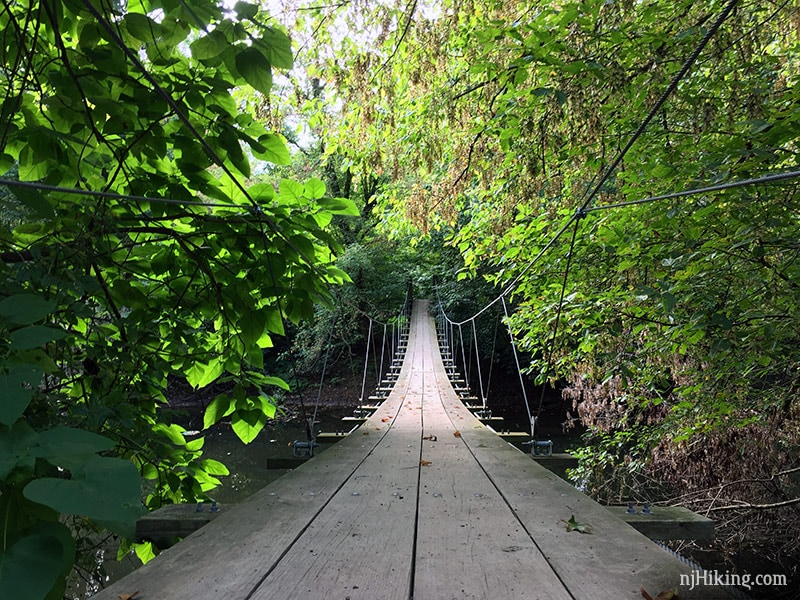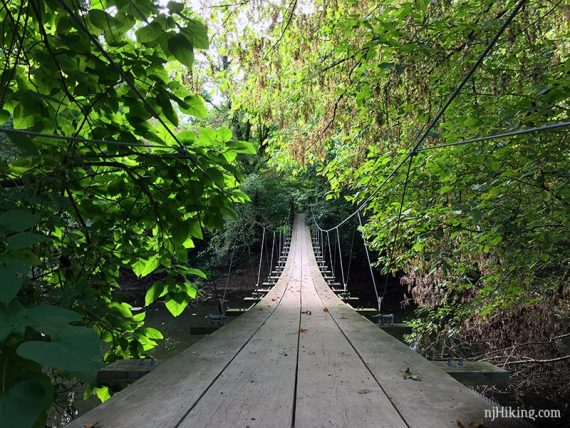 Is this Princeton or the Amazon jungle?…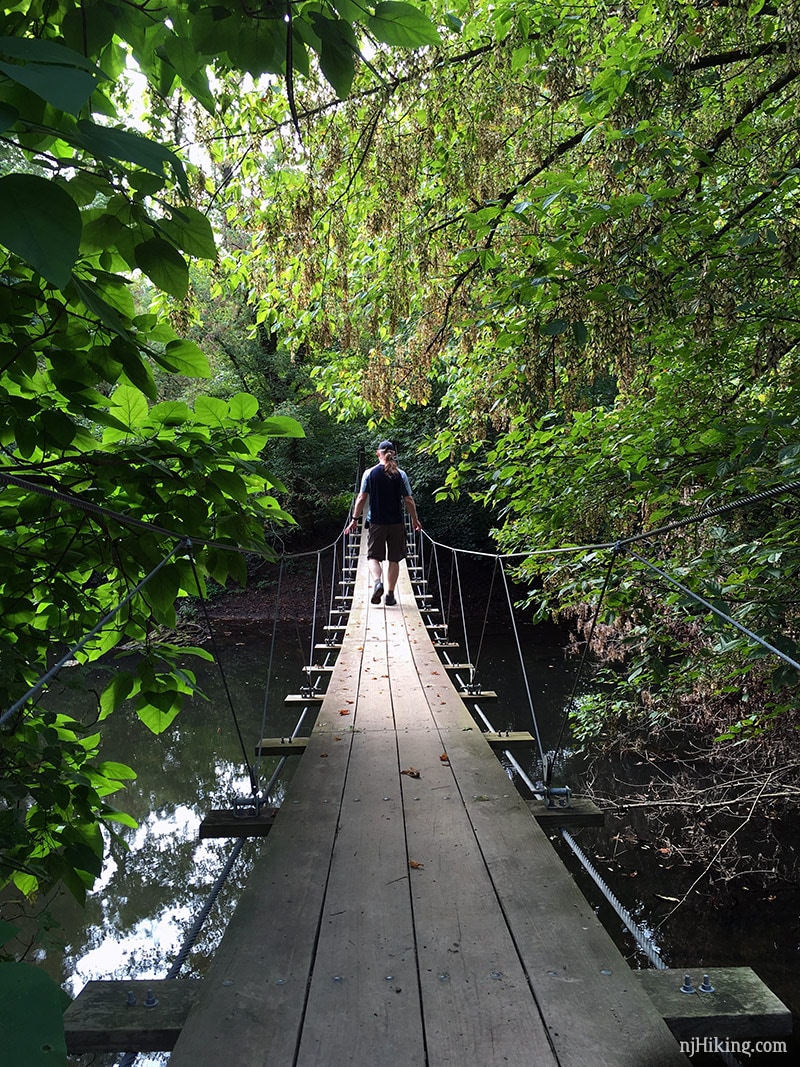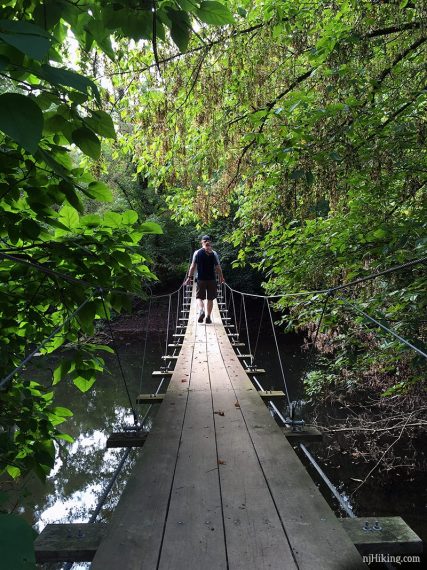 Looking down at the bridge: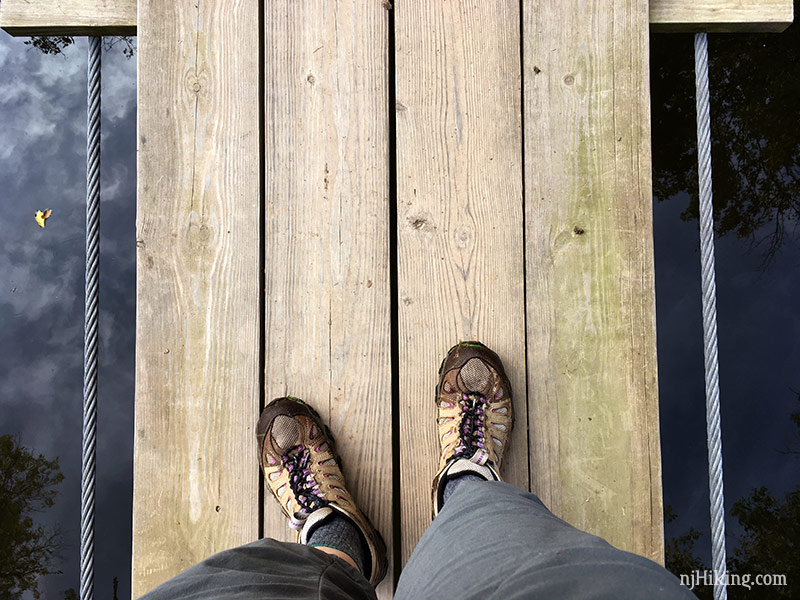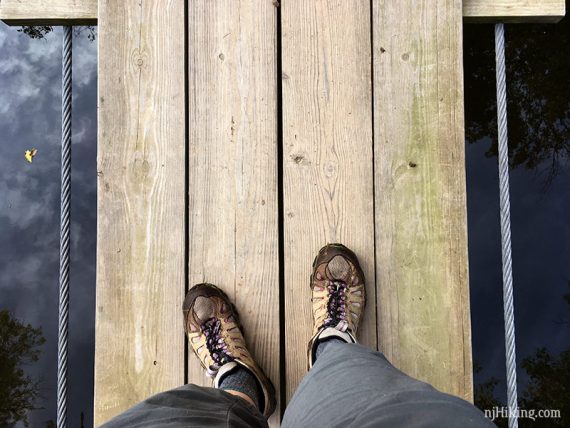 We crossed over and then back but you could link up to another trail in Rogers Refuge or continue to the D&R Canal towpath.
Eventually we ended up back in Princeton Battlefield State Park. What was a big open field last time was now full of grasses and wildflowers.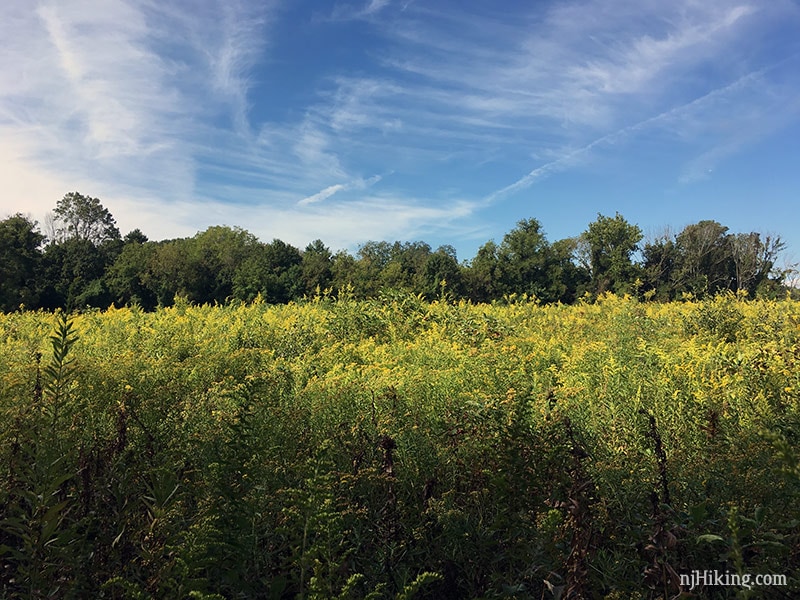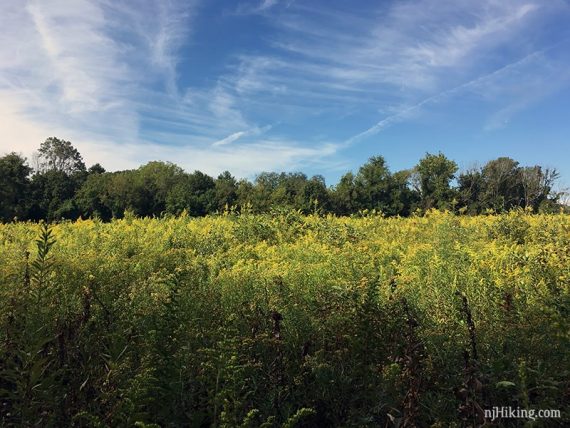 Nice blue sky and wispy clouds today to frame the columnade.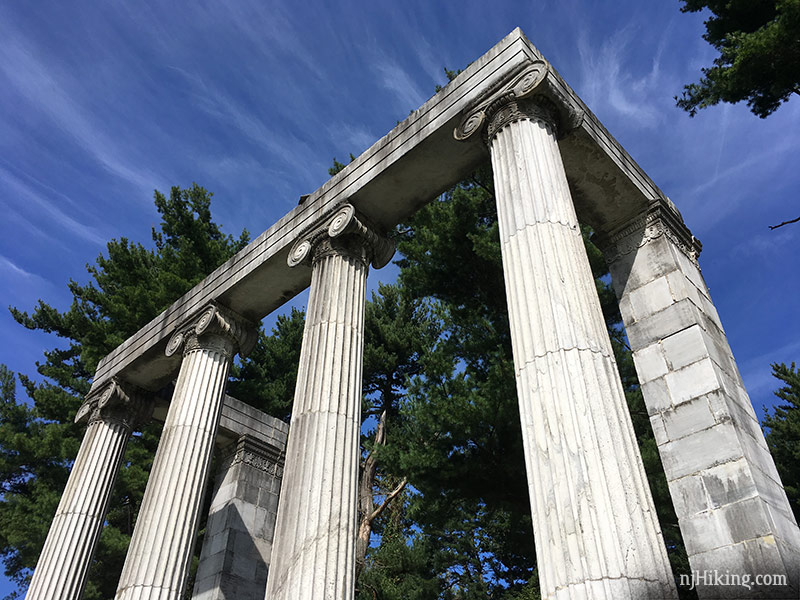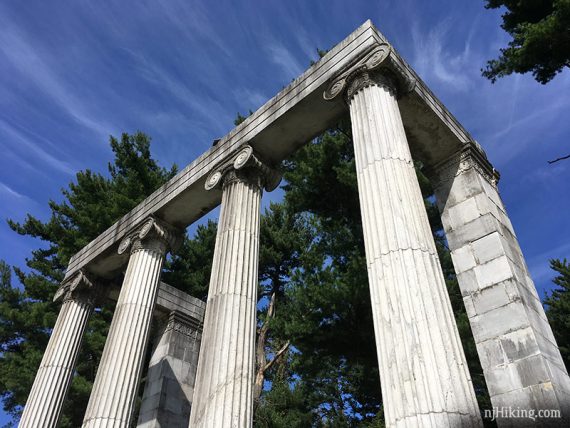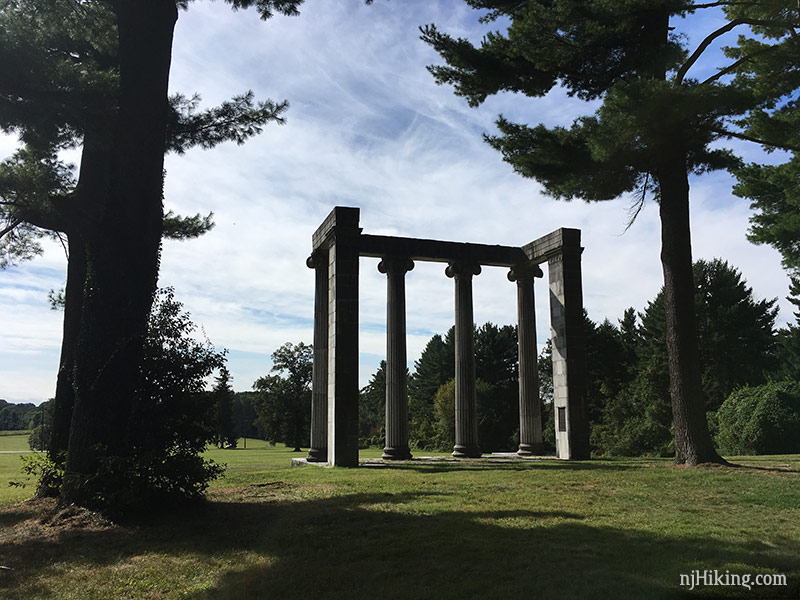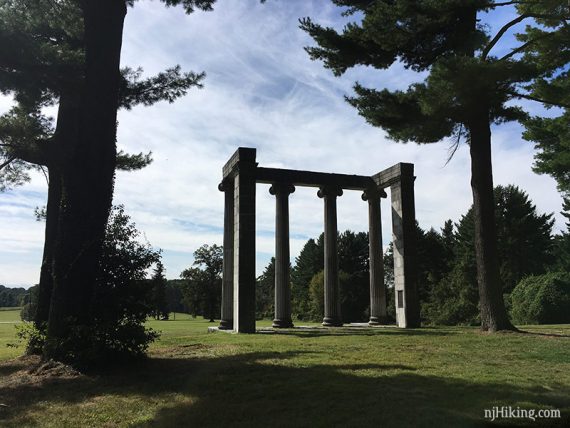 We noticed a sign along Mercer Road that "Young Patriot's Day" was the following weekend. This is a day with activities for kids about colonial life and the Revolutionary War.
Miles: 3.6
Post hike: Pumpkin cream cold brew. While we actually hit "peak pumpkin" a few years back and are no longer on the PSL train, we're kinda diggin' the cold brew version.
Besides – the more pumpkin items you consume, the longer and more vibrant the fall foliage season is. Pretty sure that is how fall foliage works, right?
---
Hike Directions to the Swinging Bridge (2.2 miles):
Where is the Swinging Bridge Trail?
The swinging bridge is in Institute Woods but the parking lot is at Princeton Battlefield State Park. This suspension bridge crosses Stony Brook and is tucked away at the back of Institute Woods along the River's Edge Trail.
500 Mercer Rd, Princeton, NJ 08540. The parking lot is for Princeton Battlefield State Park.
Route 1 – South of New Brunswick area; R on Alexander Road exit; L on Mercer St.; L into park entrance. Small gravel lot with a trail kiosk.
Restrooms:
None. There is a Sunoco on Route 1 South not too far from the park.
---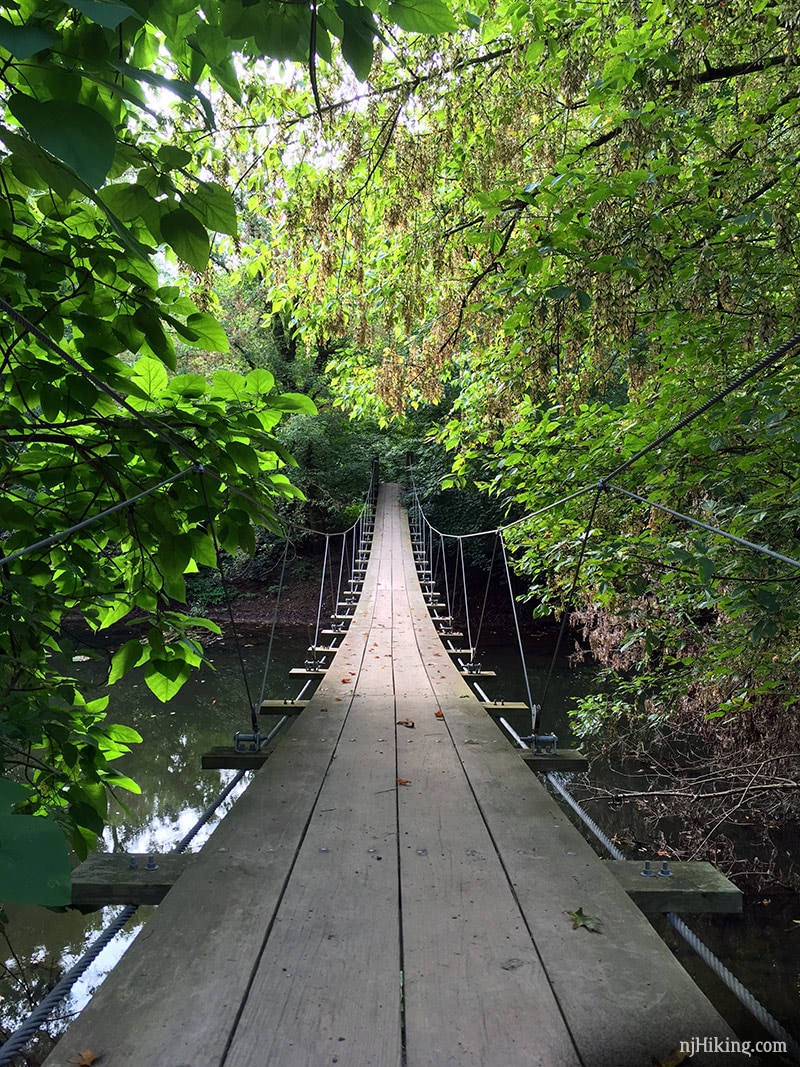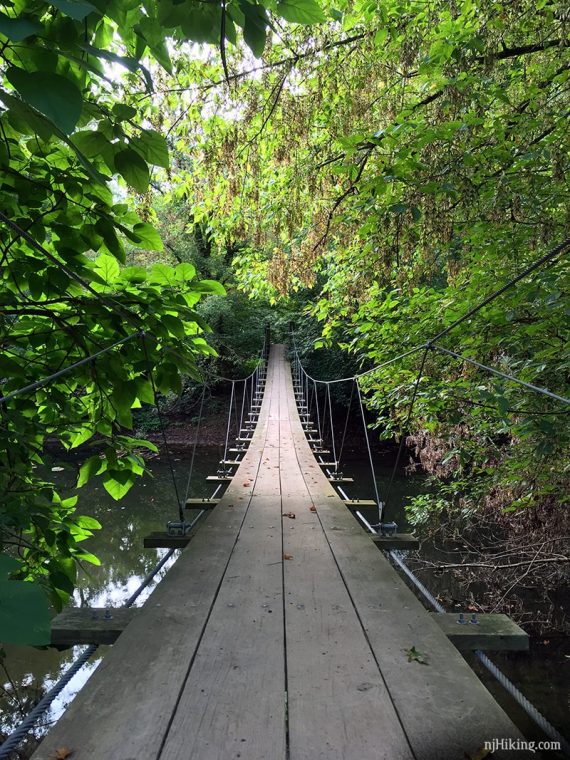 How do I get to the Swinging Bridge?
Maybe you've seen a photo of this cool swinging bridge online and are wondering how to get there – or perhaps you went but never discovered the bridge. The network of unmarked and not-well-marked trails can be hard to follow.
We've had requests for a shorter version of our original Institute Woods and Princeton Battlefield hike guide that goes directly to the swinging bridge. It's a 2.2 mile round-trip loop – and we even made you a map!
Use our Swinging Bridge Interactive Map to follow along on your phone, or print a larger version of our Swinging Bridge Trail Map.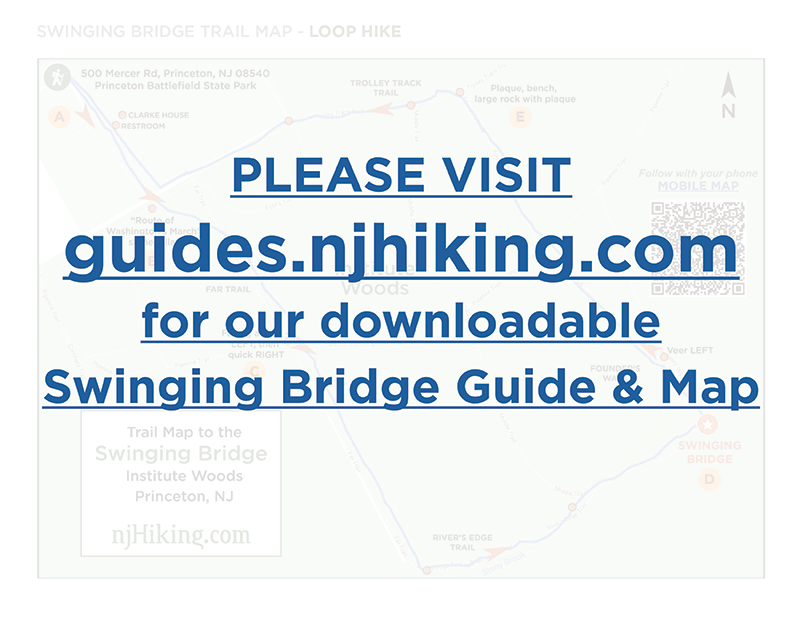 From the parking lot, walk down the road and pass the Clarke House. Continue ahead on a mowed trail. Follow the Far trail to Rivers Edge trail. Turn left and follow Rivers Edge to the swinging suspension bridge.
Head back on Founder's Walk until it ends at Trolley Track. Turn left and take Trolley Track back to the mowed trails near Clarke House and return to the parking lot.
—
Hiked 9/15/19.